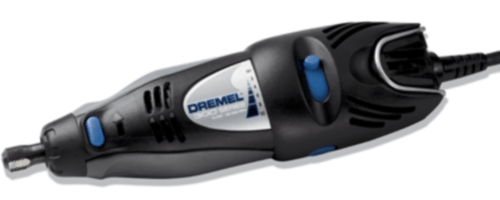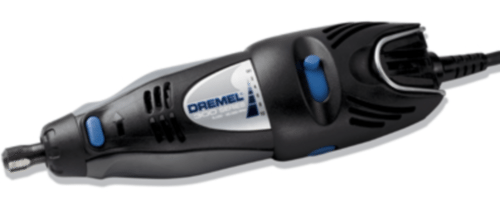 Dremel. My all-time favorite power tool, just the name gets my creative juices flowing. I have owned several of these tools and was excited to be offered the chance to review this edition along with their EZ Lock mandrel system.
To me, the Dremel is the powered equivalent of the Swiss Army Knife or Leatherman Tool – a well-made, general purpose tool that either gets the begeebers used out of it, or tends to mostly to inspire dreams without much actual use.
If you've been bitten by the Dremel bug, you already know the basics of what it can do but even us regular users can be surprised by some of the ways other people use these things. At work, I have a 400XPR with the EZ Lock mandrel that always has a heavy-duty metal cut-off wheel on it. I use it for a lot of rapid fabrication, light metal work, smoothing edges, etc.
If you have not been bitten by the Dremel bug, you should at least check it out. Dremels come in AC and battery versions. I love the battery units for their handiness, but the real joy of Dremel is best discovered with the more powerful AC units. There are four main units, or 'series'- the 100, 200, 300, and 400. Each is progressively stronger, more feature-laden, and has a longer warranty.
The 300 Series features:
1.15 Amps
5k-35k rpm, with variable speed control and integrated 'off' switch
Soft grip areas
18.0 ounces
4 year warranty
The 300 features a 'Dove Tail' feature, a rail attachment near the end of the tool (I cannot see that they offer anything yet that uses this feature, but Dremel is always offering new stuff), and an on-board storage slot for the little wrench. The slot is good news for those of us who misplace that sucker all of the time.
The 300 also shares features with most of the other series- things like a hanging loop, universal collet lock (that accepts several add-on tools like the flex shaft, multi-cutting head, right-angle attachment, and multi-saw), and the ability to use just short of a bajillion bits and tools.
Holding a 300 is a pleasure. The soft grips are comfortable and help ensure a more secure grip. The balance of the tool is such that you do not fight it when using it in the 'pencil grip', although it may be a bit thick for small hands. (Hint: The smaller battery unit is much easier to hold if you have smaller hands.)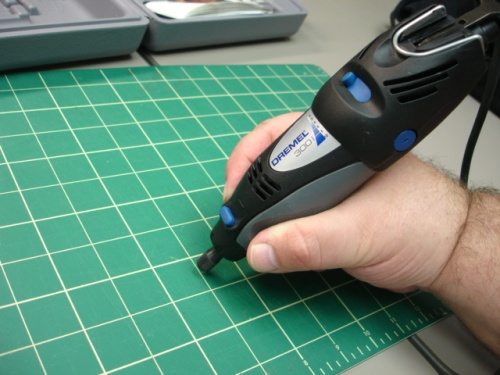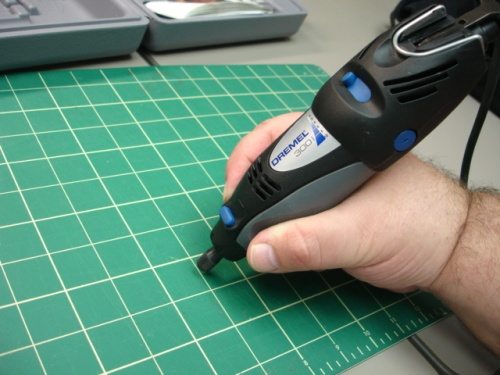 Turn this sucker on and feel the power. The mojo of the Dremel is the high rotary speeds.  In fact, this tool's speed can be its worst enemy since many people mistakenly think that the higher the speed, the better. The problem is that many of the tools, like the sanding wheels, are designed for lower speeds. When you match the right speed to the right tool for the job, it is like cutting warm butter.
'Doing stuff' is what this tool is all about, and to do stuff we need to use and generally change bits a lot. Some bits, like the cutting wheels and buffers, need to be changed even more often because they wear out or we need to adjust the coarseness. This is where the EZ Lock System is outstanding.
EZ Lock starts with the EZ402 mandrel (or tool holding bit) that has a little 'push down and twist' mechanism on the end that holds other EZ Lock bits and ends securely without having to take things apart in-between. As a guy who has gone through several cut-off wheels in a single job, I see this as a major improvement.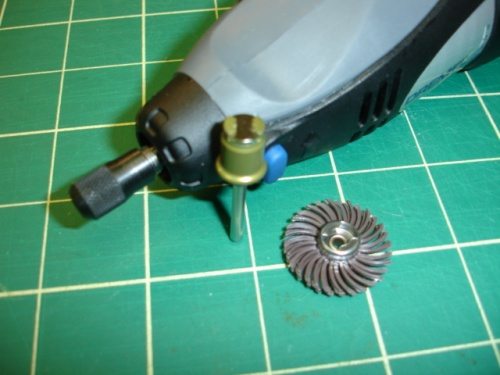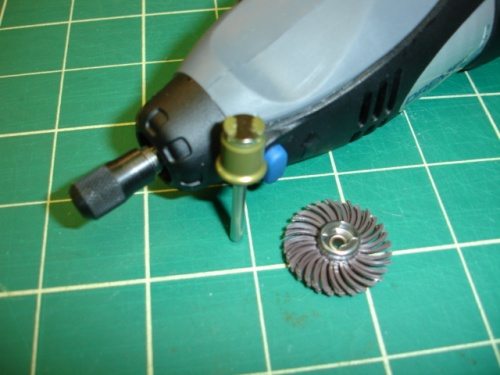 I was sent a set of 'Detail Abrasive Brushes' that use the EZ lock system and come in fine (EZ471SA), medium (EZ472SA), and coarse (EZ473SA). These are low speed stiff bristle things that can do cleaning, light sanding, etc. I found a lot of use for them cleaning in very tight places. The photos show a headrest mount that is mildly corroded, rusted, and dirty. A few minutes with the medium brush took off most of the bad stuff, and even some of the paint. I could have minimized that by using the fine brush and adjusting speeds and pressure.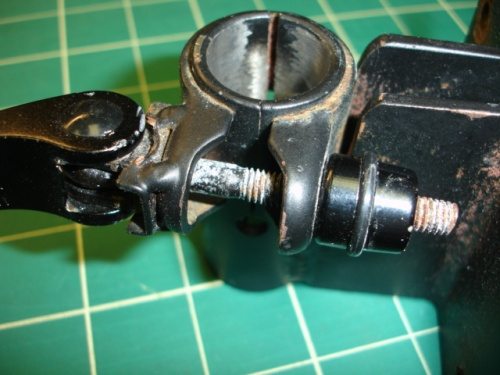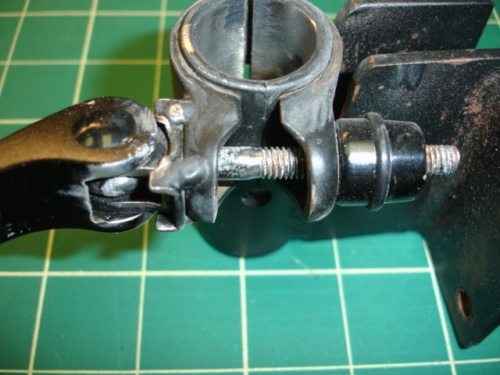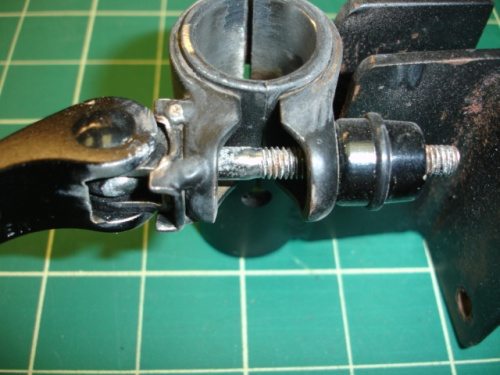 Besides the Detail Abrasive Brushes, you can get abrasive buffing pads, polishing cloths, and a variety of cutting wheels in the EZ Lock series. One thing about the EZ Lock I really like is that the wheels can also fit the standard 402 mandrel- the one with the little screw that goes in the end.
I was also sent the 300 1/24 Kit, which has 1 tool attachment and 24 bits in a decently designed plastic case. The tool in this selection is the Circle Cutter and Straight Edge Guide (678-01) a tool that cuts circles or helps you guide your tool along the edge of a piece of work, in case the name did not give it away. It is a nice tool and works well in testing… but I admit that I have never used a previous one I have owned for several years.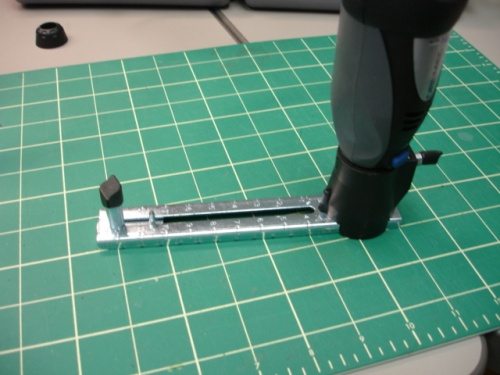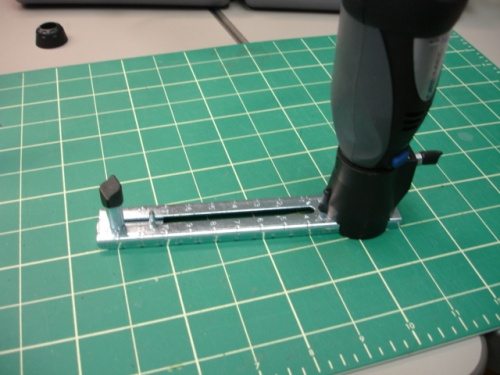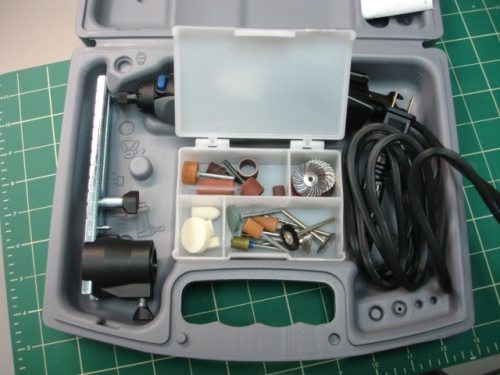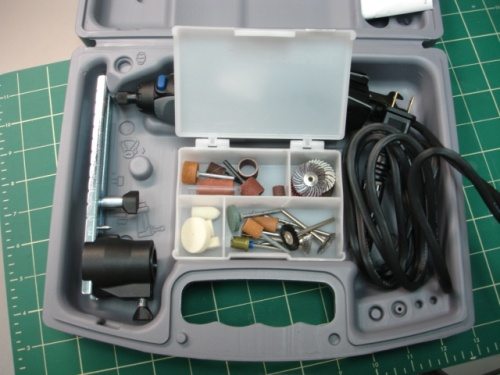 The 24 included bits are a nice general purpose selection mostly focused on sanding and polishing. There is plenty of room in the case for expansion, and room for a few more tool attachments as well.
The included documentation is almost overwhelming and covers everything you need to know for years of fun and repairs. What little it does not tell you, you can find on-line at the customer gallery or message boards.
If you are feeling the pull of Dremel, great! To jump in full blast with a good, functional, powerful set-up, try the 300 series. I might suggest the 300-2/28 kit for the good selection of bits and tools to start with. If raw power is not the biggest issue, you may want to try one of the battery units. Definitely give the EZ Lock system a look if you are doing a lot of work with the tips and wheels it uses.
Just grab it and give it a whirrrrrr!
Some of our links in posts like this one are affiliate links, which means that we may receive a small commission on purchases at no cost to you.
Product Information
Price:
$99.95 (Amazon.com)
Manufacturer:
Dremel
Pros:

Good grip
Powerful motor
Good tool and bit selections
EZ Lock is great!

Cons: