We use affiliate links. If you buy something through the links on this page, we may earn a commission at no cost to you. Learn more.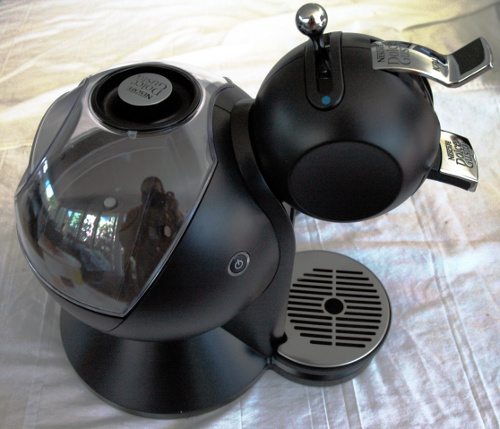 The NESCAFÉ® Dolce Gusto is a beverage brewing system brought to you by Nescafe and Krups. That's sure a mouth full, isn't it? After unboxing the thing and setting it on the kitchen counter, my spouse took one look at it and named it "The Coffee Duck", but for the review I'll stick with calling it the Gusto. What it is is a system combining a Krups-built simple to use one cup at a time brewer with a  capsule-based beverage system by Nescafe. Yikes, still a mouthful! Its a dead-simple system to make a single cup of coffee-house class drink, minus the barista, the mess, and for the most part, the danger associated with espresso machines, milk foamers, coffee grinders, etc. Once you get the hang of it, the Gusto actually does what it claims.
Unboxing
The review unit I received was the "starter" retail package:
All the bits in the box except one are fairly important… and the one bit that wasn't (the saucer for the cup) arrived in several bits thanks to my UPS guy. Once you dig it all out you'll have a pile something like this: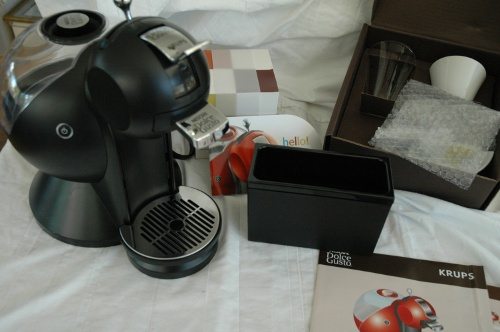 It's nearly foolproof, but I'll give it a go
There are currently eight beverages you can make with the Gusto. The review included a second box containing one each of the seven flavors available at the time – a few weeks later I received a sample of the newest flavor "Cappuccino Ice". I'll come back to the flavor choices in a bit, let's focus for now on how it all works.
Each beverage uses one or two capsules. If the beverage has a milk component, you'll use two capsules to make it. If not, you just use one.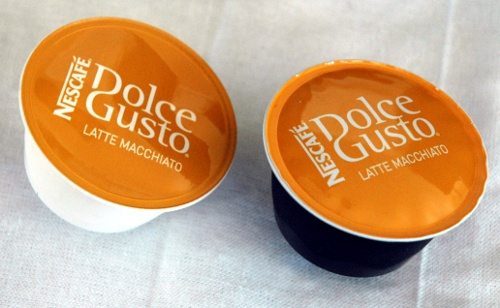 So, for example, the very popular with my daughter "Latte Macchiato" uses two capsules. You buy these things in a box of 16 capsules. Most likely you'll be buying them online – I've kept an eye out for them at my usual grocery stores, and they're not stocked there. You can get them at Amazon and other online retailers. At Amazon, a three-pack box goes for $25. You can find single boxes for $8-$9. Those of you with good math skills have worked out by now that a cup of joe via this system runs you $.50 for non-milk single capsule drinks, and $1 for the two capsule ones. If you're getting your drinks at a place with a guy or gal foaming the milk, this is actually a little less expensive, although its not quite as inexpensive as you might think. More on that in a bit!
Each beverage comes with instructions on its box. The Gusto also includes a manual showing how to make each beverage, but it seems like the instructions don't match exactly. For best results, go with the instructions printed on the capsule box. Each beverage recipe breaks down into something like this:
Fill the Duck, er, Gusto with water. You can make 3-4 cups with one tank of water. The tank is the self-contained clear plastic that makes up the body of the Duck.
Press the Power button. It turns from Red to Green when the heater is ready. This takes just a few seconds from dead cold, so usually its ready to go by the time you finish the next step.
Insert a Capsule in the tray. The tray is the "beak" of the duck. Flip up the release (the duck's eyes) and pull the tray out. Insert the first capsule in, push down the release, and you're ready to go

Now for the tricky bit. Assuming the power light is Green, you're ready to brew. You use the shifter on top to shoot screaming hot (or unheated, for cold drinks) water at high pressure through the capsule. Sadly, you're in control of how long that water goes, and here's where some practice makes perfect. The supplied cups are important, because they're sized right for the beverages (which are small!) and they include subtle hints as to how much of each capsule you should add. Using the glass to make the Macciahato, you dispense latte/foam (the light capsule) to the top of the handle. Then you add coffee (the dark capsule) to near the rim. Overfill either, and you get a watery, weak drink.
Once you're done filling a capsule, flip up the release, pull the tray, and dump the spent capsule into the supplied bin. The capsule is HOT and still has liquid in it, so some care (and adult supervision) is a good idea.
If the beverage uses two capsules, do the same routine with the second capsule, dispensing the right amount, to the next mark.
Hit those marks exactly, and you get this: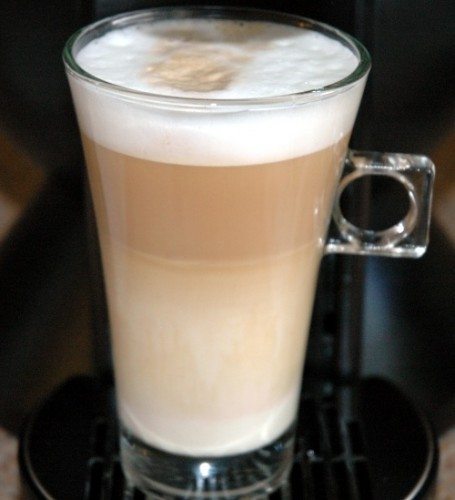 Not only is that visually appealing, but it has one of the best foam tops I've ever gotten at home: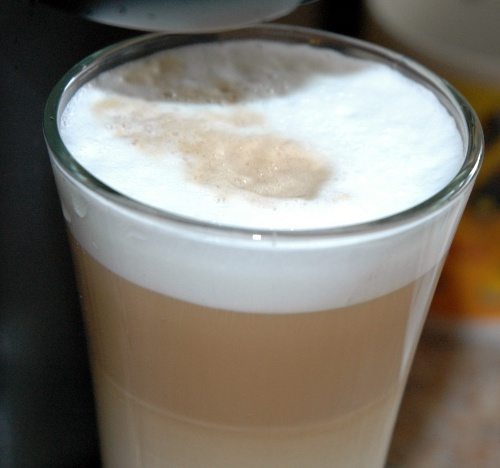 It also passes the taste test. Yummy.
Coffee for everyone
As the reviewer, I carefully made each of the drinks supplied in the sample set. Since I wanted to be able to sleep sometime in the next few days, I enlisted the spouse and teen to help with the taste testing. After a few tries I could get repeatable results using the clear glass supplied, but it's actually easier to use a measuring cup to get the exact amounts, and then dump the cup into the final beverage container. The system is simple enough that my teen and her friends can use it, and it's sure convenient.
The first few attempts showed a problem with taking a European product to the US market. I don't know about you, but my coffee only comes in one size. Really really big. Grande. Super Size. Whatever you call it, it's some honking 16-20 ounce monster. The Gusto cranks out beautiful Euro-sized 6-8oz drinks, or a wee drop (2 oz) of espresso. You can merrily push 16 ounces of hot steamy water through the capsules, but all you'll get is a fairly horrible glass of hot brown/white water that will leave you jumpy and disappointed. Either scale back your size, or make it a double. Even if you double the capsules you'll be paying just $2 for your 16 ounce Macchiato.
Skinny? Decaf? Diet?
Finally, another potential weakness of any capsule-based system is that you're forced to use what they sell, and nothing more. Currently for the Dolce Gusto that's:
Caffe Lungo (your basic coffee, black) and
Caffe Lungo Decaf
Cappuccino (1 shot of espresso and 6 oz of foamed milk – 3.5g fat, 10mg cholesterol, 80 calories)
Cappuccino Ice (1 shot of espresso and 6 oz of foamed milk – 3g fat, 10mg cholesterol, 110 calories)
Chococino (hot chocolate! Non-caffeinated – 6g fat, 15mg cholesterol, 150 calories)
Espresso (1 shot)
Latte Macchiato (1 shot of espresso, 6 oz foamed milk, 4g fat, 10mg cholesterol,  90 calories)
Mocha (1 shot of espresso and 6 os of hot chocolate, 5g fat, 10mg cholesterol,  120 calories)
Not much here for anyone counting calories other then espresso or caffe (ie, the non-milk beverages.) I would hope they would consider "skinny" and "skinny – sugar free" versions, or even just selling milk systems separate from the espresso shots.
Parting Shot
Here's the bottom line. I've had a nice Krups dual coffee/espresso/foamer sitting on my counter for several years. I make a pot of coffee a few times a month, and I've steamed milk exactly three times with it. I've still never quite brought myself to attempt the espresso side of it. The Dolce Gusto has been in near daily use by at least one of the three of us, including the teen and her posse of friends. We've long since burned through the review capsules and now get a regular shipment from Amazon.
The thing works. It's simple, its instant gratification, it's easy to keep clean, and it delivers any one of those eight styles of beverage any time you want going from cold start to steaming drink in less then a minute. Once you get in your head that 8 oz is a reasonable size for a coffee, it's pretty much perfect.
Product Information
| | |
| --- | --- |
| Price: | $149.95 |
| Requirements: | Opposable thumbs, AC, Water, Desire for caffeine |
| Pros: | Good quality coffee, Easy, Fast, Clean, Drinks taste and look good. |
| Cons: | Limited beverage choices, Small beverage sizes, Prone to user error during brewing. |