We use affiliate links. If you buy something through the links on this page, we may earn a commission at no cost to you. Learn more.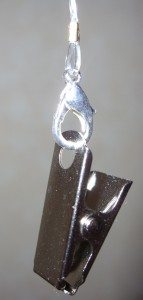 Julie kindly arranged for me to review the bluDANGLE, which is basically a very straight forward to use, cheap and relatively sturdy piece of kit!
I use a Bluetooth headset quite often, mainly whilst driving, but also when I'm at work.  As I work for a manufacturing organisation, sometimes I have to get myself out and about around the factory, so occasionally if I know I may need to use my phone when I'm away from my desk, I'll wear my Jabra headset.  However, as I really can't get away with wearing it for more than I have too, I'll normally pop it in my pocket after a phone call, which to be honest is rather pointless as then I can't hear the headset ringing.
This is where the the bluDANGLE really comes into its own!
Basically, you hook your Bluetooth headset ear clip to the 'magcord' (more about this later!) loop on the bluDANGLE and then use the clothing clip at the other end to attach to your shirt/jacket/collar.  And, well, that's about it!
However… maybe I should explain things in slightly more detail!
The first thing that strikes me about the bluDANGLE is just how basic the design is.  It's very easy to use.  I also like that bluDANGLE themselves promise that each product comes with an 'Unlimited Lifetime Replacement Warranty'.  They advise that if the product malfunctions in anyway, they will replace it free of charge!
Here you can see the bluDANGLE in use, with the clip attached to a jacket collar and the headset attached to the magcord.  The headset dangles until you need to use it.  Simple.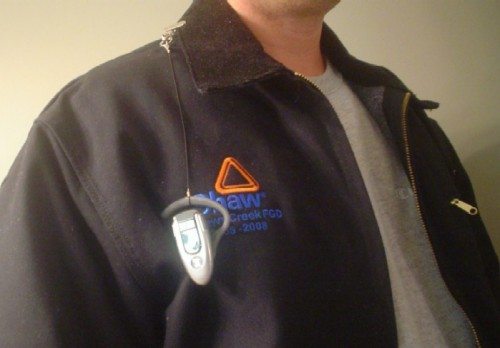 The product itself is very strong indeed, with the clothing clip made of stainless steel and the 1mm thick 'magcord' being made from a high strength material which can hold the weight of a bowling ball and stretch to twice it's length, without snapping!  It also boasts a 'non-slip' hook for the headset, so once it's hooked onto the ear clip, it doesn't move at all.  You can be confident that your headset will always be in easy reach, all of the time.
Here, you can see the full bluDANGLE attached to my Jabra headset.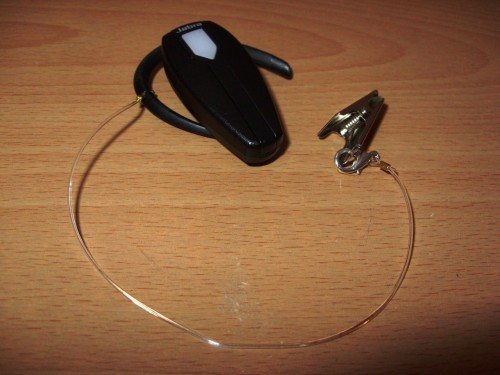 Although I'm not convinced I would use it 100% of the time, it has certainly proved extremely useful at work, so it's put to good use whilst I'm here for a few hours during the day.  I think people who work in construction would certainly find this piece of kit very useful indeed.
Each unit retails for $5.99 (U.S & Canada) or $7.99 (Outside of the U.S) which, given the amount of materials used to make each bluDANGLE sounds about right to me.
Plus, as bluDANGLE is a company who like to support troops, if you're a serving officer you can get your bluDANGLE completely free of charge!  For more information visit http://www.bludangle.com/military.html
Product Information
| | |
| --- | --- |
| Price: | $5.99 - $7.99 |
| Cons: | Quality materials and construction |