We use affiliate links. If you buy something through the links on this page, we may earn a commission at no cost to you. Learn more.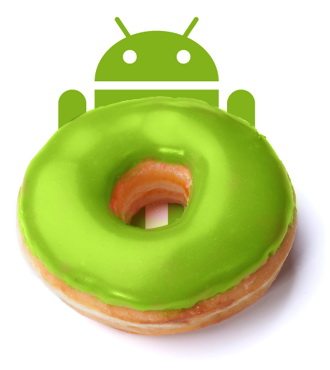 Cupcake is out and Donut is in. This past weekend many T-Mobile G1 and MyTouch G1 users received Android 1.6 (a.k.a Donut) that updated the previous version known as Cupcake.   I got mine Sunday morning.  I've been playing around with the new features, which include a new faster camera/video interface, Quick search box, battery usage indicator, updates to Google Maps, and a new look for Android Market.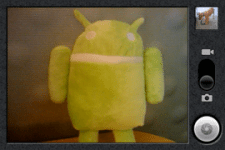 The camera and video interface looks completely different. A sliding on-screen button allows you to move from camera mode to video mode easily.  Camera operation is MUCH faster, 39% faster for the first picture and 28% for subsequent pictures, to be exact!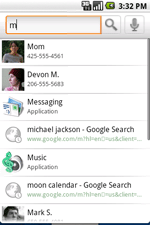 The Quick search box is a little piece of Google doing what it does best: searching. Quick search does a global search across applications, browser bookmarks and history, contacts, and previous Google searches.   Suggested search results are shown as a search term is typed.  I like this feature because it gives a quicker way to get to what I want across my entire phone rather than making several selections to get where I am going.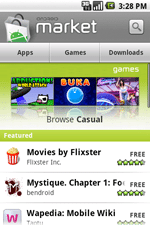 Market has fresh new look.  Applications on market can now include screenshots.  In addition to the text description, the screen shots help me quickly understand the application's capabilities and what it will look like.  Applications in Market are sorted a little differently now.  Apps are organized under Top paid, Top free, and Just In.
Google Maps on G1/MyTouch 3G now act more like the Google maps website. The Map application includes walking directions, public transit, and traffic.  Also, pressing a location on the map gives the address and street view snapshot of the pressed location.  You can also map to the pressed location, making it easier to get direction on the map when you don't have an exact address.  Latitude updated to include a shout out feature which allows you to send quick messages to other latitude friends.  Shout out seems to take a long time to go through. In my use, at least 20 mins.  These updates make Google maps more useful.  But I would like to see speaking directions, which could come in handy when driving.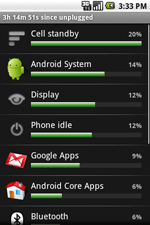 A new battery usage indicator can be accessed through Settings – About phone – Battery use.  As shown, this screen gives a percentile rundown of the resources on your phone that are sucking your battery life.  It may have been nicer if there was a way to add this feature as a shortcut onto the desktop, but I'm hoping there will be new (free) apps in Android Market that will take advantage of the battery status.
Virtual Private Network (VPN) feature has been added. This could potentially allow you to VPN into your work network.  I have not tried this feature yet, but those who have, please do share!
Android 1.6 SDK also includes new features that will trickle down into application and onto other devices. Since Android is opening up to other phones and providers, the SDK has also been updated to give developers more tools to create applications for these opportunities.
Share your Donut experience!