We use affiliate links. If you buy something through the links on this page, we may earn a commission at no cost to you. Learn more.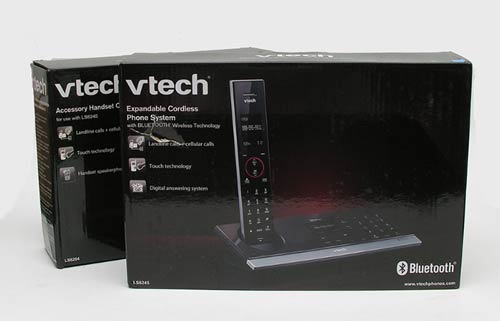 I've been using the VTech 6042 Two Handset Cordless Phone System since reviewing it a little over 2 years ago. It's been a decent phone and  answer machine, but after 2 years, I'm ready to try something different. How about another VTech phone? I'm replacing the 6042 system with the Vtech Expandable Cordless Phone System LS6245. This phone has some pretty nifty features, including touch control (no buttons) and the ability to pair with 2 cellphones. Let's check it out.
Hardware Specs:
DECT 6.0 Digital technology
Expandable up to 12 handsets using only one phone jack-uses LS6204 accessory handsets
Pair up to four Bluetooth phones, but connect two different cell phones at the same time
14 Minutes of recording time for answering system
100 name and number phonebook
Last 20 number redial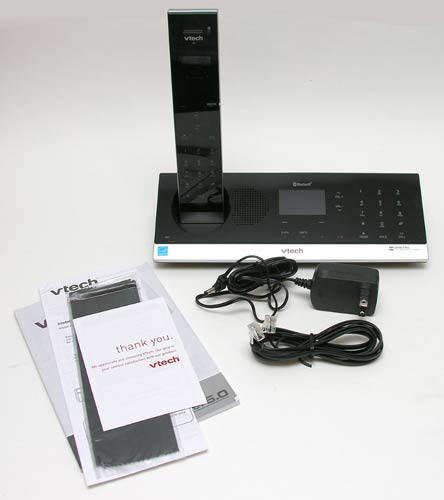 Package Contents (Base system):
Telephone base
Handset
Battery
AC adapter
Telephone cord
Cleaning cloth
User's manual
Quick start guide
Package Contents (Accessory handset):
Charger / base
Handset
Battery
Cleaning cloth
User's manual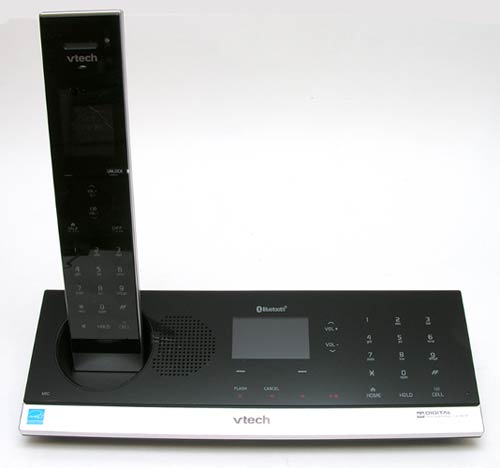 The LS6245 system has a sleek design with a piano Black shiny top and brushed aluminum accents. It's very susceptible to fingerprints and smudges, which is why Vtech included a polishing cloth. Trust me, you'll be using it often.
Never miss one of our posts again. Sent MON, WED, and FRI with the latest gadget reviews and news!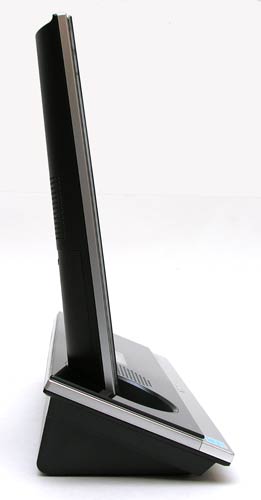 The handset sits in a shallow trough that has charging leads sticking out of the bottom. The handset easily sits on these contacts. Almost too easily as it can jiggle back and forth. If you should put the base station on a wobbly table, there's a good change that the handset might topple out of the base by accident.
The back of the base station has a connection for your analog phone line and the AC adapter.
There are no physical buttons on the base station, everything is controlled by touch. Just like an iPhone, you'll need to touch the surface with a naked fingertip. Gloved fingers will not work.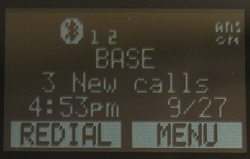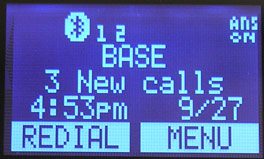 You can make calls from the base by using the built-in number pad, and everything else is managed through the menus on the White on black back lit LCD.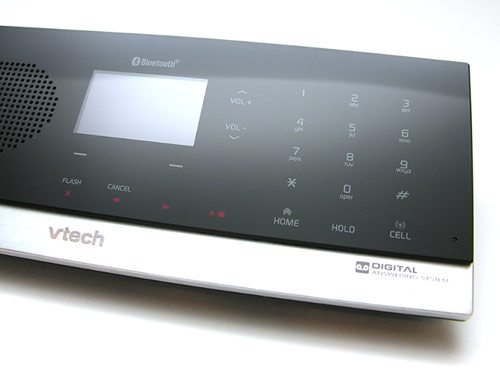 As an answering machine, the LS6245 works very well. It records messages and greetings crystal clear so that they are easy to hear. You can also quickly tell that you have a message waiting because the LCD display lights up and blinks. The only issue I had with the answering machine controls at first, was remembering where the Play button was. It's the Right most Red button that doesn't have a label. It's hard to see the symbols against the Black background, especially in a dimly lit room.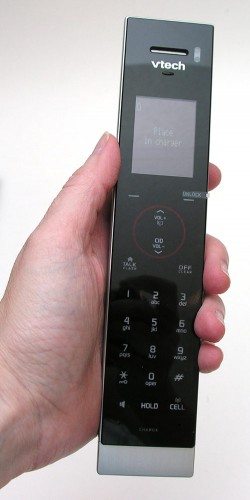 The handset is long and narrow as you can see from the picture on the Left. It's comfortable to hold, but it is a bit slippery. When the phone is idle, the face is dark as you see here. In a darkened room, you can't see the controls until you tap a button with your finger. Of course, you can't see the buttons in the dark…
I did notice that it's really very easy to accidentally press one of the buttons with the palm of your hand. You have to press the Unlock button to use the phone, but semi-often the flesh of my palm will activate the speaker phone button after I answer a call. This gets to be annoying after awhile.
Call clarity and volume are good though. I have no complaints there at all.
It's also nice that you can see the number of messages and new calls on the handset display. You can also  listen to your answering machine messages through the handset – even through the  secondary handsets.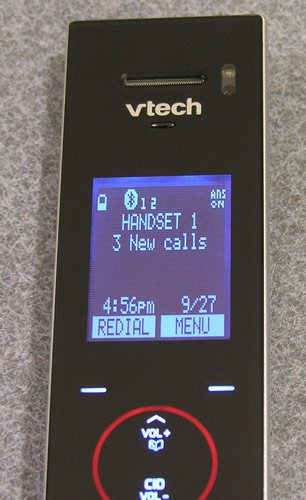 The handsets also display the number of Bluetooth phones that are paired and connected. If one is not connected, a slash will be through the number. I tested this phone with my iPhone 3GS and a LG Chocolate. You can also pair the Vtech with Bluetooth headsets, but I haven't tested that feature. The LS6245 allows you to pair up to 4 devices, but only 2 can be connected at any one time.
Most of you are probably NOT wondering why a person would want to pair their cell phone with an analog phone. But for those of you that are wondering, I'll fill you in… It's really just for convenience more than anything else. For me, my iPhone doesn't get the best signal in my basement, where I do 99.9% of my writing for The Gadgeteer. Half the time when I check the phone, it has one bar or says No Service. But, upstairs, my iPhone gets much better signal. With the Vtech LS6245, I can pair it and leave the iPhone upstairs, but make and receive calls downstairs. Nice huh?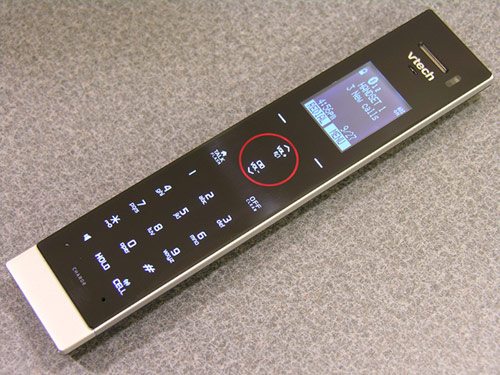 Another very nice feature is the ability to customize the ring tone for each handset and paired cell phones. Each one can have their own tone that you choose from a list of 20 or so ring tones. You can also customize the volume of the ring for the handsets and paired phones.
I have enjoyed using the Vtech LS6245 expandable cordless phone system. It's super easy to setup and use. The ability to easily pair with 2 cell phones and / or headsets makes this phone really handy. Now I don't have to run for my cell phone when it rings if it's upstairs and I'm downstairs. Now I can answer and make cellphone and / or landline calls from the same handset. Nice!
Product Information
Price:
$79.95 for base, $44.95 for 2nd handheld
Manufacturer:
Vtech
Pros:

Ability to make and receive paired cell phone calls with handsets
Separate ring tones for handsets and paired phones
Easy to use

Cons:

Fingerprint magnet
Easy to activate a touch button by accident