We use affiliate links. If you buy something through the links on this page, we may earn a commission at no cost to you. Learn more.
onOne Software's DSLR Remote is a wireless shutter release for Canon EOS© or Nikon DSLR camera… and it is amazing. With it, your iPhone or iPod Touch becomes your camera's control center. More than a mere remote shutter release, the DSLR Camera Remote Pro ($19.99) can control camera settings like aperture and shutter speed and set up time-release sequences. You can view the shots you've taken and even get a live preview of your next shot. (Click here to see those cameras that can do the live preview.) Although I didn't get to see a live preview, since my camera is a first generation, I thought this app was still very cool and potentially a really useful tool. The "host" computer can be attached to either a wired or wireless network or it can be the host in an ad-hoc/device-to-device network.
For my testing, I use a Canon Digital Rebel XT, a MacBook Pro, a first generation iPhone with version 3.1 software and my home wireless network. The onOne Software site says the iPod Touch will work, also. Check the product page for more specifics about Canon and Nikon camera models that will work. I used the DSLR Camera Remote Pro version on my iPhone. The "Lite" version will also connect to the server, fire the camera, and allow you to see the shots you've take as well as your battery status, but it does not give you control of the camera's settings. Let's look at the process…
DSLR Remote has two components. It can start with installing the DSLR Camera Remote Server Software on your Mac or Windows computer. You'll have to fill in a form to receive the download link via email. The other component is the iTunes app, onOne Software DSLR Camera Remote Professional Edition ($19.99) or the Lite version ($1.99) Here's a side-by-side comparison of the two. With both the computer server and the iPhone or iPod Touch app in place, you must connect your camera to the computer via a USB cable.
"WHAT?" you say… "I thought this was a wireless gadget." And yes, at first, I thought so, too. But I know my Canon Digital Rebel XT isn't wireless… and so the fact that you must connect your computer to the camera might be disappointing to those who thought you could be snapping photos, unseen, from afar, using your iPhone. The video on the onOne website demonstrates the remote shutter release by mounting a camera on a basketball rim. But they used a small (and inexpensive) netbook as the computer server.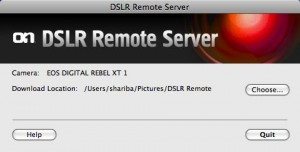 When the computer server sees the camera, it lets you know and allows you to choose the location for your photos.
The iPhone/iPod Touch has a similar screen that connects you to the DSLR Remote Server on the computer. So the chain goes from the camera to the computer (via the wire) to the  hand-held wireless remote. The controls for the camera are very useful and presented clearly. The Pro version offers a great deal more control over your camera's settings, but it also offers an Intervalometer for taking rapid-fire or time-release photographs.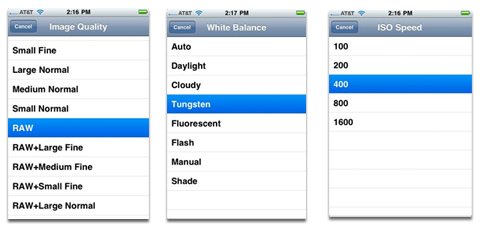 The Intervalometer is useful and easy to configure. It can be used as a custom self-timer or you can take a series of images at time intervals. Stop-action animation would be an excellent use for this feature. You can take a picture anywhere from 1 second to 1 day apart and take up to 1,000 frames, depending on the space you have available on your computer "server."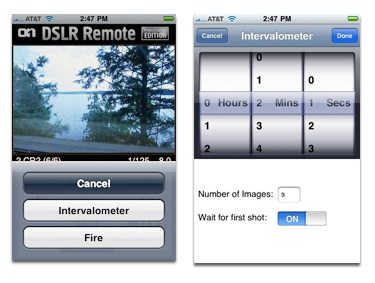 DSLR Remote Intervalometer – timing settings
onOne's DSLR Camera Remote will remotely trigger your camera's shutter. This might seem like a no-brainer, but when you think more about it, that simple feature can be very powerful. You can position your camera at an angle that might be difficult to use otherwise and fire the shutter. Or you can use it for a kind of hands-free mode when you are shooting a portrait and need to be interacting with the subject. DSLR Camera Remote is a simple to setup, inexpensive, and powerful tool for both the amateur and professional photographer.
Never miss one of our posts again. Sent MON, WED, and FRI with the latest gadget reviews and news!
Product Information
| | |
| --- | --- |
| Price: | Lite version: $1.99 / Pro version: $19.99 from the iTunes store |
| Manufacturer: | onOne Software |
| Requirements: | Specific Canon or Nikon camera, iPhone or iPod Touch, computer with Mac OS or Windows. |
| Pros: | Easy to setup and works great with the iPhone. The Pro version provides excellent remote control of the camera without requiring additional gadgetry. |
| Cons: | Doesn't work for all Canon or Nikon cameras... or any other type besides Canon or Nikon. No live preview for older models. |