We use affiliate links. If you buy something through the links on this page, we may earn a commission at no cost to you. Learn more.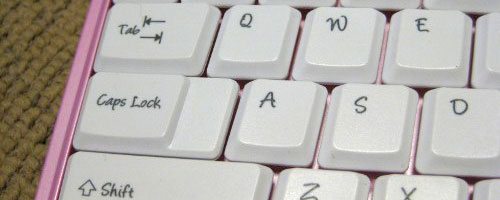 I have a lot of computers. Part of the problem with having so many computers is having enough keyboards and mice for all of them – and having small keyboards is a plus when you have so many machines. When Julie sent me some information about G-Cube, I was pretty interested in their keyboards – they're wireless, small, and super cute. I picked one in a very girly shade of pearlescent pink, complete with a matching mouse.
The G-Cube comes with two pairs of rechargeable Ni-MH AA batteries, a USB battery charger, and the actual keyboard and mouse.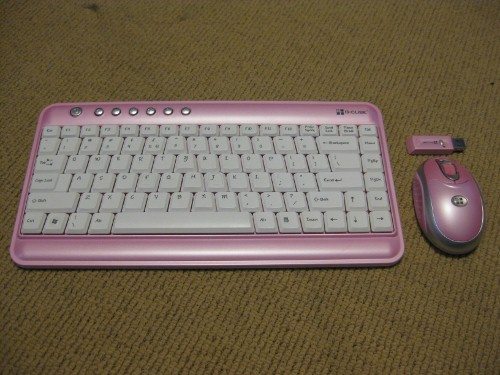 The keyboard uses G-Cube's patent-pending layout that's designed to more naturally angle your hands as you type. I've got pretty tiny hands, so this hasn't been much of a problem for me regardless of the shape of my keyboard. It's possible that people with larger hands might find G-Cube's design a little more comfortable over an extended period of use, but I'm not convinced that this particular "feature" is much more than a good ol' marketing ploy.
At any rate, let's look at the other features of this keyboard. It does have some shortcut keys across the top that provide quick access to common web browsing features – back and forward, refresh, home, search, and email. There's also a power button.
To be honest, I'm not particularly enamored with web shortcuts on a keyboard. Modern web browsers already provide plenty useful hotkeys for all kinds of things, like ctrl+arrow for moving back and forth in the window's browsing history, ctrl+k in Firefox for jump
ing to the Google search box, F5 for refreshing…you get the picture. I would have preferred that the keyboard featured media keys, since these can be far more useful when you want to skip or pause a song without having to switch focus back to your media player software.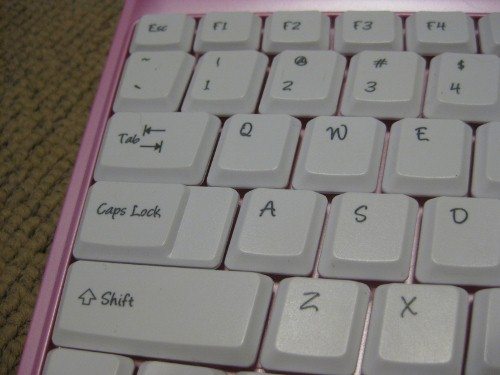 I do like that the keyboard's key labels use a cutesy handwriting-style font. It adds some flair to the board, which I can certainly appreciate. On the other hand, the layout is so-so. In order to keep the board compact, the right shift key was moved to the left of the up arrow. While this is a better design than putting that shift key to the right of the up arrow, it's still an annoyance. I prefer a standard layout on my keyboards – I think it would have been better to make the arrow keys smaller so that the shift key could be in the standard position on the board. The page up/down, home, end, and delete keys are in a column on the far right of the board, which I'm used to on a compact keyboard – my Dell M1330 has this same design for those keys. Overall, the layout isn't so convoluted that the board is any more difficult to use than a full-size standard QWERTY keyboard.
I did find that typing on this board was a bit louder than I like on a keyboard (especially because I'm a fast touch-typer, so a loud board can make quite a racket when I really get going). The keys themselves use the standard membrane design found in most consumer computer keyboards, so I think the noise comes from the plastic keycap clacking against the plastic of the keyboard's casing. It's annoying, but not a dealbreaker.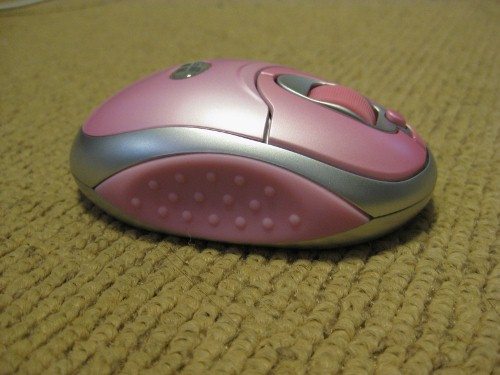 The mouse isn't too bad. The sides have a nice rubbery finish with little nubs that sort of massage my thumb. The scroll wheel is nice and big, and the mouse fits nicely in my hand. It does have one extra button, above the scroll wheel. For some reason, this button mimics a double-click action, and its functionality can't be customized. I like having extra buttons on my mice, and I wish that I could map this one to something other than double-clicking. That small negative aside, however, and I like the mouse as a portable device.
Overall, the G-Cube set is good, but it didn't blow me away. The included battery charger is handy, but I'm not sure it justifies the $60 price tag. However, if you're looking for a compact wireless keyboard for a media center or kitchen computer – or just to keep handy when you want a bigger keyboard on your laptop or netbook, I'd say that this is a good choice. The color options are nice (much better than boring black), and it looks as appealing as Apple's bluetooth wireless compact keyboard – and that one is $80!
Product Information
Price:
$59.99
Manufacturer:
G-Cube
Pros:

Cute colors and fonts
Compact
Wireless
USB battery charger included

Cons:

Nonstandard keyboard layout
Pricey
Useless web shortcut keys