We use affiliate links. If you buy something through the links on this page, we may earn a commission at no cost to you. Learn more.

I recently moved to a new home that is in a communications dead zone.  There's no cell access, OTA TV and most troublesome, I cannot receive antenna born FM radio.  Thankfully, VTECH, the cordless phone people have introduced the IS9181 Wi-Fi Internet Radio which gives me a choice of over 11,000 Internet radio stations, plus the ability to stream my PC music files to most of my property.
Features
Stream music across the 802.11 b/g WiFi network. Broadband Internet service and a home WiFi network router are required
Listen to Internet radio from the available 11,000 stations with no monthly fee
Access Internet radio stations from our user-friendly online site or on the device itself
Play music from any audio device (i.e. CD player, MP3 player, etc)
Connect to any stereo system or powered speakers to access streaming Internet radio or music files stored on a PC or Mac
Built-in FM radio tuner for local FM broadcast service. Preset your favorite stations
Hi-Fidelity built-in 3W tuned stereo speakers and a 10W sub-woofer with class D amplifier for each speaker that can fill any room with dynamic sound
Digital alarm clock radio-wake up to your favorite Internet or FM radio station or the internal buzzer.
Automatic clock set and adjustment via the Internet.
Battery-operated option allows you to take the device outside the home or office.
Convenient remote-browse, select and control your music from across the room using the remote control
Access local weather and 5-day forecast
Included in the box are:
IS9181 radio
User's manual
Quick start guide
Power Adapter
Remote control
Auxiliary audio cable ( to connect Ipod/MP3 player)
When the radio arrived I immediately set it up using the quick start guide.  I was impressed with simplicity of installation.  It's a matter of plugging the unit in and pressing the standby button.  From there the display will guide you through the screens to set up the wireless connection, the clock and weather settings.
To connect to your wireless network, you will have to know your SSID and password for any encryption you may be using.  It will automatically search for available networks or you can enter the SSID manually.   Next, you'll want to set the clock, which can be done manually or it can be set via the Internet.  I chose the latter because if you're running on batteries you will lose your time setting if the clock is set manually.  Lastly, you set your zip code to get the 5 day weather forecasts for your area.  That's all there's to it.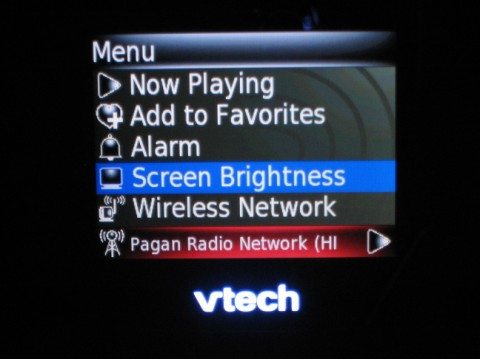 After initial setup, you can make changes to the settings from the main menu.  This is also where you setup the alarm and store your favorites.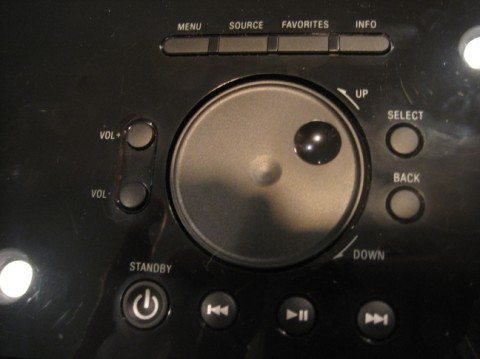 The radio can be operated using the controls on top of the unit or via the included remote.  I found the controls to be intuitive and easy to operate.  The remote has all the features of the on-board controls, except that the rotary dial is replace by up/down arrow keys.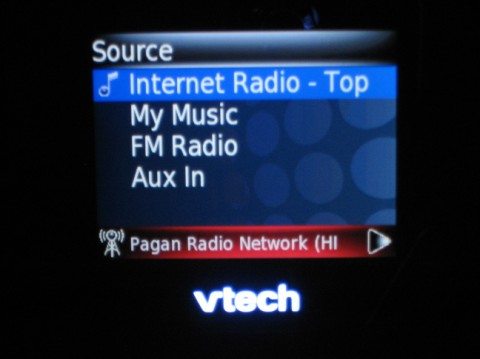 To select from the included list of Internet radio stations, you press the source button and get the above screen.  From here you can select the different sources and drill down through the menus using the select button.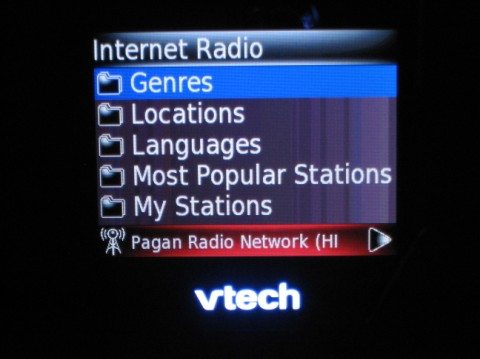 The station list seems unlimited, but if you can't find something, you can subscribe to a free account at Vtech and search the Internet for other radio stations.  These will be loaded down to your radio and are found under the My Stations folder.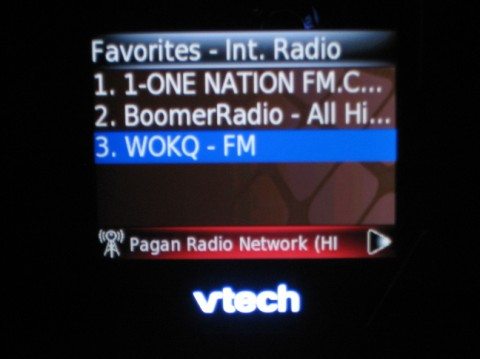 Because the station listing is so large, you have the option of saving your stations to a favorites folders for faster access in the future.  There is a separate favorites folder for both Internet and over the air FM stations.  You must be in the selected mode to access the correct one.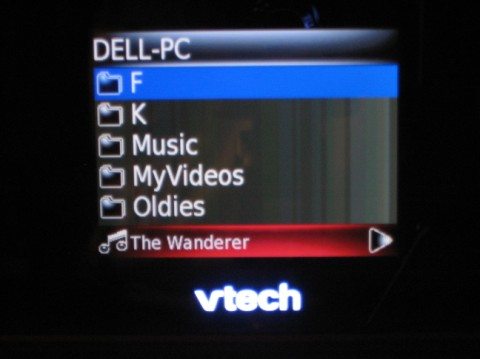 If you can't find enough to satisfy you on the Internet, the IS9181 can connect to your local network and play music files from your PCs or Macs.  This takes a little more effort to setup and it's not as sophisticated as some streaming devices.  You'll need to create a user account and password on your computer and may have to play with firewall settings.  However, I found that if I turned off my firewall while the IS9181 initially accessed the PC, it would see all my shared drives.  I then turned the firewall back on.
When the source is My Music to play computer files, you are limited to MP3, WMA, RA, RM, RMVB and ACC files that are NOT copy protected.  The only problem I had with this, is if there is a copy protected file in the folder you have selected to play, the IS9181 stops with a display annoncing the error.  You must reply by selecting OK before play will resume.  Also, files will play within a folder, but nested folders will not be selected.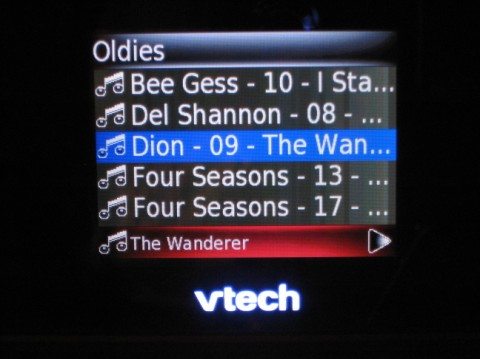 To eliminate issues, I created a folder to play tracks I want to hear (like a playlist), minus any protected or non-conforming file types.
As mentoned, the IS9181 is also an FM radio, but because of where I live, I didn't get much opportunity to check that feature out.  I was able to pull in the local NPR station and it seemed OK.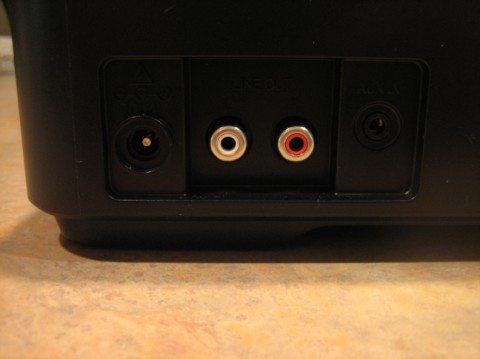 You can plug your MP3 player into the unit using the supplied cable.  This worked fine for me, but I rarely use the feature.  There are RCA jacks that allow you to hook the radio to a more substantial sound system.
The system can be run using 6 AA batteries, which makes it truly portable.  I find myself carrying the unit around the house to listen to PODcasts I have recorded, while working in the basement.  My wife and I listen to music in the kitchen family area and at night we plug it in by our dresser and use the alarm function to wake in the morning to internet radio.  The major down side to using battery power, is that the alarm function is disabled at that time.
The weather function displays 5 days of forecasts from weather.com.  It's a nice feature to have, but isn't what makes me like this radio.  What I appeciate is the ability to receive radio in my locally deprived area.  I realize that I could do the same thing using a PC and a service like Slacker or Radiotime, but I don't want to be tethered to a computer all the time.  And while I'm far from being an audiophile, I find the sound from the IS9181 to be just as good as some much higher priced units I've listened to.  Lastly, it's a good looking unit that blends in with the decor in my home.
Update 01/08/15
It's still sitting on my shelf working fine, except it is no longer supported.

Product Information
Price:
$199.99
Manufacturer:
Vtech
Requirements:

Broadband Internet, wireless router

Pros:

Great sound
Easy to use
Multiple music sources
Stylish

Cons:

Just a nit, alarm doesn't work in battery mode