We use affiliate links. If you buy something through the links on this page, we may earn a commission at no cost to you. Learn more.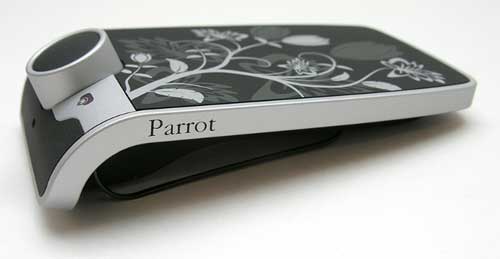 If you're not a fan of Bluetooth headsets, but still wish to remain hands free while driving, there is an alternative – speakerphones. One such device is the Parrot MINIKIT Bluetooth speakerphone. Let's take it for a spin.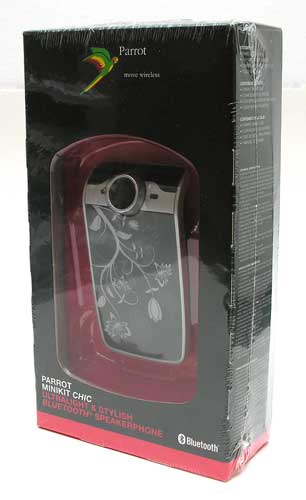 The Parrot MINIKIT is a visor mounted speaker / microphone that is available in a Chic and a Slim version. The Chic version, which was sent to me, has a feminine design, while the Slim version is plain Black.
Hardware Specs
Audio
* Full duplex
* Built-in omnidirectional microphone
* Audio output via the vibrating panel
* Advanced Parrot NR3 noise reduction
* AEC-2 echo cancellation
* Voice menus for all menus
* Multi-speaker voice recognition
* Text To Speech: speech synthesis of the names in the phonebook
Bluetooth
* Bluetooth v2.0 + EDR
* Profiles supported:
o HFP (Hands Free Profile)
o OPP (Object Push Profile)
o PBAP (Phone Book Access Profile)
* Other profiles:
* SyncML, Synchro AT, Synchro Nokia
* Range: 10 metres
* Pairing: by PIN code (1 2 3 4)
* Updates via USB port
Processor
* Parrot P5+ 208 MHz
* Flash = 256 Mbits
* RAM = 64 Mbits
General
* Number of contacts:
– 1 000 per phone
– total of 2 500
* Language: one language per version
* Pairing: up to five devices
* Battery: lithium-ion, maximum charging time of 4 hours
* Battery life:
– over 15 hours talk time
– over 20 days on standby
* Automatic connection by pairing order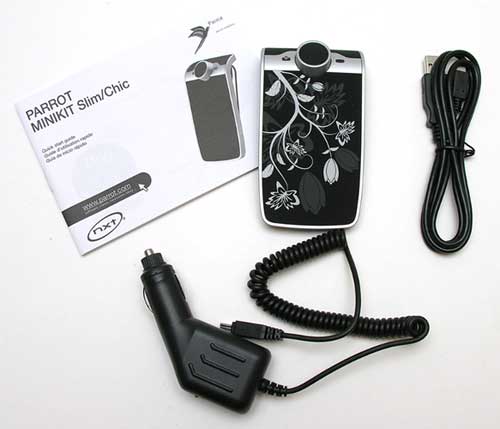 Package Contents
Parrot MINIKIT Chic Speakerphone
USB Cable
12V charging cable
Quick start guide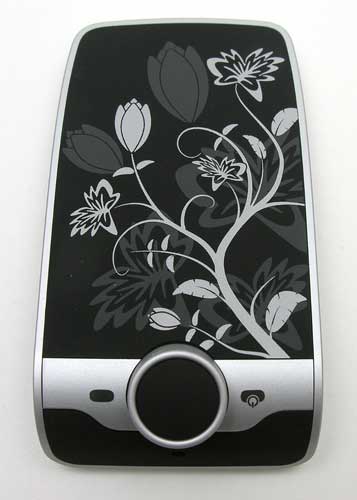 The MINIKIT Chic is made of Black and Silver / Grey plastic that has a slightly rubberized texture. The face of the speakerphone has one continuously rotating jog wheel, with a button on ether side beneath status LEDs. I didn't even realize that there were buttons on the front until I could not figure out how to initiate a voice call. I guess instructions can be useful sometimes. 😉 The Left button is the call answer and voice call initiate button and the Right button is the call end and power button. The jog wheel can be used to do a phone book lookup, and adjust volume.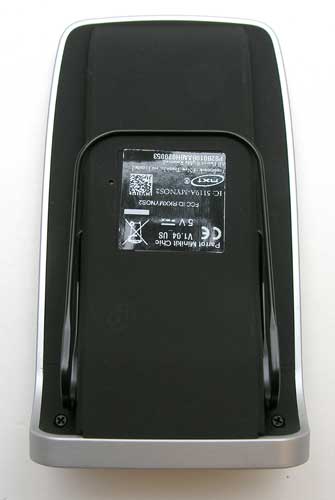 The back of the MINIKIT has a wire visor clip and a reset button (the tiny hole next to the sticker).

On one side, you'll find a mini USB connector that is used for charging the batteries via your computer or the included 12V car charger. There is also a charging status LED next to the connector.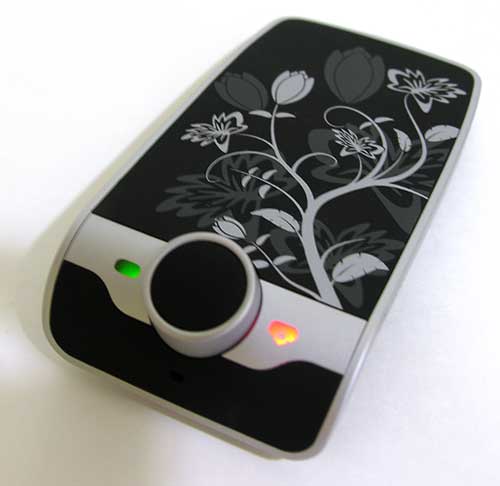 To turn on the speakerphone, you hold down the Right button for two seconds. Pairing with my Pantech Matrix Pro Smartphone was simple. All the phone numbers stored in my phone then automatically synchronized with the MINIKIT. My phone's contact list has 205 contacts, so the transfer time did seem to take quite awhile.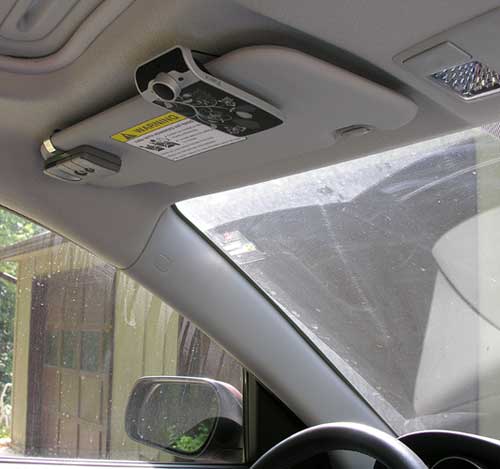 The MINIKIT is designed to clip to the window visor in your car. The quick start guide shows it in the orientation that you see above, which works fine when the visor is in the upright position.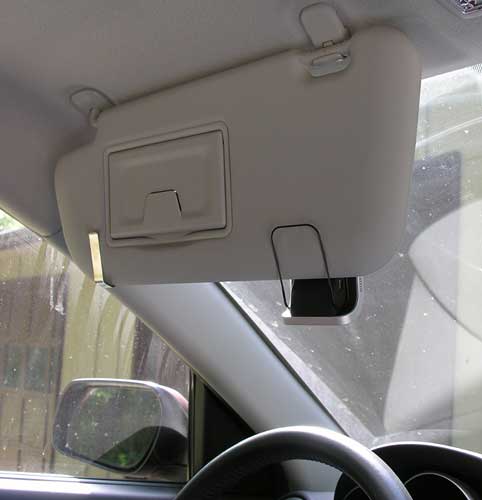 But not so well when the visor is down as shown here. As you can see, the buttons and jog wheel are not easily accessed when the visor is lowered.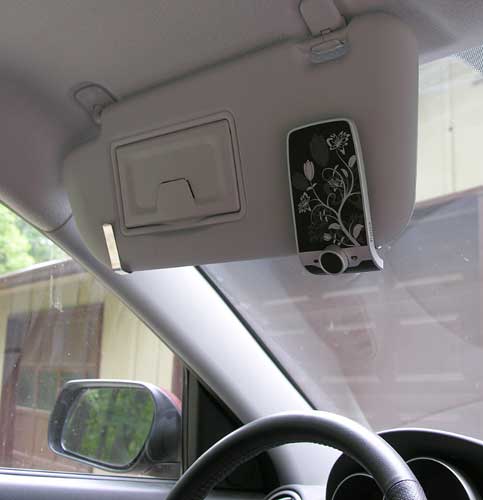 I attached the MINIKIT the opposite way, which makes it much easier to press the buttons when the visor is down.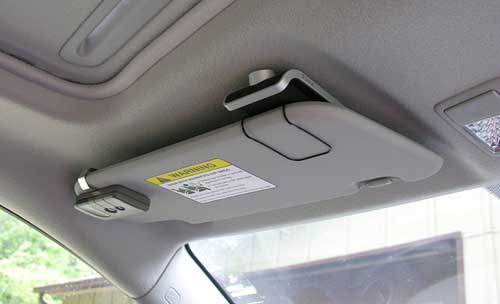 The only problem is that if I flip the visor up too quickly, the jog wheel will press against the roof of the car and will be activated.
I've been using the MINIKIT for a couple of weeks now and I have to say that unfortunately, I'm not all that impressed by it. I've encountered two show stoppers during my time using it. First of all, it's locked up twice now. Each time when I needed to make a call. Both times I either pressed the jog wheel to look up a name in the phone book, or I pressed the Left button to make a voice command call. When the lockup happened, both LEDs turned on and the MINIKIT refused any further input. It wouldn't turn off by holding down the power button either. Since I was driving, I couldn't very well reset it. Even if I wasn't driving, I would have needed a tack or paperclip to access the recessed reset switch. Not very convenient.
The other big issue that I've had is that the MINIKIT wants to auto sync my phone book all the time. It seems like 8 times out of 10, when I press the voice command button to make a call, a British female voice will say "Synchronizing phonebook, please wait". ARGH! When this happens, I am able to use the jog wheel to look up a name and initiate a call, but that's time consuming when you have 200+ contacts like I do. You have to turn the jog wheel till you get the the first letter of the last name, then you have to turn it till the voice says the correct last name, the you have to turn the wheel to choose between mobile, home or work numbers. Of course, you could use the actual phone to make the call, but the whole idea is for it to be handsfree right?
Other smaller complaints include the fact that the speakerphone powers down automatically, so you have to turn it on whenever you get in the car. After it powers up, you then have to wait for it to re-pair with your phone. The entire process takes about 20-30 seconds or so. Not a huge deal, but kind of annoying. I've used a SuperAnt speakerphone, that goes into standby, but doesn't power off. It always knows when your phone is within range and will auto-pair as soon as you get in the car.
Things that I do like include the the design, size and volume level for incoming calls. I also like the voice dialing command that do not require any training. Just press the button once and when it asks who you want to call, you speak the last name of the contact. If there are more than one person with that last name, it will ask you which one, then which number (mobile, home or work). You can answer the questions with Yes or No. Just be careful. If it doesn't quite recognize who you're asking for, it might find one entry that matches, with only one number associated to it and will automatically start dialing that number whether you want to or not.
Ok, time for the sound tests! Below are several audio clips of the Zivio Boom headset in action. This will give you an idea of what it sounds like to receive a call from someone using this headset. I used the free voicemail / fax service from K7.net for these tests. I signed up for a free account, got a phone number and called it using the Pantech Matrix Pro while using the Parrot MINIKIT speakerphone. The resulting voicemails are then emailed to you. Pretty nifty! At test time, the phone had full signal strength. Click to listen.
parrot-driving1 (432k WAV file)
parrot-driving2 (896k WAV file)
Calls on the MINIKIT speakerphone side of the call sounded fine to me. They were clear and loud enough to understand. People that I called sometimes told me I sounded like I was in a can. Other times they would tell me that I sounded ok, but that they could tell I was using a headset.
When it's all said and done, I have mixed feelings about the Parrot MINIKIT Chic bluetooth speakerphone. I like that it is easy to setup and use, but the crashing and phonebook syncing issue pretty much kills it for me. I did try to update the firmware by installing a special udpate application that Parrot has for download on their site. Unfortunately, Windows kept insisting that I install a driver for the device and I could find no such driver – so the update program was never able to check to see if there was a new firmware version for this particular model.
FYI: I sent a note to the person that sent me the headset, listing all my problems, but so far no response…
If anyone has had the same or a better experience with this speakerphone, I'd like to hear about it. Please leave a comment to this review.
Product Information
Price:
$99.99
Manufacturer:
Parrot
Pros:
Cons:

Locked up on 2 occasions
Constant phone book syncing interrupts voice dialing feature
Powers down automatically