We use affiliate links. If you buy something through the links on this page, we may earn a commission at no cost to you. Learn more.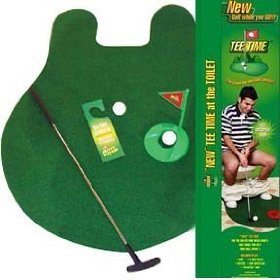 I was watching some recorded TV shows last night and as I usually do, I fast forward through the commercials (I have a DirecTV DVR). Something VERY odd caught my eye as it sped by, so I rewound and watched what I was sure had to be a joke. It's the Potty Putter – a toilet time golf game. No, I'm not kidding and it's not a joke. You can even watch the same commercial on the website. The immediate thoughts that come to mind are:
1. eew!
2. People that have to spend that much time in the bathroom that they can play a game, really need to add a little more fiber to their diet or something! 😉
If anyone actually has this 'gadget', we need to hear from you!