We use affiliate links. If you buy something through the links on this page, we may earn a commission at no cost to you. Learn more.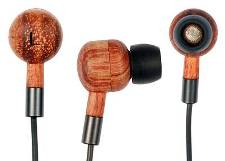 Well, I popped my favourite earphones to one side and have been reviewing the 'Woodphones' from Artwizz for the last few days.
I've used a lot of In-Ear Monitors (or IEMs as they are known) in the past, some of which have been stated as being the 'best' on the market, incorporating not only an excellent sound experience but also a quality design.  Most of them I've used are very good, but at the same time can be very pricey.
Specifications
Hand crafted, made from Padauk Wood
Mesh covered casing
Impedance: 32 ohm ± 15% (1000 Hz at 1mW 0.134 V)
Sensitivity: 105 dB ± 3 dB (1000 Hz at1mW input)
Maximum power input: 5mW
Plug connection: Ø 3.5 mm stereo plug
Cable length: approx. 110 cm
Gold plated 3.5mm jack
Weight: approx. 13 g
For use with iPod, iPhone, MP3, CD/DVD Players
First Glance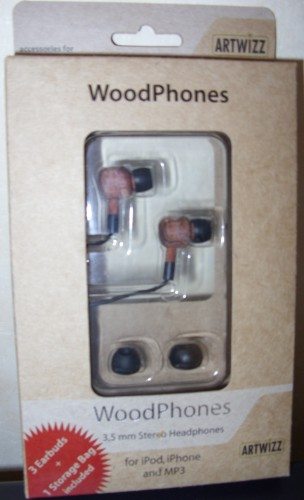 I must admit, I wasn't particularly blown over with the packaging the woodphones are in, as it just looks a bit, well, dowdy and uninviting!  However, there is a clear window so you can see them quite well.  Again, at first look I was slightly put off by the design of the woodphones themselves.  They certainly wouldn't be my first choice if I was looking to buy a new pair.
They're made from Padauk Wood (known for it's toughness and stability in use) which isn't a material that I would have ever thought about using when it comes to earphones.  They're also very contemporary & classy in their design, compared to a lot of the more 'modern look' earphones available on the market today.  They also incorporate a tiny mesh cover, to prevent any debris (i.e. ear wax) from falling into the casing.  Once the silicone tip is removed, they are relatively easy to clean.
The cable is 1.1m in length, which is fine.  I used them whilst sitting at a desk or on a chair using a laptop, and out  running, and the length is perfect.
When you are not using the woodphones, they can be placed neatly in the supplied storage bag, along with the spare ear tips.  Personally, I would rather store the spare tips back in the packaging, as I doubt I would need to carry these at all times, but the storage bag is large enough for you to do so.
Unfortunately, I immeadiately noticed that the woodphones do not incorporate a built in volume control on the cable, which you can find on most headphones these days, however this is not really an issue.
So, what's in the box?
One pair of Woodphones
One Artwizz Suede effect Storage Bag
Three sets of silicone ear tips (Small, Medium & Large)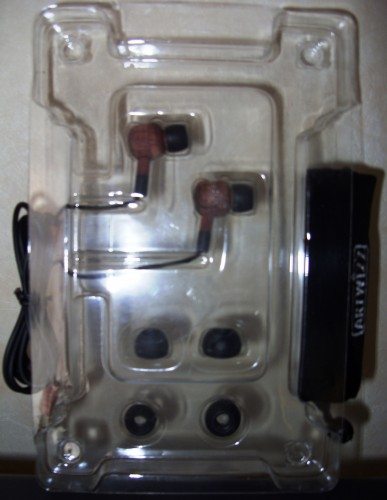 The fitting
Well, for the review I used the woodphones with my iPod shuffle and also when sitting on the laptop at home.  I do go running quite a lot, so a comfortable & well fitting pair of earphones is a definite must!  I tried the woodphones as they came out of the box (with the small ear tips already fitted) and they were fine, but did move around a little.  So, I swapped over to the medium sized tips which were much better!  I did also try the large tips, but these were slightly too large for me.  So, I guess it all depends on the size of your ear canal as to which tips you would need to use.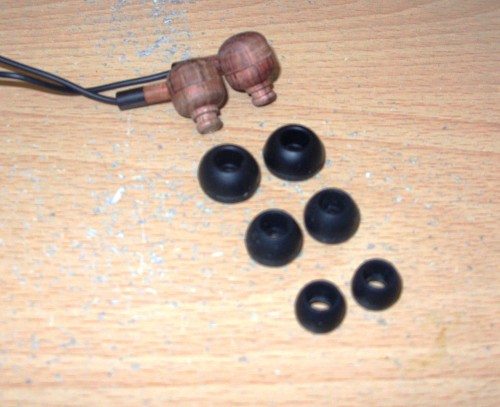 The fit is quite literally, perfection!  There is very little movement at all, even when I'm out running.  Once they were in, little to no adjustment was needed.
The Sound Experience
With the music playing, the woodphones really came into their own, with background ambient noise being almost completely rejected, allowing for astonishing sound quality, with plenty of punch at the bass end and lots of lovely mid-range and high end treble detail.  I was quite pleased to notice that even when I was running, the sound of the wind rushing past my ears could hardly be heard when wearing these, compared to other headphones I use.
As I like a wide variation of music, so this gave me the perfect opportunity to test the headphones to their maximum capabilities.  Even with the volume turned right up, bass distortion was only just heard right at the top end.   From classical music to the heavy bass dance music, the tones are well balanced and very fluid.
Conclusion
In conclusion, you can't really go wrong with the Artwizz Woodphones.  For an exceptional price they incorporate not only an excellent build quality, with classy looks but they also offer a fantastic quality of sound, surpassed only by the very best of in-ear headphones.  I could easily compare the overall quality of the woodphones to those that would retail for €100 or more.
They've certainly got a space in my gear bag!
Product Information
Price:
€29.99
Manufacturer:
Artwizz
Pros:

Excellent Value for Money
Very lightweight
A unique & classy design

Cons:

No built in volume control