We use affiliate links. If you buy something through the links on this page, we may earn a commission at no cost to you. Learn more.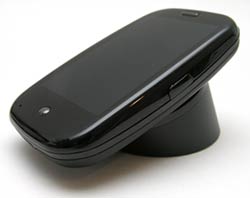 My Palm Pre didn't see a lot of action yesterday (Day 2). It was my last day of vacation and I spent a good portion of it outside. I did manage to become more comfortable with the user interface, check out the App Catalog and the do a little surfing with the web browser using WiFi. I had big plans for today (Day 3) to test the camera and call reception without roaming on Verizon towers. Unfortunately my plans fell apart… I had left the Pre on the touchstone charger all night and on my way out the door this morning, I slipped it into the included protective sleeve, put it in my gear bag and headed off to work. Like I had mentioned above, I was on vacation last week, so I was swamped at work with over 200 emails to wade through and a bunch of tickets to work on (I'm a support person at Cummins). I didn't get a chance to even touch the Pre until my lunch hour. When I pulled it out of my bag it was noticeably warm and it would not turn on. Since it was fully charged before I left home, I didn't think to take the USB cable with me. So I was unable to use the phone at all until I returned home. 🙁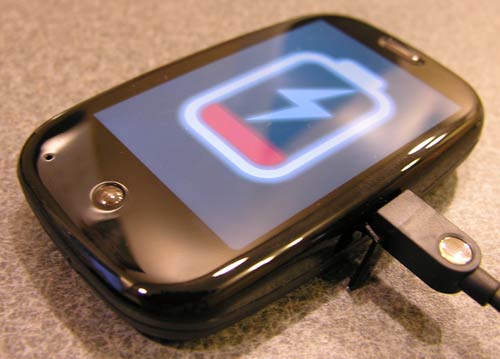 I had to stare at this screen for at least 30 minutes before the Pre even powered on. Talk about frustrating… I'm not really sure what happened today. I know the following:
I had installed the patch 1.0.2 Saturday
I had roaming turned off Saturday night because I was worried that data roaming at home during the weekend might incur some surprise costs
WiFi was on as that was how I was accessing the web, App Catalog, etc.
I had installed a few different applications yesterday, but I'm pretty sure that none of them were running
I'm going to keep an eye on how the battery lasts tomorrow while I'm at work and I'm definitely bringing the USB cable along with me this time!
Touchstone
While we're talking about the battery, let me show you the touchstone. It's a $69.99 optional purchase.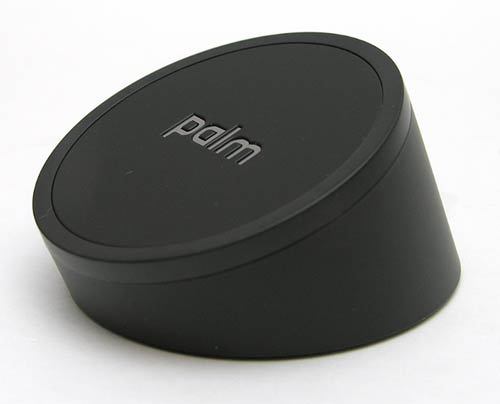 It's a magnetic charging dock and replacement back cover for the phone that allows you to charge your Pre wirelessly. Since I find the little USB port cover to be annoying, I like this option. That said, it is completely overpriced. $70 is insane considering that you have to use it with the AC adapter and Micro USB cable that came with Pre. For that price, they should have included another cable and adapter. Also, you can't just connect it to your computer's USB port instead of AC for charging. So, you'll need two USB cables if you need to sync with your PC. One for the touchstone and one for your PC. Bah!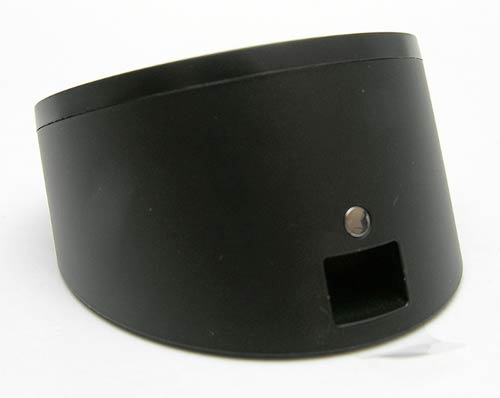 The design is simple enough though. It has a nicely weighted base. If you remove the sticker off the bottom, it has a sticky base that will give you the ability to stick it to your desk. There's one connection point on the back for the USB cable.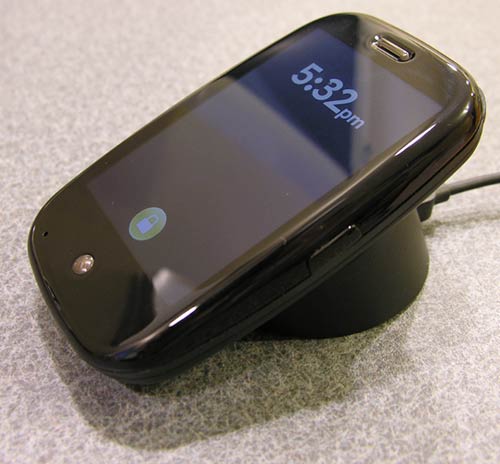 When the Pre is idle and charging on the touchstone, it will display the time of day and will also show any notifications like text messages, emails, etc. It's interesting that the phone doesn't use this same 'screensaver' mode when charging via USB.
When I first tried to use the touchstone, it would not charge the Pre. I finally realized that it's a bit picky with how you position it on the dock. I was sticking it up to high…
I've read that some people are saying that their Pre gets really warm when charging with the touchstone. I've not noticed that. It is warm to the touch, but not enough to be alarming.
I can't report much more about battery life yet due to the problem earlier. More about that in another installment.
Palm webOS user interface
If you've used an iPhone, then the user interface on the Pre won't require much of a learning curve on your part.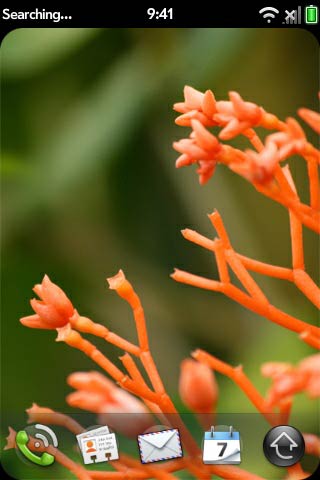 Here is what the 'desktop' looks like on the Pre. Palm calls this the Card View because each open application will be represented by a thumbnail version or 'card'.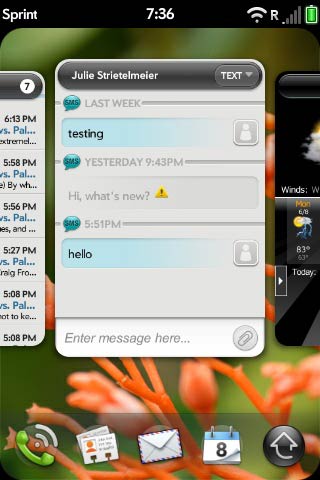 Here's what the display looks like when you have several cards / applications running. You can tap a card to switch to that application, scroll through them with a flick of your finger from left to right, or flip your finger up to remove / quit an application.
The entire screen of the Pre is touch sensitive, but the part between the bottom of the display and the select button is a special gesture area that recognizes specific finger swipes. There are 3 main swipes to learn.
A right to left swipe is like a back command. It goes back one screen or action in an application
A quick swipe from the bottom to the top switches to card view. Pressing the select button in an application does the same thing
A slow swipe and hold from bottom to top brings up the quick launch bar of applications
The default quick launch bar has the Phone app, Contacts, Email, Calendar and Launcher. You can customize the apps you want in the launch bar, I haven't looked up how to do it yet though 😉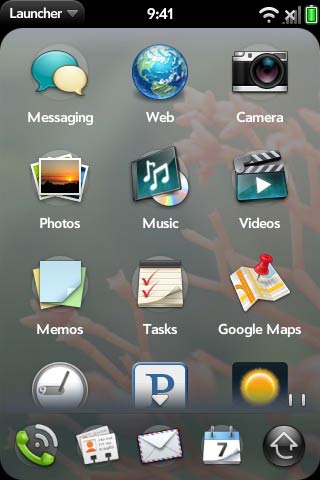 Here's the launcher. It gives you a list of your installed apps. Swiping horizontally will scroll through pages. Tap an app to launch it, or tap, hold and move to rearrange the icons.
Here's a 2 minute video that I made to demonstrate some of the gestures. FYI the web browsing is done using WiFi via my T1 line.
Using the gestures takes a minute or two to learn and then it's very natural and takes no thought. The touch screen is similar to the iPhone's in that you have to use your bare finger and not a stylus. Gloved fingers won't work either. That would be a problem for me in the winter since I always wear gloves.
Let's go surfing now
Surfing with the Pre is on par with surfing on the iPhone except for one thing – screen size…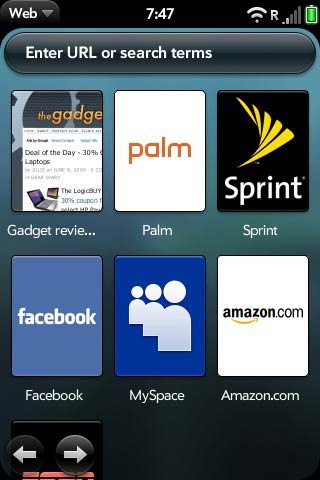 When you launch the browser, it will pull up thumbnail views of your bookmarks. You can either tap one of them to load  that site, or you can type a new URL.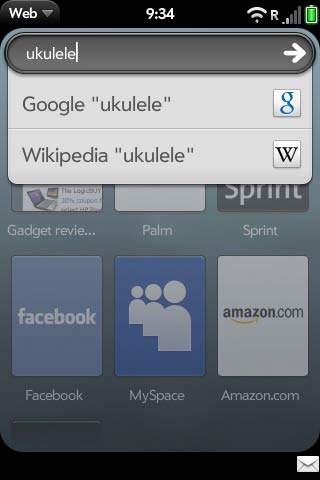 What's nice is that below the input field, are options to search for what you're typing in google or Wikipedia.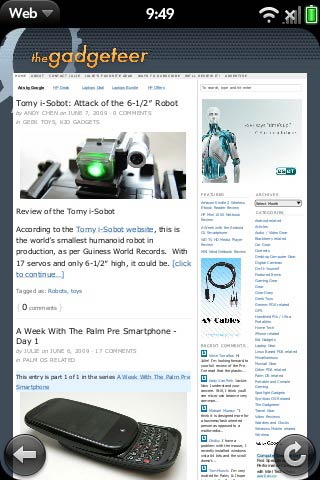 This is what The Gadgeteer looks like in the Palm Pre browser. The 3.1 inch display is very nice, but it's too small to read at the default font size for my eyes.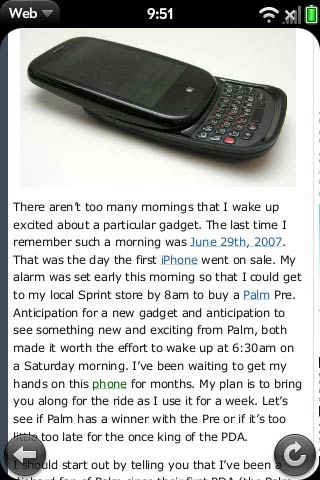 No worries though as the Pre has the same gestures that the iPhone has. Just double tap the text to zoom in or use the two finger spread / pinch gesture to zoom in and out.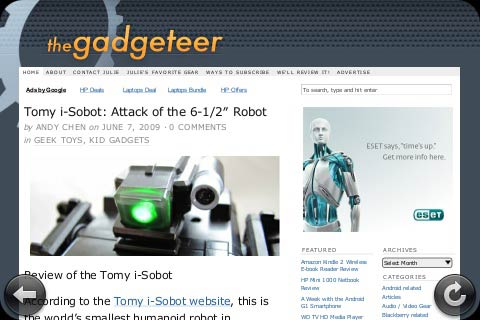 You can also turn the Pre sideways to have it automatically rotate the display.
In addition to saving bookmarks, you can also save webpages to the app launcher list.
I noticed something odd on The Gadgeteer when I pulled up Andy's review of the Tomy i-Sobot and clicked on one of the video links (.mov files). The first time I tried it, the screen auto rotated and the video actually began playing for a couple seconds before an error message popped up saying there was an error playing the file. Now whenever I try again, it just shows the error. Trying to play videos on CNN give the same error.
Other issues – No cut and paste in the browser, and you can't search for text in the browser.
If you have specific questions about the browser, let me know.
Topics covered in the next installment will be:
Making and receiving calls
Camera
Music and video apps