We use affiliate links. If you buy something through the links on this page, we may earn a commission at no cost to you. Learn more.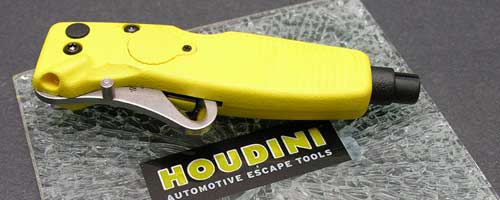 Every so often, I'll hear a story on the news about someone getting trapped in their vehicle after an accident. We've probably all wondered what we would do in a situation like that. I have something to show you today that will make you feel more confident the next time you wonder how you would react if you were trapped in your car. It's the Houdini Automotive Escape Tool.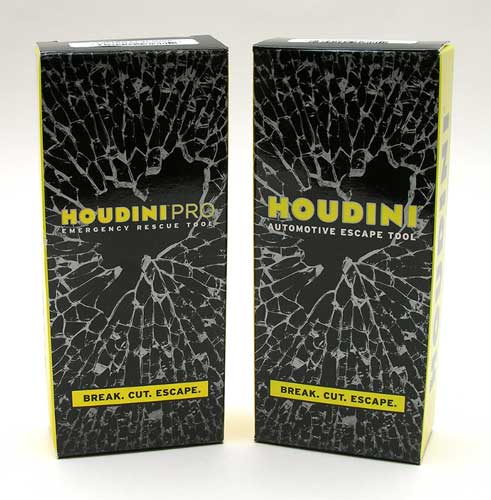 There are two versions of this tool. The Pro version and the non-Pro version. Let's start with the less expensive non-Pro version.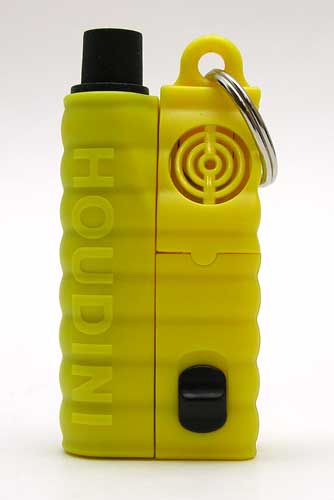 This tool is made of bright Yellow plastic and is small enough (2.5 x 1.25 x 0.5 in) that it can fit easily in the glove box of your vehicle, a purse or gear bag.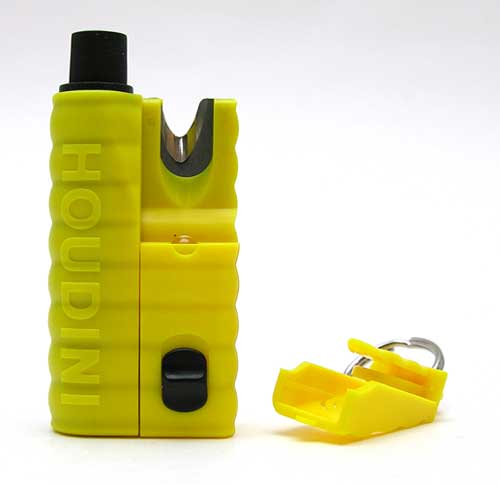 This small device has several escape features. Pull off the keyring / blade cover, to expose a very sharp cutting blade. You can use this to slice through a seat belt.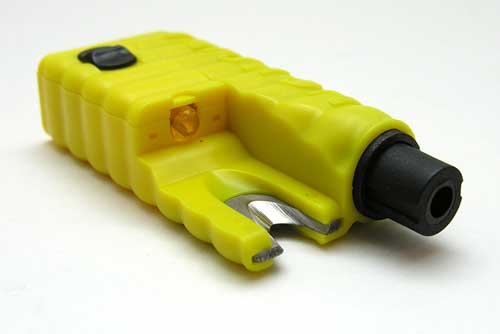 Never miss one of our posts again. Sent MON, WED, and FRI with the latest gadget reviews and news!
You can also see the window breaker tip. It has a spring loaded point inside it, that will pop out and shatter a window.
With the blade cover off, you can also use the built in LED flash light.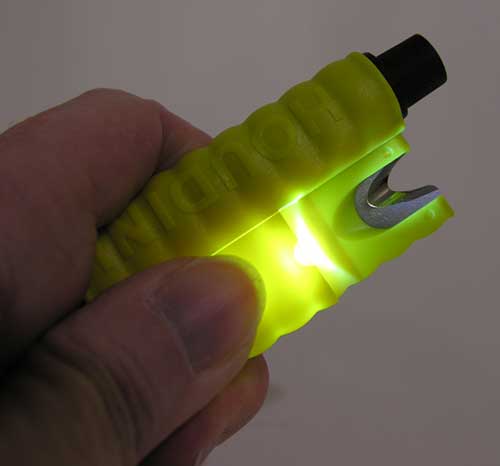 Just slide and hold the Black button on the front to light the LED. When you let go of the button, the light goes off. I wish that you could lock the switch in place, but this is better than nothing.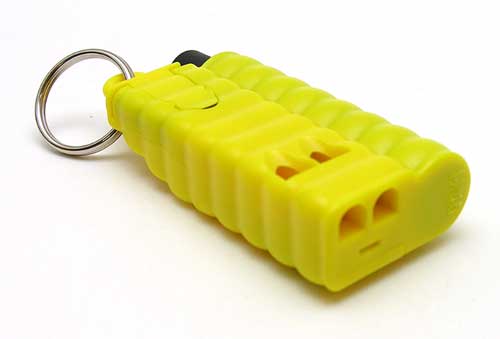 There's also a built in whistle. It's not the greatest whistle in the world, but it should get someone's attention when you blow it.
This smaller, non-Pro version is priced at $24.95 and it is handy. The only issue I have with it is that you have to pull off the blade cover to use the window breaker tip. In an emergency situation, I'd rather have a device that is ready to go and doesn't require me to fumble around removing parts of it.
That's where the Houdini Pro comes in…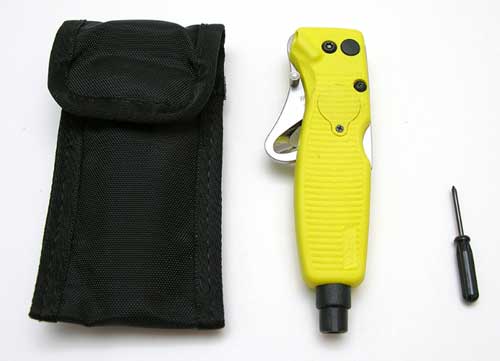 The Pro comes with a nice nylon belt case and a small screw driver to be used for changing the flashlight battery.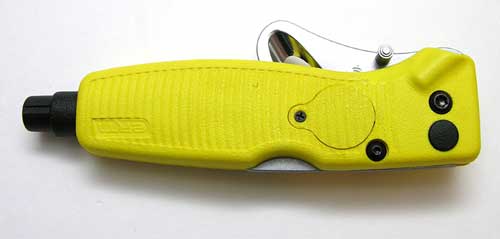 There's a lot more substance to the Houdini Pro. It is about the size of a utility knife and has a robust hard plastic case.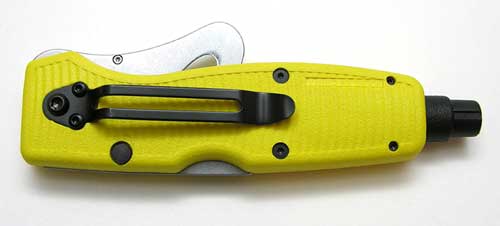 There's a metal pocket clip attached to the back side.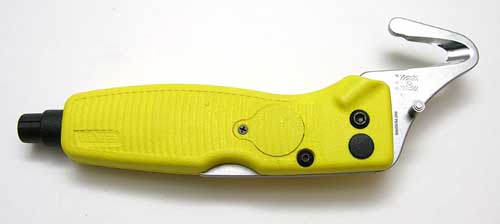 The hooked seat belt cutting tool swivels out for action like a pocket knife blade. It locks in place and is extremely sharp.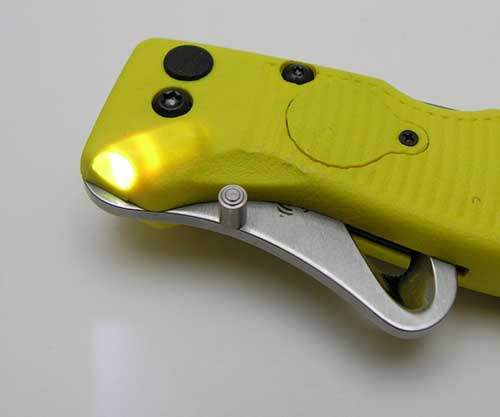 This tool also has a built in LED flashlight. The small Black rubber button at the top toggles the light on and off. Unlike the non-Pro Houdini, you don't have to hold the button to keep the light lit.
When I accepted these tools for review, I had the greatest idea for how I would test it. Since I live very close to an auto salvage yard, I thought they would allow me to test the tool inside an actual car. Unfortunately for me, when I stopped by one day to talk to them, they shot me down and said no way. Come to find out, glass is a big thing for junkyards, and this one happens to sell windshields and side windows all over the world. To say that I was bummed is an understatement 🙁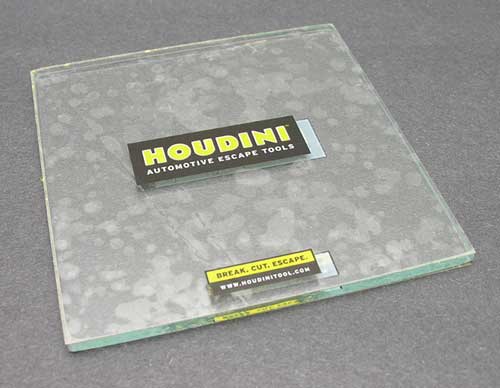 Luckily I did have a back up plan… Included with the tools was a 5 x 5 inch piece of glass. Although not as sexy and testing in a real vehicle, this would have to do…
The bubbles that you see in the image above are from the thin plastic cover that is affixed to both sides. It's there to keep the tiny pieces of glass from making a mess when we test the tool.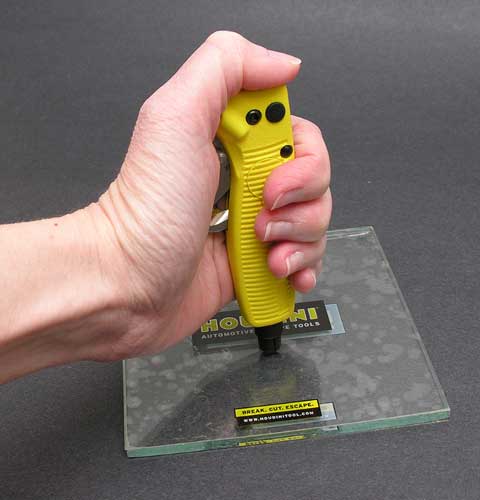 The Houdini Pro has a window breaking tip just like the non-Pro tool. The only difference is that the Pro tool is easier to handle since it is larger, and you don't have to remove any parts to use it. To test the window breaker, you place the tip on the glass and push down. The spring loaded tip will depress and then a point inside it will pop out with enough force to shatter the glass. It's very quick and easy to do. It does not require significant effort. I think even a child could probably do it if instructed properly.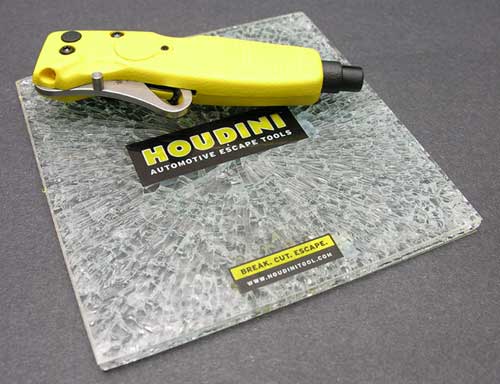 Here's that same 5 x 5 piece of glass a few seconds later. It's totally shattered. Even though I wasn't able to test this on an actual car window, I think this tool would easily break it. When I talked to the guys at the auto salvage yard, they were familiar with similar tools and said that they work great. I am inclined to agree with them.
If I were going to buy one of these tools, I'd go for the Houdini Pro. Although it costs $15 more than the non-Pro version, it's easier to use and feels like a better quality tool. I'm going to put this one in my glove box. Then the next time I see a news story about someone getting trapped in their vehicle as a result of an accident, I won't have to wonder what I'd do in a similar situation.
Product Information
Price:
$24.95 and $39.95
Manufacturer:
Houdini Inc.
Pros:

Both tools have a cutting blade, glass breaker and LED flashlight
Easy to use glass breaking tool

Cons:

Changing the batteries on the non-Pro tool is not easy