We use affiliate links. If you buy something through the links on this page, we may earn a commission at no cost to you. Learn more.
I enjoy listening to music at my day job, but there are a couple issues with regular earphones that make this activity less than ideal. For one thing, it seems like someone is always calling me on the phone or walking up to my desk, requiring me to pause the music and pull the earbuds out of my ears in order to talk to them. Then there's the issue of ear comfort… it doesn't take long for most earbuds to hurt my ears. This is especially true of in-ear style buds. That's why I was really looking forward to reviewing a set of bone conduction headphones, when I received a pair from Audio Bone. Let's see if they solve both of my problems…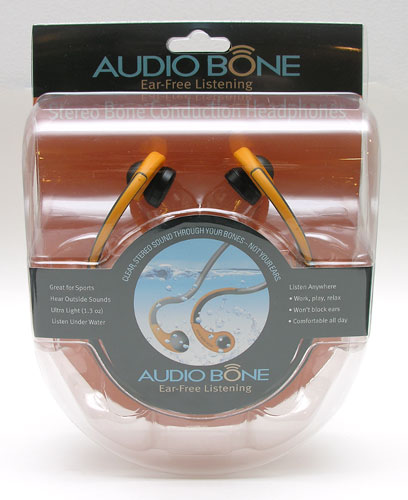 Hardware Specifications
Normal Input: 30mW
Maximum Input: 100mW
Impedance: 8Ω± 15%
Sound Pressure Sensitivity: 88dB/mW (dB 1.0 dyne)
Frequency Response: 50-12,000 Hz
Cord Length: 120 cm / 4 ft.
Plug: Stereo 3.5mm
Weight: 35g / 1.3 oz.

What exactly is bone conduction?
"We all hear sounds through both our bones and our ear drums. Most sounds are heard by our ear drums. The ear drum converts the sound waves to vibrations and transmits them to the cochlea (or inner ear). But in some cases vibrations are heard directly by the inner ear – bypassing your ear drums. In fact, this is one of the ways you hear your own voice. This is also how whales hear.

"Invented by Beethoven – Ludwig van Beethoven, the famous 18th century composer who was partially deaf, discovered Bone Conduction. Beethoven found a way to hear music through his jawbone by attaching a rod to his piano and clenching it in his teeth." – from the Audio Bone website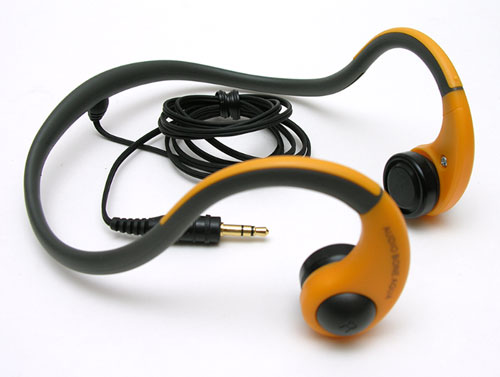 Available in several colors, I was sent the Orange and Black version. A quick glance at the Audio Bones might fool a person into thinking that they are a normal set of behind the neck style headphones.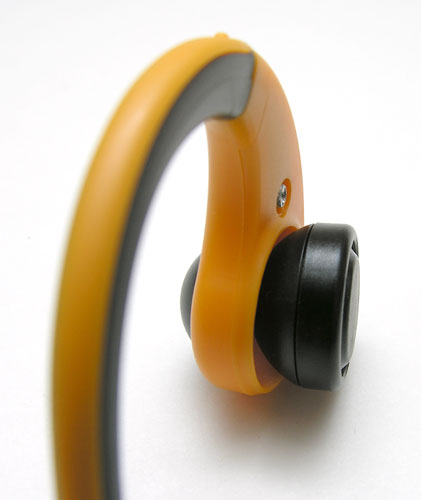 The difference though is in the actual earbud part of these headphones. Or I guess I should say that the difference is in the Audio Bone's lack of earbuds. Instead of an earbud that you stick in your ear, there's bone conduction speaker that sits in front of each ear.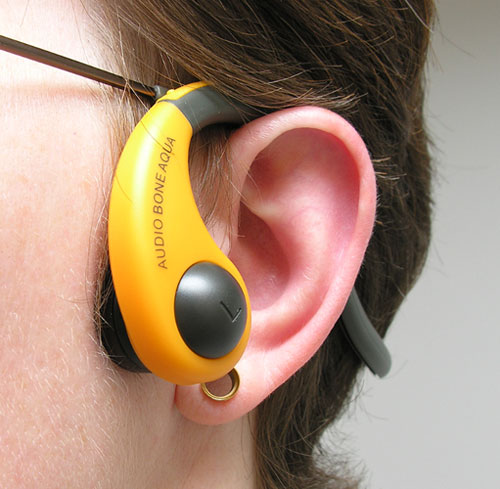 These speakers are a little larger than the diameter of a penny and have a thin rubber covering that touches your skin. Each speaker has the ability to freely pivot, allowing you to place it in the most comfortable location in front of your ear.
As far is comfort is concerned, the Audio Bone's are one the most comfortable headphones that I've tried in a long time. I guess that's not a big surprise since nothing is being placed in your ear. I even wear glasses, and found the Audio Bones to be comfortable enough to wear all day long.
Because you're not putting the speaker in your ear, you'll still be able to hear surrounding noise as you also listen to audio through the headphones. So, the Audio Bones are not for people that want / need noise canceling. They wouldn't be very good in an airplane for example.
Swimmers will be interested in learning that these headphones are waterproof. Put them on, cue the music and dive in.
Of course, the main question is how do these headphones sound? One of the first things I noticed was that I had to turn the volume on my iPod and Slacker G2 player up to 75 or 80% of maximum in order to hear the music at a comfortable level. At that level, someone sitting close to you, can hear the music coming out of the headphones too. They might not be able to make out the actual song, but they can hear the beat. I also noticed that depending on where I actually placed the speakers in front of my ears, the audio would sound louder or softer, clearer or muddier.
Although I found it really cool that I could hear music through my bones, I wasn't all that impressed with the sound quality. According to the Audio Bone website, you shouldn't judge these headphones right away, as you need to give your inner ear some time to adjust to bone conduction listening. So I tested these headphones for an hour or two every day for 5 days. After that length of time, to my ears (or bones), they still didn't sound as good as my stock iPod earbuds. Music just doesn't sound as rich and full through these headphones. I feel like I'm missing the best part of a song when I'm using them because the audio sounds like it's somewhat muffled. For that reason, audiophiles won't be happy with them. I will say that they do sound fine for listening to podcasts or audio books though.
I think that the Audio Bone headphones are a really cool concept. They are comfortable to wear and are convenient to use in environments where you need to hear surrounding noises. But right now, the audio quality that you get for the price is a deal breaker in my opinion. Here's hoping that future models will improve in both the price and sound. Until then, I would advise sticking with old school earbuds or headphones.
Product Information
Price:
189.0
Manufacturer:
Audio Bone
Pros:

Comfortable
Can still hear surrounding noises
Waterproof

Cons:

Expensive
Music not as rich and full sounding as normal earphones
Not good for listening to music on an airplane