We use affiliate links. If you buy something through the links on this page, we may earn a commission at no cost to you. Learn more.
Do you prefer flashlights that can use regular old Alkaline batteries instead of special lithium cells that are expensive and hard to find? Me too. That's why I was more than happy to test the LD20 from Fenix.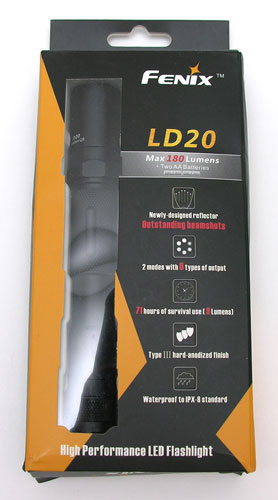 Flashlight Specs
Light type: LED
Bulb: Cree Premium (Q5) 7090 XR-E LED up to 180 Lumens
Lens: Glass
Reflector: Textured
Beam type: Spot
Case type: Metal
Powered by: 2 AA (Alkaline, NiMH or Lithium) batteries not included
Water resistant?: Waterproof to IPX-8 Standards
Size: 6.0 x 0.75 in (150mm x 21.5 mm)
Weight (with batteries): 4oz (115g)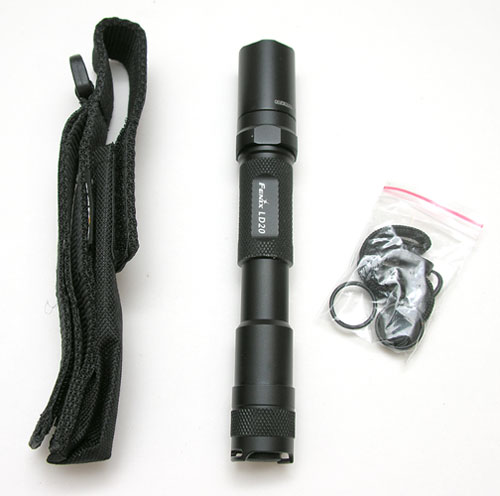 Package Contents
LD20 flashlight
Holster
Lanyard
Two spare o-rings
Spare rubber switch boot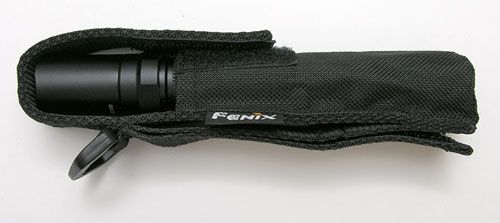 I rarely use belt cases that are included with some flashlights, but it's nice that companies include them for people that do.

The LD20 is made of T6 aircraft grade aluminum with a durable Type III hard anodized finish. I like that you can place this flashlight on a table or other flat surface and not be worried that it will roll away.
The barrel of the flashlight has a knurled grip, which gives it a rugged and balanced feel in your hand.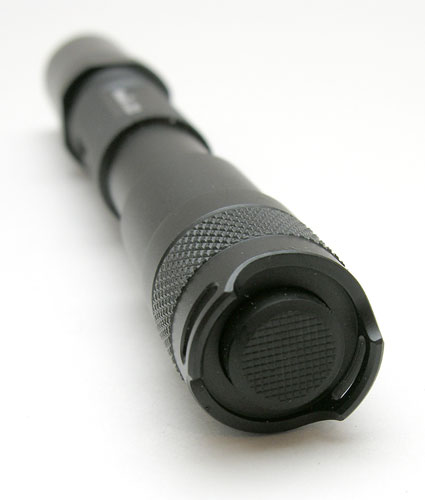 A rubber power button is located in the tailcap, which unscrews to allow access to the battery chamber. An extra power button is included, which I think is a nice touch. Also included are extra O-rings for the tailcap and the bezel.
The power button is stiff, but not hard to press with your thumb. The cool thing about this light is that it has six light modes that are accessed by turning the bezel and pressing the power switch.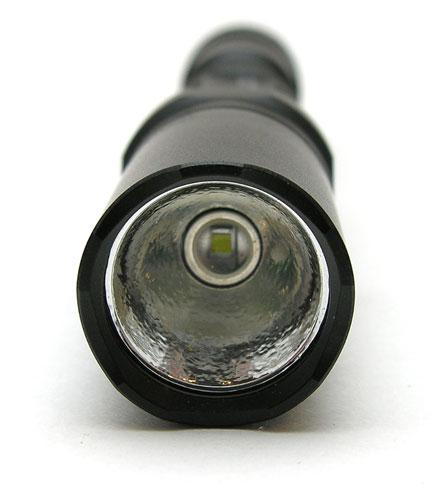 The head of the flashlight (or bezel) can be twisted (loosened), to switch from Turbo to General mode. Then the power button can be soft pressed to switch from normal beams, to a flashing survival mode beam.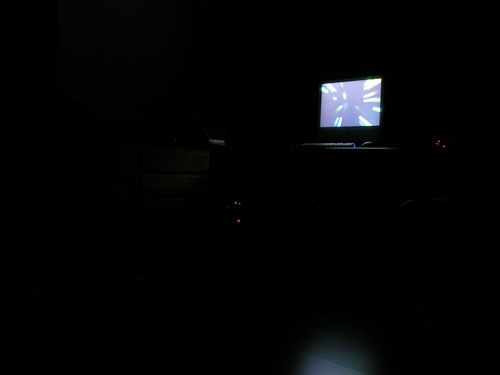 Here is a picture of my office with no lights on, at night, with the door closed. You can only make out my iMac's display and the glowing LEDs from some of my electronics. I'm standing in the corner of the room focusing on the opposite corner approximately 16 feet away.
Now let's power on the LD20 and see what it can do…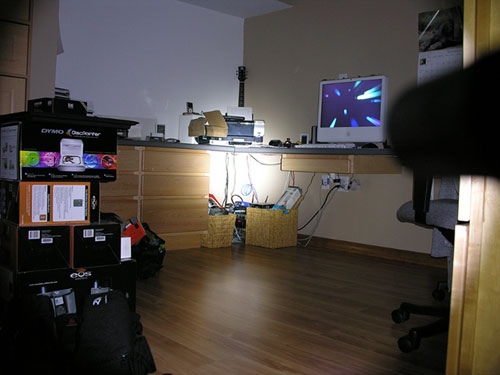 This picture was taken with the LD20 in Turbo mode (bezel fully tightened). As you can see, the beam is bright enough to illuminate the room. Turbo mode is 180 lumens and will work for 2hrs at that level.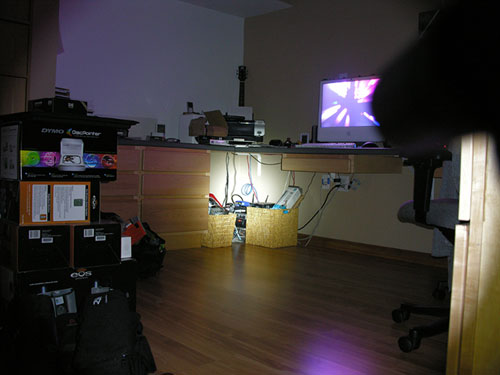 This picture has the light in General mode (bezel loosened). It's hard to discern from the picture, but the light is dimmer than turbo mode, but is still bright enough to distinguish everything in the room.
General mode has three different brightness levels that are accessed by soft pressing the tailcap button – 9 lumens (71hrs), 47 lumens (13hrs) and 94 lumens (5hrs).
Both Turbo and General have a blinking mode that can be used for emergency signaling. According to the literature, you can get up to 36 days of survival use (2 continuous hours per day on the lowest brightness setting).
I really like this flashlight and found that my only dislike was with the mode changing mechanism. I'd rather it have some sort of stop, so that you wouldn't be able to continue to unscrew the head.
The Fenix LD20 is the brightest LED flashlight that I've reviewed so far. I like its small size and ability to use regular AA sized batteries. I think this makes a good torch for indoor and outdoor use. The price isn't too bad either.
Product Information
Price:
69.95
Manufacturer:
Fenix
Pros:

180 lumens
Uses regular AA batteries
Strobe feature

Cons:

Needs a better mode changing mechanism - other than unscrewing the head