We use affiliate links. If you buy something through the links on this page, we may earn a commission at no cost to you. Learn more.
With the massive influx of digital media in the past decade or so, consumers have become aware of the need for some way to use
their media somewhere other than a computer. More specifically, we want to be able to play our music and movies and view our
digital pictures from the comfort of the couch, and with the high definition glory of a 72″ plasma television. Apple, of course,
released the Apple TV. However, other electronics companies have tried to come up with good home media center solutions that
don't require a full computer running Windows XP Media Center Edition, or Windows Vista Premium or Ultimate.
Being a pretty hardcore computer geek, I like the idea of a fully outfitted computer in my living room, but desktops use a lot
of electricity, and sometimes you just want something that's easy to set up and simple to use. The D-Link DSM-330 attempts to fill
this kind of need.
Julie passed on her Unicorn Mvix 760HD
after she upgraded to an Apple TV, and it's had a happy home in my living room for the past eight months or so. I love my Mvix,
so I knew that any similar product was going to face some serious competition. What I like about the Mvix is that it is extremely
flexible. It's compatible with a huge range of file formats (even VOB files ripped directly from DVDs), it can hold an IDE hard
drive, and the latest firmware update significantly increased its general stability. So, does the DSM-330 compare?
Sadly, no. There is a lot wrong with this device, and with an MSRP of nearly $400, you're much better off looking for other
solutions.
The meaning behind "DivX-Connected™"
When D-Link originally released the DSM-330, they also released a new online service that allowed streaming DRM-protected HD
video, complete with menus, in the DivX format. It was a good idea, but it didn't last long. The service was prohibitively
expensive to keep up and running, and it was shut down only a few years after its inception. This was supposed to be one of the
main drivers behind the DSM-330 – you could upload video and stream HD video directly from the Internet to your television. Once
the service was terminated, the DSM-330's functionality became a bit more limited.
Aside from the now-defunct Stage6 streaming service, the DSM-330 works with the DivX-Connected server software. This is a
Windows-only application that allows the DSM-330 to connect to your network and stream music, video, and digital pictures. There
are also plugins available that enable you to access video services on the Internet, like Hulu and YouTube.
I was originally pretty jazzed when I found out about the Hulu support, but it turns out that it's not so great – we'll get to
that in a minute.
What's in the box
One bright spot in this product is that the DSM-330 includes a full range of cables, so you don't need to worry about buying
anything extra to get started.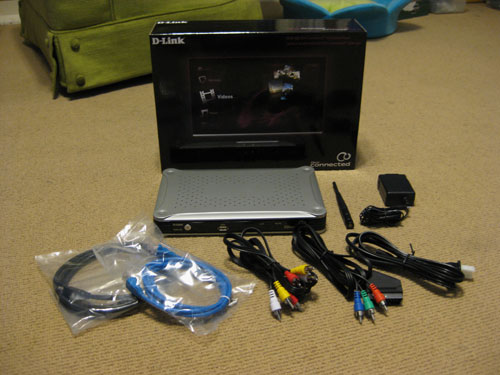 DSM-330 device
Remote control with batteries
Screw-on wireless antenna
SCART to Component cable
HDMI cable
Composite A/V cable
Power adapter
Ethernet cable
DivX-Connected installation CD
Product documentation

The tech specs
Video outputs:

HDMI
Component
SCART
S-Video
Composite

Audio outputs:

RCA stereo
S/PDIF
Optical

Connectivity:

802.11b/g wireless (WPA and WEP)
10/100 fast Ethernet

Supported video formats:

DivX
XviD
Windows Media 9 Video

Supported audio formats:

MP3
WMA
M3U, M3U8, and PLS playlists

Supported image formats:

It's worth noting that the DSM-330 is quite limited in its support of various digital media formats. It doesn't even support AAC
(.m4a files), which is nearly as ubiquitous as MP3, thanks to the popularity of iTunes. Video support is also very limited, with
no compatibility with QuickTime or MPEG-4 formats. Images are limited to JPEG and BMP, so there's no PNG support. Other file formats
can be enabled through third-party hacks and plugins, but out-of-the-box the player is pretty crippled.
At the very least, the remote control is pretty well laid out and easy to use. The buttons aren't too stiff or too mushy, and the
DSM-330 seems to have a pretty good field of vision for the remote's IR transmitter.
Using the device
Initial setup allows you to configure your network settings (enter any WEP or WPA keys for your WiFi network, etc.) and connect to
a DivX-Connected server. The server software requires at least Windows XP. The software is unremarkable but adequate. You can add
directories to the server software for videos, music, and photos. You can also use the server software to add plugins for support
for online streaming services like YouTube.
I'm not all that happy that server software is required to use the device. There's a USB port on the front, but it's unsupported
and officially "for service use only". Even streaming Internet video requires that the DivX-Connected software be up and running.
Without a server to connect to, the DSM-330 won't even start up past the basic setup screen. This is in stark contrast to the
Mvix 760HD, with its internal hard drive and two USB ports for connecting thumb drives and external hard drives. In my
opinion, if I'm going to have a computer on in order to play media on my television, I might as well have a full-fledged home
theatre PC in my living room.
Once you have your DivX-Connected server up and running and the DSM-330 connected, you can browse through an animated interface
to access your files. The interface is well thought out, but it's slow and unresponsive. It seemed to hang for me a lot, which
got pretty frustrating. The little animations and effects seem to slow down the interface.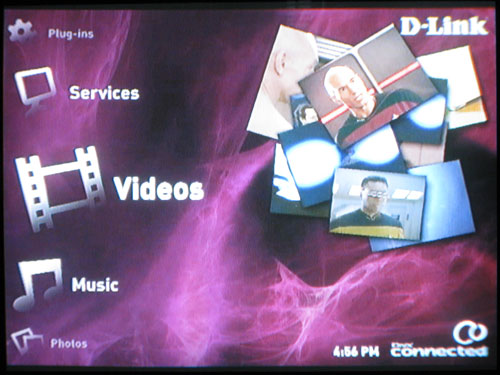 One of the supposed cool features of this device is its extensibility via plugins. I downloaded and installed the Hulu plugin, and
was sorely disappointed. TV shows are limited to 480i only (even though many shows on Hulu are available in 480p), and the player
doesn't actually stretch the video to the dimensions of the screen, leaving you with a large black frame around the video area.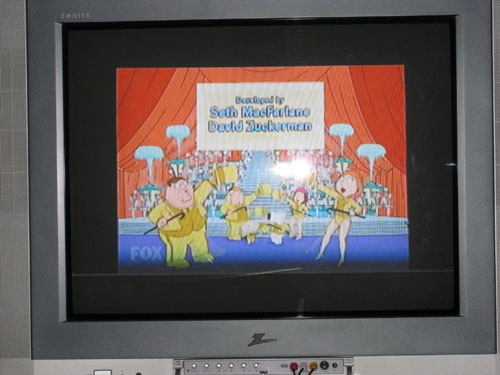 This brings me to what is probably my biggest complaint about the DSM-330. If you've ever hooked up a computer to a CRT television,
you'll probably notice that the image doesn't necessarily fully fit the dimensions of the television's screen. It seems as though
the DSM-330 is designed in this same way. The screen doesn't fit correctly to my television, so there is a black frame around
anything displayed by the DSM-330. This may not be a problem on LCD or plasma televisions, but I'd say it's pretty inexcusable on
a device this expensive.
The bottom line
Unfortunately, I can't really recommend the DSM-330 for anyone. If you want something with minimal setup, you can try the Apple TV,
but overall I'd highly recommend the Mvix 780HD (the replacement for the 760HD) over the D-Link DSM-330 for your media streaming
needs. The DSM-330 is underpowered and too limited for its high price. It can be found online for about $250, but even that seems a
little pricey for something with a slow user interface, complete dependency on a server machine, and very limited file format
support.
Product Information
Price:
299.99
Manufacturer:
D-Link
Pros:
Cons:

Slow interface
Limited format support
Server software requirement
Price