We use affiliate links. If you buy something through the links on this page, we may earn a commission at no cost to you. Learn more.
As a person who is always looking for the ultimate alarm clock, I think I've found one that definitely comes closer than any product that I've tested so far. The people at American Innovative have taken their
Neverlate 7-day alarm clock, which I had reviewed 3 years ago and have updated it with new features to create a model called the Executive. This one has the ability to program up to 9 alarms per day. Wow!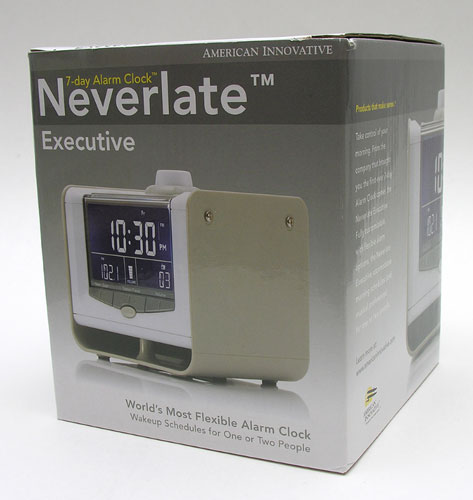 I've reviewed several products from American Innovative in the past, so I was excited to learn that they had updated their original 7-day clock with more features. Let's see if it earns a permanent spot on my night stand.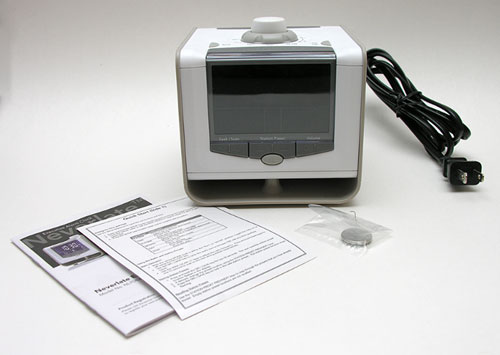 Package Contents
Executive 7-day Alarm Clock
Quick Start guide
Manual
CR2032 coin cell backup battery

The Executive is made of White and Beige plastic and is heavy enough to stay put while pushing buttons and rotating knobs.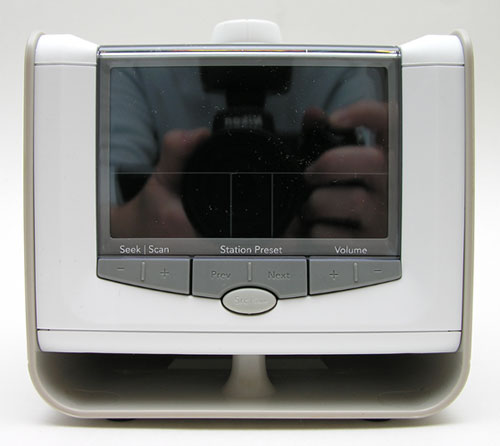 The face of the clock has a backlit LCD and a collection of 7 buttons. These buttons control the FM radio features such as volume, station scanning and station presets. The oval button in the center saves radio station presets, of which you can have up to 20.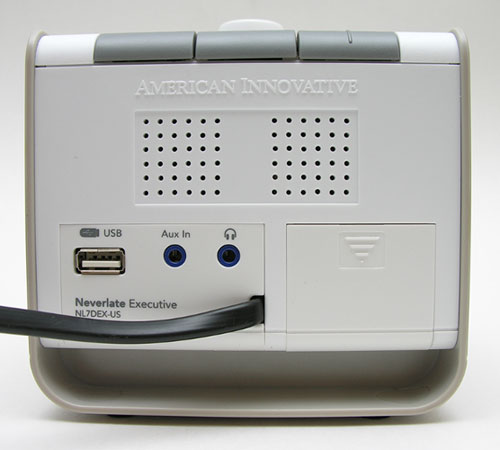 On the back side of the Executive, you'll find the speakers, a USB port, Auxiliary In jack, headphone jack, backup battery compartment and power cord.
I was pretty curious when I saw the USB port and envisioned all sorts of interesting things that it might be able to do like play music from a flash drive, load my own alarm sounds etc. My dreams were somewhat dashed when I learned that it's only there for power features. It's a standard 5V USB port but contains no facility for data transmission. You can use it to charge your phone, iPod, or to power a USB device such as a light or small fan.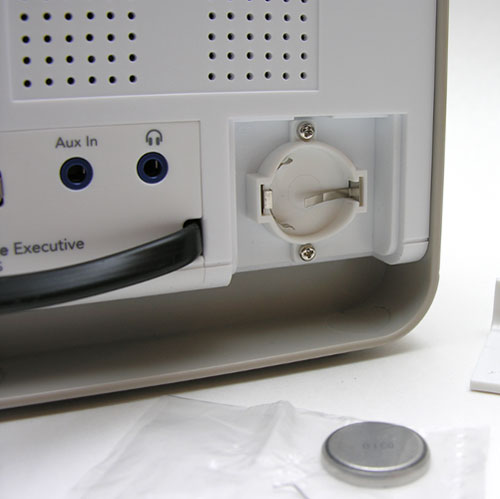 The backup battery compartment holds an included CR2032 coin cell battery. It stores the time, alarm settings and other preferences in the event of a power loss.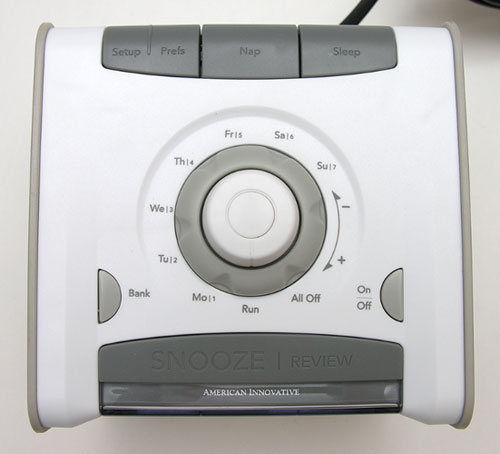 Like the original Neverlate 7-Day alarm clock, the Executive has a two ring dial that is used for setting alarms. Also on the top of the clock, you'll find a large snooze button bar, a radio/alarm on/off button, alarm bank toggle button, setup / pref settings button, nap and sleep buttons. All of these buttons make it really easy to change the various clock settings. Unlike some of the clocks on the market these days, you don't need a degree in programming in order to figure out how to set an alarm. I mean, I rarely read user manuals, but there's something about setting a multi-alarm clock that tends to trip me up every time. Not so with the Executive.
You've heard of multi-alarm clocks before, but the Neverlate takes multi-alarm to a new level. There are three types of alarms. First of all, you have seven every-day alarms. These alarms will go off every day no matter the day of the week. Then you have two banks of daily alarms that are designated as 'his' and 'her' alarms. This will allow you to set one alarm per day of the week. For example, you can program a Bank1 alarm Mondays, so that the clock will go off at 6am. But maybe your significant other doesn't get up till 7am on Mondays. No problem. Just set the Bank2 Monday alarm to 7am. Easy.
Each alarm can be set to either be one of four ringtones or to play the radio. You can also set each alarm to a different radio station. And each alarm can also be set to gradually increase the volume level.
But, what might be even more impressive than that is that you do something like this… say you have to be at work at 8am on Mondays and you have a really hard time getting out of bed (I put myself in this category). So, you could set a daily alarm to wake you at 6am with the radio set to gradually increase the volume. Then you could set the Bank1 Monday alarm to buzz you at 6:30am and the Bank2 Monday alarm to play a different ringtone at 6:45am. That gives you three different wake notifications. This is what I do now, but have been using three different clocks to do it ;o) Now I only need one.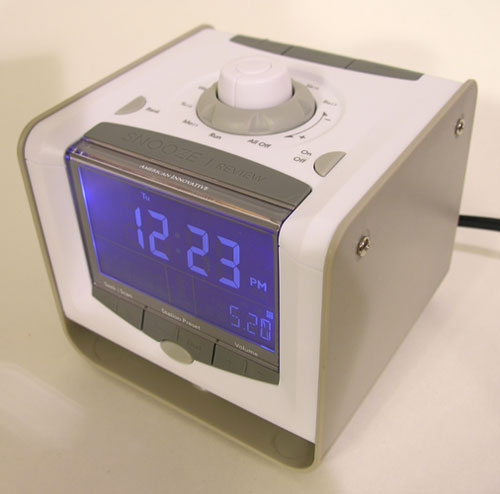 The display on the clock is large, but even when set to the highest illumination level, it is a bit too dim for my liking. People that don't like anything to disturb the darkness of their bedroom, will be happy to know that you can completely turn off the display if you desire.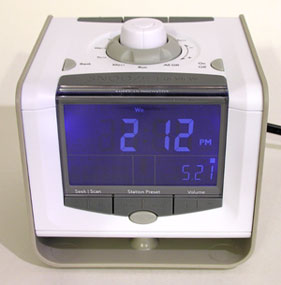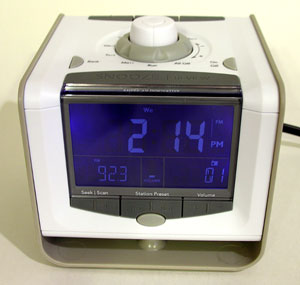 The image above on the Left is the display that you'll see when the clock is in time mode. The time of day is in the upper large section of the LCD and the date is in the bottom right corner.
On the Right, is what the display looks like when you are using the radio. The frequency is shown in the lower Left corner. The quality of the radio is ok. It uses the power cord as the antenna which in my opinion leaves it a little weak. I wish it had a regular antenna. That said, I do like that there are radio presets and a digital tuner.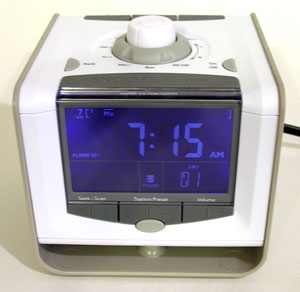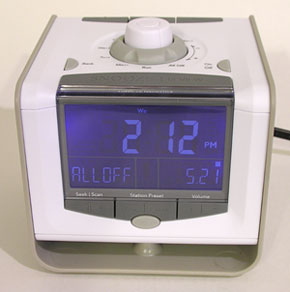 Setting alarms is just a matter of turning the center knob to the desired day of the week and the outer dial to the wake time. Then pressing the oval button on the face of the clock to toggle between radio or ringtone for the alarm type. There are four different ringtones that you can choose from:
Ringtone #1 – high pitched beep-beep
Ringtone #2 – high pitched beep-beep-beep-beep
Ringtone #3 – high pitched beep-beep-boop-boop
Ringtone #4 – very fast high pitched beep-beep-beep-boop-boop-boop
It's too bad that you can't load your own ringtones, but I guess we can wait for that feature with version 3 of the Neverlate 7-day alarm clock :o)
In addition to having seven daily alarms and two day of the week alarms, there is also a Nap and Sleep feature that you can take advantage of. The Nap timer provides an easy way to take a power nap without having to modify any of your other alarms that might already be set. To use it, you just tap the Nap key. By default, it will give you 20 minutes. But you can adjust that value by turning the outer dial up to 2 hours.
The Sleep feature gives you the ability to listen to the radio for up to 2 hours before it automatically turns off. This is a nice way to de-stress and fall asleep.
The American Innovative Neverlate Executive 7-day Alarm clock is probably the most feature rich clock that I've had the opportunity to test. There is a lot to like about it. It's compact, easy to set and has enough alarms and alarm options for most people or couples. I really have enjoyed using it the past several weeks. Right now it's my ultimate alarm clock, but it could be even better if it had just a few more features. I know, I'm never satisfied am I? My wish list for next version of this clock would include a brighter display, an iPod interface, automatic time setting and DST setting. That said, good work AI! Keep those cool time products coming.
Product Information
Price:
59.95
Manufacturer:
American Innovative
Pros:

7 daily alarms and 2 alarms for each day of the week
Easy to set
Compact

Cons: