We use affiliate links. If you buy something through the links on this page, we may earn a commission at no cost to you. Learn more.
Astraware's Platypus ($19.95) is a side-scrolling shooter. Yeah, I know, *Yawn*. If you've seen one shooter, you've seen them all, right? As usual, Astraware ups the ante.
Graphically, the game is amazing. The images were made by actually creating each scene from clay, giving the scenes a movie-like feel that is unlike anything else we have seen in Palm games. The back story is about a planet made from clay where one country decides to invade another. The peaceful defenders use the 'Platypus F-27' as their main weapon against the hordes of evil devices the wicked invaders employ. (I think it is interesting how much the Platypus looks like the Viper from the original Battlestar Galactica- but I am sure that if it is somehow based on the Viper, it is in the spirit of 'imitation is the sincerest form of flattery'.)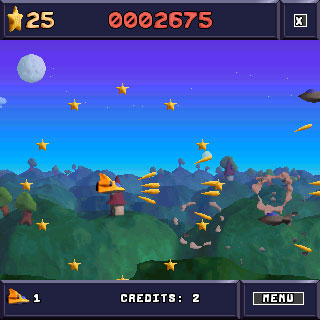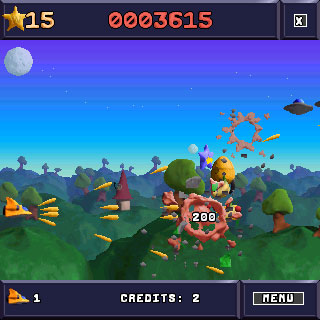 [Gooey explosions and great graphics!]
(In the interest of full disclosure, I need to point out that that screenshots used are from Astraware's site. I used all of my free games trying to get my screenshot program to work.)
Strategically, many of us play scrollers by hanging out against the 'back wall' to maximize maneuvering space. The bad news here is that the bad guys often attack from the rear in big, tough to kill ships. The bad guys also attack in waves that are harder to just 'sit out', requiring you to be rather active during most of the game.
Playability on my Palm Centro is a bit awkward, but that is the Centro's fault. The combination of small screen and small 4-way navigator button makes it hard for me with my poor eyesight and big fingers to play the game smoothly. The game hangs up periodically- but that may also be a Centro issue, and I cannot figure out why the firing sometimes acts automatic and sometimes requires triggering (there is an 'autofire' setting but it seems inconsistent). I appreciate the tribute to the game's classic roots in the Commodore 64-like music- a nice touch.
I am trying the demo version, and I find it an enjoyable game. The little details like ships that 'pop' in a cute burst of colorful clay instead of exploding are classic Astraware. I enjoy scrolling shooters and this is a fun one that I would buy if it played better for me on my device (and I will point out that my teens do not have a problem playing it on my Centro.)
I do sort of wish there was more of a 'WOW!' factor here, a higher ante, something that really shook things up I also wish I knew why some power-ups were flying fruit, or why a world made of clay makes any real sense but looking for logic in video games is a dangerous thing!
Product Information
Price:
19.95
Manufacturer:
Astraware
Requirements:
Pros:

Great graphics
Fun, perky program

Cons:

Does not work on many Palm products. Check compatibility
Not as fun on small screens