We use affiliate links. If you buy something through the links on this page, we may earn a commission at no cost to you. Learn more.
Sometimes you don't want or need to carry pounds and pounds of gear along with your laptop. For those times, the HardCase from WaterField Designs might be the perfect gear bag for you and your computer.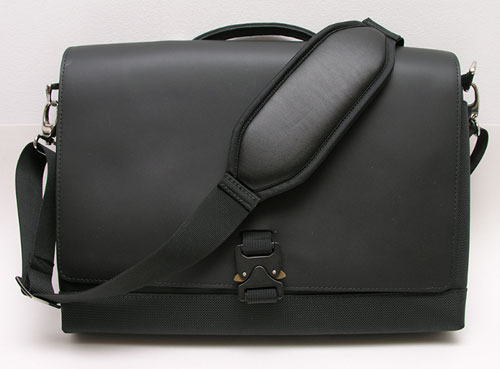 Available in four sizes, Heidi at WaterField sent me the 15″ MacBook Pro sized HardCase. Here are the size details:
17″ MacBook Pro 16.5″ x 11.5″ x 2.5″ / 2.9 lb.
15″ MacBook Pro 15″ x 10.5″ x 2.5″ / 2.4 lb.
13″ MacBook Air 13.8″ x 10″ x 2.5″ / 2.2 lb.
13″ MacBook 13.8″ x 10″ x 2.5″ / 2.2 lb.
Styled like an attache case, the main body of the HardCase is made of Black ballistic nylon. The two sided flap is made of leather. The exterior is Black, but you can customize the interior with either Pink, Kiwi or Black. I was sent the Black / Black version.
I was very happy to see that WaterField included one of my must-have-gear-bag-features on the HardCase — A grab handle. :o) Yay!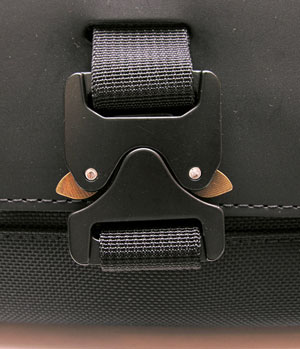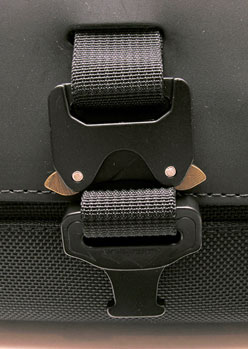 A very cool paragliding style metal buckle is used to hold the flap closed. No annoying Velcro or plastic pinch buckles here folks. Thanks WaterField. This buckle is very easy to use. You just squeeze the spring loaded metal buttons on either side and the bottom clip will fall out. To close, just snap the bottom clip into the top. Nice.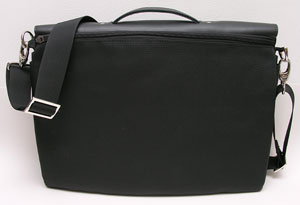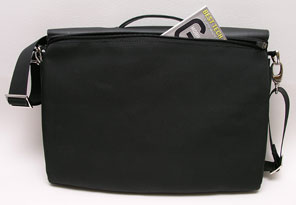 On the back of the HardCase, there is one large zippered horizontal pocket that is more than large enough to hold regular sized magazines, file folders, papers, etc.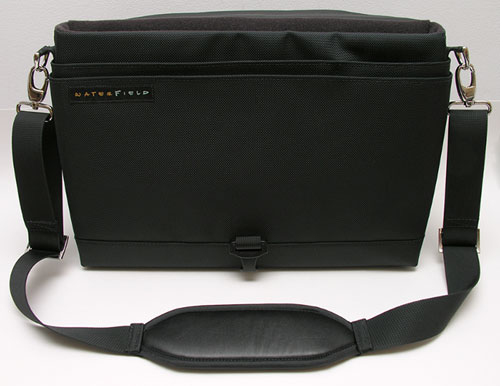 Fold back the leather flap to reveal the main interior compartment and a set of organization pockets.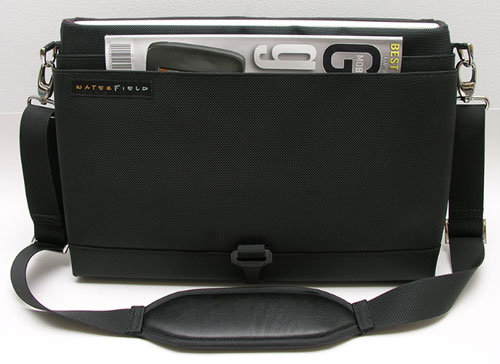 The frontmost pocket is approximately 14 inches wide by 7 inches deep with the 15″ Macbook Pro size HardCase. This pocket is large enough to hold a regular sized magazine with it poking out a bit. The front interior of this pocket is lined with a soft knit material and the back side is ballistic nylon. The pocket is flat and not gusseted, which makes it better suited for thinner, items.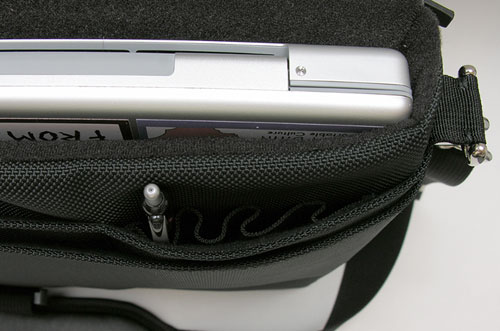 Behind the front pocket is another flat pocket that is partitioned into two sections. The left side is a 10 inch wide by 4.5 deep pocket with the same type of lining as the larger pocket in front of it. Then to the Right is a set of 4 pen / pencil holder loops. I like the fact that these loops are elastic and of ample size for pretty much any sized pen you might have.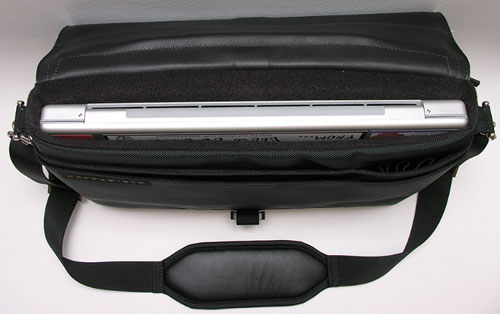 The main compartment is lined with a soft fuzzy material to protect your laptop from scratches. It's also padded with foam and a flexible plastic insert. Even the portion of the leather flap that rests over the laptop compartment is padded.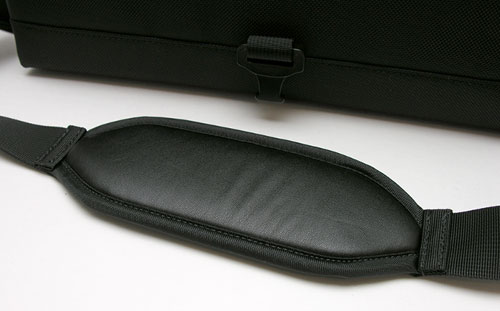 WaterField includes one of their ubercomfy adjustable shoulder straps. I just love their straps and find them to be extremely comfortable without being bulky.
If you have problems with straps slipping off your shoulder, you won't have that issue with the strap on this bag. It has a rubber nubby surface that keeps it in place.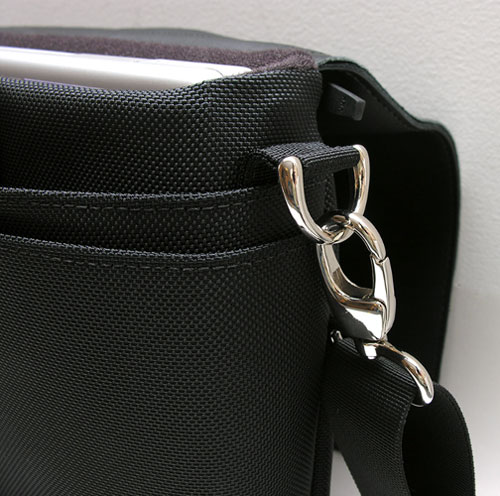 And if you happen to want to replace the strap, that can easily be accomplished due to the spring loaded clips. Don't like chrome? You can get the HardCase with matte Black hardware instead…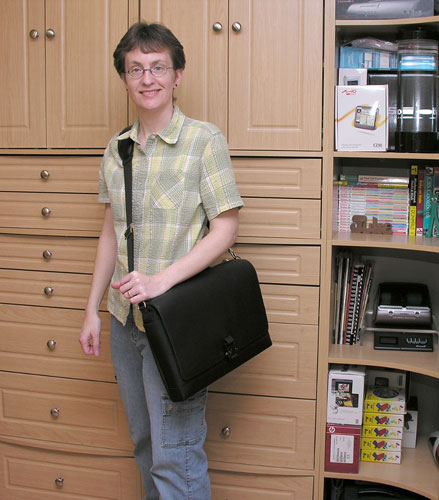 When testing this bag with my 15″ Macbook Pro, it fit like a glove. I have to say that I do not normally carry a bag such as this one, with very minimal storage. I'm still using the Timbuk2 laptop messenger bag that I reviewed a few months ago. So, the HardCase does make me feel a bit claustrophobic not being able to cram in all the junk I normally carry. Having little storage isn't necessarily a bad thing though. It forces you to think about what you really need to carry. The HardCase has no problem holding the MacBook, its power adapter, a Mouse, a few pens, a legal pad of paper, a couple magazines, some CDs, and your phone.
There are two things that would personally keep me from buying the HardCase. One is the fact that it won't stand up on it's own. So you'll have to lay it flat on a desk or table when you're not carrying it. That's probably not a big deal for most people, but it's just one of my own personal pet peeves. The other thing that is prohibitive to some people is the price. At over $200, it's quite spendy and more expensive than most of WaterField's other laptop bags, which have more storage capability. All that said, this is a very well made classy looking laptop bag that a successful minimalist should be able to appreciate and enjoy using. Especially with that comfy shoulder strap :o)
Prices:
17″ MacBook Pro $249
15″ MacBook Pro $239
13″ MacBook Air $229
13″ MacBook $229
Product Information
Price:
239.0
Manufacturer:
Waterfield
Pros:

Classy style
Super comfy shoulder strap
Easy open clasp

Cons:

Expensive
Won't stand up on its own