We use affiliate links. If you buy something through the links on this page, we may earn a commission at no cost to you. Learn more.
One of my favorite mobile apps is ShoZu. So when Julie asked me to do a piece on a *really* useful mobile app, I didn't have to look too far.
What is ShoZu?
ShoZu sends/receives content (photos, videos, etc.) to/from your web-based services directly to/from your mobile phone. It completely cuts out the intermediary – your desktop – in the process. The best part about ShoZu is all of this happens in the background – invisibly and automatically.
ShoZu works with dozens of web-based services including Flickr, YouTube, Facebook, Blogger, Twitter, Picasa, etc.
Download, Installation and Setup
I loaded http://m.shozu.com on my mobile browser to begin the process of downloading and installing ShoZu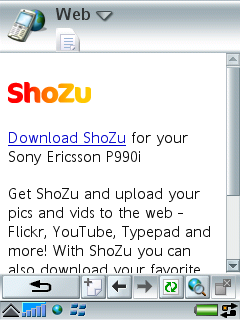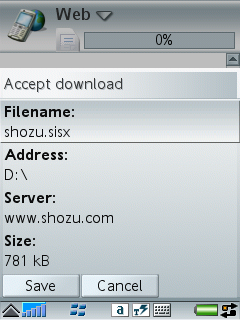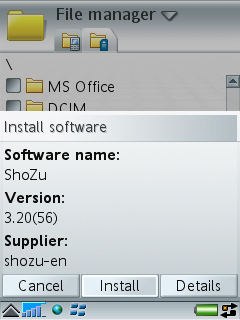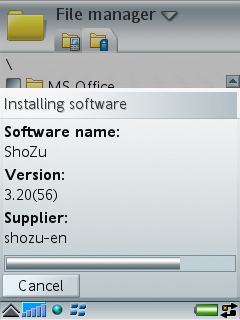 As you can see from the screenshots, the download/install process is pretty straight-forward. The installation is followed by a terse warning titled "Please be aware".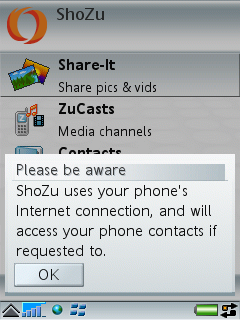 I clicked OK to reach ShoZu's main screen.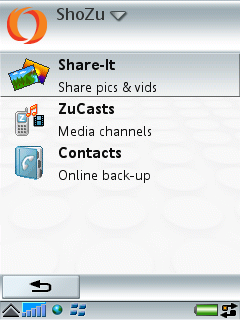 The main screen has 3 options
— "Share-it" is the outbound service – it's what lets you upload content from your phone to the web.
— "ZuCasts" is the inbound service – it's what lets you download content from the web to your phone.
— "Contacts" is the outbound contacts backup service that backs up your phonebook contacts to your web-based ShoZu.com account
But wait – before I can use any of this, I gotta setup a ShoZu account. The sign-up process is breezy – ShoZu doesn't even ask for a username or password!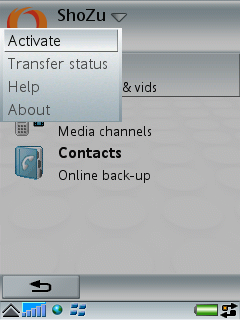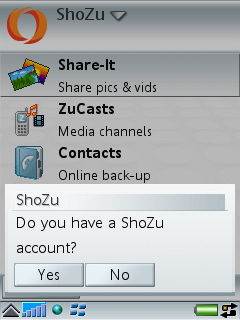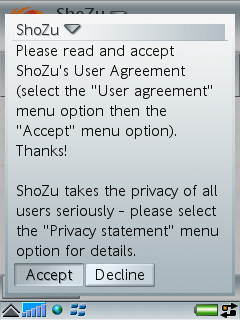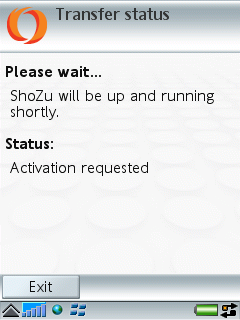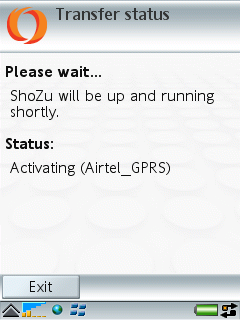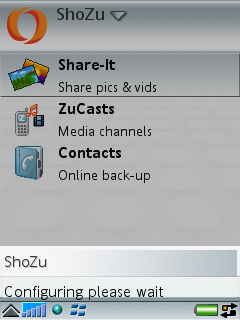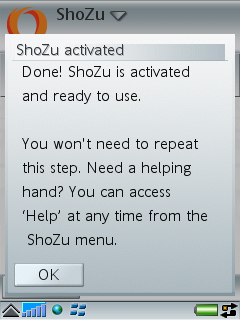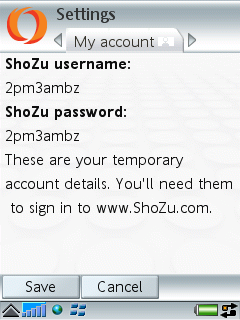 Share-It
I then proceeded to setup the "Share-It" service. Naturally, to use this service, I need to tell ShoZu what I want to share and where I want to share it (ShoZu calls them "destinations").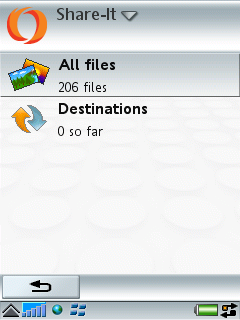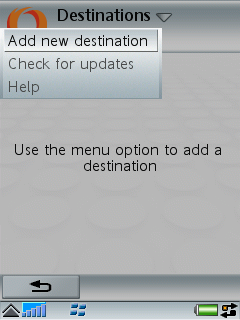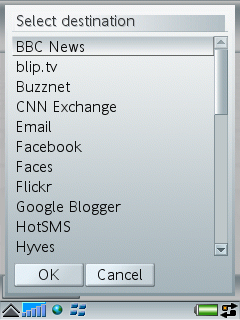 ShoZu supports upwards of 30 such destinations. Each such destination supports different types of content. Here's a snapshot of where you can share your content:
a)Photos: Facebook, Flickr, Picasa, Webshots, Twitter (through TwitPic), Box.net, Buzznet, Cellfish, Faces.com, Friendster, HotSMS, Hyves, Kodak EasyShare, Qipit (for conversion to PDF), Pikeo, ipernity, etc.
b)Videos: YouTube, Box.net, Dailymotion, blip.tv, Box.net, Buzznet, Cellfish, Seesmic, ipernity, etc.
c)Blogging: Twitter, Blogger, Dada.net, LiveJournal, MetaWeblog, Moblog, Typepad, Vox, Windows Live Spaces, WordPress

d)Citizen Journalism: BBC, CNN, ITV, Scoopt
Additionally, you can also specify email IDs and FTP account details for direct uploads to custom locations.
Phew! That's a lot of coverage, isn't it?
I chose to add Flickr as a destination first.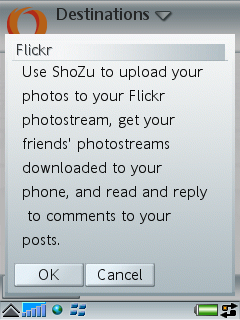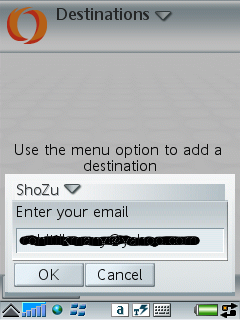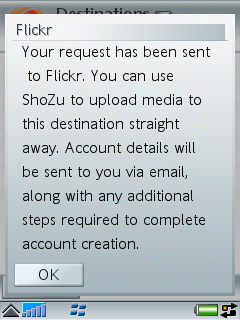 Immediately thereafter, I received a confirmation-seeking email from Flickr which completed the process of linking my Flickr account to my ShoZu account.
And then I added my YouTube account as a destination.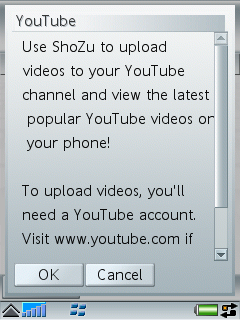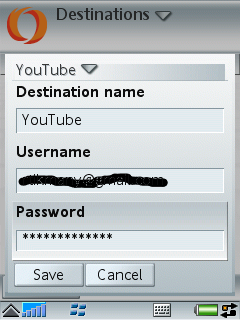 Right – adding destinations was easy – now, I am ready to upload.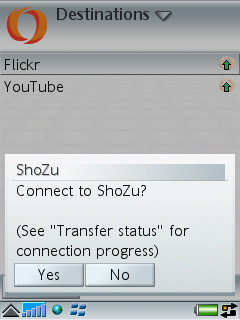 Once I say 'Yes', the entire transfer process takes place invisibly in the background. Naturally, I don't have any screenshots to share…
After that, the next time I click a photo using my mobile, ShoZu pops up soon after the capture – asking whether I'd like to upload it to Flickr or some other source.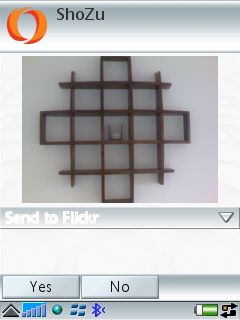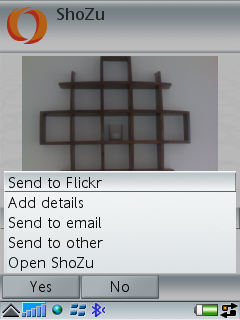 I can also hand-pick existing photos and upload them to your destination(s) selectively.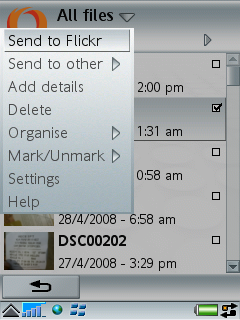 I am allowed to add tags, titles and description to the photos before uploading.
If your phone as GPS (mine, didn't unfortunately), ShoZu can also geo-tag your photos before uploading them. Now, isn't that really cool!?
ShoZu allows uploading photos to multiple destinations in a single upload operation.
I can also ask ShoZu to auto-send photos. I can even ask it to compress photos to save time/data.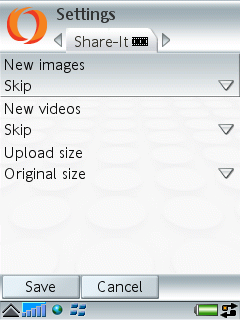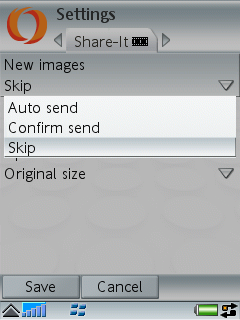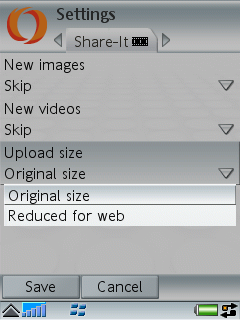 Although, ShoZu doesn't really require you to login to your online account, I was curious to see how it looks…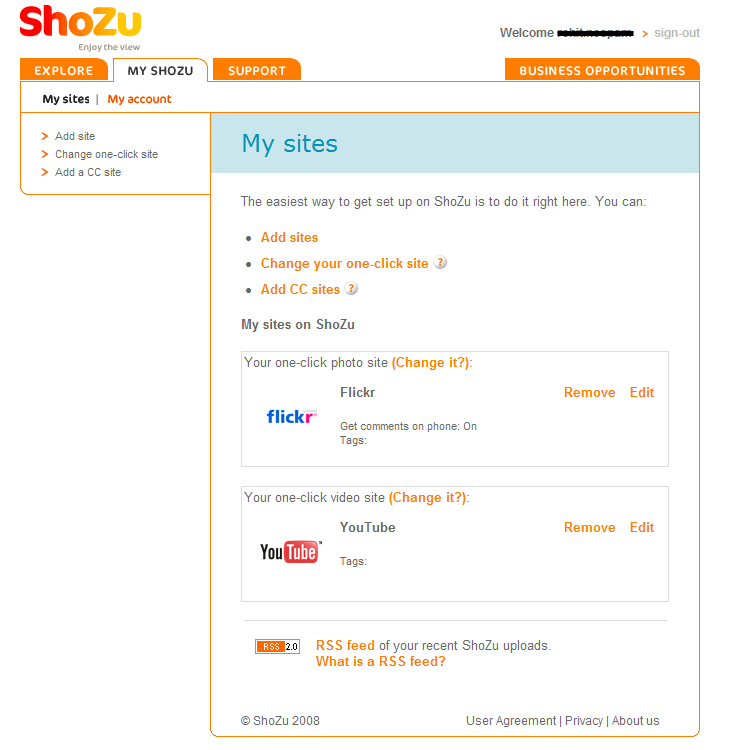 My destinations were duly "synchronized" with my online account. There's also an option to add destinations/sites from this web-based account.
ZuCasts and Contacts
Let's look at ZuCasts now. ShoZu gave me an option to subscribe to 60 ZuCasts. I browsed through all my options…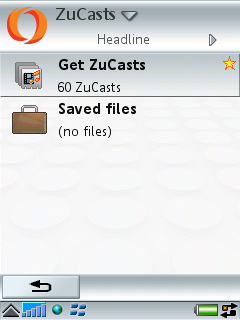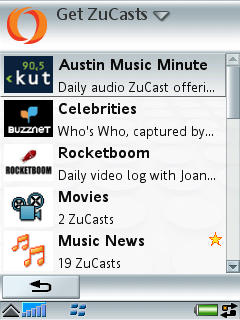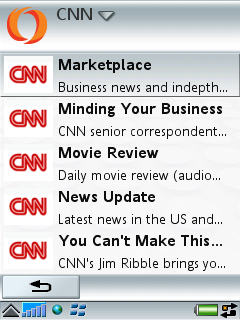 … and chose to subscribe to the Webshots "Photo of the Day" ZuCast. Again, the process of subscribing to ZuCasts is so simple – there's hardly anything to write about.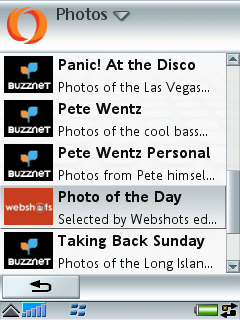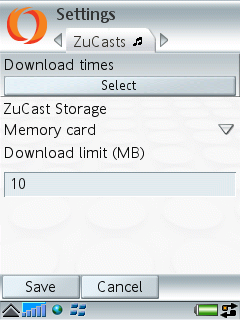 ZuCasts are downloaded invisibly. There's an option to save ZuCasts in a "Saved files" folder.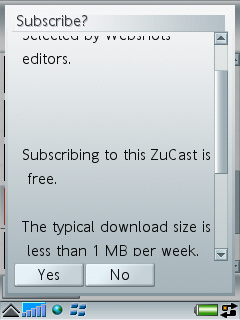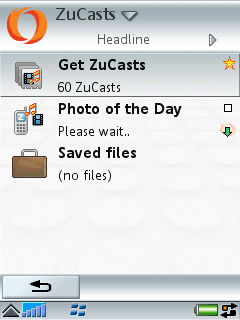 You can also subscribe to your friends' Flickr photo streams or Facebook updates as ZuCasts.
Let's look at the Contacts service. Once you switch the service on, it keeps uploading contacts slowly, gradually and invisibly to your ShoZu.com account.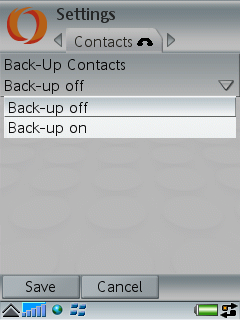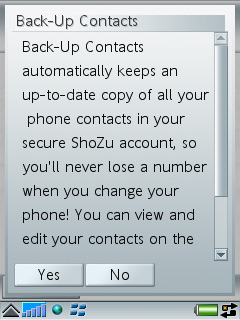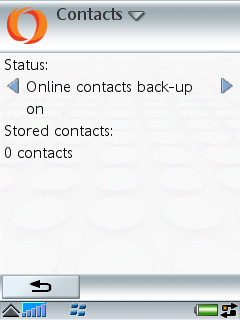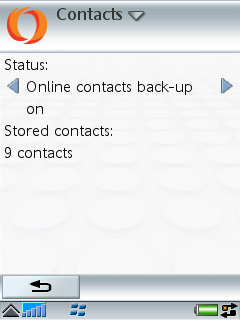 Data Transfer & Notification Management
As you have noticed so far, ShoZu is all about data transfer. The "Share-It" and "Contacts" services upload data and the "ZuCasts" service downloads data. Data charges in some parts of the world can be very steep, so you might want to be careful, particularly with ZuCasts.
ShoZu allows you to choose how you want to connect to the internet – I chose my GPRS account, but you want to use Wi-Fi instead.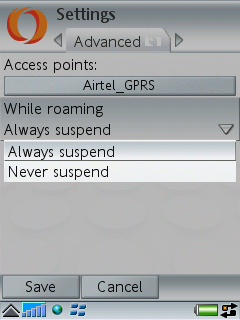 Let's look at two of ShoZu's super-cool features.
One – ShoZu also has this magical ability to know when you're roaming. In most parts of the world, data charges are higher when roaming – so ShoZu suspends all data transfers when you're away from your home network.
Two – When ShoZu wants to notify you of something while it's running in the background, I doesn't throw a pop-up. It composes a local "text message" and 'sends' it to your SMS inbox, without ever using your mobile network.
As soon as I stepped out of my home network and began roaming, my phone buzzed and I was told I have a new text message. This text message turned out to be a local message from ShoZu…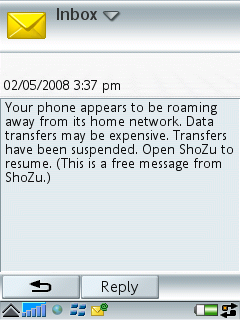 The moment I entered my home network again, I saw another message…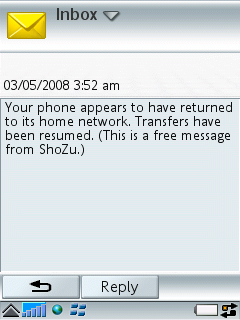 Of course, at any point of time, you can see the transfer status to know just how much data ShoZu's been consuming in the background.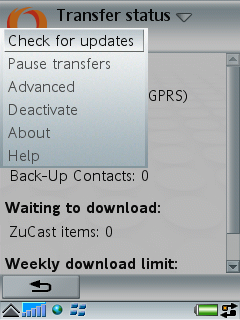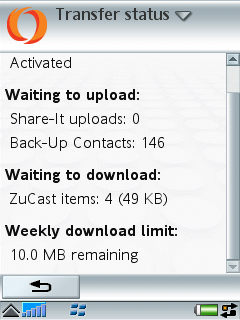 Impressions
You simply cannot ignore ShoZu if you:
-upload mobile photos/videos on your photo/video sharing websites
-update your facebook status or tweet often
-blog while on the move
-send photos/videos to email or FTP accounts
ShoZu has been around for more than 3 years now and the maturity shows. The application is rock-solid and behaves exactly as expected without freezing or hanging-up.
Handset support is widespread, ranging from Windows Mobile to Symbian S60 to UIQ to Palm Treo to even the Blackberry – the iPhone is not supported yet, though.
It integrates beautifully with the phone's camera application. So much so, that after a point, you forget it's a 3rd party software you installed – you begin believing it's a part of your phone's native OS. It's really that stable.
On the downside, like all powerful toys, ShoZu can hurt if not handled with care.
I'm sure there are a lot of ShoZu users who've chosen to auto-upload photos/videos and then forgotten about it. Some day, ShoZu might end up uploading something on their Facebook profile that they would rather not.
Moreover, if you choose to use your mobile network to connect ShoZu to the internet, you should be prepared for some heavy duty data consumption – particularly, if you end up subscribing to a lot of ZuCasts. In ShoZu's defense, it does warn you about these perils from time to time, but hey!
Also, a powerful application like ShoZu can drag your phone a bit. You see, mobile phone processors don't really have a lot of juice yet, unfortunately.
ShoZu "auto-starts" in the background and while that's a convenient feature, it effectively means your phone takes slightly longer to start up.
Similarly, ShoZu has a larger-than-normal memory footprint, so lesser memory is available for other applications causing them to slow down a bit.
But then, ShoZu does so much for you – do you really those other applications? 😉
Product Information
Price:
Manufacturer:
ShoZu
Pros:

Automatic, invisible and effortless content upload to almost all major media-sharing & social networking sites
RSS-like subscription to ZuCasts and friends' updates & photo streams
Geo-tagging of photos is a cool feature
Rock-solid and reliable application that integrates tightly with your mobile phone
Wide-spread handset coverage and support

Cons:

A swiss army knife – very useful, but can hurt if not handled with care.
Background existence and auto-start are useful attributes, but can make some phones sluggish
ZuCast library can be bigger