We use affiliate links. If you buy something through the links on this page, we may earn a commission at no cost to you. Learn more.
It's probably no surprise when I tell you that I get a lot of products in the mail each week. With the receiving of these products, comes the task of opening the package that they were shipped in. More often than not, these products come encased in clear plastic sealed containers that defy easy opening. Today I want to show you an easy to use inexpensive tool that can help you open those #$@!@ plastic packages with ease. It's the Zibra Open It!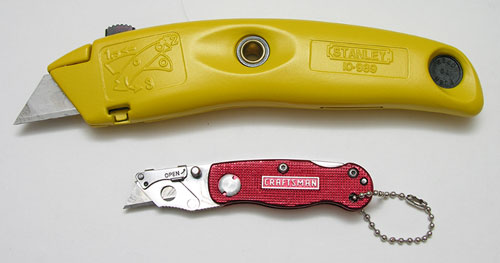 First of all, the tools that you see pictured above are what I have been using to open packages. A regular box cutter and a mini Craftsman box cutter. Scary huh? Although I've never cut myself using these tools, I've come close… I've actually cut myself on the darn plastic packages though! That's why I was very interested in testing the Open It!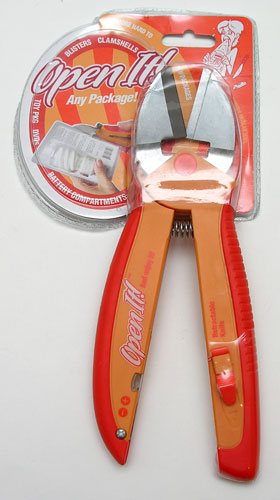 I couldn't help but laugh when I first opened the box containing these shears…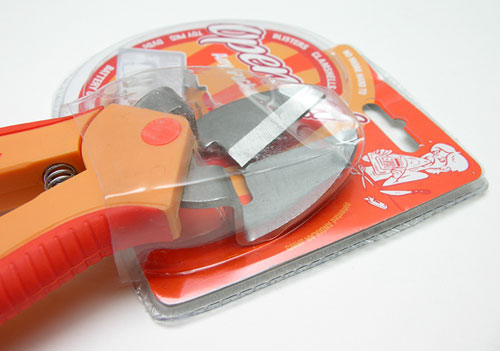 Why? Because they are packaged in the same type of sealed plastic container that they are designed to open. Hmmmm, is someone trying to be funny here? Luckily, I was able to quickly wrestle the shears from the package without needing to use my box cutters.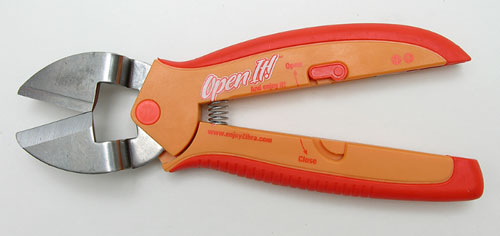 Available in 5 colors including Fire Orange, Berry Red, Midnight Black, Mocha and Sky Blue, I was sent the Orange model. Measuring 8.5 inches from end to end, these rubber gripped shears will fit in almost any toolbox or tool drawer.

The spring loaded handles lock closed for storage, by using an easy to use latch built into the handles.

The angled and offset jaws are made of thick hardened alloy steel.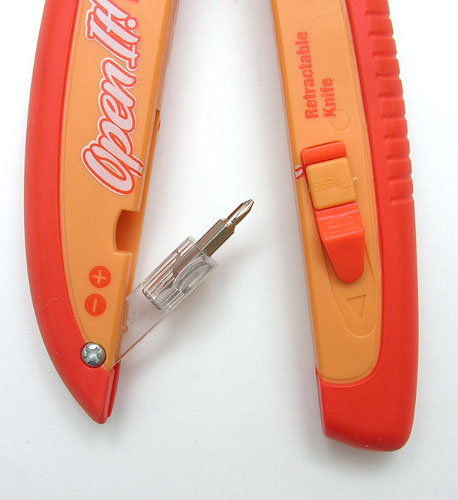 There are a few extra goodies built into these shears, including a small screwdriver housed in one of the handles. The plastic bit holder unsnaps from the handle for use.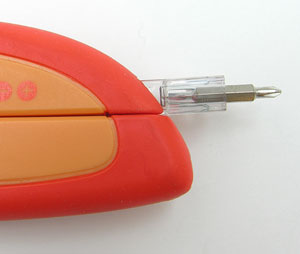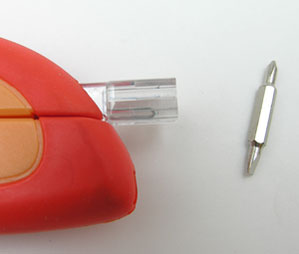 After you unsnap it and rotate it out of the handle, you lock the handles closed so that you can use the screwdriver. The bit pulls out of the holder to reveal both a Phillips and flat head bit. This is a great little added feature. While you would not use this screwdriver for heavy duty jobs, it is perfect for such jobs as opening screw-in battery compartments.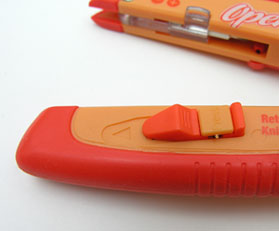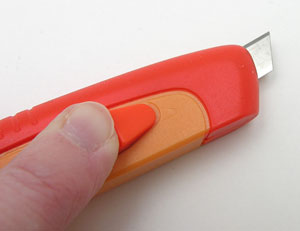 Another hidden feature is a slide out utility knife blade that is housed in the other handle. I doubt I'll ever use this particular feature though. For one thing, the blade can not be locked in the extended position. You have to slide and hold the heavy spring loaded button forward to keep the blade extended. There's also the fact that there doesn't seem to be any way to replace the blade if it becomes dull with use. I think I will just stick with my mini Craftsman box cutter.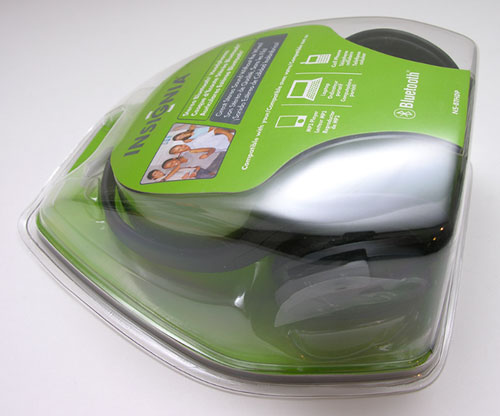 To test the Open It! shears, I didn't need to wait for packages to arrive. I already had plenty waiting and ready, like the one shown above.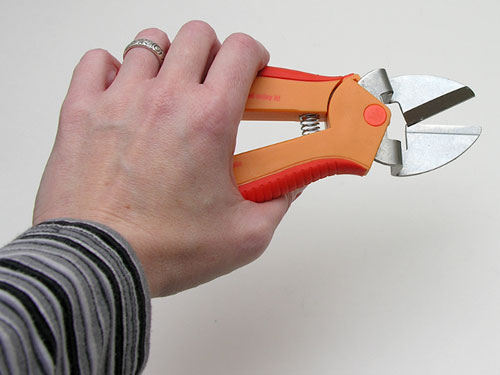 In hand the shears are very comfortable to use. The rubber grips allow you to keep a secure hold on the tool. I'll admit that I wasn't really expecting this tool to work all that well. I figured they would feel awkward and not do a very good job of cutting into the plastic.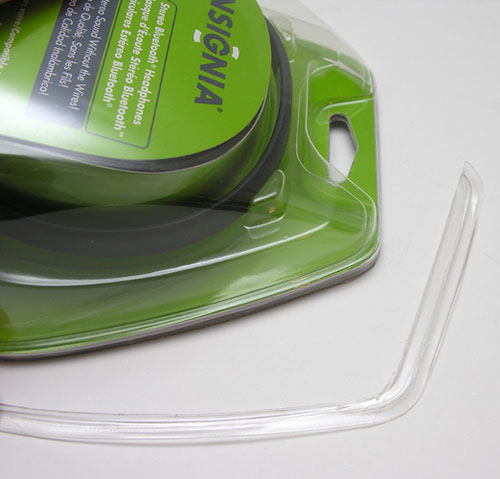 I could not have been more wrong… The moment I started cutting the packaging with these shears, I think I heard a choir of angels singing Hallelujah. Cutting the sealed area around the package had never been so easy and effortless. I've used regular scissors and even tin snips for this same task. The Open It works so much better that it's no contest.
I really really like the Open It! shears. Get a pair of these cutters for everyone you know. Trust me, they will thank you and you will thank me. My regular box cutters are history!
Updates 01/04/17
Nine years later and I am still using these package opening scissors. I actually just used them last night, which reminded me to do this update. They aren't a tool that gets used very often, but as soon as I receive a product packaged in an impenetrable plastic case, I know just the tool that will open it and the blades are still as sharp as the first day I used them.
Update 05/24/19
Two years have gone by and I still use this package opener whenever I get one of those blasted plastic packages. I don't seem to receive that type of package as often as I used to though. But when I do, the Zibra Open It! is ready to slice through the plastic so I don't have to slice through my hand with a Xacto knife trying to open it!
Source: The sample for this review was provided by Zibra. Please visit their site for more info and Amazon to order.