We use affiliate links. If you buy something through the links on this page, we may earn a commission at no cost to you. Learn more.
It's been three years since I reviewed my favorite WiFi scanner / finder, Canary Wireless's Digital Hotspotter. I've reviewed other scanners, but always liked the Hotspotter best due to its one button super fast scanning ability. That's why I was very happy when the folks at Canary Wireless sent me their 2nd generation Digital Hotspotter HS-20 to review.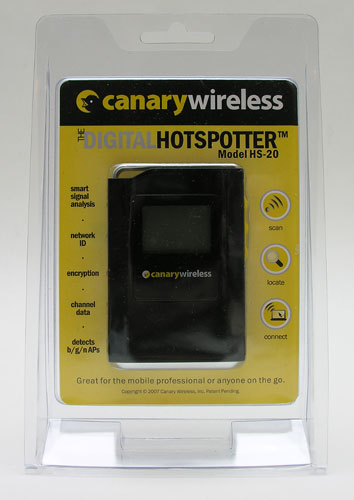 Packaged in an easy to open container, the HS-20 comes with everything you need to find wireless hotspots (access points) in your general vicinity. That includes 2 AAA batteries and a one page (on the back of the package) set of instructions.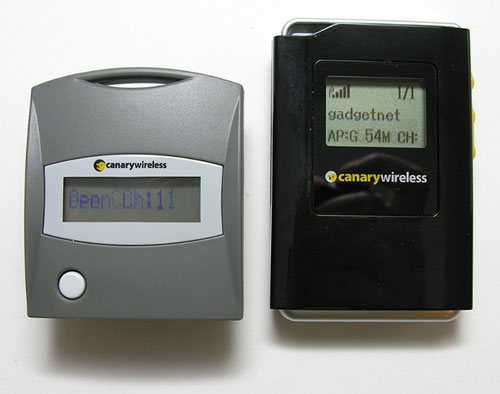 About the size of a deck of cards and with a footprint of 3.19 x 2.13 x 0.65 inches, this new unit looks quite different than the first generation hotspotter. Now it has a three line backlit LCD instead of narrow one line display.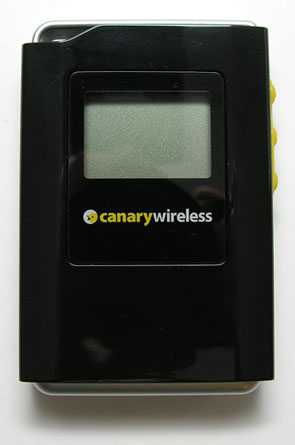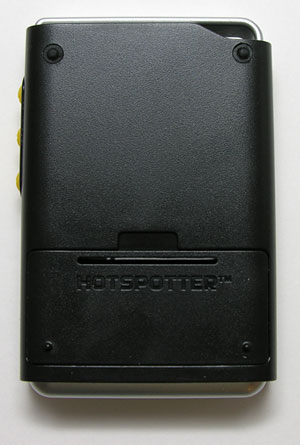 The front surface of this finder is made of Black shiny (yes, it's a smudge and fingerprint magnet) plastic, while the back has a nice texture that resists smudges and fingerprints. Too bad the front isn't made the same as the back.

The only buttons on the HS-20 are located on the Right side. There are three rubber covered buttons that have good tactile feedback. The top button is the power button. Pressing this button will power the scanner on and automatically start the wifi scanning process. Below the power button are the up and down buttons. When there are multiple wifi hotspots (the Hotspotter can detect up to 20 access points at one time), these buttons will allow you to page through them.
If no buttons are pressed within 30 seconds, the device will automatically power off. That's all there is to using the HS-20. Simple right? Just press the power button, wait approximately 7 seconds for scanning to complete and view the details. Easy. Now, this new model is slower than the original hotspotter, which would only take about 3 seconds to complete a scan. Still, 7 seconds isn't bad.
This scanner uses true a 802.11 engine, to provide no false triggers from Bluetooth, cordless phones, or other devices.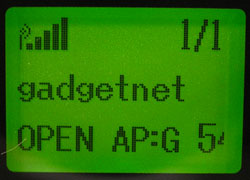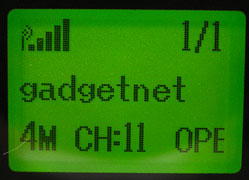 The three line LCD displays various information about the found hotspot. In the upper Left corner, there is a five bar signal strength meter. Directly across from the meter is a counter for the number of hotspots found and the currently viewed hotspot. Line two shows the SSID. SSID stands for service set identifier. That just means it is the name given to the wifi hotspot. The SSID in the example above is the name I've given to my home network. If the SSID has been set to not broadcast, you'll see something like the image below: SSID Unknown. When you see this, you know it's a private hotspot and one that you'll probably not be able to connect to.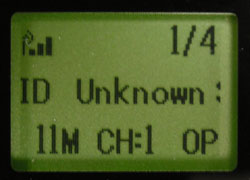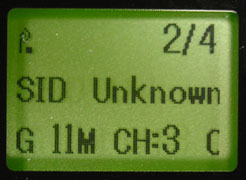 The last line of the display gives you more info about the hotspot. It will list if it is secure or open, the encryption type (none, WEP, WPA, WPA2), Access Point type (b/g/n), Speed and channel number. The Hotspotter scans 14 channels. While only 11 channels are used here in the US, 13 channels are used for wifi in Europe and 14 in Japan. You can use the Hotspotter to help you troubleshoot a flaky wireless setup as most access points are set to channel 1, 6 or 11 by default. If you see more than one network on the same channel, it is likely that you may experience problems with interference.
While testing this scanner, I noticed that it was able to find access points / hotspots that the previous model was not. I brought them both to my day job and the older digital hotspotter found nothing, while the HS-20 found 4 hotspots. All 4 were SSID: Unknown though…
While writing this review, I started wondering if people even use wifi scanners these days? I'll admit that my original Canary Wireless Digital Hotspotter has been occupying space in my gadget drawer for a long time now. Typically, if I'm looking to find a hotspot, I just use my Macbook Pro to see if anything is available. For me, the only time I ever look for a hotspot is in an airport anyway.
But then I recalled a time not too long ago when the IT guys at my day job were trying to find a rogue hotspot in our office. They walked around with a wifi finder for the task. So maybe the average Joe might not have a daily use for this product, but there are people that do.
Canary Wireless has made worthy update to their original Digital Hotspotter. It now has a larger backlit display and a nicer form factor. The price remains the same as the original, but on par or lower than other wifi finders with LCD displays. I think I've found my new favorite scanner…
Product Information
Price:
59.95
Manufacturer:
Canary Wireless
Retailer:
Canary Wireless
Pros:

Backlit LCD
Finds APs that other scanners might not detect
Easy to use

Cons:

Slower than previous model