We use affiliate links. If you buy something through the links on this page, we may earn a commission at no cost to you. Learn more.
A while back, I posted an article about my beloved Palm T/X and how it was doing after a couple years of use. (See the article here.) One major finding was the loss of calibration that was driving me crazy- I had to literally tap the very bottom edge of the screen to access the lower row of buttons.
A few years ago, there were several calibration tools, but time and newer operating systems has whittled it down to… well… pretty much this one- PowerDigi by PalmPowerups. The $16.95 program is small (a tad over 200K), and runs well on any Palm OS 5.0 and higher device. Which is OK since I never had anywhere near this much problem with calibration loss on older Palms anyway!)
Running PowerDigi is really easy. Punch the big 'Calibrate Now' button…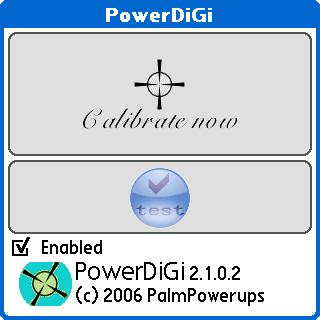 [PowerDigi- the 'Big Button']
… Then,choose how accurate you want the calibration (aka- how many taps can you do before you go bonkers?), and tap away.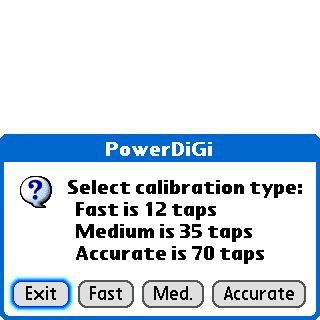 [The PowerDigi Tap Torture Selection, er, I mean, Accuracy Selection Screen]
Sadly, the actual calibration process did not screen-capture for me, but imagine an orderly game of 'Whack a Mole' if the moles would line up nicely across the screen. A spinning target marches across the screen, tap by tap by tap… I find that the Medium option is great, and I am frankly a bit afraid of the Accurate one!
Another interesting feature is the 'Test Mode', which shows the target and lets you try to tap it away at different places on the screen. Try it before and after a calibration to see the difference, or play it as a really boring, pointless game (but one that would be more fun than some of the games I have been trialing lately.)
I found that I was so used to tapping in the wrong place to accommodate my mis-calibrated unit that it feels funny to touch actual buttons on the screen! I also found that the Graffiti area became more accurate for me! (Small scratches in the area still make some characters 'iffy', but it is about 60-70% more accurate.)
The company offers good demos (14 days full function) to see if the thing will work for your dying device. It really helped me, and I think it will help you! This is one of those programs that just plain works!
I am still looking at other ways to upgrade and update my old T/X- a new digitizer screen, batteries, etc.- but for under $20, the biggest single annoyance I had has gone bye-bye.
Product Information
Price:
16.95
Manufacturer:
PalmPowerups
Requirements:
Pros:

Small and stable
Simple interface
Works as described

Cons: