We use affiliate links. If you buy something through the links on this page, we may earn a commission at no cost to you. Learn more.
Dear Santa,
I have been a really good boy this last year. A really, really good boy. I swear I had nothing to do with the Gadgeteer site crash incident!
Anyway, here is my list of the utilities I think you should bring all good Palm users. (I did thank you for the Palm Tx a couple years ago, didn't I?). In order to keep the list manageable, I have broken it up into sections. Here is the Palm Utilities section.
Red Mercury's Acid Image viewer is available in three versions- Basic for $17.95, Standard for $29.95, and Pro for $49.95. My 'Wish List' version is 'Basic' unless the user needs to work with GIF, BMP, and TIFF formats. Acid Image allows users to store photos which they can then rotate, zoom, crop, group, rename, and create interesting slideshows. To me, for the Palm to be a complete pocket tool it has to hold my wallet photos and other images in a useful way, and this program does a better job of this than the built-in viewer.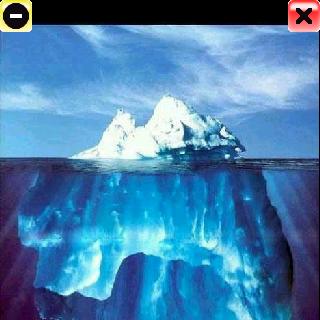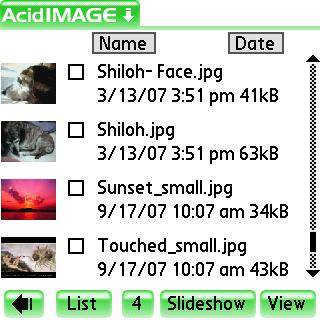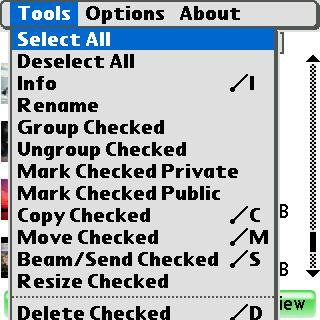 [Acid Image: showing an image, a list of images, and options]
Beiks BDicty reference tool, loaded with at least the English Pro lexicon ($15). Most of us do not need the $10 Pro version of BDicty, which adds the ability to add words to the lexicons, so the free version and a good dictionary is adequate. I park the English Standard on the Palm, and the larger English Pro lexicon on the memory card. The dozens of free and low-cost add-ons makes it a nicely versatile program for a variety of users.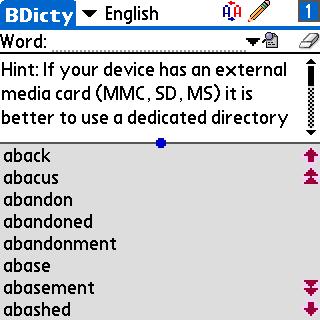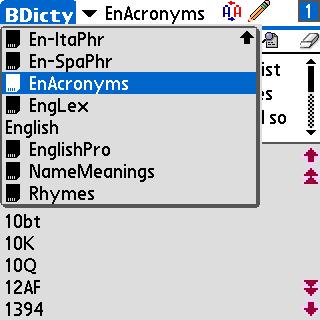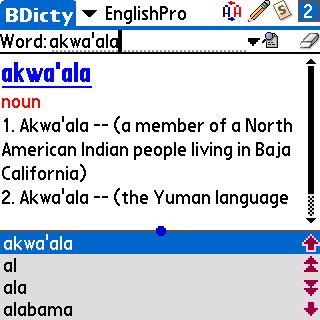 [BDicty: showing work window, list of lexicons, and an obscure definition]
NorthGlide's Neat Freak Pack is a nice combination with Clean Up and Uninstall Manager, which do pretty much what they say for $19.95. Clean Up finds the bits and pieces of junk scattered on your Palm and memory cards and helps you decide if it should be deleted or not. Uninstall Manager does a wonderful job of removing all the stray files, even offering you options like deleting other files installed the same day, running programs in a 'Sandbox' mode that allows you to try programs safely and erase them completely, and more.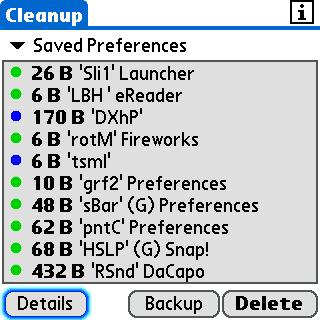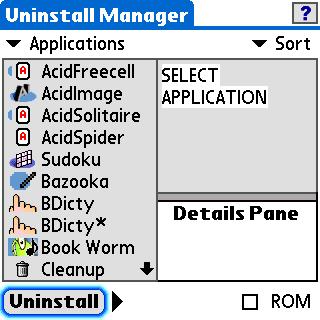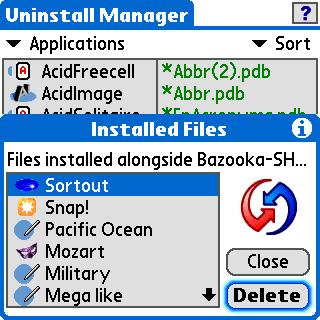 [Neat Freak: showing CleanUp, Uninstall Manager, and Sandbox]
eReader Pro is a $4.95 upgrade from the free eReader that I like for the extra features it offers for the low price. One big use of my Palm is as a book reader. I download books almost weekly and love having a complete library at my fingertips. If you get the eReader.com site's newsletter, you get a weekly discount code good for pretty much the entire site, and I appreciate that they store your records so you can re-download easily. With more and more sites going to a 'download protection' scheme (pay extra so you can re-download anything you might loose) I appreciate eReader's customer friendly approach more and more. Oh, and I like the interface and functions of the program too!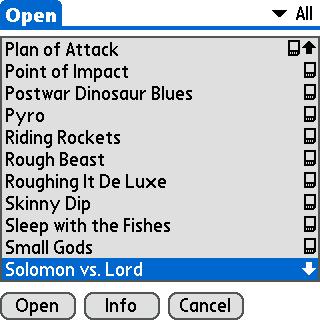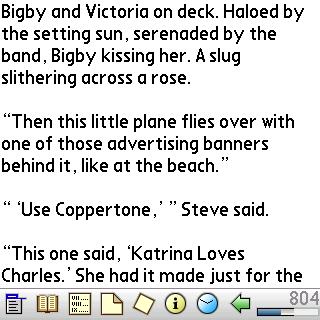 [eReader: showing part of my booklist, and an open book file]
FileZ. Ah, FileZ, what would I have done without you? This freeware program is a solid file manager utility that works almost seamlessly between the handheld and memory cards, letting you beam, rename, delete, move, change properties, etc. on nearly every file on our unit. I have run FileZ on every PDA I've owned since my first Handspring Visor Deluxe (Ice), and it is one of the first programs I reinstall after a crash or cleaning.
Geek Sounds is a freeware list of MIDI sounds to replace and supplement the built-in sounds in the Palm. Set the alarms in Calendar to the theme from Airwolf, or Notepad alarms to the Flintstones tune. OK, so most of the themes are a bit dated, they are still fun and work better as alarms than the simple warbles and rings the Palm comes with. About the only downside of this program is that the tunes tend to get stuck in your brain!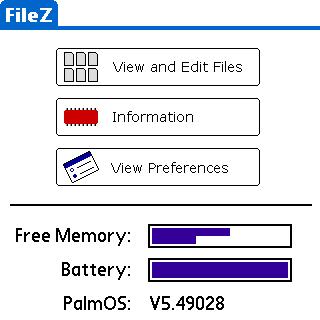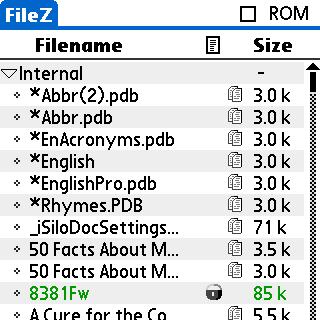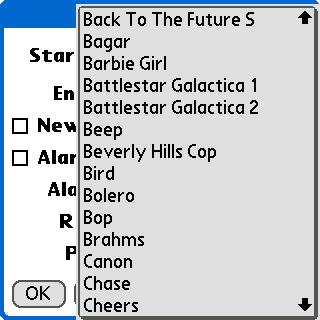 [FileZ: Opening Screen and list of files. Also GeekSounds partial song list]
iSilo is one of those programs that I use a lot but barely scratch the surface of. Available in a full mode for $19.95, or a free mode with limited functionality, it is a great tool for working with a wide range of document formats, Internet sites, and more. I use it mostly to view documents I snag off the Internet with the companion iSiloX program. iSilo can even replace many of the features of AvantGo when used correctly. It also plays nicely with another of my favorite sites, Memoware.com, a great site filled with useful stuff.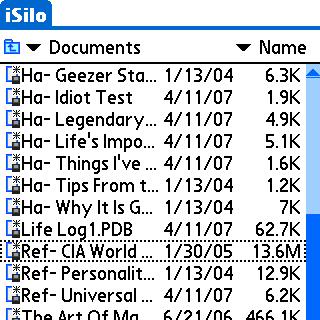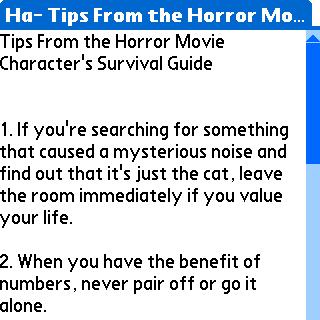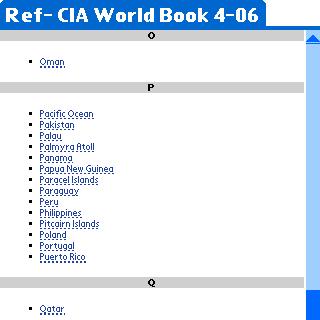 [iSilo: showing a document list, open book, and a page of hyperlinks]
NVBackUp is a nearly perfect backup program that has been reviewed on this site before and continues to be a wonderful tool for me.
Now, where next? So many good programs…
– Pocket Tunes for music lovers,
– TCPMP or a similar movie player for video fans,
– HandPainter Pro for the artist (this is so far the best Palm drawing program I have found for ease of use and quality of results).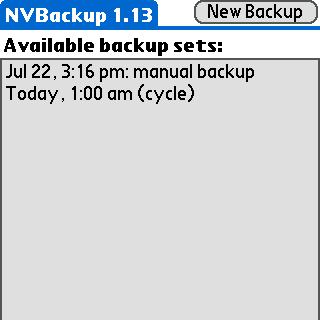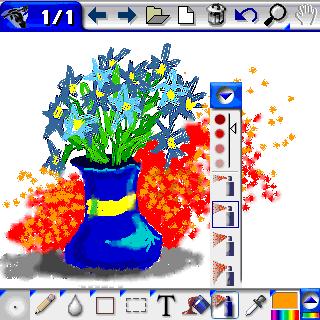 [NVBackup and HandPainter Pro]
And this does not even include any of the other great programs for the right person out there- the movie guides, workout trackers, career aids, and so forth. Nor does it touch on the hardware elements- cases, screen protectors, cables, lost and found services, stylus replacements, memory cards, keyboards, and other things that make such great stocking stuffers. Well… maybe later dear Santa. I know your time is valuable this time of year, so I will end now and pick up soon in a list of the games I think every Palm user should experience.