If you saw the Ladies Madison Laptop Tote review, you knew there was a second review coming your way. Samsill graciously sent the tote and the Microsoft Summit Laptop Backpack for my use. For the last 3 months, everyone in the house has used the backpack. My husband and I tried it in multiple environments. He used it at school and for work. I used it to consolidate my purse, diaper bag, and independent contractor equipment into one bag. We split the time using the bag and carried it everywhere we went. Want to know how the Summit Laptop Backpack held up over these months? Keep reading the review!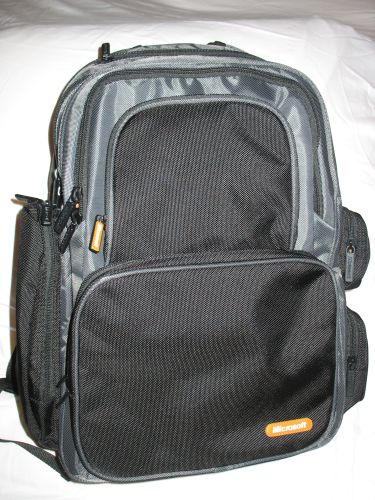 Specifications per Samsill's website
Holds most laptops that are up to 15.4″ wide
Protective padded laptop compartment with Velcro security strap
Zip down pocket for media storage and accessory panels
Side pocket for water bottle
Two front zipper pockets and large center storage compartment
Fleece lined side MP3 player pocket with headphone exit port
Air-flow padding on back and shoulder straps
Light-colored lining to find items fast
Water resistant bottom
Quick drop pocket for keys and coins
Product Dimensions: 15.25″ x 8.25″ x 19.5″
Product Weight: 6 lbs
Material: Lightweight 1680D poly
When selecting the bag for review, what caught my eye were a number of features. The overall size, business casual look, and the multiple-use compartments would easily meet the needs of a student, professional, or even a multi-role mom like me. It also was trendy and looked convenient. Once the bag arrived, my online assessment was further proven.
In the case of Ronnie, he just finished his MBA in July! Congratulations!!! Besides towing his typical student gear, he also carried his laptop from work, engineering documents, SIRIUS radio equipment, and miscellaneous items (keys, phone, parking pass, etc.) in the backpack. He found it was a great way to carry everything and have it readily available. To spare you pictures of diapers, wipes, and unmentionable gear from my purse, I am using pictures from when Ronnie used the backpack. So, lets take a look at the backpack!
Starting at the top of the bag, the carrying handle joins the wide shoulder straps. This convenient feature allowed me to balance the load when lifting and carrying it like a tote. As you move down the padded straps, there is breathable, mesh fabric on the straps and along the back of the bag. At the bottom of the straps are fasteners to snap along your chest.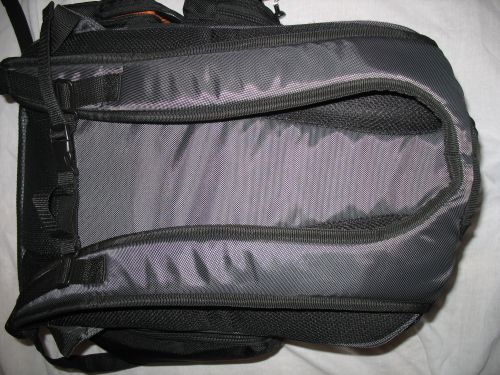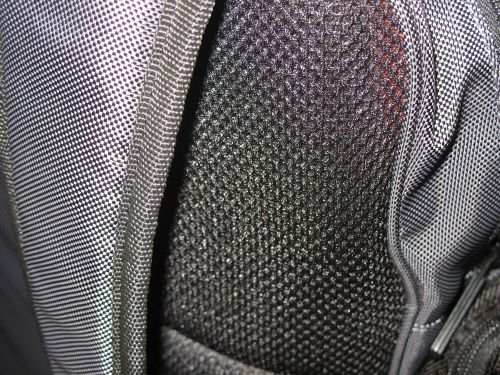 Moving around the bag, you will come to the first set of three compartments. By the way, each compartment on the backpack has a Microsoft labeled zipper. The first compartment is a fleece-lined pocket with a mesh holder and a headphone exit port. The concept of this pocket was great, but I did want more padding on the exterior. The mesh prevents my accessories from scratching but does not give enough padding for the bag being bumped or dropped.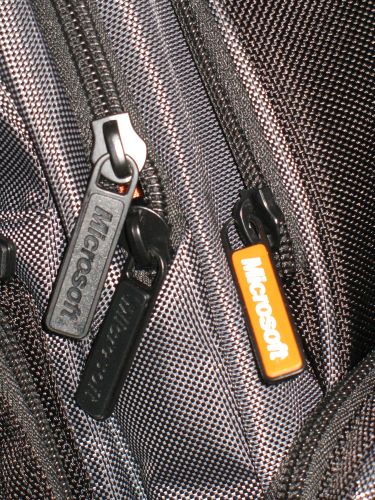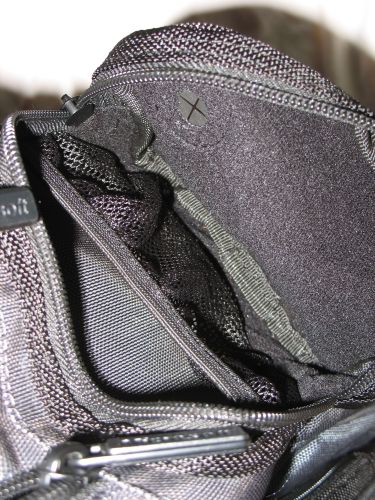 Just below the MP3 player pocket, there is an accessory pocket. I did not use this one as frequently as the other pockets. For organizational purposes, I just need two small pockets. The MP3 one and a pocket I will detail in a moment, were my prime choices since they offered convenience and easy access.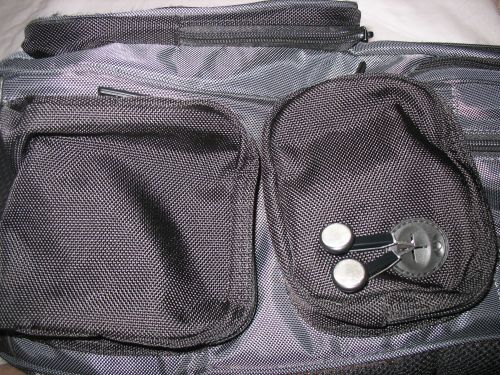 On the opposite side is a pocket specifically designed for the beverage of your choice. It fits a water bottle, Diet Coke, and even a good ol' Boulevard Wheat.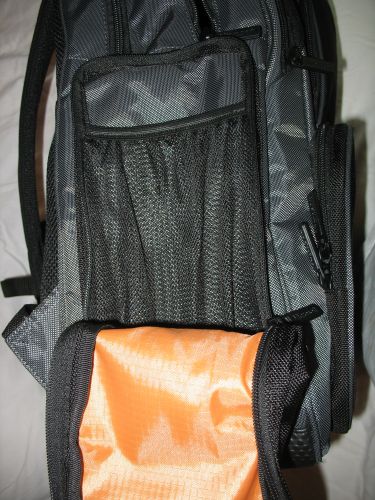 A feature I particularly liked on this tote was the waterproof and cushioned bottom. If you recall from the Ladies Tote, there was not much padding to the bag and made me nervous stashing a laptop. With the Backpack, the concern is lessened with the thick, vinyl bottom and extra padding inside. These features not only add protection, but keep the bag standing upright.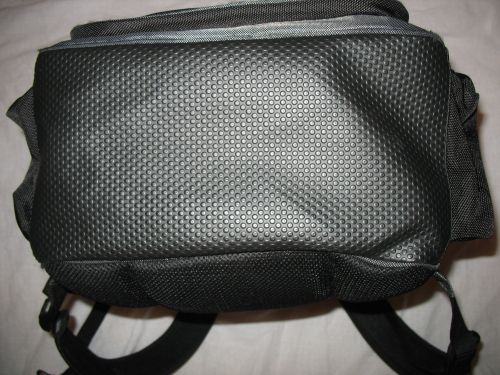 Look at the grey and black material for the exterior of the bag. They are a woven 1680D poly like the Ladies Tote. The only difference is that the poly was used for the edge piping, too. After 2 months of using the backpack every day, the piping frayed. Although the material showed wear on the piping, it stayed in good condition everywhere else.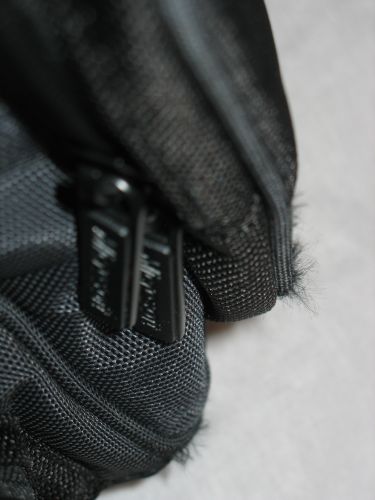 Moving back to the top, there are six pockets along the front. Here are pictures with them all unzipped.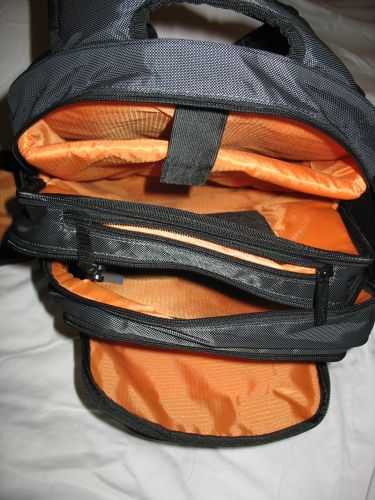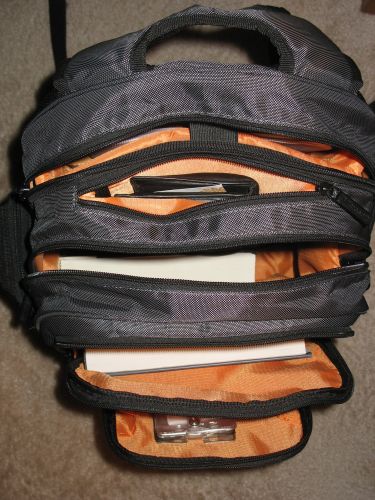 The back pocket measures 18″ deep x 11″ wide. It secures a laptop with a Velcro strap and padded holder. The space for a laptop measures 15″ deep by 10″ across. Directly across from the laptop holder are slots for disc storage. Between these two areas, there is ample room to store books and writing materials.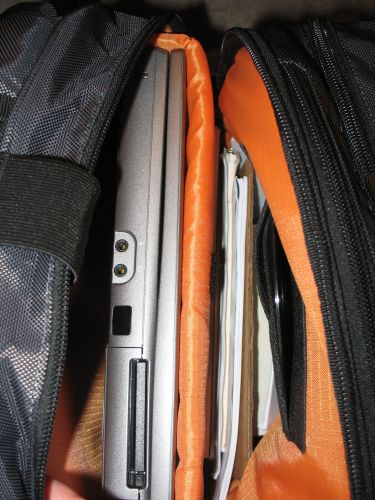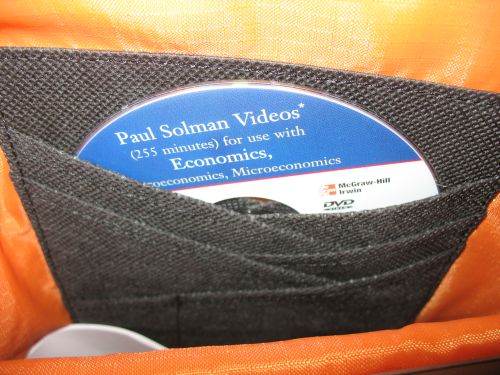 As you move to the next compartment, you will see it is a shallow spot measuring 7″ deep and 5″ wide. The pocket provides quick access to your keys, USB port, pens, etc. Making it even easier to find your gear is the orange parachute material inside. This fabric is found inside each of each compartment except two side pockets. By the way, this was my second most-used pocket since it easily held my wallet, cell phone, and keys.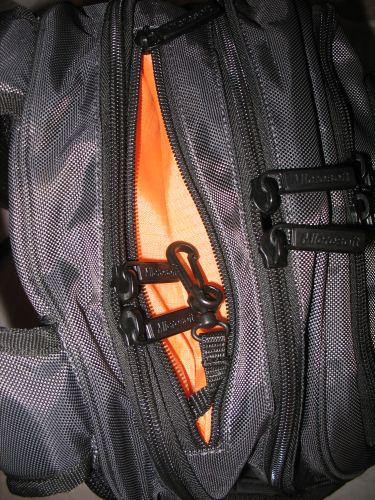 The third compartment measures 16″ deep and 10″ wide. It has a catch-all mesh pocket with an elastic band, and the pocket measures the full length of the compartment. Overall, this compartment gives you plenty of room for more reading materials, your lunch, or things you do not want stored next to your laptop. What I liked about this compartment is that I could open it to get my gear, but not expose my laptop. The mesh pocket also held my Canon camera; and, being in the middle of the bag, there was some added protection.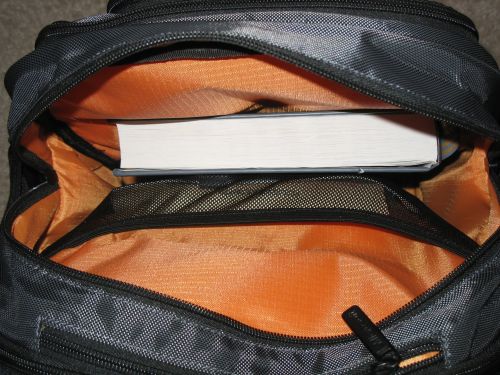 The fourth and fifth compartments are also multi-use pockets. The fourth one measures 16″ deep x 9″ wide and has slots for pens, pencils, calculators, business cards, and other gadgets. Of the smaller pockets, Ronnie used this one the most. He put everything he would normally carry in his pockets here.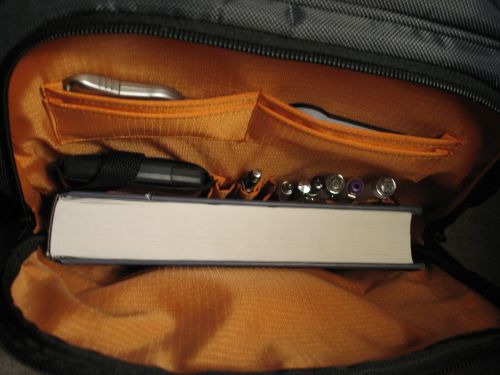 Just in front of this panel is a compartment measuring 6″ x 6″. It opens out and allows for you to quickly stash gear. Ronnie liked using it for his badge for work and parking pass. I was not as much of a fan of this pocket, since I did not like providing quick access to my stuff…to a potential thief or mischievous kid. It never failed, that was the first pocket the kids would open.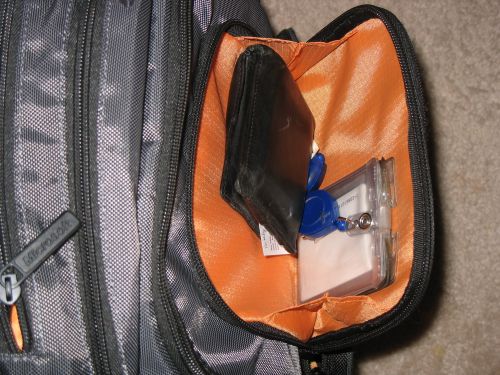 The final compartment was one neither of us used. With nine total compartments, we just do not carry that much stuff. Plus, when we would have the bag on the floor, we would typically just want to reach things from the top of the bag. But, this pocket might provide convenience for your high-maintenance-gadget-toting-friend. The mesh pocket within this compartment is split in half, and the pocket measures 9″ deep by 10″ wide.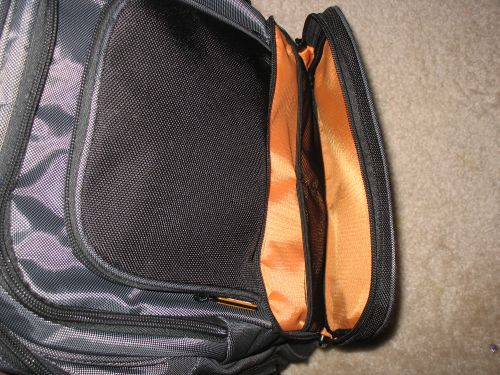 For one final feature of the backpack, I need to discuss its bulkiness. The overall size is 19″ long and 15″ wide and makes it difficult for someone with a small frame to use. In contrast, it is ideal for a 6 foot or taller guy. Here is a picture of Ronnie (6'2″ with 44L coat) wearing the backpack. As you can see, it spans the width of his shoulders and most of his back.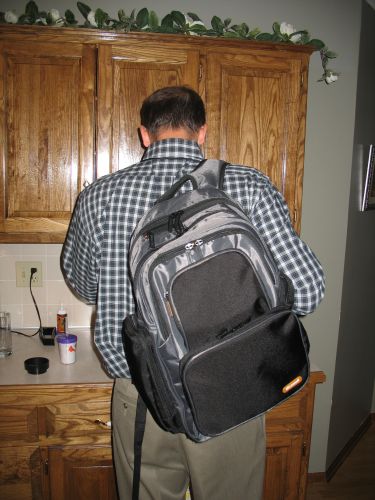 Although it is bulky, the bag is compact for the amount of things it holds. When fully packed and unzipped, the bag measured approximately 13″ from the top view.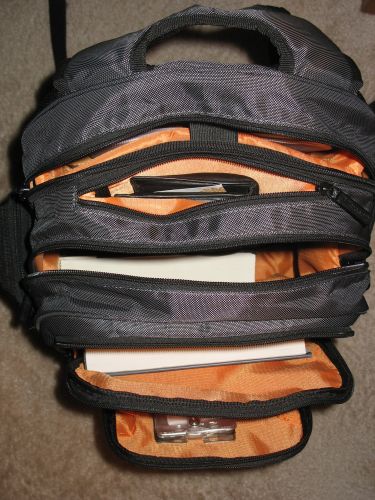 After taking this picture, I zipped up the bag. Check out how it compressed to 9″.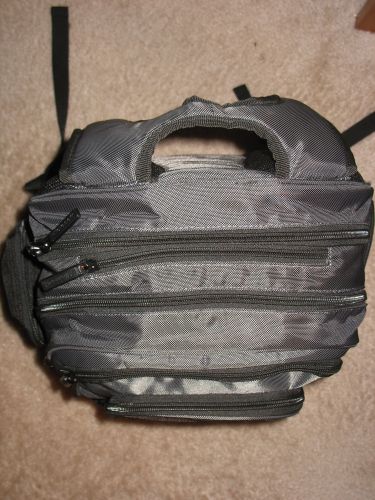 Overall, Ronnie and I enjoyed using Samsill's Microsoft Summit Laptop Backpack. He liked it so much that he will continue to use it. And, I will keep carrying the Microsoft Ladies Tote. The backpack was easy to test everyday for the last 3 months. It met the needs of a student, a professional, and an on-the-go mom. It is a stylish backpack and an affordable solution to consolidating all your gear into one bag.
Bags available through Amazon.
Some of our links in posts like this one are affiliate links, which means that we may receive a small commission on purchases at no cost to you.
Product Information
Price:
79.99
Manufacturer:
Samsill
Retailer:
Samsill
Pros:

Solid shoulder straps and carrying handle
Colored interior allows user to quickly find items
Organization advantages with multi-use pockets
Limited 5 year warranty (original owner only)
Holds laptops up to 15.4" (size of laptop, not your screen)
Key holder clip inside
Ideal size for medium to large body frame
Nine compartments to store gear
Affordable

Cons:

Lack of padding on the side MP3 pocket
Fabric frayed along edges
Size not ideal for small body frame