We use affiliate links. If you buy something through the links on this page, we may earn a commission at no cost to you. Learn more.
The NAV200 Portable GPS Navigation from Delphi is a GPS device that will not only help you arrive at your desired destination, but it will also provide some extra features when you aren't using it to guide your travels.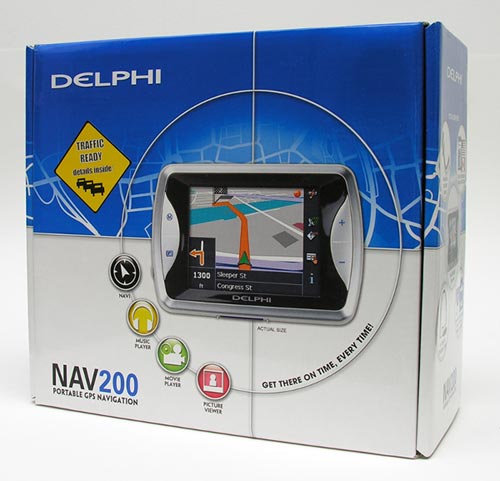 Hardware Specifications
Processor: Samsung 2440 400 Mhz
Operating System: Win CE.net Core V 4.2
GPS Antenna: SiRF III
Memory: 32MB Flash/64MB RAM
External Memory: Supports up to 2GB SD card
Display: 3.5″ 320×240 pixel Touch Screen
Speaker: 8 ohm, 1×2 Watt (stereo)
Audio Out Jack: Ear jack 3.5mm (stereo)
Stylus Pen: Yes
Battery: Rechargeable Lithium-Ion / 730mA
DC Power: 5V
Dimensions: 5.3″ x 3.2″ x 1″
Weight: 6.7 oz.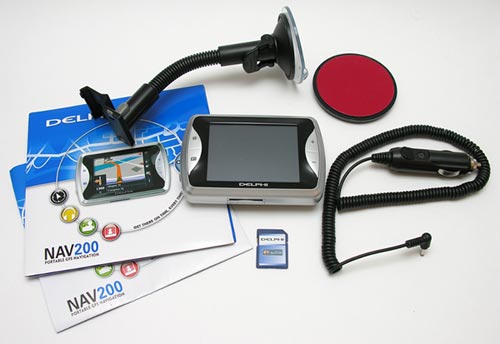 Package Contents
NAV200 GPS Unit
SD Map card
Windshield and dash mount
Car charging cable
CD with manual
Quick start guide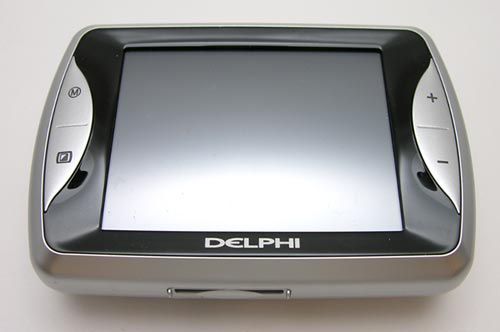 The NAV200 is made of Silver plastic and has a nice heft to it when you hold it in your hand. The design is simple and non-cluttered. The 3.5 inch non-glare color touch screen takes up most of the face of the device, but flanking each side is a set of two buttons. On the Left side there is a Main Menu button and below it a Screen Saver button. On the opposite side there are two zoom buttons to zoom the map in and out.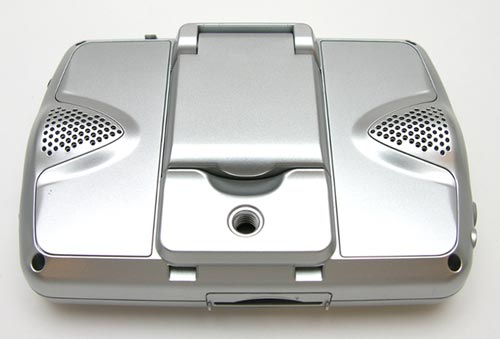 If you turn the unit over, you'll see the built in speakers and the folded down GPS antenna.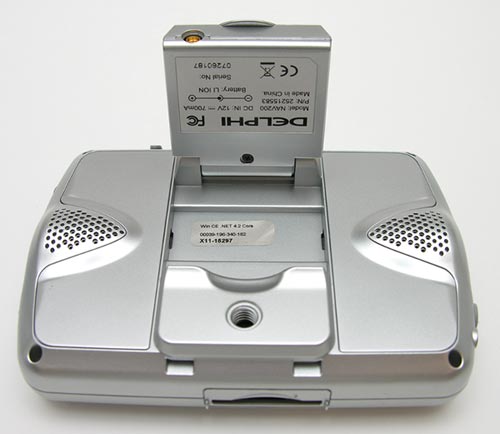 You flip the antenna up when you're using the device. You might also notice the small gold connector on the edge of the antenna. You can use this to attach an external antenna, which can be purchased separately.

An SD slot is built into the front edge of the NAV200. This is where you insert the included map SD card or SD card with music and videos.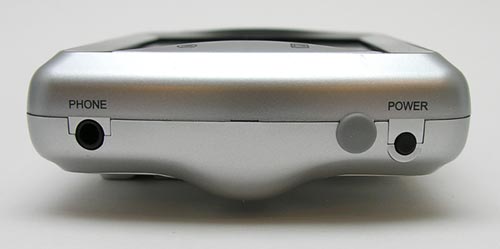 On the left side there is an earphone connector and a small power switch.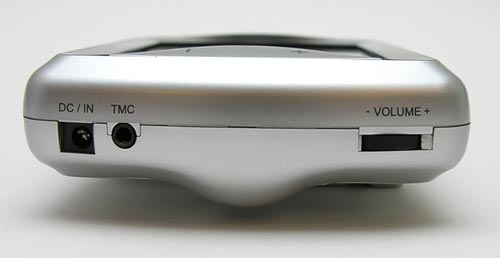 You will find the power jack, optional TMC-RDS real-time traffic kit jack and the volume control dial.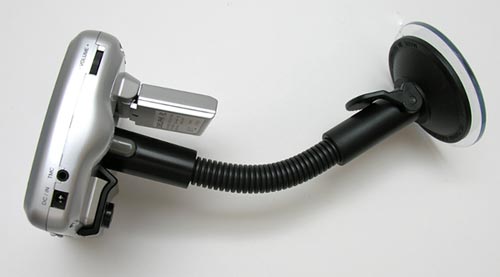 An adjustable goose neck suction cup windshield mount is included, which easily snaps into and out of the back of the GPS when the antenna is flipped up. If you don't want stick the mount to your windshield, you can stick it to your dash using the included adhesive mount plate. Setting up the NAV200 in your car is easy and shouldn't take you more than a minute or two.
I knew just how I was going to test the NAV200, when I was asked if I would be interested in reviewing it. I packed the windshield mount, car charger cable and GPS unit with me in my gear bag when I traveled to Sedona, Arizona earlier this summer. I really don't enjoy reading paper maps and I thought it would be a great way to put this GPS through its paces. It's one thing to test a GPS in an environment where you are already used to traveling. It's another to trust it in a location that you're not familiar with at all.
As soon as we got our rental car at the Phoenix airport, I connected the mount to the windshield, plugged the 5V power adapter into the car's cigarette lighter and waited a few seconds for the GPS to boot up. If you leave the GPS plugged into the power port, it will automatically power down when you turn off your engine and will power back up went you start it again.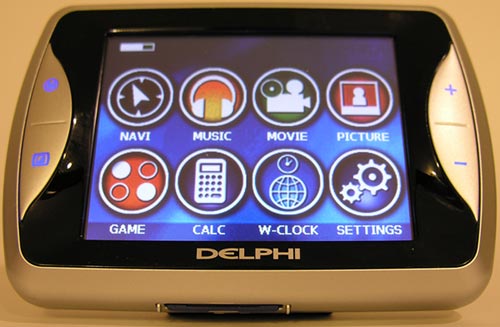 The first screen you're greeted with is the main menu, which has finger friendly sized buttons for the main features of the device. The features include Navigation, Music Player, Movie Player, Picture Viewer, Game, Calculator and World Clock.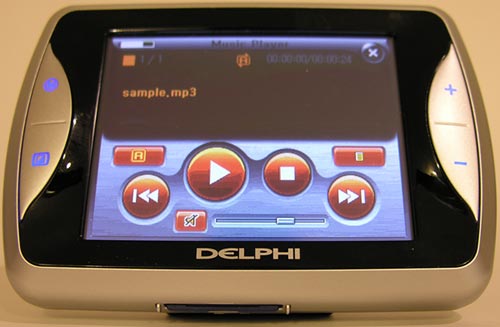 The music player is very basic and can play MP3 and WAV files. The music will play through the built in speakers, or thru earphones (not included).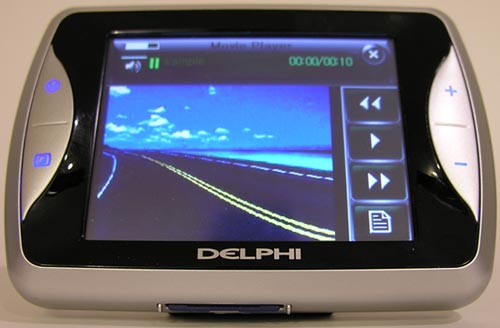 There's also a Movie Player application. The only file format that it supports though is AVI.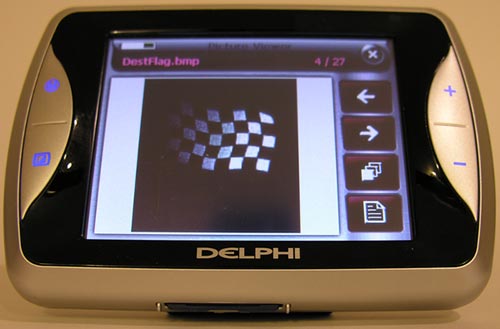 The Picture Viewer app supports GIF, JPG and PNG. Like the music and movie players, this viewer is really basic. I guess it is useful if your digital camera uses SD cards and you want to view the pictures on something larger than its viewfinder.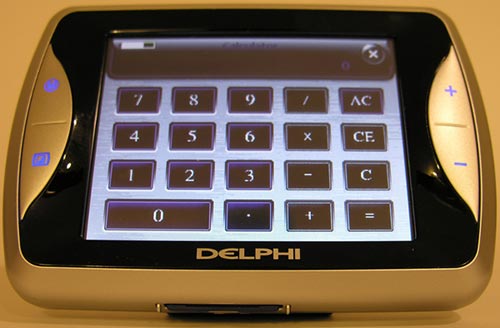 You even get a calculator.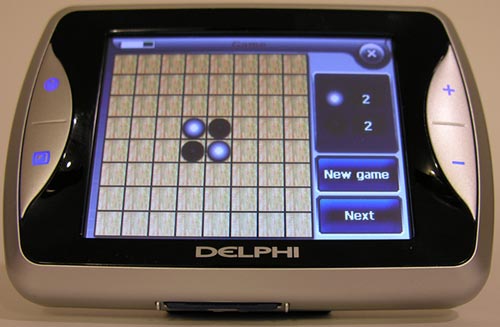 And the classic strategy game Othello (also known as Go and Reversi).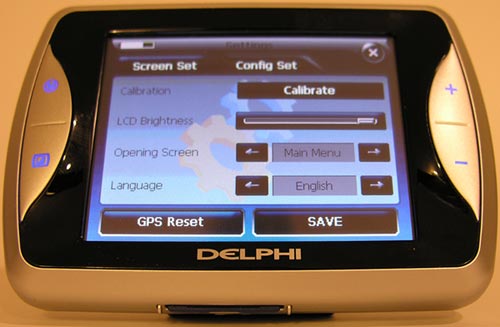 The settings dialog allows you to calibrate the touch screen, adjust the brightness, change the language and pick sounds for various events.
Let's check out the main use for the NAV200… GPS navigation. All of the map data is contained on the included 1.5 GB SD card. It is preloaded with NAVTEQ maps of the U.S. and Canada.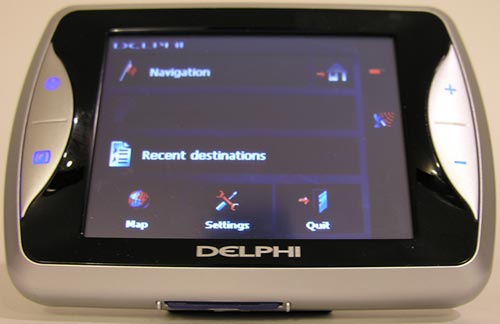 Pressing the Navi button will launch into the navigation application. This takes about 10-12 seconds every time you launch from the main menu. Each time you launch, you have to also tap an I Accept button on a warning screen that makes you promise you won't cause any accidents by using this device. This is very annoying to have to do every time you launch. I wish this could be bypassed.
Once the application is up, it looks like the image above. As you can see, you can press a large Navigation button, Go Home button, Recent destinations button, Map, Settings and Quit buttons.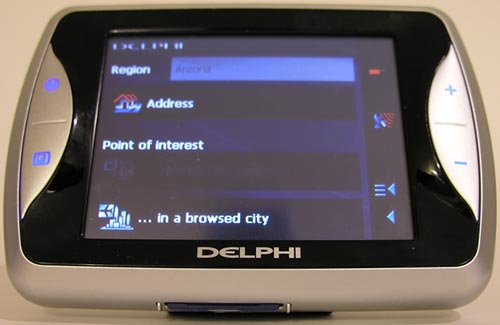 When you press the Navigation button, you can search on a specific address or point of interest. The software contains 1.6 Million points of interest that you can search on. Things like ATMs, gas stations, stores, restaurants, etc. This type of search makes it easy to find places located nearest your location. Very handy when you're in a strange town and need to find an ATM quick!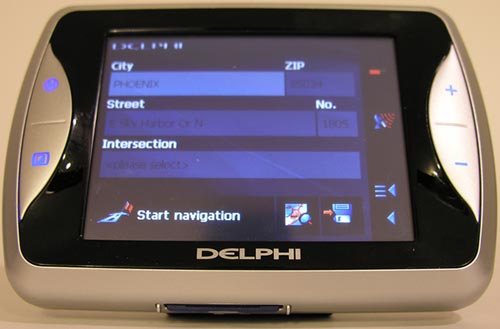 Addresses are entered by selecting the city, zip and then street address. You enter the name of the street first and then the number. For example, if you wanted to travel to 123 Main Street, you would enter the word Main and then would enter the numbers 123 in the No. field. As you type, a list of matching street names will appear that you can select to make entering the name quicker.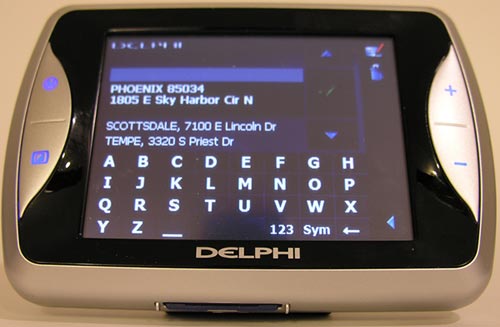 A popup keyboard makes it easy to enter city and street names quickly by tapping letters with your finger tip. While it is easy to enter information this way, I'm waiting for the GPS device that can take my voice commands and translate them into actions.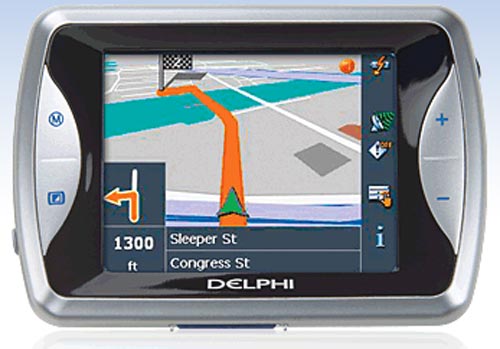 Once you enter a valid address and press the navigate button, the display will change into the map view. In this view, you see a real-time view your vehicle (the Green arrow) moving down the road (Orange line). Below the map is the name of the current street that you are driving on and below it is the next street that you're supposed to turn on. To the Left of the street names is double box. The box on top shows an arrow designating the direction of your next turn. The box below that shows the distance to that next turn. That box showing the distance till the next turn will also start filling up with Red lines when the turn gets closer. When you're almost at the point of the turn, the box will be completely filled Red. This is a nice visual indicator. Of course the GPS also has audible indicators. A female voice announces turns such as "Turn Left in 600 feet". The NAV200 does NOT say the street names though. It will sometimes say highway names like "Turn Right on Highway 46", but would not say things like "Turn Right on McKinley Avenue".
There is more information on the map screen that isn't shown in the image above (because I had to 'borrow' that screen shot from Delphi's site). I was unable to get a picture of the GPS in action because I was … um… driving! Other info includes info like the estimated time to destination, remaining distance in miles left to destination and directional heading.
This GPS also has the ability to save favorite destinations and do route planning with stopovers.
During my testing in Phoenix, Arizona, the NAV200 was a real handy tool to have along with us in the car. We didn't have to depend on reading a paper map. It's funny because I actually printed directions for some of our excursions from MapQuest, but I followed the sometimes different directions that the NAV200 offered. We never got lost. Not once :o)
The Delphi NAV200 is a nice basic GPS device that is priced relative to its feature set. The last GPS that I reviewed was the FineDigital FineDrive M300, which I actually like just a little bit better because it can charge via USB. I wish the NAV200 had this ability as it would be more convenient when you take the unit out of the car to use as a media player. But other than that small feature, the NAV200 is superior in that it supports the optional real-time traffic kit which can be a real time saver if you travel in busy areas. Delphi isn't a brand name most people would typically think of when considering the purchase of a GPS device, but I can say that it is one that I can recommend.