We use affiliate links. If you buy something through the links on this page, we may earn a commission at no cost to you. Learn more.
The ChargePod
is a customizable system designed to charge up to six devices at one time. The
folks at CallPod have
done a good job of engineering a charging system for the tech-carrying road warrior.
I travel quite extensively for work and regularly forget a power cord or two. The ChargePod
system not only allows you to reduce cable clutter, but puts all your charging
needs in a small, lightweight, organized package.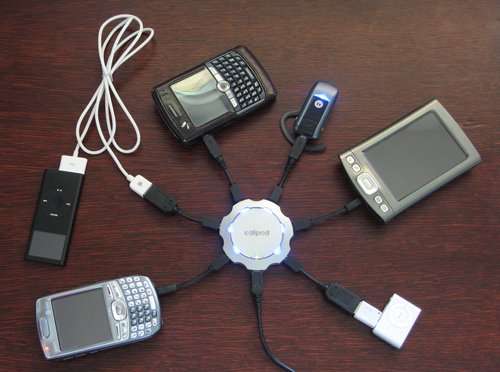 The ChargePod base station allows you to connect up to six device specific
adapters at one time to a central hub. The central hub is powered by a usb power
cable.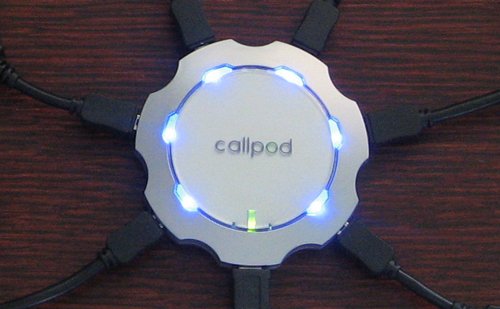 When I first saw the base station on the CallPod website, it looked like it
might be constructed of aluminum. Admittedly, the tech-geek in me was a bit disappointed
to discover its made of plastic. That being said, both the base station and cables
are well made and fulfill their function. Indicator LED's glow blue and green
when the adaptors and power cable are connected, a nice touch.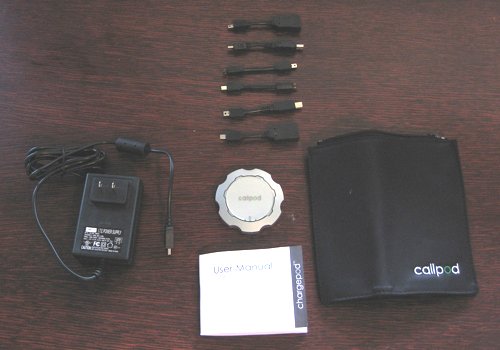 According to CallPod's website, they offer adapter cables compatible with thousands
of electronic devices to include PDA's, mp3 players, cellphones, digital cameras,
portable gaming systems, etc. There are several ways to purchase the ChargePod
system. Bundle
packages are available which include the base station, wall and car chargers,
and six adapters. However, the more practical and effective way to buy the system
is to order the base station (which includes the central hub, usb power
cord, carrying pouch and one adapter) and the specific
adapters separately that suit you best.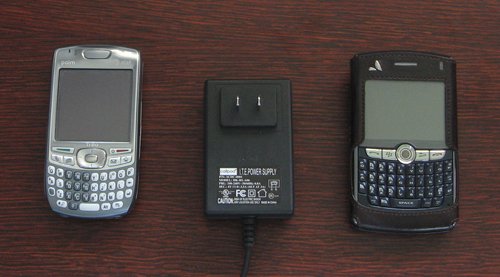 The one issue I had with the ChargePod system is how large and heavy the power
brick is. It is almost as large and weighs as much as my Treo and Blackberry.
The size, weight, and functionality of the ChargePod definitely works for me. So much so, that I am planning on ordering the iPod and digital camera adapter cables to complete my set. There is no doubt that I will regularly pack my ChargePod system when I hit the road. The base station (with one adapter cable), car charger, and five adapter cables will cost you approximately $120 which is relatively expensive when compared to other equivant multidevice charging systems, but those others do not allow you to charge most of your devices at one time.
Price: Beginning at $49.95 for base station and a single adapter cable. Additional adapter cables are $9.95 each. Depending on your needs, the total system could cost greater than $100.