We use affiliate links. If you buy something through the links on this page, we may earn a commission at no cost to you. Learn more.
The vast majority of consumer have gleefully accepted the digital video wave with DVDs, DVD players and digital video files on computers, iPods and PSP devices, to name a few. So it may come as a shock that analog video equipment is owned and utilized in some households.
In my house, we have an old VCR in our loft for our daughters to watch the occasional out-dated video. Even if your household is one without an analog video device, I bet you have at least one VHS tape that, even though you have not touched in years, you are not ready to throw away.
The two VHS tapes that hold our wedding video are the most valuable tapes in our house. My wife and I have talked about getting the tapes transferred to digital media, but have never completed the task.
Well, honestech has released VHS to DVD Deluxe 3.0 software geared towards helping people update their video treasures to a digital format. This is a new version of their VHS to DVD software line.
Note for the arm-chair English teachers reading this review, the manufacturer, honestech, is spelled with a lower-case �h". Not a typo.
Back to the review, the software comes securely packaged in one of smaller boxes (7.5″ H x 5.5″ W x 2.25″ D) that some manufacturers have started using. Boxes like these are a lot better than the old epic-sized packaging, especially for the pack-rats who have a hard time disposing of anything.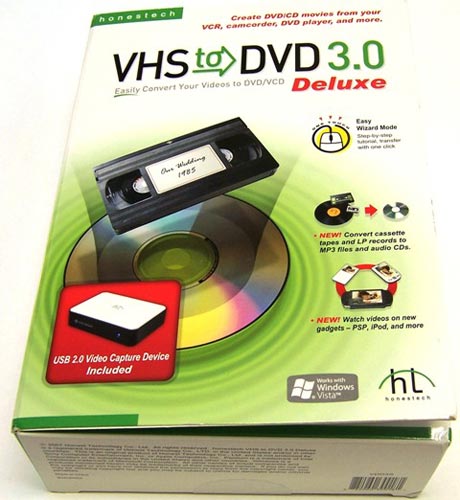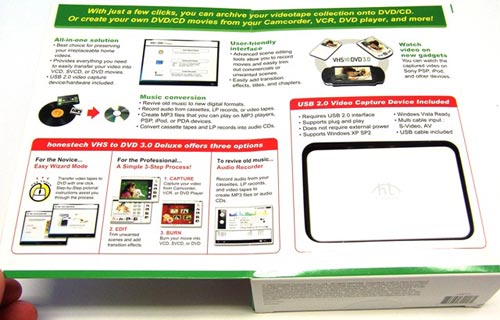 Contents of the Box
honestech VHS to DVD 3.0 Deluxe Software CD
USB 2.0 Video Capture Device (MY VID BOX)
USB Cable
User Guide
Quick Start Guide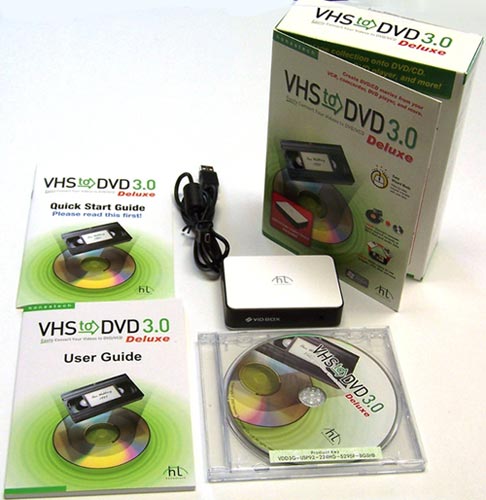 General Specifications
Supports plug and play
Does not require external power
Multi-cable input: S-Video, AV
Three options:
Easy Wizard Mode � A step-by-step guide for the novice user.
Advanced Mode � Capture, Edit and Burn videos.
Audio Recorder � Record audio to create MP3 files and audio CDs.
Adjustable recording time
Various effects and menu creation
Convenient file management
Supports most burning devices � CD-R/RW, DVD+/-R, DVD+RW DL
PSP, iPod, PDA or mobile device format
Audio recording
Dual-layer DVD supported – **Must have a dual-layer disc supported DVD writer
Add pictures to create photo slideshows
As previously mentioned, VHS to DVD Deluxe 3.0 is just the latest release of an existing software line. If you are an owner of version 2.0, the major enhancements found in 3.0 are the following:
Ability to capture in WMV, PSP / iPod, & MP3 formats,
Ability to add a picture,
Ability to edit WMV format,
Ability to burn dual-layer DVD,
Ability to burn audio CD.
The software relies on the audio/video capture device called MY VID BOX. The MY VID BOX allows for composite or S-Video inputs (from VCR, camcorder) and outputs via USB 2.0 (to your computer). Understand that the box merely serves as a bridge between the analog video and the VHS to DVD Deluxe 3.0 software on your computer.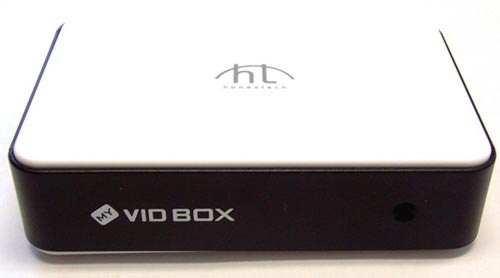 The device itself is small, measuring 0.75″H x 3.4″W x 2″D, which I found appropriate for the role it serves. If the MY VID BOX was responsible for processing the software, I would expect the size to be larger.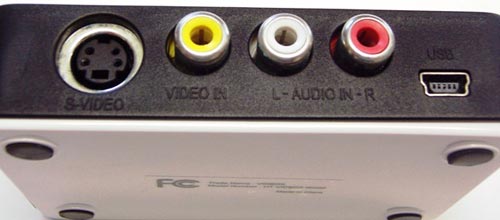 The back of the MY VID BOX has the connections for the S-Video, component audio and video and the USB port. Note that only the USB cable is included with the package.
The VHS to DVD Deluxe 3.0 software is roughly 57MB in size and is the only contents of the included CD. I was surprised that there was not more on the software discs. Almost seems like a waste of a disc.
In regards to documentation, honestech does an excellent job of providing the user with options. They include an 18-page Quick Start Guide which covers the basics to get you started quickly. In addition to the Quick Start Guide, they include an in-depth 67-page user manual. The Quick Start Guide and User Manual are printed, paper copies, which I prefer as opposed to the electronic, soft copy manuals.
If you prefer the electronic copy, an Adobe Acrobat PDF file version is available on the honestech web site. Maybe they could have included a copy on the software disc too.
The manufacturer includes a USB cable that is just over 3-feet in length. I think this is too short, since a requirement of the product is that you have your VHS equipment and computer linked, I think a minimum length for the included cable should be 8-feet.

I bet that everyone has experienced difficulty in connecting two pieces of equipment, due to inadequate cable/cord length, especially if one or both are housed in a piece of furniture. Supplying a longer cable would be a nice, simple feature for the user.
My first attempt to utilize the software was unsuccessful because I tried to launch it on my PC that did not have a DVD burner installed. I was just going to burn the videos to a CD instead, but since the software could not locate a DVD burning mechanism, I was unable to access it. Keep this in mind if you want to use this to put videos on a CD, you still must have a DVD burner installed.
I was able to secure a PC with a DVD burner so that I could test out the software. Maybe it is time to update my system.
When loading the software, I did get a concerning warning message stating that the software had not been verified against Windows XP. I reviewed the documentation and it states to expect this message but advises you to push the �Continue Anyway" button and says the software has been tested on Windows XP.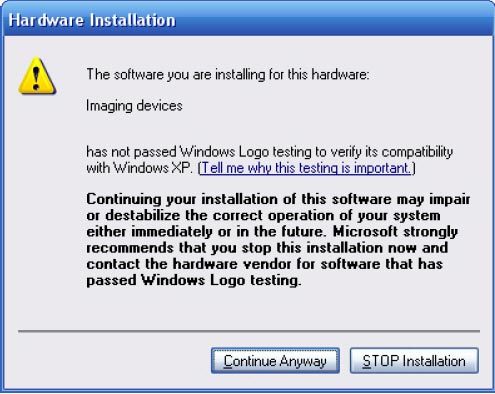 So throwing caution into the wind, I pressed on.
The software provides users with three modes: 1. Easy Wizard Mode, 2. Advanced Mode and 3. Audio Recorder.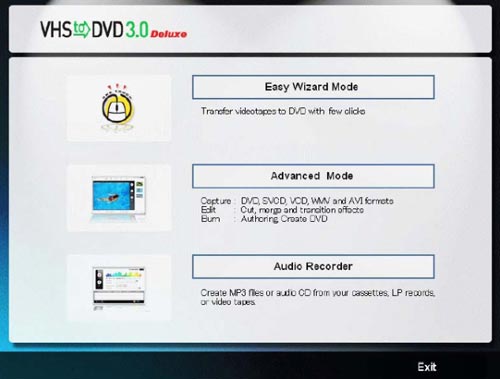 The Easy Wizard Mode is a step-by-step guide targeted at the novice user. It simply prompts you through a five step process that starts with inserting the disc.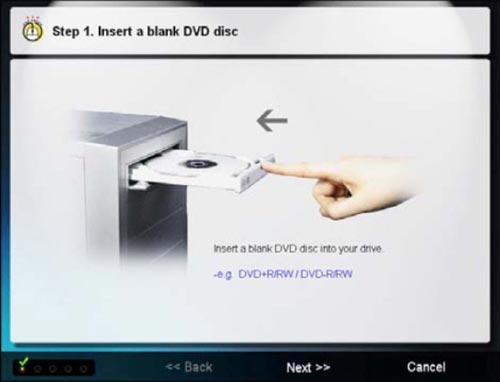 Select the video device.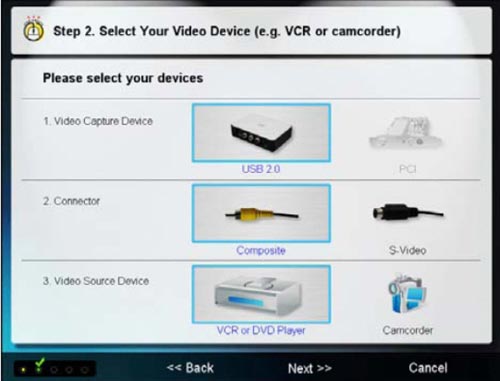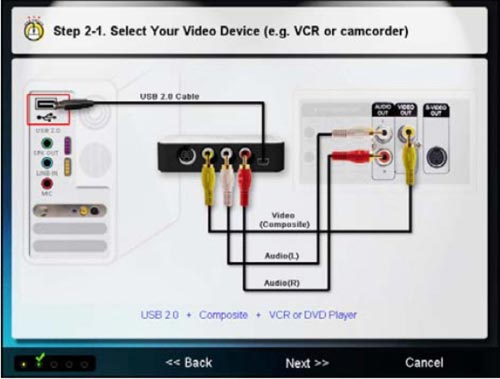 Then it prompts you to test the video connection.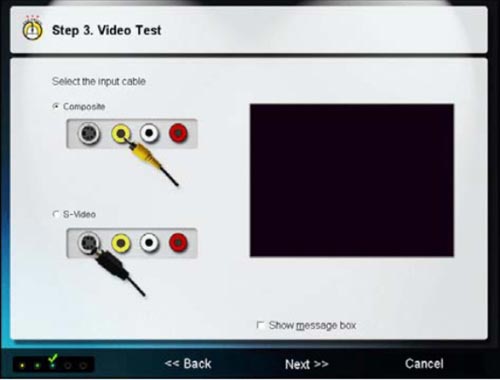 Select the recording quality.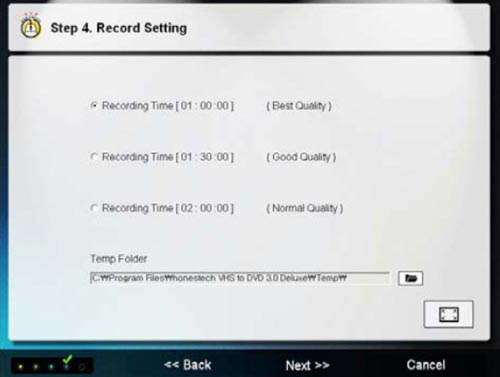 Finally, you burn the video onto a disc.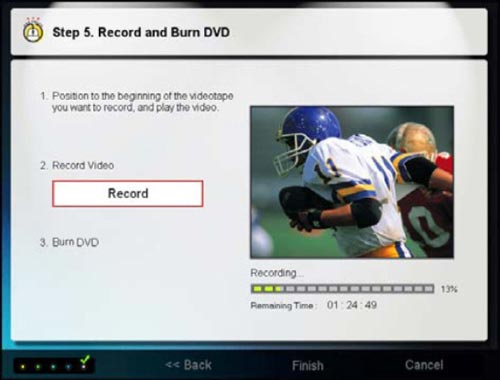 That is basically it. You play the VHS tape and the video is recorded. It captures the video content to a temporary folder and then burns it onto the discs.
A very simple, guided approach to transitioning your old videos to a more up-to-date media. When I see devices advertised as �simple and easy", I tend to wonder �is this something my mother could successfully use." I think my mom would have no problems utilizing the Easy Wizard Mode. Mom, if by chance you are reading this, no offense intended.
The Advanced Mode presents users with options to edit their videos. So if you want to add effects to an old home movie, this would be the mode of choice.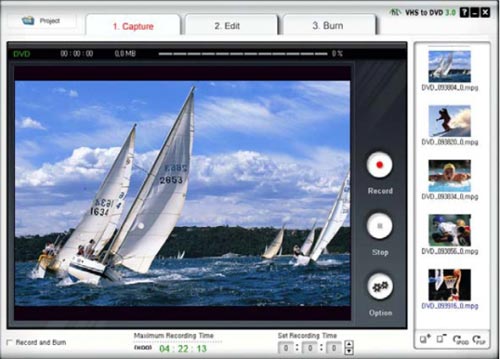 I was able to successfully edit my daughters� birthday parties onto one disc, inserting transitioning effects between the years. Probably not pushing the boundaries of the software too much but I was pleased with the outcome.
I found the Advanced Mode to be sufficient for what I would want to do, but I think if you are really interested in doing some serious editing, you might want to go with a higher-end option.
To be honest, I have no real video editing experience and I found the mode to not be as advanced as I expected. You can look at this two ways: 1> the software is presented in such a way to make the novice feel comfortable utilizing the features or 2> the software�s advanced mode is not a thorough editing tool one might expect an editor to routinely use.
The Advanced Mode is a good option for the novice who wants a software package to grow with their video editing experience.
For those of you lucky enough to own a PSP or an iPod with video functionality, the software can convert the output to MPEG-4 format so that you can watch your old VHS stuff on your new toys.
Here is the PSP conversion menu.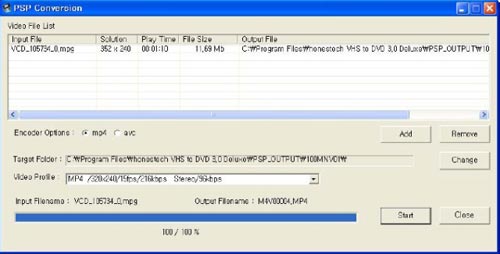 The menu for iPod conversion looks very similar.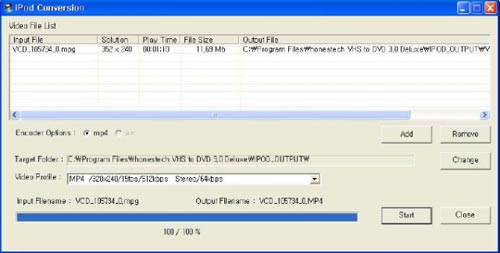 The last mode is the Audio Recorder. This mode allows users to record audio and creates MP3 files or audio CDs. Honestly, I felt this was an unnecessary addition to the software portfolio.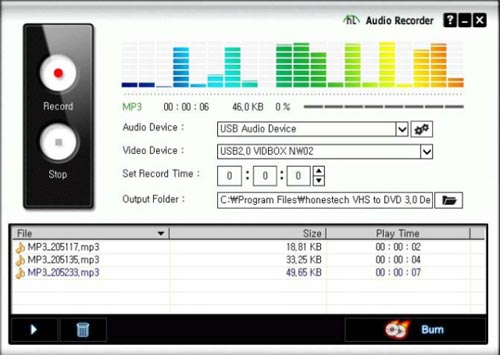 The Audio Recorder function is fairly limited, especially since the audio quality is locked in at 56Kbps. This is way too low to capture your favorite tunes at a good quality. It almost feels like beta software that honestech just threw in to sweeten the pot.
I would definitely go with an alternative for capturing audio recordings. There are numerous options available that give you more functionality.
In conclusion, I found the device and the corresponding software to be a nice solution to the problem of transitioning your old VHS videos to a more up-to-date media. I think the software was designed to be targeted at the video novice market, which makes sense because most people I know would fall into this category.
The Easy Wizard Mode is a great tool that really allows basically anyone to utilize it, while the Advanced Mode is there for the user to experiment with and gain confidence in editing their videos.
I would recommend the honestech VHS to DVD Deluxe 3.0 package as a great way to move out of the stone-age of video technology.
Product Information
Price:
79.99
Manufacturer:
honestech
Retailer:
honestech
Requirements:

Operating System: Windows XP Service Pack 2, Windows Vista
USB 2.0 Host Controller/Port
Processor: Pentium IV 2.0 GHz or equivalent
Memory: 256MB of RAM
Video Output: DVD, VCD, SVCD, AVI, WMV, MPEG-
Composite (RCA) cable
Audio cable (3.5mm to composite)
Audio cable (3.5mm to 3.5mm)
DirectX 9.0 or higher
Windows Media Player 6.4 (or higher)
CD Writer for VCD, SVCD
DVD Writer for DVD

Pros:

Documentation options: Quick Start Guide and a User Manual
A beginner mode and a more advanced user mode
MY VID BOX device is small and compact
Software presents step-by-step instructions with graphics

Cons:

Included USB cable is too short
Must have VHS device within close proximity of your computer
In Audio Recorder mode, audio quality is fixed at 56Kbps, which is too low