We use affiliate links. If you buy something through the links on this page, we may earn a commission at no cost to you. Learn more.
I think laptop users are luckier than desktop users because they can move their computer easily and quickly from one location to another. One minute they can be surfing at their office desk and in a blink of an eye, they can be surfing while sitting in their Lazy Boy recliner. I'm going to tell you about an accessory that can enhance laptop in both places. It's the Futura laptop stand / laptop desk from LapWorks.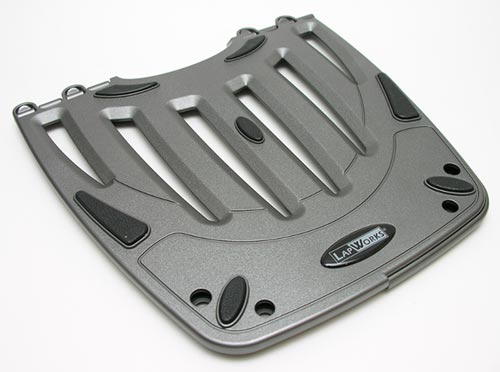 We've had several laptop stand reviews from LapWorks in the past, so I was expecting a professional product with great usability. I was not disappointed in the Futura. This is a fold-up stand that is made of high-impact ABS plastic and when folded, it is thin and small enough to fit in almost any gear bag. I was sent the Silvery Grey colored model, but I hear that there will be various other colors available in the coming months.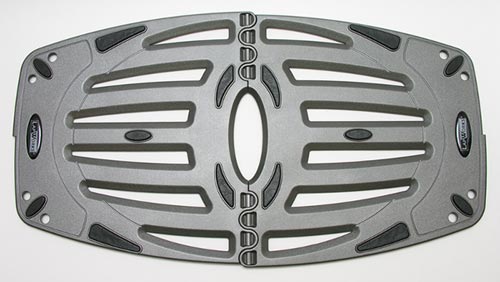 The Futura has two uses. It can be used as a laptop lap desk or as a laptop desk stand. To use it as a lap desk, you unfold it, so that it is completely flat. In this layout, the dimensions are 20.75 x 11.00 x 0.30 inches. Open slots in the plastic allow some air flow between your lap and the bottom of the laptop, when it is resting on this stand. Various rubber pads on the surface of the stand, keep your laptop from sliding around.
Using the Futura as a lap desk does give your laptop more stability than just placing it directly on your lap. It also protects your lap from heat build up from the bottom of the laptop. As far as comfort, this solution isn't as comfortable to use as the Lapinator, which I use all the time. That said, the Futura is a lot more compact than the Lapinator…
The other use for the Futura is as a laptop stand. To set it up for this task, you just flip it over to reveal the hidden adjustable stand.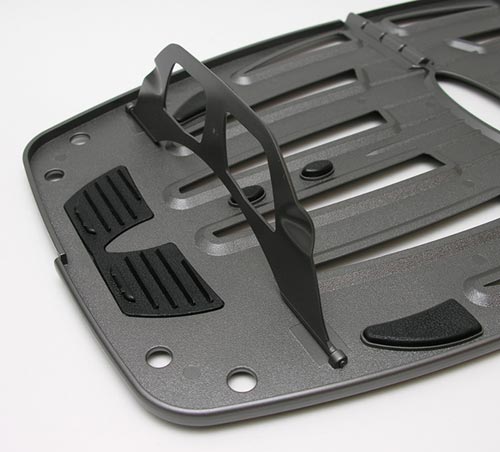 There is a 5 position pivoting support bar that you can use to adjust the height of the laptop screen and angle of the keyboard.
Never miss one of our posts again. Sent MON, WED, and FRI with the latest gadget reviews and news!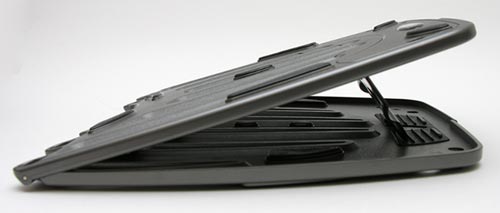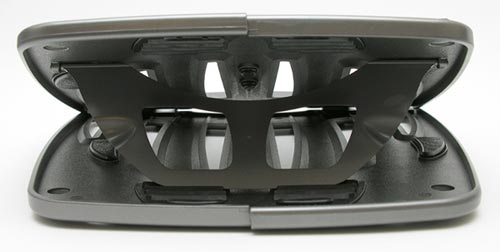 Here's a side view of the laptop stand adjusted to the highest position. In this position, the laptop's screen is raised almost 4 inches.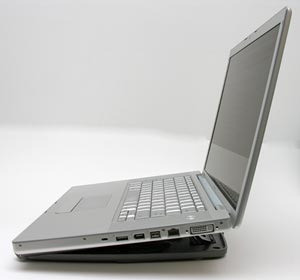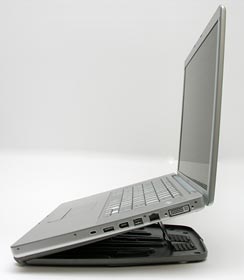 I like to use the Futura on my desk, so that I can place a regular keyboard in front of the laptop. With the Futura in the highest setting, it almost makes me feel like I'm using a regular desktop computer because laptop's display is at a more comfortable eye level than when I use the laptop flat on my desk.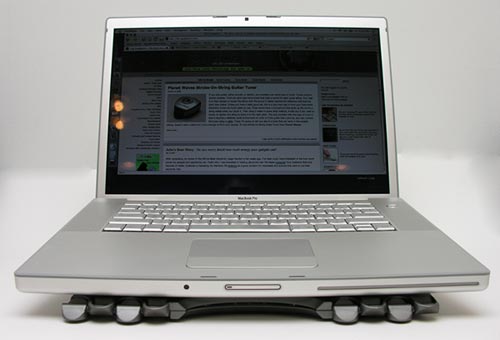 This laptop stand also makes typing more comfortable by angling the keyboard.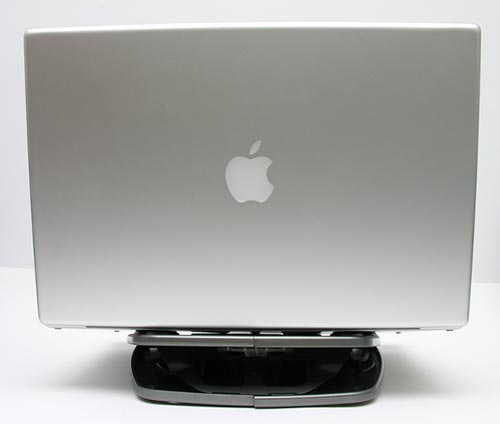 Another advantage of this accessory is that the ventilation slots in the stand allow air to flow below and around the laptop, so that it runs cooler than it would if it was sitting on a flat surface.
As an everyday lap desk, I'm sticking with the Lapinator, but as a laptop stand for my desk, I have replaced my old LapWorks Laptop Desk 2.0 stand with this new Futura. It makes a great travel companion to use at the airport as a lap desk and then at the hotel as a stand. It packs easily too.