We use affiliate links. If you buy something through the links on this page, we may earn a commission at no cost to you. Learn more.
We accessorize our homes, cars, PDAs and even ourselves. So it should not seem unusual to accessorize our water bottles. That's right, today I'm going to tell you about 3 products from Guyot Designs, that you can buy for your water bottle. Quit laughing, you're probably going to want at least one of these items, I promise you…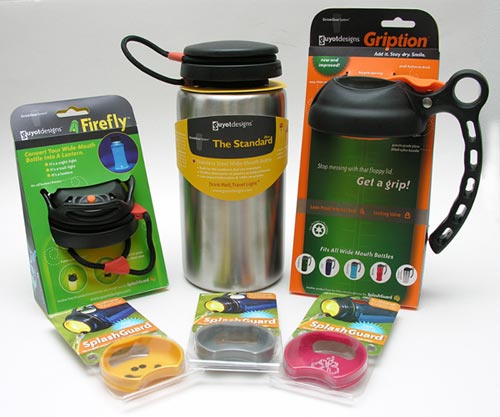 Guyot Designs sells a small collection of interesting outdoor food gear that is great for hikers, campers, etc. The items I'm going to review for you are the Standard bottle with The Lid, Gription, SplashGuard and Firefly. All of these items are made to fit standard wide-mouth water bottles.
Stainless Steel Bottles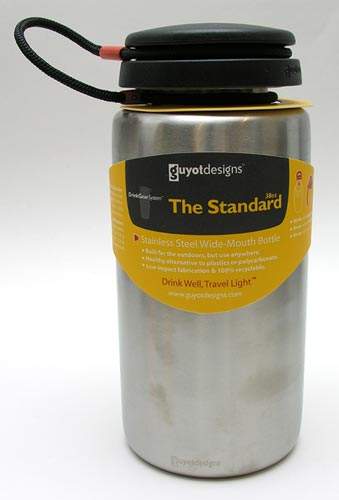 Guyot sells their own line of bottles that are single walled and made of surgical grade stainless steel. Above you see The Standard bottle, which is holds 38oz of liquid and comes with The Lid.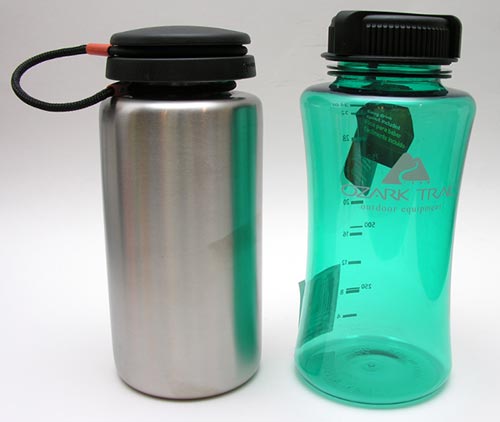 To give you an idea of its size, the Green plastic bottle next to the Guyot bottle is a cheapo Walmart offering.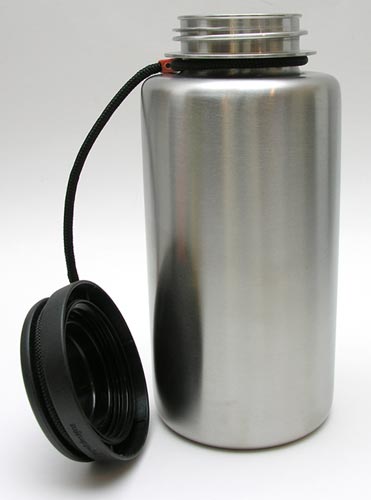 The biggest advantages that the Guyot bottle has over generic plastic bottles is the fact that it's steel. Duh. And that it comes with the Lid.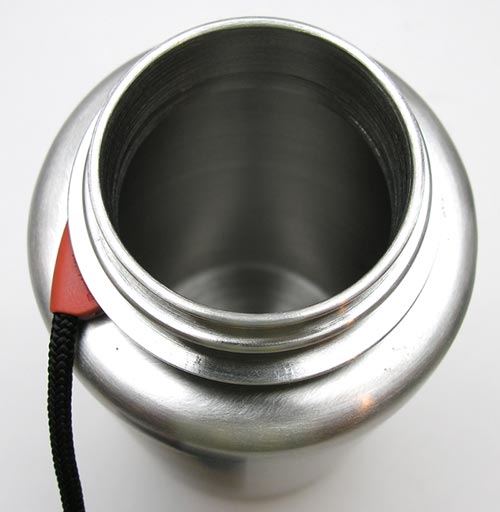 The Lid is attached to the bottle with a Sterling Rope cord. This works so much better than the plastic tethers that generic bottles use.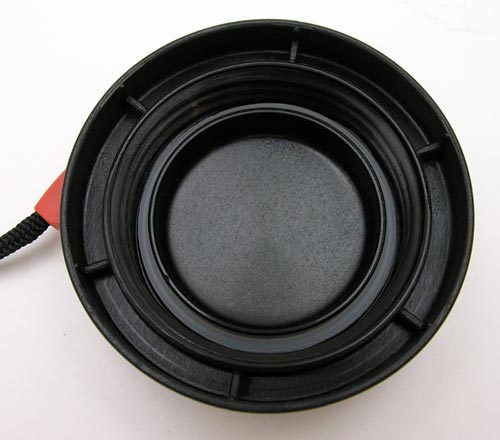 The inside of the Lid has a rubber gasket for a tight seal on your liquids.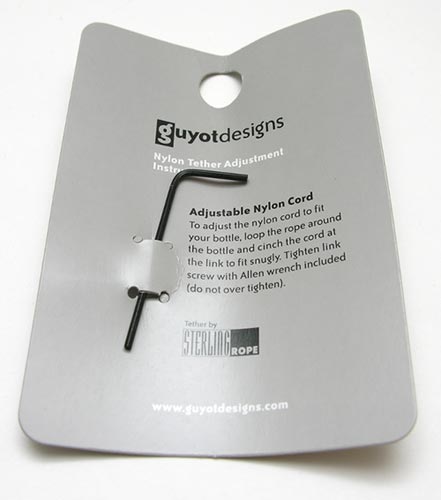 An Allen wrench is included so that you can tighten the cord around the neck of the bottle.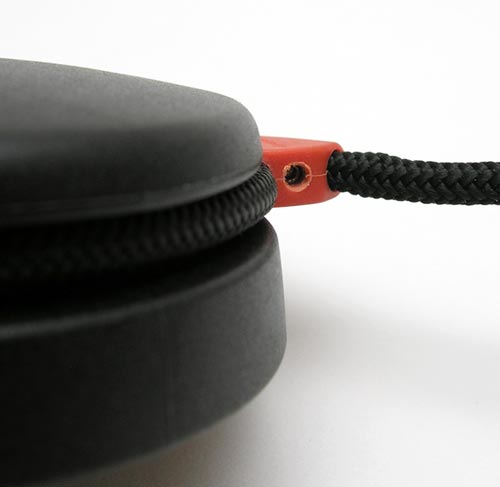 Nifty huh?
The bottles with the Lid are available in various sizes, but are all priced at $20.95. The only real disadvantages to a stainless steel bottle is that you can't see through it to know how much liquid is left and the surface tends to attract fingerprints / smudges.
Gription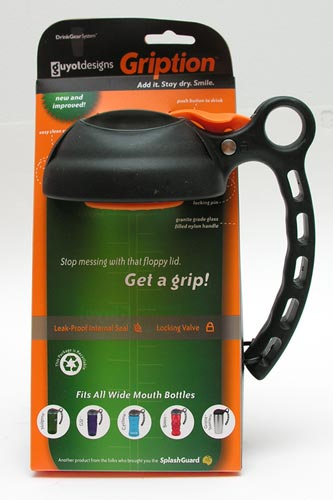 The Gription is a really cool lid / handle combo for wide-mouth bottles. It's made of glass-filled nylon, that makes it both strong and light weight.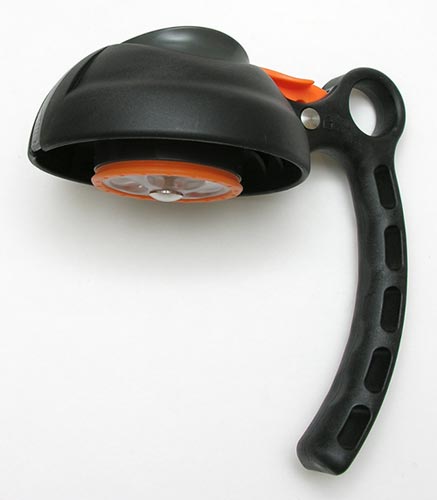 The handle has a large circular opening for a carabiner.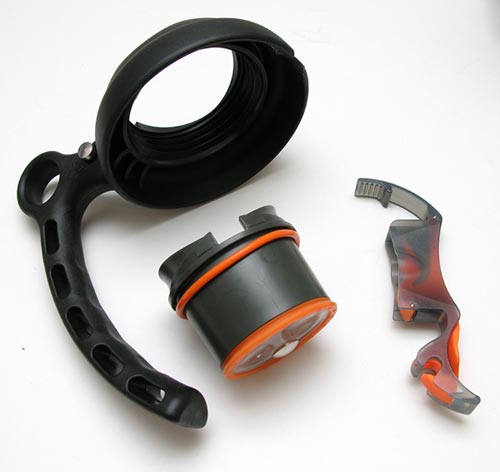 The lid and handle are comprised of one molded piece, with other parts that can snap in and out for easy cleaning.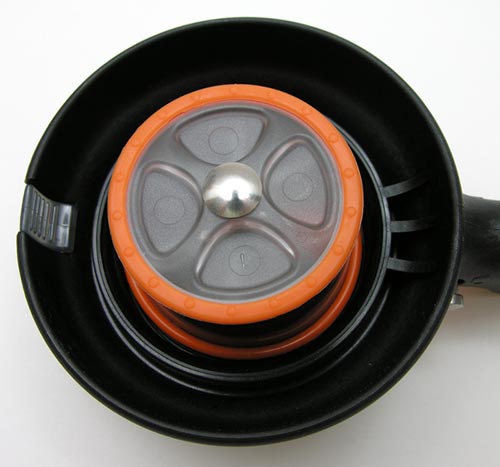 Two silicon O rings give this lid a perfect seal so that you don't have to worry about leaks.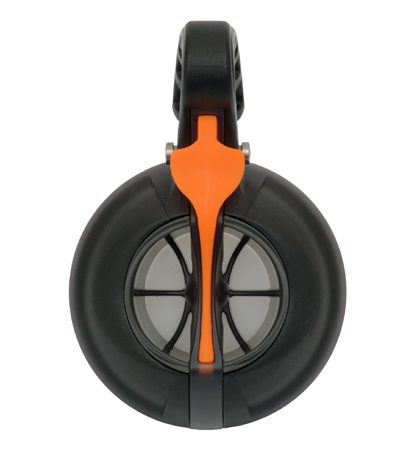 Here's a top view. You can sip from either side, by pressing the spring loaded Orange trigger. When the trigger isn't pressed, the seal is activated so that even if you knocked the bottle over, you wouldn't have a leak.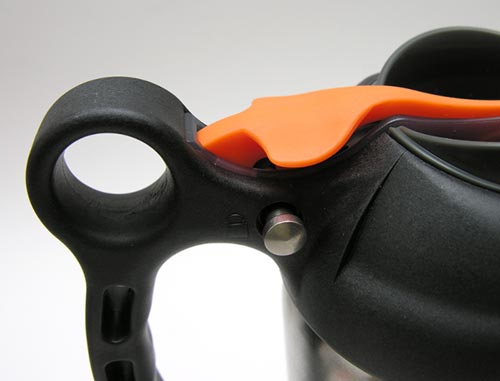 For even more protection against accidental leaks, you can lock the trigger closed by pressing the steel lock button at the base of the trigger.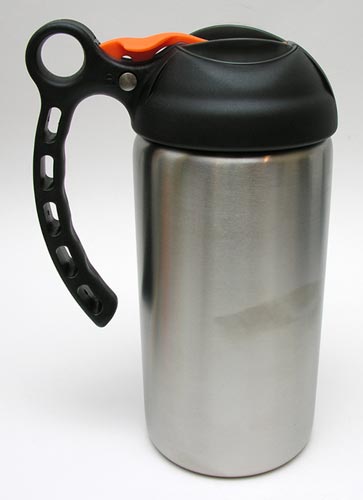 Here we see the Gription installed on the top of the Standard bottle.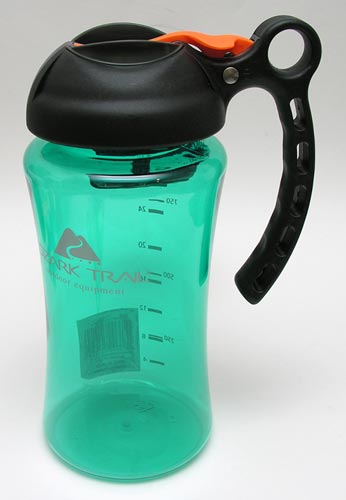 And here it is on the generic Walmart bottle.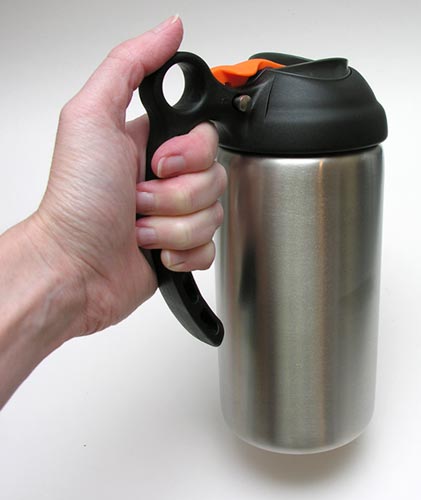 Although the Gription does add some bulk to your water bottle, it is easy to operate and is more convenient than unscrewing a regular lid every time you want a sip. The handle is comfortable, as is the drink spouts where you place your lips. This thing is even top-shelf dishwasher safe :o)
Price: $12.95
SplashGuard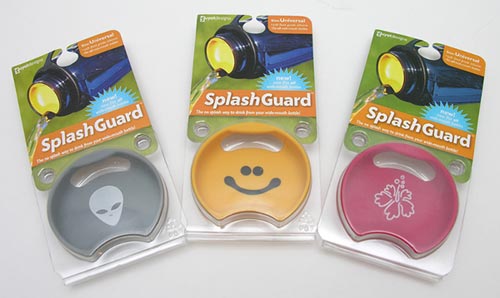 For $3.25, you can customize your water bottle's splash guard. I know you've been dreaming of having that option, so wake up and drink from a smiley face or alien head. You know you want to…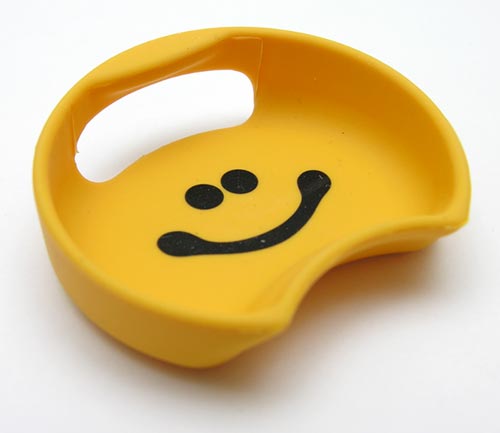 These little guys are made of flexible food grade silicon that can be sterilized with boiling water. They are available in 12 different colors and designs.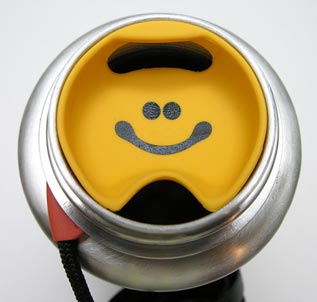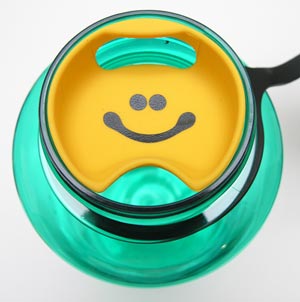 SplashGuards fit any wide-mouth bottle including ones made by Nalgene, GSI, Cyclone and Bison. I did find that the smiley SplashGuard fit better in my generic Walmart bottle than it did in Guyot Design's own Standard bottle. Hmmmmm… You can see in the image above, that the guard is a bit more compressed in the Standard mouth opening.
SplashGuards are just a cute way to protect yourself from splashes, while making your water bottle more fun to drink from.
Price: $3.25
Firefly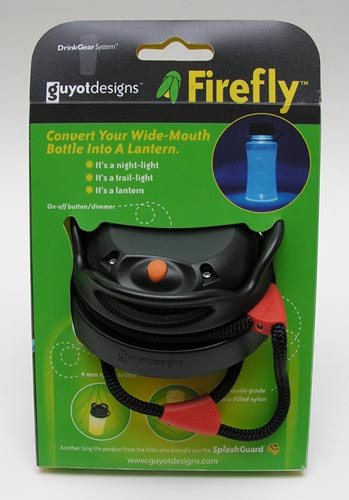 How many times have you day dreamed about turning your water bottle into a lantern? I know, me too! Ok, not really… But hey, if you have that dream Guyot Designs has answered it with the Firefly.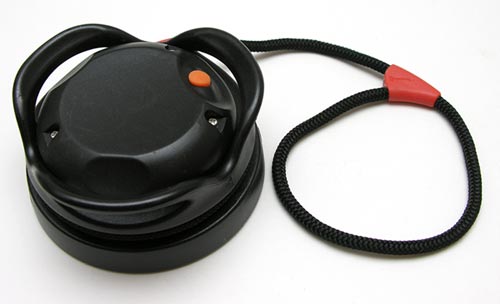 The Firefly is a lid replacement for see through plastic wide-mouth water bottles. Yes, it also fits the Guyot own bottles, but they happen to be stainless steel and umm…. you see what I mean? Like the Lid that comes with the Standard bottle, the Firefly also has an adjustable cord tether that you use to attach it to the bottle.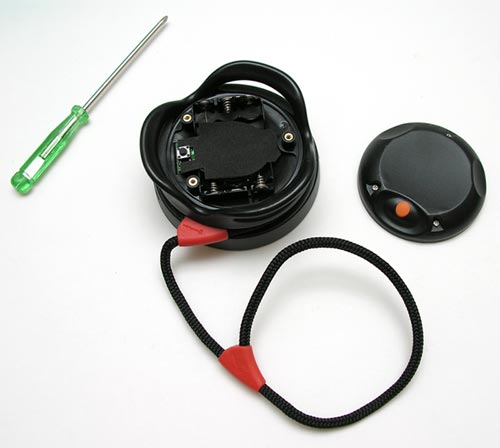 Before you can use the Firefly, you have to install three AAA batteries, which are sadly not included. The installation requires that you remove 3 tiny Phillips screws in order to remove the top cap which covers the battery compartment. Don't worry, all the electronics are in a sealed compartment, so you don't have to worry about water or your favorite beverage gooping them up.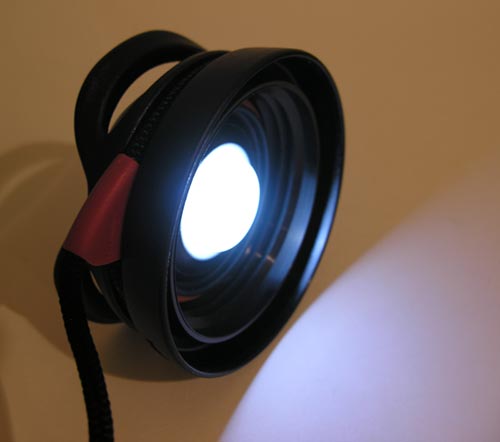 Pressing the Orange button on the top of the Firefly, will toggle the sealed White LED light under the lid. Holding the Orange button down for a few seconds will dim the light until you let go.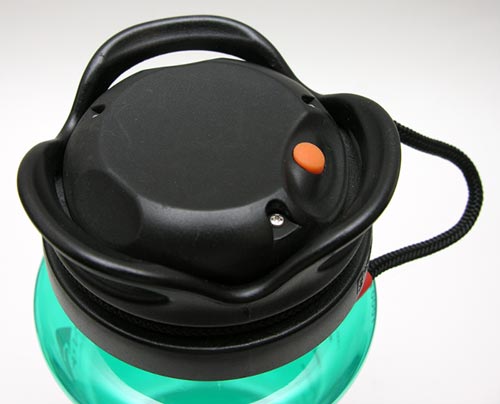 The design of the plastic around the cap allows you to stand the bottle upside down on a flat surface.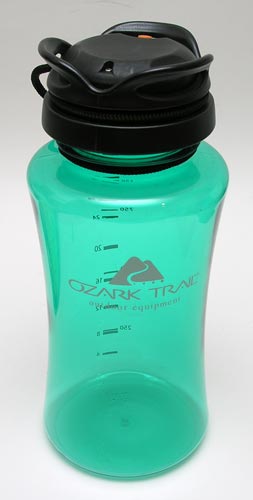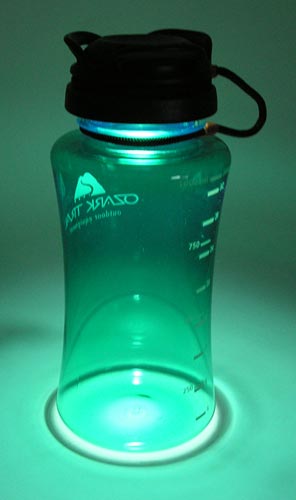 Here we see the Firefly in the off position and then in the on position. I have to say that this product was aptly named because the amount of light that emits from the LED is about as bright as that of a firefly. Really, you can't expect to use this add-on to really turn your water bottle into a full fledged lantern. It's better suited as a novelty night light. I say skip the Firefly and just get a regular flashlight if you need real illumination.
Price: $21.95
Product Information
Price:
Manufacturer:
Guyot Designs
Retailer:
Guyot Designs
Requirements:
Pros:

Gription is easy to use and more convenient than screw on lids
Gription is dishwasher safe
SplashGuards are fun accessories

Cons:

Stainless steel bottles show fingerprints
Firefly doesn't really put out that much light