We use affiliate links. If you buy something through the links on this page, we may earn a commission at no cost to you. Learn more.
How many of you keep a flashlight in the glove compartment of your car? Ok, now how many of you ever remember to charge / change
the batteries in those flashlights regularly? Me neither. Kind of defeats the purpose of having it there in the first
place doesn't it? ;o) Coast Products has just come out with the Auto LED (TT7575CP). Sent to me by Discount LED Lights and Knives, this is a cool little LED flashlight for your vehicle that is always
juiced up and ready for use because it stores in a 12V cigarette lighter socket and charges while your car is running.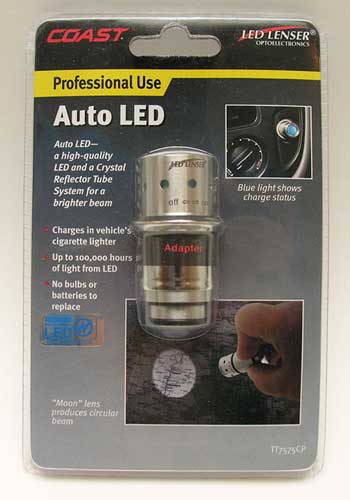 Flashlight Specs
Light type: Nicha LED
Bulb: .26 watt/5.6 Lumens
Lens: Glass ("Moon" lens)
Reflector: Crystal Reflector Tube System
Beam type: Circular
Case type: Metal
Powered by: 1 NI-MH RoHS 4.8v 20mAh battery (included)
Water resistant?: No
Size: 1.9in length
Weight (with batteries): 9.4oz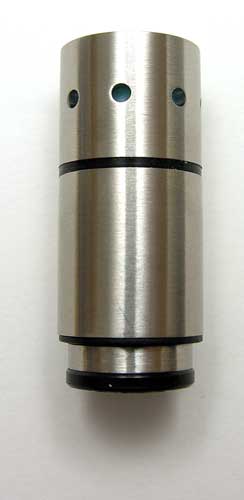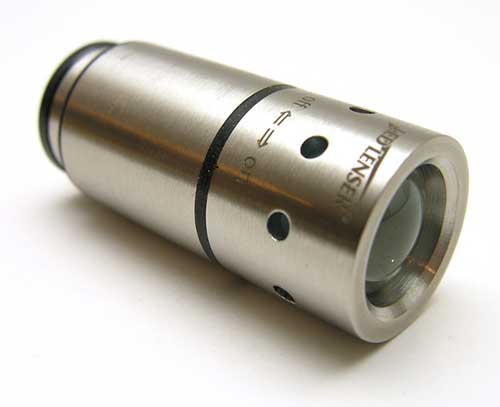 This little flashlight immediately reminded me of a stubbier version of the Coast LED Lenser V6 Stainless Steel 6 Chip model that I reviewed a couple of months ago. Like that flashlight, this one is made of brushed stainless steel that gives it a very sleek look.
This one doesn't have a power switch though… instead you have to twist the head to turn on the light. This action is a little difficult given the fact that the barrel of the flashlight is very smooth metal. I really wish there was an actual switch, which would make things easier.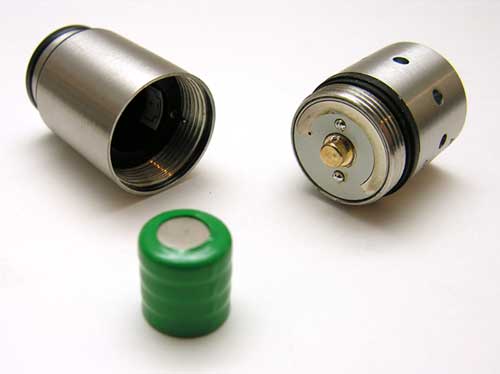 The barrel of the Auto LED unscrews to reveal an interesting little battery. Looks like an electrolytic capacitor to me. This little NiMH battery is charged using your vehicle's 12V power port (cigarette lighter).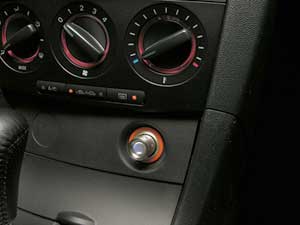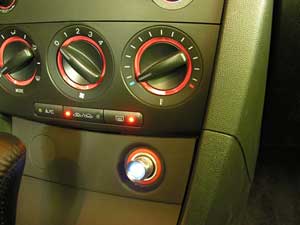 When you plug the light into the socket with the lens facing out, it's ready to charge. Depending on your vehicle, the sockets may only charge while your vehicle is actually running… As it charges, the light will glow a faint Blue (shown in the image above on the right). I had some issues getting the Auto LED to charge in my 2006 Mazda 3. It fit in the 12V socket just fine, but would require some jiggling for the LED to glow Blue. I also tried the light in a 2007 Kia Sorento, which seemed to work much better. The 12V port on this vehicle is powered all the time, so even with the engine shut off, the Auto LED charges. Lastly, I tried it in my 1991 GMC Sonoma pickup truck. The cigarette lighter socket was way too large for the barrel of the flashlight to make contact with the sides of the socket…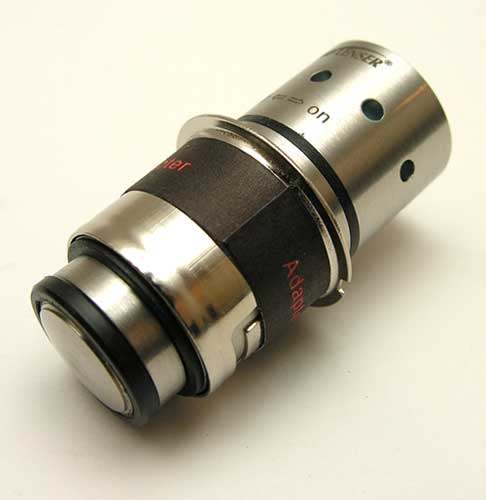 That's why there's an adapter included with the flashlight (shown above). Unfortunately, the adapter was then too BIG for the socket in my truck. I wasn't aware that there was such a range in socket sizes… It's important to realize that the Auto LED might not be compatible with your vehicle (even with the adapter).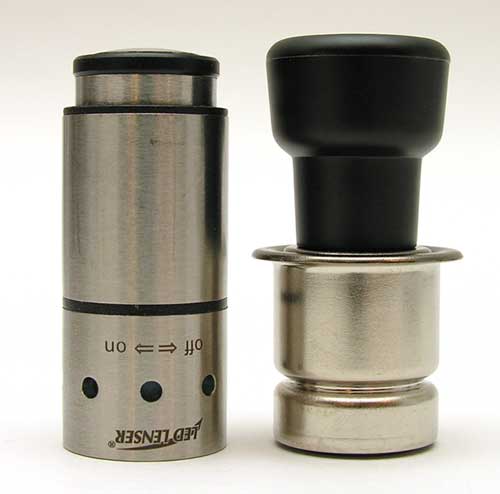 AUTO LED next to my OEM lighter.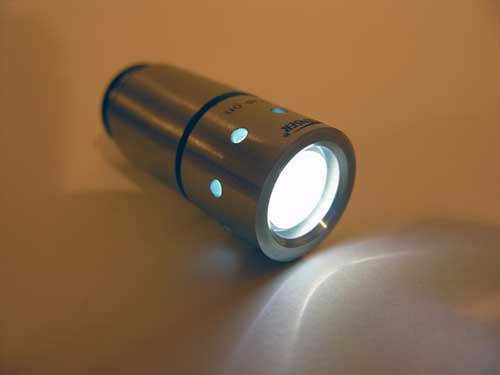 In use, the Auto LED has a strong little circular beam that makes it perfect for reading a map in the dark or for finding objects in the dark recesses of an unlit glove box or trunk. You'll never want to use this flashlight as your main method of illumination, but for those tasks just mentioned, it performs very well.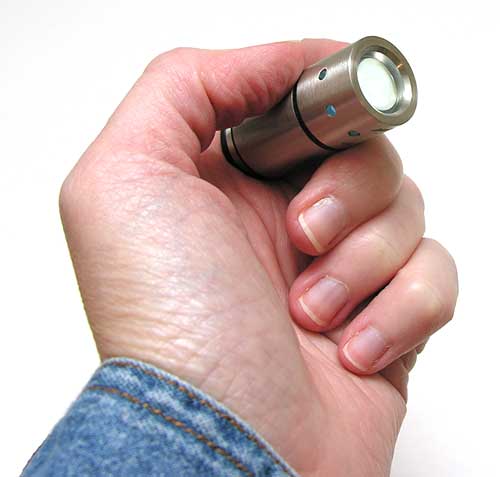 The Coast LED Lenser Auto LED (TT7575) will only set you back $20. Not bad price to pay for a little flashlight that is always close at hand, always charged and ready for action.
Product Information
Price:
19.74
Manufacturer:
CoastProducts
Retailer:
Discount LED Lights and Knives
Requirements:

12V vehicle power socket (cigarette lighter socket)

Pros:

Small and sleek
Can be stored in 12V socket all the time
Charges in 12V socket

Cons:

Might not fit in cigarette lighter socket even with adapter
Difficult to turn head to power on light