We use affiliate links. If you buy something through the links on this page, we may earn a commission at no cost to you. Learn more.
When I recently replaced my Powerbook for a Macbook Pro, I realized that the laptop compartment of several of my gearbags was too short in length to accommodate my new machine. I've been looking at Knomo's line of bags for several months and my new upgrade was to perfect excuse to give the Cholet a try.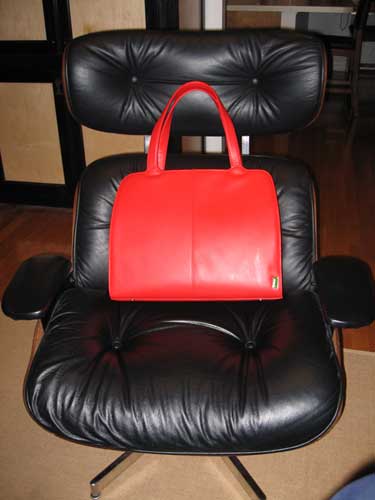 Features
Fits most 15″ laptops, including the Macbook Pro
Removable laptop compartment
Bundle bag for electronic cables
Tracker system for lost bags
First Impressions
When I saw the box from Knomo seated on my doorstop, I scooped it up and immediately went in search of a box cutter. The moment I opened the box, I was treated to the wonderful aroma of leather. Inside the unadorned white box, swaddled in tissue, was the Cholet.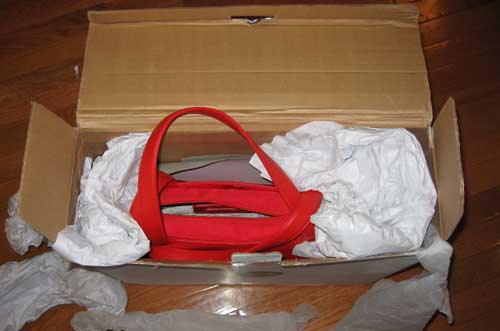 The model I was sent is a bright cherry red, the color of lollipops and Ferraris.
My first impression (aside from "Wow, that's a red bag!") was amazement due to Knomo's attention to detail. The construction of the bag is reminiscent of Bespoke tailoring: perfect color matching across fabrics and materials, precise stitching, and luxurious finishing details.
Product Details & Features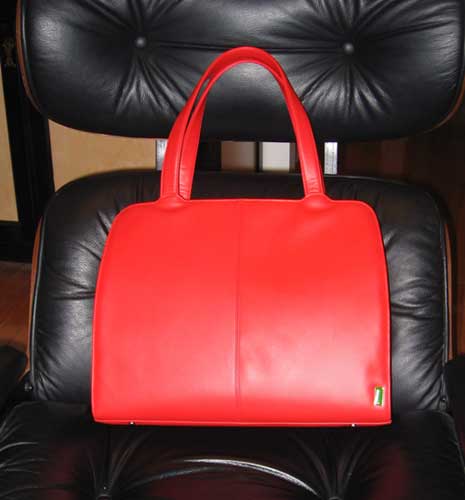 The outside of the Cholet is covered in soft rich leather that is smooth textured and top stitched. The sides of the bag are made of a durable, snag-resistant fabric. The bottom of the bag, also leather, is protected by four dainty metal feet. Even the zipper was made with attention to detail: sturdy tiny perfect teeth, two sleek aluminum decorative pulls, and it moves smoothly when operated.

Additionally, there are two hidden external pockets good for stowing small flat items, such as parking lot tickets, building access cards, or IDs.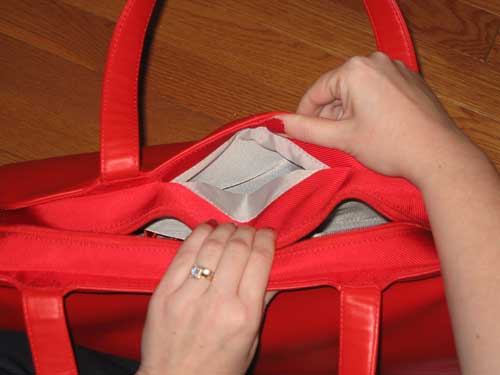 The inside of the Cholet is lined in putty colored nylon with red leather accents. There are two nylon panels each on opposite sides of the bag to prevent internal contents from spilling out when open.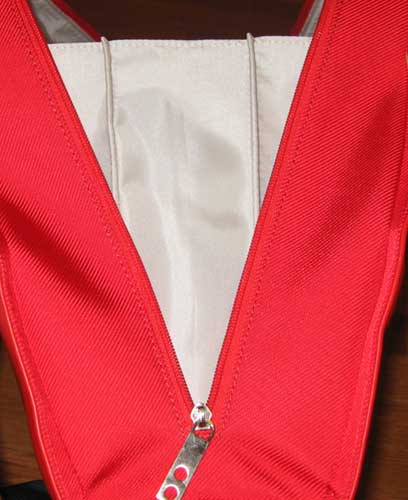 On one side of the interior is a zippered pocket that runs long the length of the bag. This side also has a key holder with a snap.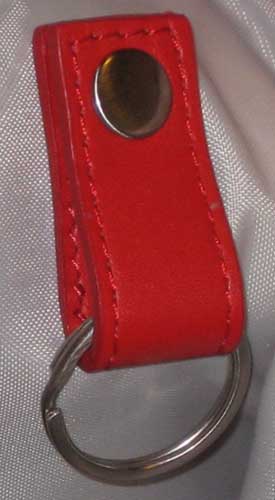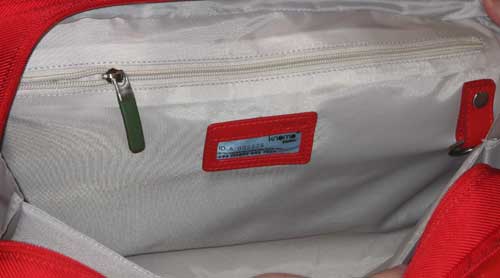 The other side has a variety of pockets and penholders.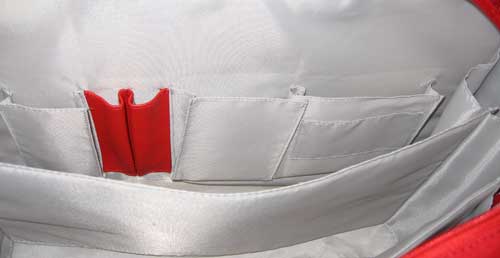 There are two removable accessories included with the Cholet: a 15″ laptop compartment and a case for electronic cables. The laptop [case?], which can be stowed inside the middle middle of the bag, is quilted with extra protective padding and has leather handles that are very easy to grip both inside and outside of the bag.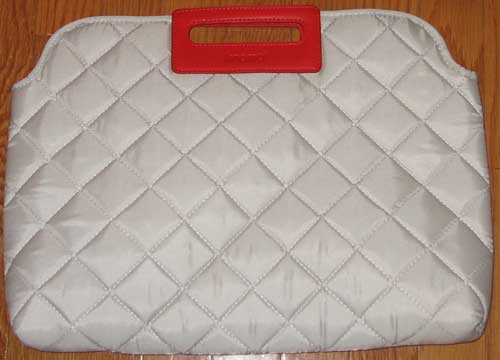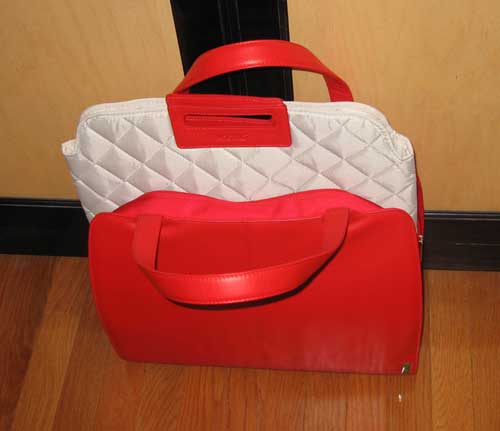 The matching cable case is large enough to accommodate most AC adapters and is designed to contain extra lengths of cord while in use.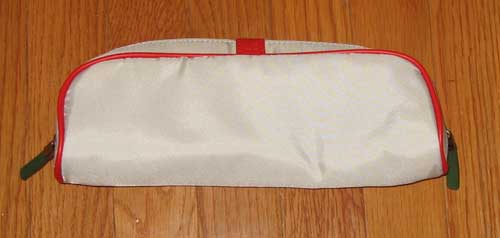 Usage
I've been carrying the Cholet daily for the past few weeks in a variety of different situations.
The first thing I've noticed is that this bag is deceptively roomy. The zipper opens the bag quite wide so that I can easily stow all my gear. However, many of the built-in pockets are oddly sized and don't fit any of my gadgets, so I've been packing them loose in one of the main compartments. I've been daily packing my 15″ MacBook Pro, Treo 650, iPod, Canon SD550 camera, wallet, 3 sets of keys, Victorinox Cybertool, small makeup bag, 5-6 file folders, and an AC adapter. Even when fully packed there is still plenty of room to stow a thin sweater!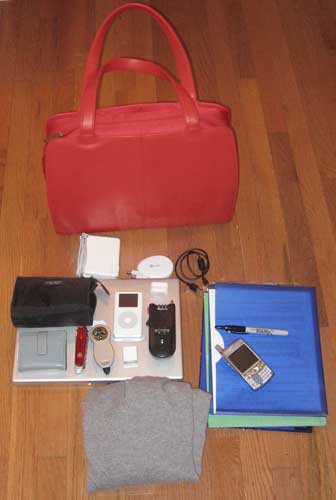 Most laptop bags with shoulder straps are designed to rest on the hip. The Cholet is designed to be carried like a purse with the majority of the weight resting between the armpit and the hip. This change in weight distribution made it a bit awkward to carry at first, but after a few days I found it to be not only light and comfortable, but also easier to maintain 'good body posture' than any of my existing gear bags. There is, however, one major drawback to the minimalist exterior design – while carrying the bag it is difficult to reach inside and find my phone when it rings.
The laptop pouch is easy to pack and remove: The leather reinforced handles are sturdy and feel secure my hands, the quilted padding is thick without being too bulky. I love this accessory design and wish they sold additional ones individually as I'd buy extras for my other bags.
I was less impressed by the adapter pouch. Designed to enclose the adapter while in use and to hold excess cable, there are two zippers at either end that do not connect in the middle. I found it time-consuming to pack my bulky 85W MBP adapter inside and, later, to unwrap the ends or use. Additionally, the case acts as an insulator so my power brick became warmer than usual. Even if the pouch was easier to pack, I do not think I would be comfortable using my adapter for any length without good air circulation. Although this pouch is interesting and creative concept, I wish that the adapter pouch was a standard one-zipper design made to merely hold adapters.
Inside the bag, there is a unique serial number that can be registered with Knomo.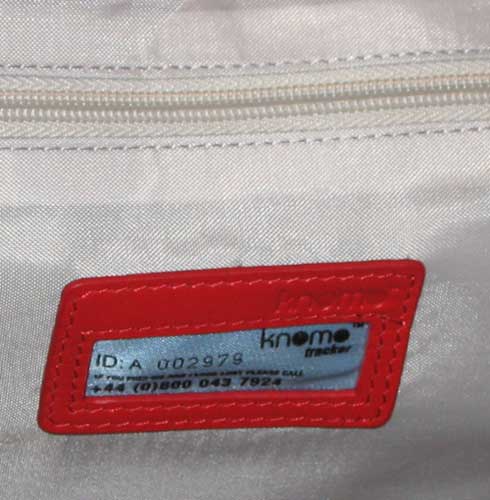 If (gasp!) the bag is lost, the finder can call the number (UK) on the inside tag and arrange for a happy reunion of the bag and owner. Being the untrusting American that I am, I was unwilling to lose my bag to test this feature out.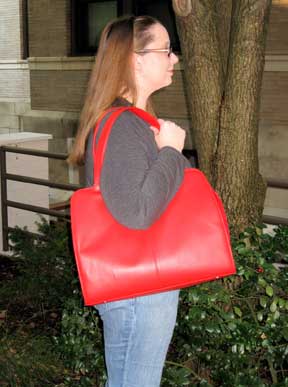 Overall, I think that Knomo's Cholet bag is an exceptionally well made, well designed bag that I'm planning to use as one of my regular gear bags, especially when I want to be more elegant and feminine.
Retail Price: 154.99 British Pounds (~$245.00 US excluding VAT)