We use affiliate links. If you buy something through the links on this page, we may earn a commission at no cost to you. Learn more.
It wasn't long ago that I reviewed the Geneva
Tote Laptop Bag, an experience which marked my introduction to
Mobile Edge's reasonably
priced offerings. Today I am going to look at their very popular
Milano
Tote, a bag that is so popular it seems to be continuously sold
out on their site as well as that of several suppliers.
The Mobile Edge Milano tote has an allover faux crocodile belly
pattern, and it is available in black,
blue
or a special
edition Susan G. Komen Pink. I was sent the small version in
black, which despite its name happens to be a substantially
sized tote measuring approximately 16.5″ wide at its base and
tapering to 15″ at its top; it is 12″ tall by 3.5″ wide. The
handles are 27″ long with a drop of 12″. The straps will easily fit
on the shoulder, but they can also be carried on the wearer's arm
or in her hand. The faux crocodile is glossy, but not too shiny. It
looks classy, not at all tacky or cheap.
There is tasteful branding on the bag's exterior. The first
instance is a 2.25″ metal tag which is attached with a stainless
steel ball chain. This tag can be left in place or removed and used
as a keychain.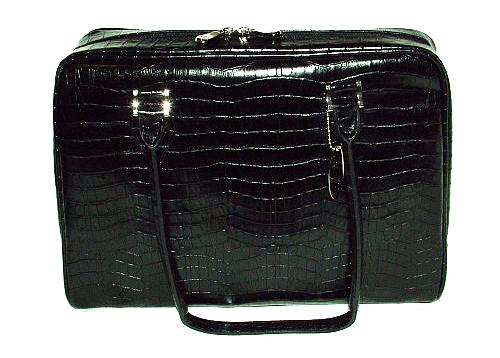 On the left side of the bag is a subtle embossed loop that bears
the ME logo; blink and you'll miss it!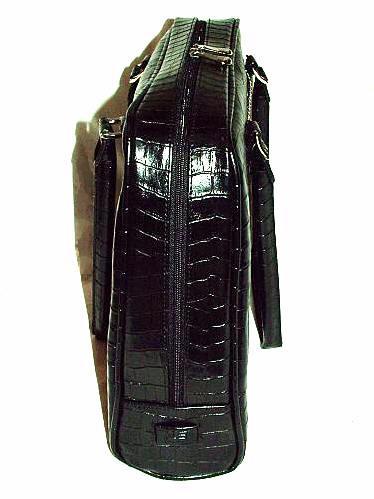 The only other evident exterior branding is the ME logo on the
dual 1.5″ long by 0.5″ silver toned metal zipper pulls.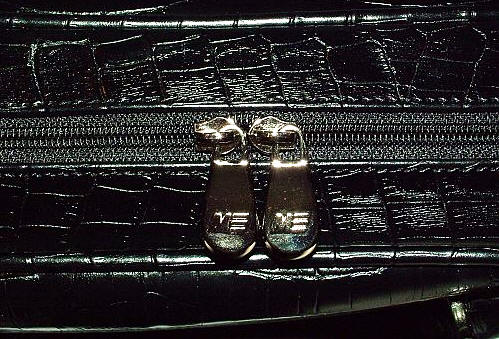 The back of the bag is identical to the front, there are no
exterior pockets. While this does contribute to the bag's overall
sleek lines, it does seem like at least one exterior slash pocket –
perhaps on the back side, would have been a convenient add-on.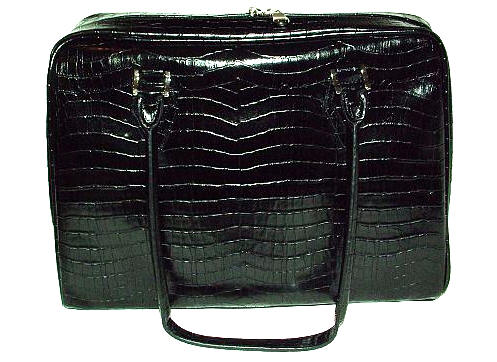 Notice that the 31″ long zipper runs to within 3.5″ of the base
of the bag on each side. This allows the Milano tote to open
w-i-d-e, which will allow for easy access.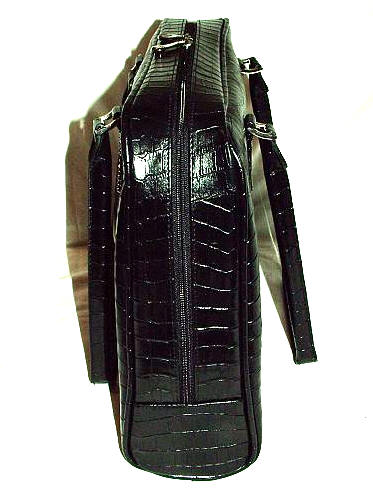 The rolled shoulder straps are flat on the 8″ portion which
actually rests on the wearer's shoulder. This is very important as
it will not only help keep the straps in place, but it also makes
for a much more comfortable carrying experience when the bag is
loaded.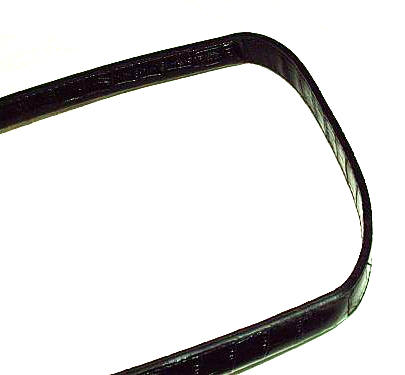 Opening the dual zippers reveals a rich, deep red, faux suede
that is reminiscent of Louis Vuitton's alcantra fabric. The back
wall has a 15.5″ long x 8.5″ deep slash pocket that is suitable for
carrying magazines, files or a paper tablet. When it is not in use, a hidden patch of Velcro keeps the slash pocket tight against the wall of the bag.
There is an attached clip
which may be used to hold the wearer's keychain…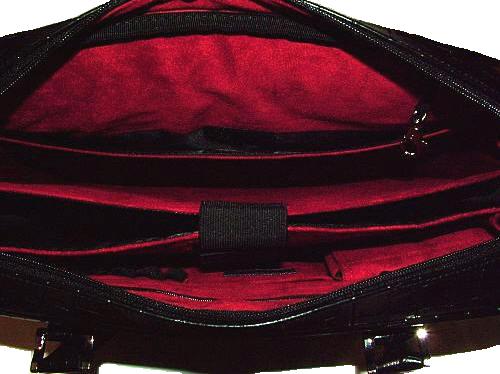 …or the included 8′ wide x 5.5′ tall accessory bag.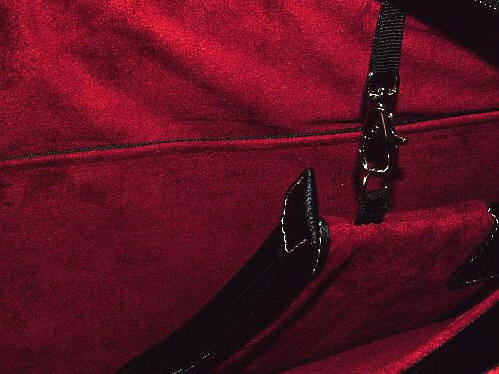 This accessory bag's zipper has an attached faux leather 6″ loop
so that the bag may be worn as a wristlet – a perfectly sized bag
for quick trips to the coffee shop, lunch room, or any other place
where its owner doesn't want to travel "fully loaded".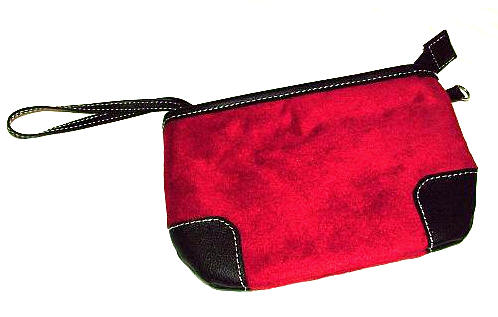 The opposite wall of the bag features an organizational panel.
On the upper wall is an 8.5″ wide x 8″ tall zippered pocket, this
is a great place to keep small loose items that may be easily
lost.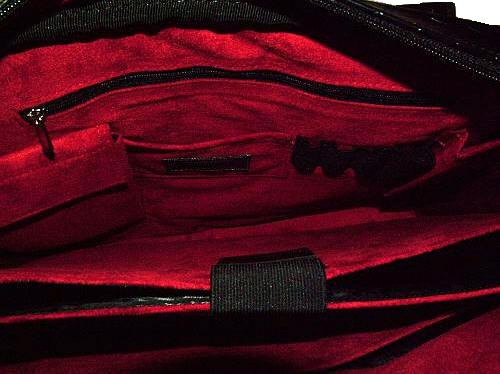 Directly under the pocket and to the left is the amazing
Wireless Security Shield Pocket™ that utilizes a Zinc lined
pocket which blocks electromagnetic waves and radio frequencies.
This pocket measures approximately 6″ tall x 4″ wide and is kept
closed by a strip of Velcro on the flap. As I noted in my previous
review, mobile phones placed in this pocket will not receive a
signal. According to Matthew Olivolo with Mobile Edge, "It is
designed to shield your Bluetooth enabled PDA or phone from
hackers. It is also nice when popping into a meeting; you don't
have to worry about your phone ringing."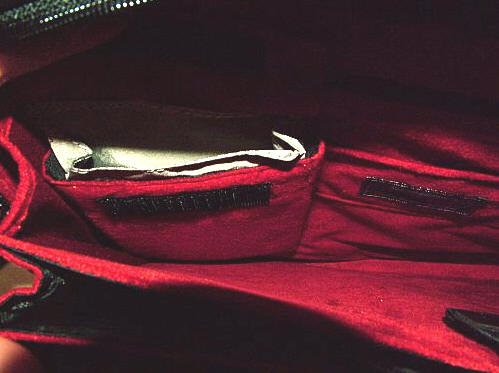 Next to the Wireless Security Shield Pocket™ is a business
card pocket, three elastic pen loops, and a larger elastic loop
with a closed bottom. This last elastic "pocket" is in fact a
lipstick holder. On the end is a 5″ tall x 3″ wide padded mobile
phone pocket – for times when the owner doesn't want her signal
blocked.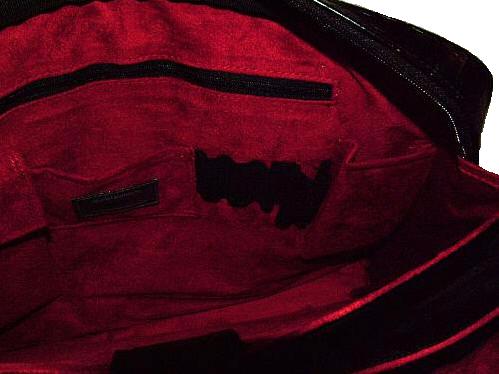 In the center of the bag is a 14″ wide x 10′ tall x 2″ deep
laptop pocket. The pocket is completely closed off from the other
portions of the bag's interior, open only on its top. This laptop
pocket is padded, lined in nylon, and it has a bumpy padding
reminiscent of egg crate lining its bottom as protection for the
carried laptop.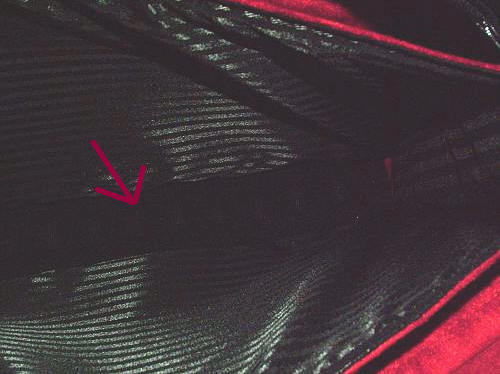 The laptop pocket in this bag is designed for portable computers
with up to 15.4″ screens. Here is a picture of a snugly fitting 14″
wide and 1.5″ thick laptop (with a 15.5" screen). As
was the case with the Geneva tote, when a laptop is inserted in the
Milano there is still plenty of room on either side for other
items.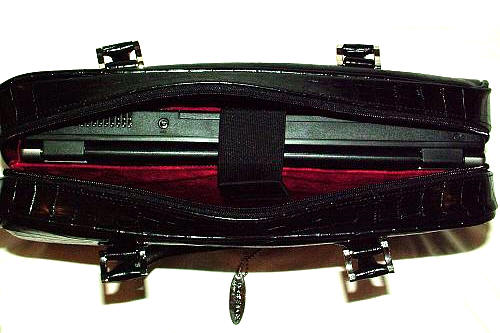 This pocket is also suitable for toting files or a taller book when the wearer is not carrying a laptop.
The Milano tote
comes with a protective fabric storage bag. I've said it before and
I will say it again, sleeper bags add a designer touch to any bag.
In my opinion, all manufacturers that are trying to market their
laptop bag as a possible fashion accessory should include them.
Why? Because like all accessories there will be times when the bag
gets rotated. Having a ready means of dust-free storage is
important.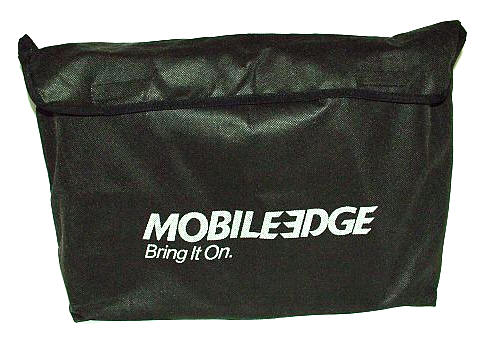 Just like the Geneva, the small Milano tote carries a sub-$100
price, which makes it a veritable bargain for any woman that wants
a fashionable and affordable laptop bag. The use of faux crocodile
skin makes the tote guilt-free for animal lovers and budget
watchers alike. At the same time, it allows the wearer to stay
current with the current fashions.
The Small Mobile Edge Milano tote is available in black
or blue
for $99.99 MSRP; and in the same size there is a special
pink Komen edition may be purchased for $129.99, with 10% of
its proceeds going to the
Susan G. Koman Foundation. According to Matthew,
"We have a partnership with the Komen
Foundation. Last year we donated more than $100,000 to the
Foundation and look to increasing that donation this
year." For those with up to 17″ laptop screens, there
is a large
version of the Geneva in black which retails for $119.99.
Product Information
Price:
99.99
Manufacturer:
Mobile Edge
Retailer:
Mobile Edge
Pros:

Reasonably priced
Extremely well made
Stylish, great looking bag
Can be carried with or without a laptop

Cons: