We use affiliate links. If you buy something through the links on this page, we may earn a commission at no cost to you. Learn more.
Ultra portable PCs (uPC) seem to be really hot right now. With Microsoft's Ultra Mobile PC (UMPC) / Origami devices being announced here there and everywhere, it looks like this product category has the potential to become as popular as PDAs were a few years ago.
Maybe… Exactly one year ago I reviewed the Sony Vaio VGN-U71P ultra portable Windows XP PC. Despite a few minor complaints, that little guy made a very good travel companion. To this day I kick myself for deciding to get rid of it… Especially now that I don't have even one Windows PC in the house any longer. Yes, Mac person here.
I was more than a little excited when I learned that Sony had decided to announce a new uPC a couple months ago. Not content to jump on the Origami bandwagon, Sony has come out with their own 'everything but the kitchen sink' style device. The UX series Personal Computers as Sony calls them, are available in 3 different models: the UX50, UX90S and UX180P. The UX50 and UX90S are both Japanese models that are currently available. The UX180P will be the US version that should be released sometime in July. The differences between the different models are as follows… The UX50 has a 1.06GHz processor, while the UX90S has a 1.2GHz processor. The US version (UX180P) will have a 1.2GHz processor, XP Pro instead of XP Home, and a Cingular EDGE modem instead of a CompactFlash slot.
Our friends at Dynamism were kind enough to let us borrow a UX50 for a brief period to review. When I say brief, I really mean brief. I received the package around 6pm on a Thursday evening and had to ship it back the following Monday. As you can imagine, this review will not be our standard 2 week usage review. It will be more of a first impressions type of article. With that said, let's get on with the show!
Hardware Specs
CPU: Intel Core Solo U1300 1.06GHz
L2 Cache: 2 MB CPU integrated
RAM: 512MB
Chipset: Intel 915GMS Express
Graphics:
Chip: Intel Graphics Media Accelerator 950
VRAM: 128MB (shared with main memory)
Display: 4.5″ Color TFT Display
Resolution: 1024 x 600 pixels
External Resolution: Up to 1600 x 1200 pixels
Sound card: Intel High Definition Audio
Card slots: Memory Stick Duo, Compact Flash
Integrated Ports: USB 2.0 (1), Headphone jack, Microphone, DC, I/O Connector
Port replicator Ports: USB 2.0 (3), i.Link, Fast Ethernet 100Base-TX/10Base-T, External Display Port, AV out, DC in
Wireless: 802.11b/g, Bluetooth 2.0
HDD: 30GB Ultra ATA/100 4200RPM
Power: 40W, AC Adapter 100-240V / 50-60 Hz, 4.5hr rechargeable battery
Dimensions: 5.91 (W) x 3.74 (H) x 1.27-1.50 (D) inches / 150 x 95 x 32.25-38.1 mm
Weight: 1.2 lbs / 544g
Operating System: Windows XP Home (English)
Package Contents
UX-50
Standard Lithium-ion battery
AC Adapter
Port Replicator
Soft Carrying Case
Power Cord
Stylus
VGA/LAN Adapter
Hand Strap
Thumb mouse covers (2)
Powerbrick, LAN adapter strap
Folding stand
Manual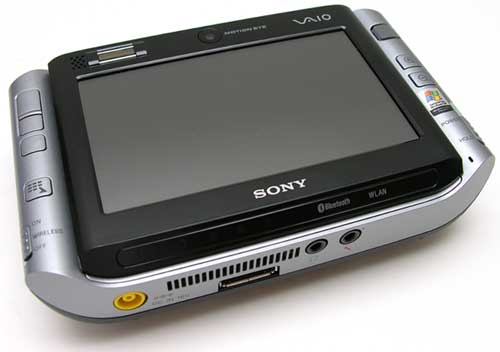 My first impressions of this device were that the pictures that I had seen on the web, did not accurately convey just how thick and heavy this little guy was. I'm not sure even my pictures here can get that point across. The UX50 isn't a pocket device by any means. It's still gear bag sized uPC that just happens to have a PDA sized display.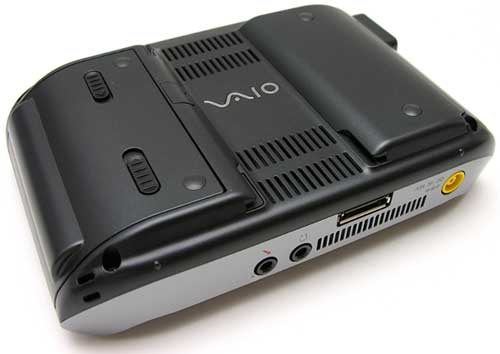 The UX50 is designed so that you can hold it between your hands while you use it. The back side has hand grips similar to those of the Sony Play Station Portable handheld gaming system. One of the grips actually
houses the rechargeable battery pack.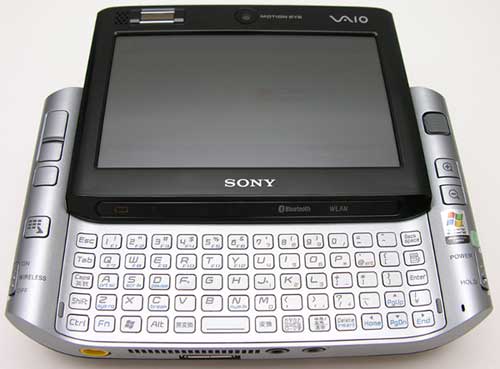 Unlike other Origami devices currently on the market or recently announced, the UX50 has a built-in QWERTY keyboard. It's revealed when you slide the display up. Anyone else thinking of the OQO? It appears that Sony borrowed that design for this feature.
Sliding the display upwards will bring the computer out of standby. It will also allow you access to one of the built-in cameras.
A 306k pixel camera is located on the face in the top middle of the display frame.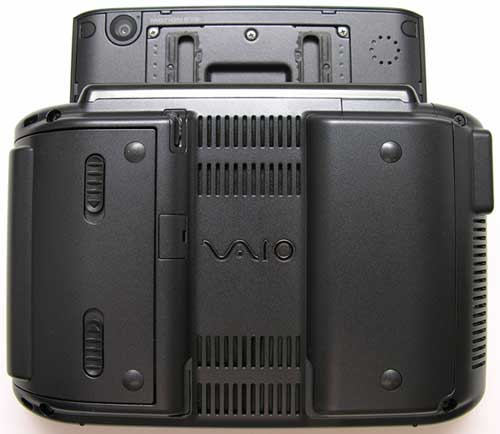 The other camera is 1.3 megapixels and is built into the back of the display. You can see it in the top left corner of the picture above.
Two cameras give this computer the ability to do video-conferencing and mobile blogging / video capture.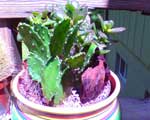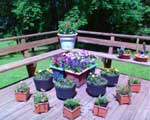 Click thumbnails to see unaltered snaps.
The digital picture quality of this device leaves a lot to be desired though. The 1.3mp camera does an 'ok' job with macro shots (there is a macro and normal shot switch on the top of the display), but normal shots are pretty blurry. There's also the fact that it's close to impossible to use the camera outside in bright sunlight. Why? Because the viewfinder is the computer display, and it totally blacks out in direct sun.
The stylus silo is also located on the back of the device. It is built into the top right corner of the battery compartment grip. The stylus is your typical telescoping PDA style stylus. Nothing fancy.

Along the top edge of the UX50 is a set of heat dissipation slots, a Memory Stick Duo slot and a camera capture button. The shiny black tubular looking appendage running along the bottom edge is the WiFi antenna.

On the opposite end, you will find the AC adapter port, docking connector, earphone jack and microphone jack, along with more heat dissipation slots. The bottom edge of the display has several status LEDs that show battery charging status, hard drive access, Bluetooth and WiFi radio status.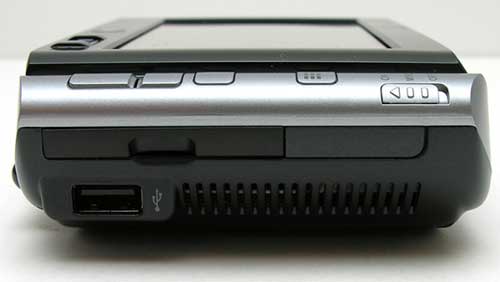 The left side of the UX50 has a Compact Flash memory slot. According to Dynamism's site, the US version of this uPC, will not have a CF card slot. Instead, it will have a Cingular Edge wireless modem built into it.
That's a shame since the CF slot makes this device very handy for offloading digital camera pictures. There is also a full sized USB port located on this side of the device.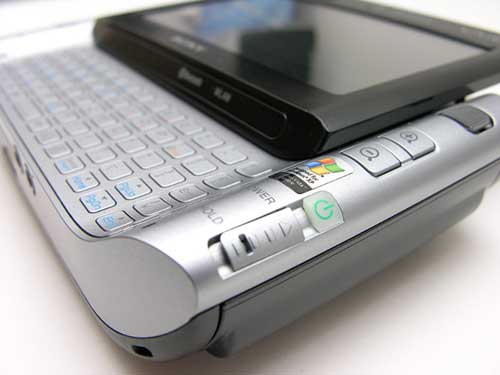 On either side of the display there are several thumb accessible buttons. On the right side, you'll find (from the bottom up) the Power / Hold switch and Power status LED. Slide this spring loaded switch upwards to power on the device or put it in standby mode if it is already powered on. Slide it down to put it in hold mode. When powered on, the status LED will glow Green, and while in standby mode, it will slowly flash Amber.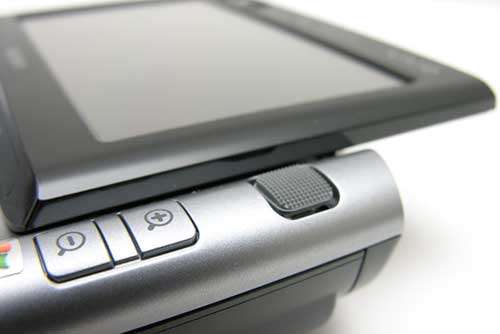 Above the Power switch are the zoom buttons. These change the magnification of the display. At the very top is the thumb mouse stick. This is a hard rubber pad with a rough surface. This surface allows you to easy move the onscreen cursor around the screen without your thumb slipping off. You can also tap / double tap this mouse stick to select or launch applications.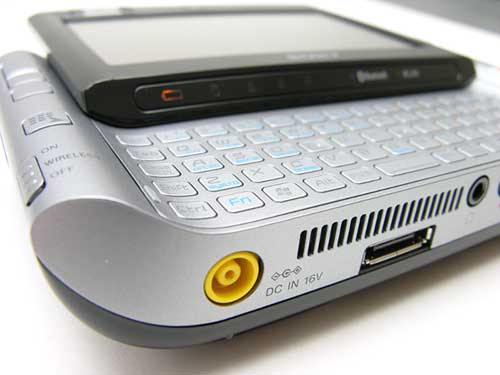 An easier way to select and launch applications is to use the two buttons located on the other side of the display. The top button reacts like a left mouse button, and the button directly below it acts like the right mouse button. Using these buttons with the mouse stick makes navigating screens, web-pages, etc. easy and comfortable.
Also located on the left side is the special Vaio launcher application button and Wireless on/off switch. The wireless switch will power on/off both the Bluetooth and WiFi radios.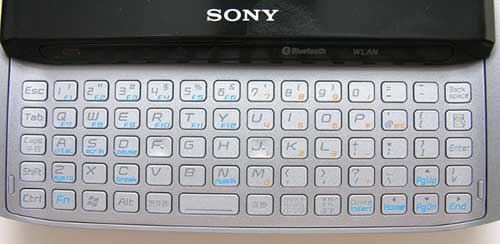 The built-in keyboard on the UX50 sure isn't the most user friendly keyboard I've ever had the opportunity to use. It is a welcome addition, don't get me wrong. But the keys are quite small and almost completely flush with the case. This makes it very difficult to thumb type without looking at the keys to make sure your thumbs are pressing the correct letters. The keyboard has 64 keys with a 0.15mm stroke and 8.6mm pitch. The keys do have good tactile feedback and are backlit in blue.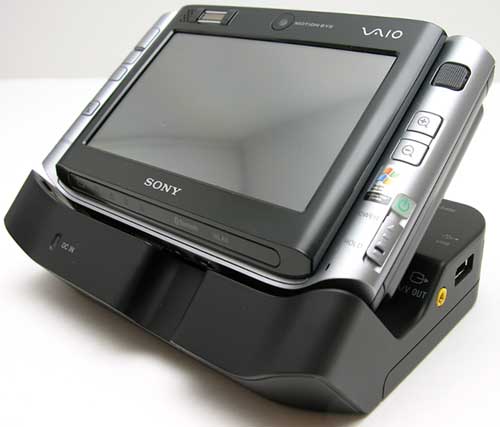 For real typing though, it's best to use the included docking station / port replicator. When connected, the UX50 is at a perfect viewing angle and using the built in USB ports (there are 3 on the port replicator, and 1 on the UX50), you can connect a keyboard and mouse for added working comfort. It is also possible to use a Bluetooth mouse and keyboard with this computer.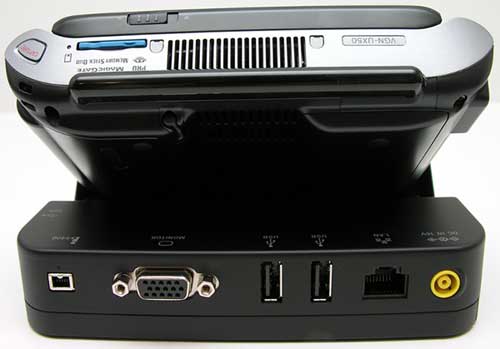 There is an iLink connector (aka FireWire), video out and Ethernet ports on the back of the replicator. With this setup, you can use the UX50 like a regular desktop computer and then when you want to go on the road, you can just unplug the computer and go. Leaving all the cables connected and undisturbed.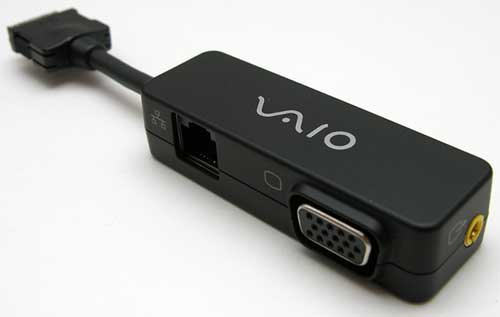 For added convenience, a smaller video out, Ethernet jack dongle is also included. Bring this with you when you travel.
The UX50 has a feature that I've not seen mentioned for any other UMPC / Origami devices yet; a fingerprint scanner.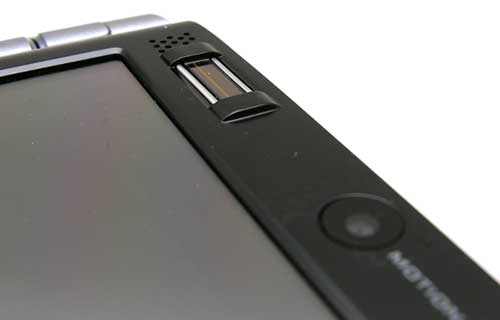 The scanner is located in the top left corner of the display. It look me quite a while to figure out how to activate it. I finally realized that there was an application icon in the task tray that controlled it. First you have to password protect your user ID with a regular text password. Then the software will guide you through the process of swiping and enrolling your fingerprints as passwords.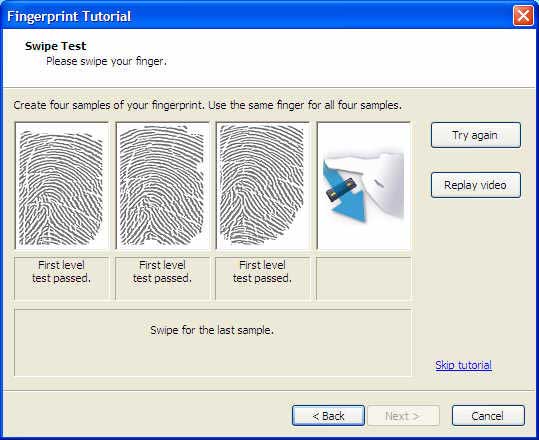 Following the steps is a simple procedure. I had no problems recording my fingerprints or completing the enrollment process.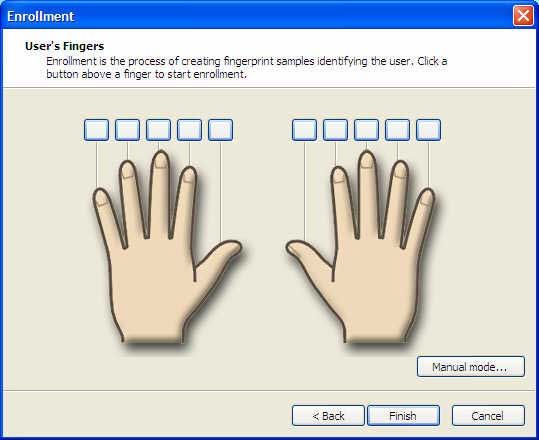 You don't have to scan each finger during the enrollment. I actually just scanned my 2 index fingers and that was all. Once you finish the procedure, every time you restart your computer or come out of standby mode, you'll be presented with the regular Win XP login screen. Instead of typing a password, you can just
swipe your finger. It's really fast and easy and I never had a problem with it recognizing my finger swipes.
Now let's talk a little about the overall size and construction of the UX50. As you can see in the pictures below, it's not a whole heck of a lot bigger than my Treo 650!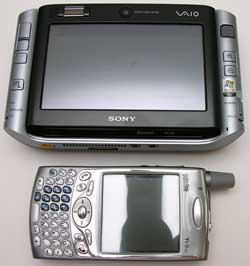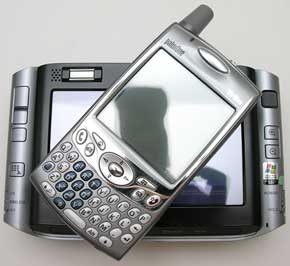 When closed, the size is very nice for travel (as long as you don't also need to carry the port replicator, AC adapter, an external mouse and keyboard along with it). It's bigger (thicker) than the OQO, which does make it feel a bit bulk. That said, almost everything else about the UX50 is better than the OQO. Mainly the screen is brighter, not so horribly spongy, and is accurately calibrated for touch screen usage.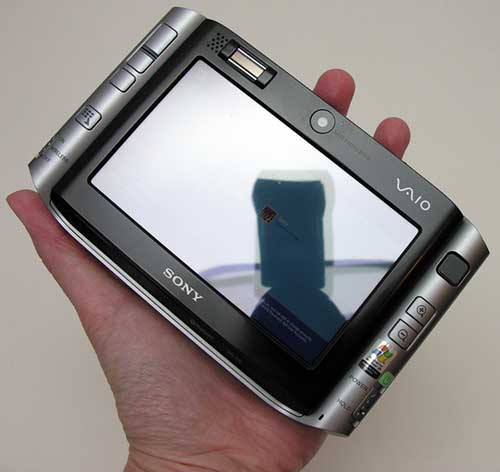 Again, in hand, this device feels heavy and thick. But at 1.5 pounds, it's smaller and lighter than almost any regular to smaller sized notebook on the market. So you have to take the good with the bad.
As far as build quality with this device, I would say that the UX50 is a solid little uPC. I wouldn't want to drop it on a hard surface, but it feels rugged enough to withstand regular everyday use. It is solid and didn't
yield any creaks or groans when I performed the requisite Gadgeteer squeeze test.
Battery life for this little guy is supposed to approach 4.5hrs. I don't know how accurate that is though. Maybe if you turn off the backlight and don't access the hard drive. By default, the battery life indicator on my review until reported 2hrs after a full recharge. That was on the optimized setting. This is where I have a real gripe about all uPCs. That's just not enough untethered power for a device that is supposed to be totally mobile. Who wants to carry around an AC adapter and power cord with them everywhere they go? Not I.
Besides Windows XP Home, the UX50 doesn't come loaded with any super fantastico software bundles. It does come with SonicStage, Sony's iTunes like store front for purchasing music.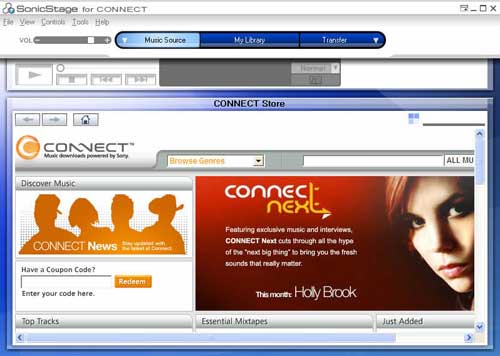 There's also a simple application launcher that is activated when you press the button on the left side of the display.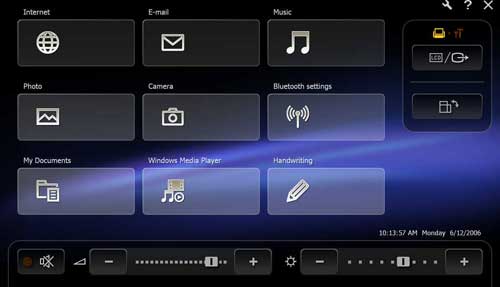 The launcher interface isn't fancy, but it is a quick way to change volume, brightness etc There's also a button that you can tap to rotate the screen 90 degrees. It's also where you can launch the little handwriting application.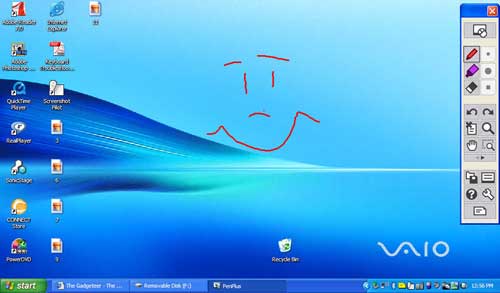 The handwriting app seemed to be for drawing and not writing, like I thought it would be. I assumed that it would allow me to use HWR (handwriting recognition) to fill in fields or write lists. As far as I could tell (all the dialog boxes are in Japanese), it is just for drawing on the screen. Hmmmmm….
That brings me to a big grumble… Why doesn't this device ship with the tablet edition of Windows XP? The UX50 is a device that is perfectly made for that version of the OS… I don't get it.
Back to the screen / display. Like most Sony devices, their displays are very nice. Bright, vibrant, etc. But there is a problem with the UX50 display… It's too darn small! It's just 4.5″ diagonal. For a PDA, it's a perfect size. But for Windows XP, it's pretty hard to read text. By default, the screen resolution is set to 1024 x 600. You can set it to something lower, but it doesn't help all that much because then you can't fit as much info on the display. The Zoom buttons aren't very useful either as they just pump up the size (a maximum of 3x) and allow you to scroll around on the screen. It doesn't allow interactivity with the running apps. It's just a view only zoom.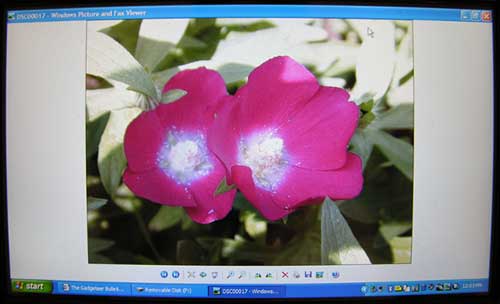 The thing is that small screen sizes haven't been that much of an issue for me until this device. I have not had any problems with my Treo 650 and had no real problems with the Sony Vaio VGN-U71P either. Maybe it's because I'm close to needing bifocals. Or maybe it's just because everything on the UX50 has been crammed into an itty bitty 4.5 inch display ;o) For viewing images, it's not a problem. The only problem is with reading lots of text. I find myself squinting quite a bit.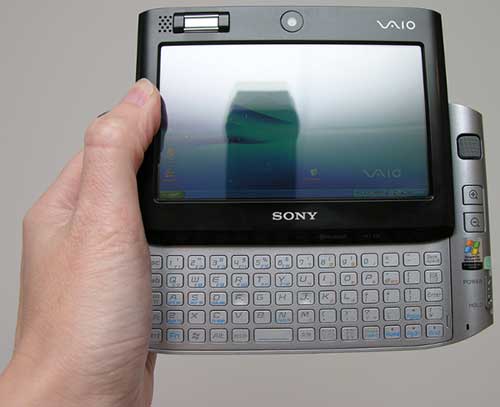 Even though I love the idea of an ultra miniature PC, it comes down to the fact that these devices just don't give me quite what I need in a mobile device of this size. First of all, the screen is too small for true Windows XP use. Maybe it's just me and my eyes though. Then there's the battery life issue. When will our mobile devices be able to get us through an entire 8hr work day without needing to be recharged?
With all that said, I still think the UX50 would make a great travel companion for someone that doesn't want to lug a full-sized laptop with them on a trip. Using this device for picture offloading, websurfing and emailing would be perfect. Hardcore photoshop work, spreadsheet work, powerpoint presentation creations, etc, might present a problem. Unless you have bionic eyes or something ;o) I don't want to be too hard on Sony, because they seem to be the one of the few companies that continue to push the envelope and bring innovative feature rich products to the market for us consumers to drool over.