We use affiliate links. If you buy something through the links on this page, we may earn a commission at no cost to you. Learn more.
Being a gadgeteer, we all know too well the dilemma of not
having a third hand to carry the numerous gadgets we simply must not leave home
without. Some of us barely get by not forgetting our wallet, glasses, watch and
car keys. We must have our cell phone, iPod, PDA, all of the latest accessories
to include headphones, Bluetooth headset, power cords, fold up keyboard, WiFi
sniffer, trusty pocket knife, ink pen on our person… you get the idea. Oh sure,
I've tried using the Hipster PDA of varying index card sizes, but we're too
entrenched into being a bona fide gadgeteer.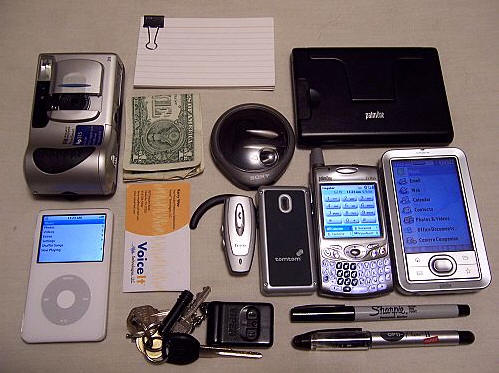 (Your stuff here…)
So what's a gadgeteer to do? Cargo pants aren't socially
acceptable in the business world to house all of the aforementioned gadgets in
the various pockets. And the post trauma of cargo pants in the washing machine
with a favorite gadget inside a pocket, or cracking a screen upon the urge of
sitting down from weight fatigue evokes technical and financial heartache.
We've gotten use to miniaturizing our laptop into a
handheld size device, so wearing a heavy backpack that cuts into our shoulders
is becoming a thing of the past.
Unless we are officers of the law or have a need to carry
handcuffs, a Bat Signal Projector, folding Batarang and a gas pellet launcher,
wearing a Batman style utility belt won't work.
Fortunately,
Maxpedition has a solution with the
Thermite
Versipack. Maxpedition is well known in North America for their various
products of hard-use military specification nylon gear for military, police, and
outdoor professionals. They carry an extensive catalog of backpacks, bags,
cases, gear slingers and much more.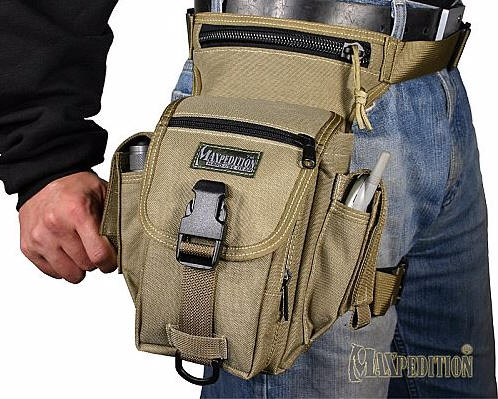 (Photo courtesy of Maxpedition)
About the Versipack: "The Thermite Versipack
(#0401) exploded onto center stage in the spring of 2003 as the flagship model
of what is now MAXPEDITION's best-selling Versipack line. This revolutionary new
multi-functional bag, designed either to be worn on the waist with a supporting
leg strap or shoulder slung, made way for a new genre in tactical nylon:
everyday hard-use gear.
Never miss one of our posts again. Sent MON, WED, and FRI with the latest gadget reviews and news!
There is one main compartment equipped with a
water-resistant storm collar which can be cinched closed and a zippered frontal
compartment for PDA and other accessories. An integral sheath with adjustable
lid on each side allows for immediate access to two important tools of choice,
e.g. flashlight and extra mags.
All Thermite Versipacks are also now ambidextrous!"
The Thermite Versipack reviewed here in my opinion, is
perfectly designed to carry whatever is deemed necessary for a gadgeteer on the
go. I recently participated in an all day golf tournament testing a golf/GPS/PDA
software and hardware combination and the Versipack fit the assignment to a "T".
There were some hesitations to publicly wear what many
would construe to be nothing more than a "fanny pack". This is not your mother's
fanny pack! The Desert Camo Versipack had a very masculine look to it, so I was
quite comfortable wearing it and actually received many positive comments. It
was easier wearing around the waist rather than slung on the shoulder. As for
comfort, the belt size strap accompanied a 40" waist with ease (29" min., 80"
max.). The Versipack also comes with an additional Removal Leg Strap/Extender.
Specifications:
Main:  8" x 5" x 3"
Frontal:  6" x 4" x 1"
Sides:  5" x 1.5" x 1"
Color Options:  Black / Green / Khaki / Woodland Camo /
Desert Camo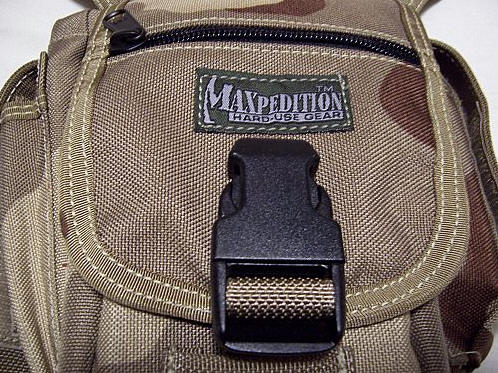 Nylon fabric is treated with Dupont Teflon for superb water
and grime resistance. The stitching is top notch; notice the double stitching
along the outer edges – bags of lesser quality fail due to fraying along the
outer edges first.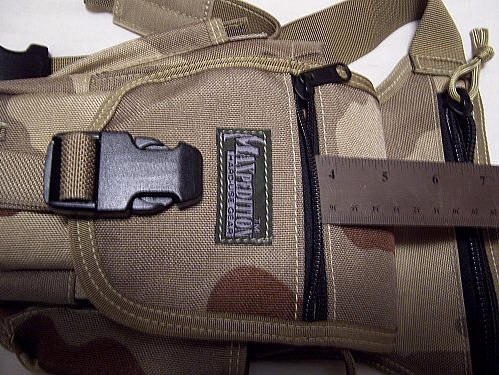 On the outer flap, there is a handy zippered place (3.5
inches deep) to hold business cards, driver's license and credit cards.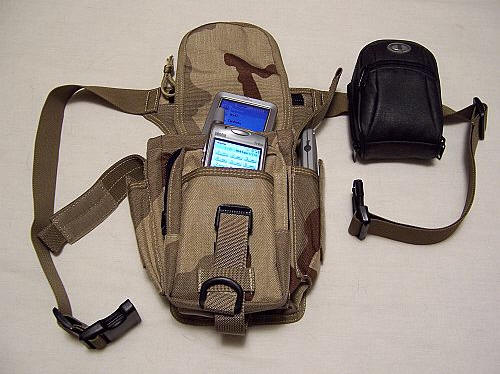 On a recent golf outing when I had media duties to perform,
I carried a Treo 650 phone in the front pocket, a TomTom GPS navigator, my keys
and Bluetooth headset in the side pockets and a Palm LifeDrive, camera charger
and folding keyboard in the main compartment. I had intended to carry a digital
camera in the main compartment, but found it easier to use the belt to carry the
separate camera bag with its Velcro strap.
The Versipack distributed the weight evenly and I had great
confidence in the size of the pockets that each of the devices would not be
damaged due to an overly snug fit.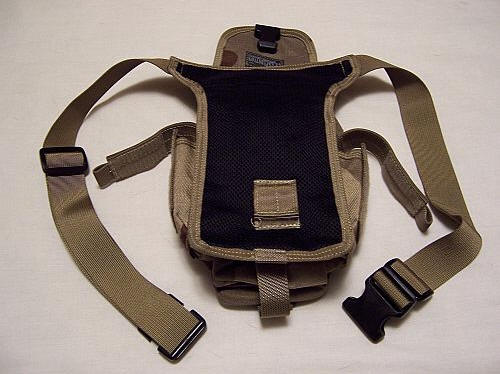 MAXPEDITION has increased the elasticity and comfort of the
removable leg strap and has upgraded the rear mesh cover to a 4-layer
high-breathability sandwich material for cooler extended wear.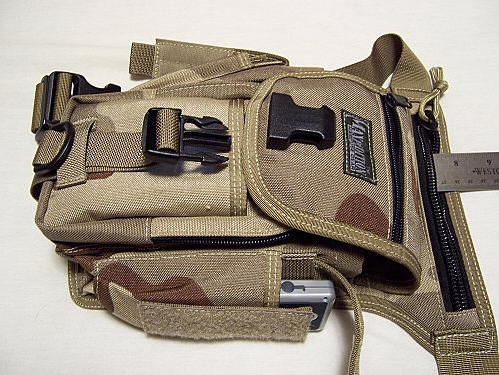 The quick release snap allowed me to access the contents
quickly and the full-length side Velcro snaps held the side contents securely.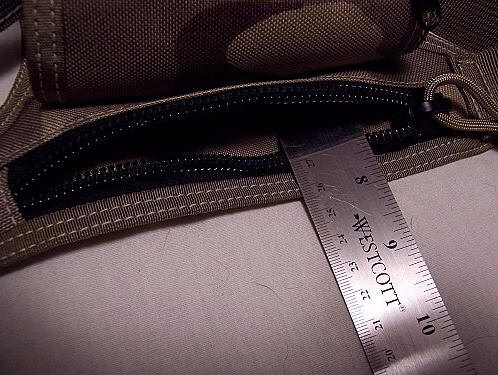 There is a flat pocket that is 7.5 inches deep to hold flat
items; a flat item like a plane ticket or passport is ideal.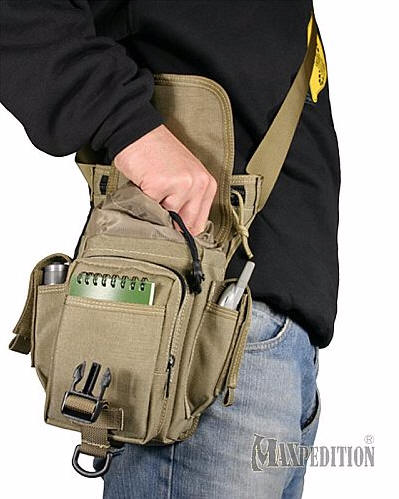 (Photo courtesy of Maxpedition)
The Versipack may very well be my bag of choice when
carrying my gadgets. I probably would not use it in a corporate environment, but
for a carry all solution, the Versipack is a great alternative to carrying an
oversize backpack. It is not necessary to wear the Versipack at all times; I
found the bag easy to carry in the hand and as a general throw it on the front
seat for grab 'n' go convenience. The flexibility of the compartments allows me
to carry any configuration of devices. There are a total of nine compartments of
which four are flat; the 7.5 inch and the other three located on the outside,
inside the smaller zippered compartment and one inside the pull string pouch.
The Versipack is well constructed with double stitching,
generous Velcro snaps, heavy-duty zippers and snaps.
If you were looking for the perfect carrying case for the
gadgeteer in you, then I would recommend without hesitation the Maxpedition
Versipack. The fanny pack is now a relic from the past!
About the author: Kerry Woo is a gadgeteer who perpetuates
the Asian stereotype with his fascination with gadgets, power tools and anything
with an electrical cord attached.
Product Information
Price:
44.99
Manufacturer:
Maxpedition
Requirements:
Pros:

Reasonably priced
Extremely durable
Excellent craftsmanship
Lots of pockets
Comfortable to wear

Cons:

None - It's really NOT a fanny pack!