We use affiliate links. If you buy something through the links on this page, we may earn a commission at no cost to you. Learn more.
Name: Kin Yu
Location: Hong Kong
Hong Kong, to me and a lot of my neighbors here, is a microcosm
of all that is hectic and stressful. Americans would most likely
compare it to New York. Having lived and worked in Washington DC
and traveling extensively to New York, I can only say that Hong
Kong is possibly a tad faster paced than New York. In many ways,
this is really what drives my love and need for gadgets. I've been
a gadget freak or gear head from quite some time. If it was a
hobby, it would be expensive, but I rationalize it this way: I need
to have the right tools to get the job done.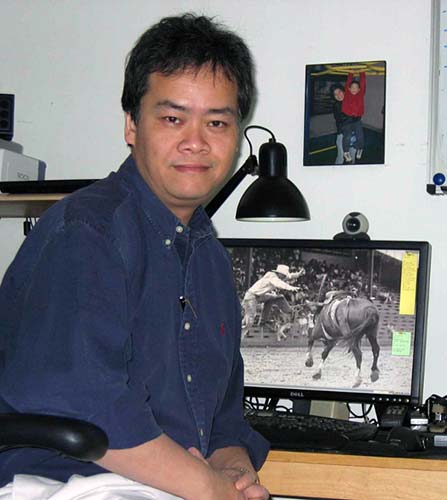 Most of my friends are also gadget freaks and we share a similar
problem – getting the new gear without incurring the wrath of our
wives. Our collective belief is that the smaller the better since
these will likely slip under the radar screen.
Without much ado, here's the laundry list:
Handhelds
QTek 9100 (love the keyboard for texting and emails)
Motorola RAZR V3
Huawei 636 – free 3G trial phone from the local phone company with
3,000 minutes a month, plus all the free video calls with my
7-year-old son (only 300,000 of us in Hong Kong are using this for
the next 6 months – fair disclosure, I used to work for the local
phone company)
O2 Mini with an Eagletec SDIO WiFi card
iPaq 2215 with Socket CF WLAN card
Jabra BT800 bluetooth headset used with all the PCs and PDAs.
PCs
Thinkpad T43
Thinkpad X41 (not the tablet)
AOpen XCcube 65 (2,8 GHz with 1 GB ram)
Konica-Minolta DL2300 Color Laser
HP Photosmart 7150 and 7200 (slow, but the photo quality is
superb)
Dell 24″ flat panel display (best investment yet)
Cambridge Soundworks 4.1 speakers (5+ years old, but haven't found
anything better for the price and/or size)
Buffalo Linkstation 250 GB network drive
Buffalo Drivestation 250 GB USB disk
Assorted external USB drives – totaling 1 terabyte (mostly for
family videos and photos)
Others
5G iPod 30 GB
iPod Shuffle
Nikon D100 and assorted lenses
Canon ixus 430 – 4 megapixel camera
Sitting on the shelves throughout the house
Thinkpad 600X – serving as a webcam
Panasonic BL-C10 IPCam
Neuston Virtuoso MC-500 media player
Things my children have inherited
iPaq 3850 – used as a PDA and an MP3 player
ECS EZ Buddie pc with Buzz Lightyear mouse
G3 iMac 450 MHz with DVD
Some may call it an obsession, but as I stated up top, my
principle is to use the right tools to do the right job. My love
affair with gadgets began a long time ago, but really gained steam
about 10 years ago. By luck, I was given additional
responsibilities at work which meant carrying two titles at the
same salary. With two jobs, my schedule was crazy – crazy to the
point where my secretary couldn't keep up with updating my
calendar. Thankfully, I had a Palm Pilot and it was something that
was catching on in our company of 15,000. It was a thrill the first
time a colleague and I beamed meeting schedules to each other via
the Palm Pilot. It was an even bigger thrill to just plug it back
into the cradle on my desk and my secretary would be able to see
what I was up to. This really allowed her to let my boss know where
I was when he called. That hectic period of my life fully converted
me into a gear head since I'm a believer that these gadgets are
tools which help to make my life easier and more enjoyable (the
frustrations of resets aside).
Even though I worked for the local phone company, I was never a
big user of mobile (or cellular as North Americans call them)
phones. I was a fixed line guy. However, having started my own
business in recent years, I have come to be heavily dependent on
wireless communications. I no longer have a fixed line for my
business, but I have two mobile phones. My faxes arrive through
eFax and Skype (installed on all my notebooks and PDAs) has been
(to quote former FCC Commissioner Michael Powell) "a gift from
God". Even with a combined 2,400 minutes on my two main mobiles, my
son, my wife and my business associates seem to be able eat up the
minutes in no time flat.
At home and in my little office, I am completely WiFi enabled.
This is especially necessary at home since we live in an apartment
(very few houses here) which is not conducive to running wires
since every wall is a thick supporting wall unlike the wooden
frames of most homes in North America. Practically speaking, few
people would run Cat 5 cable through their homes in Hong Kong
unless they happen to be renovating their homes. To get full access
at home, I run a pair of Buffalo wireless routers with the second
one acting as an extension. This allows me to check emails and surf
from the comfort of my bed.
Some of my friends have asked me why I bother with all this
stuff. The answer to me has been simple. My eldest son, Nicholas,
and I used to lie in bed just before his bedtime and watch movie
trailers off the net (there were bedtime stories too). Today, his
younger brother, Kevin who's 2, enjoys the same. It's quality time.
This is really what it boils down to, the ability to do these
things whenever and wherever I happen to be.
My wife? She just keeps rolling her eyes. Of course, she does
that with her new Motorola SLVR L7 with MP3s loaded on to the
transflash card. I'm sure she'll get around to enjoying it once she
figures out the Motorola menu system.

Read other featured gadgeteer stories, and send in YOUR story / pictures
for posting!