We use affiliate links. If you buy something through the links on this page, we may earn a commission at no cost to you. Learn more.
There is no doubt that the Sony PlayStation Portable is a very sexy device. It takes a strong willed geek who can resist the charms of this smooth, shiny, black handheld gaming siren. I'm definitely not one of the strong ones. I'm weak… very very weak… But you know the one thing that would make the PSP even more sexy, even more desirable, even more irresistable? A shiny black charging cradle! I know you were all thinking it, but I wasn't afraid to just say it. Ok, maybe this wasn't quite what came to your mind, but once you see the PSP Power Charging Cradle from Brando, you won't be able to get it out of your head.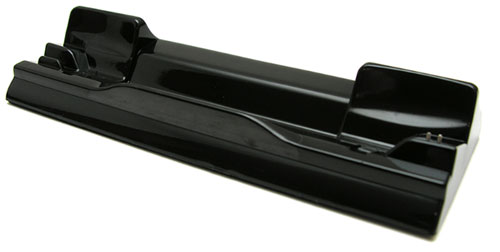 Made in the same smooth shiny style as your PSP, this charging cradle is a solid one peice molded plastic blob. It has no moving parts unless you count the 2 spring loaded power pins that the bottom of the PSP mates with.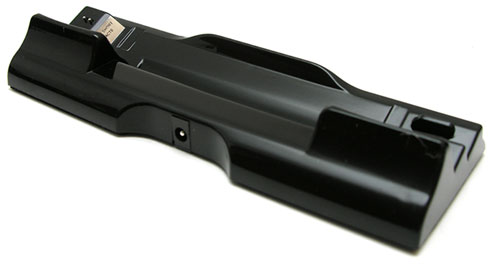 On the back there is a socket to plug in the AC adapter that came with your PSP. That's right, this cradle does not come with its own seperate power cord. That fact doesn't really bother me though. It keeps this cradle cheap, and everyone should have their original AC adapter anyway.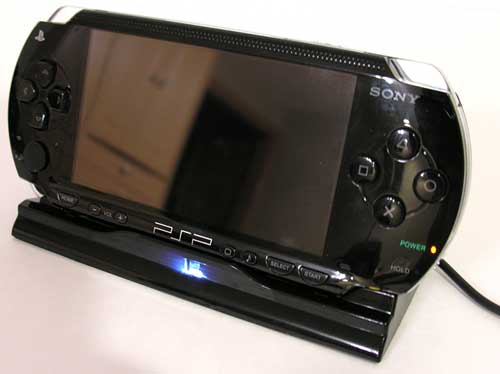 When connected to power, an LED on the front of the cradle lights up. This LED never turns off.
To charge the PSP, you just set it on the dock. There is nothing to plug in, snap into, line up, etc. It just rests on the pins perfectly. Felt on the bottom of the cradle helps to keep it from sliding around on your desk when you rest and unrest the gaming device on it. As an added bonus, the PSP rests at the perfect angle for viewing the display. This allows for easy movie viewing.
The PSP Power Charging Cradle has a 2.5 fast hour charging circuit built in, so you'll not have to wait too long to get back to playing your favorite games. I really like this accessory as it takes no effort to use, looks great and is inexpensive.
Product Information
Price:
12.0
Manufacturer:
Brando
Requirements:

Sony PlayStation Portable

Pros:

Matches the look and feel of the PSP
Easy to use

Cons: