We use affiliate links. If you buy something through the links on this page, we may earn a commission at no cost to you. Learn more.
Are you the type that is always leaving your tools behind at the scene of a
repair? Have you been looking for an inexpensive flashlight that can withstand
exposure to water? If so, then you might want to take a look at the
Gadget Brando Waterproof
Flashlight. Measuring roughly 5" long x 1.1" wide x 0.75" thick, this
pocketable torch has a number of features which make it a useful tool that won't
break the bank if it is forgotten and left on a service call.



This torch is available in red, yellow and blue
The Waterproof Flashlight is composed of a molded and sealed plastic body
with a separate black molded screw on torch head. There is a black rubber gasket
inside the head which allows the torch to prevent the entry of water, but I
wouldn't quite call it "waterproof", simply because that might give prospective
owners unrealistic expectations. I would settle for "water resistant", which it
more certainly is.
I gave it a dunk test in our hot tub, and although the water did not
adversely affect it's operation, the flashlight did sink like a rock. So, if you
are considering this torch's use around significant amounts of water, it would
be prudent to attach a lanyard or wrist-strap to the built in attachment at the
torch's base.
This flashlight has three LEDs, and it requires four AAA batteries to power
them. According to the Gadget Brando site, torch will run for thirty hours,
which I consider to be very good battery life. The built-in pocket clip makes it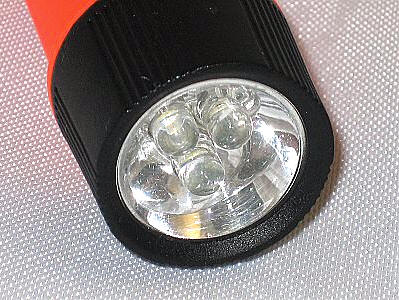 The beam cast from this light is excellent for walking along a dark path at
night, or for highlighting areas that need to be serviced, even if in the midst
of dripping and sloshing water. Weekend Plumbers, are ya listening?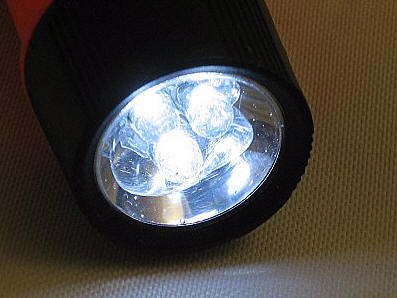 For the money, the Gadget Brando Waterproof Flashlight is an excellent value
-just don't plan on using it to swim the English Channel or anything too
demanding. However, for normal day to day use, it should be quite handy.
Price: $6.00
Pros:
Inexpensive
Built in pocket-clip
Water resistant
Three bright LEDs
Cons:
None
Product Requirements:

Four AAA batteries
Product Information
Price:
6.0
Manufacturer:
Brando
Pros:

Inexpensive
Built in pocket-clip
Water resistant
Three bright LEDs

Cons: