We use affiliate links. If you buy something through the links on this page, we may earn a commission at no cost to you. Learn more.
Last year I reviewed
a Victorinox knife
that was equipped with a detachable 64MB SwissBit
USB memory module. I was recently sent a major upgrade to what I had already
determined was an excellent product. While much of the appearance has remained
the same, there have been subtle changes to the knife itself as well as major
additions to its built-in software. The SwissBit
Swiss Memory USB
Victorinox Knife is now available in memory sizes of 64MB, 128MB, 256MB,
512MB and 1GB. I was sent the

rubyRed 1GB model.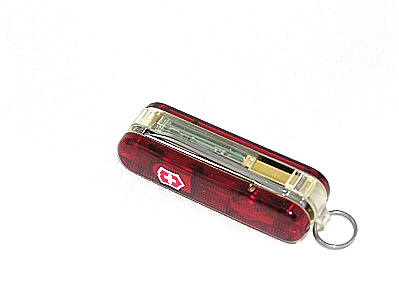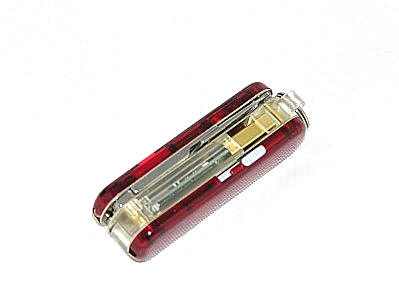 Included in the box is the knife itself, a CD and an operating manual. The CD
includes Windows 98 drivers, the users manual in seven languages, and a copy of
the Secure Lock software, which is already built into the memory module.
The Victorinox measures 2.3" long x 0.7" wide x 0.6" thick, and it weighs
just 1.1 ounces. Even though it is so small, it feels solid and sturdy. The
pocketknife is sized so that it can be placed on the user's keyring without
adding too much weight or bulk. Integrated tools include the 1.25" razor sharp
blade, a nail file with a flathead screwdriver on its end, scissors a small
ballpoint pen, a white LED light, and the removable USB memory module.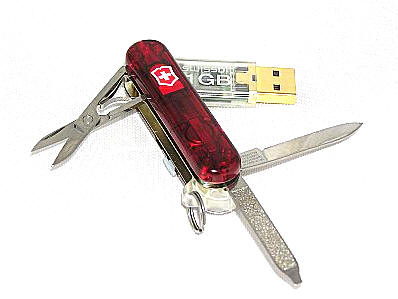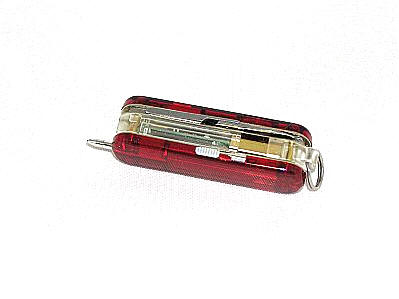 Airport security being as it is, one can no longer blithely walk through
while carrying just about any of the Victorinox's integrated tools, so the
memory module is detachable. This allows the owner's data to stay with them,
while their pocket knife is checked. If you are the type that travels frequently
or will never remember to remove the memory and check the knife, there is also
an airport safe version available that includes just the memory module, the
integrated pen and the LED light.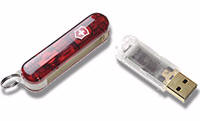 Picture of the Travel-Safe version courtesy of the SwissBit
website
The ability of the memory module to detach also means that the entire knife
(and keys if attached) will not be dangling from the USB port when the module is
in use.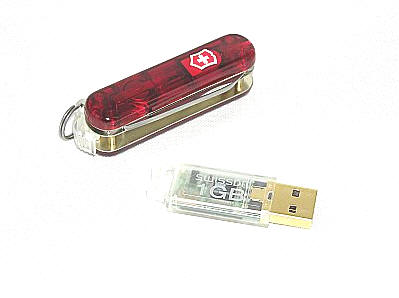 The red LED light on the previously reviewed version has been replaced with a
bright white LED which is accessed by pressing the Victorinox shield on the
case.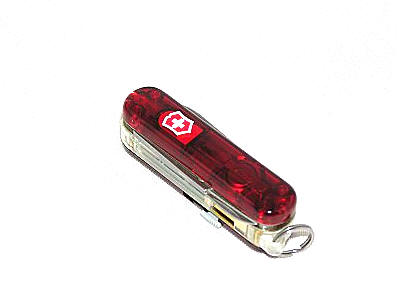 The biggest changes are of course in the size of the available memory and the
included software. Let's take a look at the pocketknife's specs, and then we
will move onto the new software additions…
Specifications:
USB Class –
USB 1.1 Full-Speed compliant,
USB 2.0 High-Speed compliant
Power Supply –
USB bus powered, no external power required
Power Consumption –
Standby 900 µA (typical), 2 mA (max),
Full-speed 120 mA (typical), 140 mA (max)
Controller –
Mass storage class controller,
ECC on the fly,
Automatic bad block management)
Security Features –
Password protection for private zone with SecureLOCK

Bootability –
Boot up with a USB legacy supported BIOS,
(USB-ZIP, USB-FDD or USB-HDD)

LED Indicator – B
links to indicate write/read status
64, 128MB Performance –  Full-Speed
:
Read max. 1MB/sec,
Write max. 0.85MB/sec
.

256, 512MB, 1GB Performance –  High-Speed:
Read max. 8MB/sec,
Write max. 7MB/sec

Capacity –
64MB, 128MB, 256MB, 512MB, 1GB
Operating Temperature
–
0°C to +50°C (32°F to 122°F)
Storage Temperature
–
-20°C to +60°C (-4°F to 140°F)

T
ravel-Safe Version
Integrated Tools
–
LED, Ballpoint Pen
Extended Version
Integrated Tools
–
LED, Ballpoint Pen, Knife/Blade, Nail file with Screwdriver, Scissors
I am running Windows XP on my computer, so the SwissBit memory was completely
plug and play. Immediately after inserting into the USB port, Drive E was
showing as SWISSMEMORY.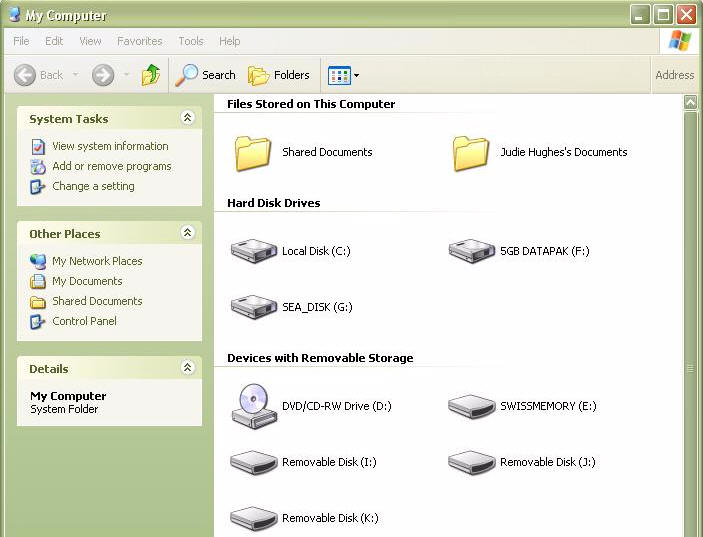 Clicking on that folder revealed its contents, including the familiar
SecureLOCK that I covered in the previous review as well as an exciting new
feature called TravelItEasy.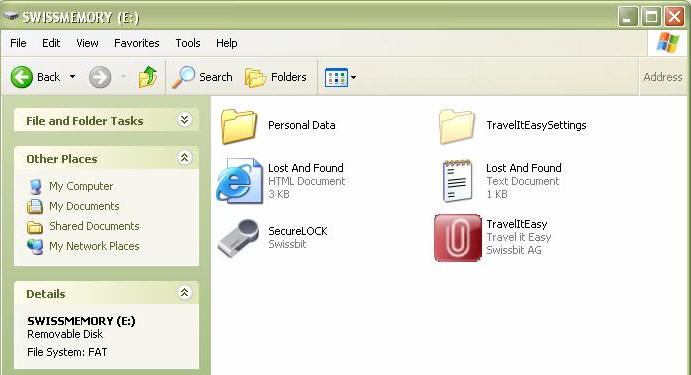 Clicking on SecureLOCK allows the user to create a secure partition and
create a Boot Disk.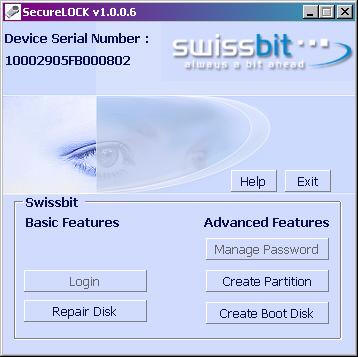 Clicking on TravelItEasy is the first step to making your desktop computer as
portable as possible. This feature allows you to bring along your Internet
Explorer favorites and My Documents data, password protect the data on the USB
drive, surf the internet without leaving cookies and images, and enter user
information in case you lose the pocket knife or memory module and an honest
stranger wants to return it to you. For those that use Outlook Express, it will
also allow data portability. Unfortunately this feature does not work with
Outlook, which is what I use.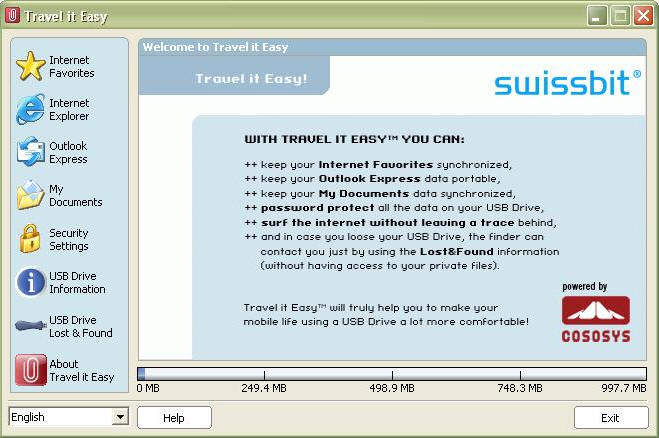 Here you can see what happens as I sync my Internet Explorer favorites to the
SwissBit memory drive.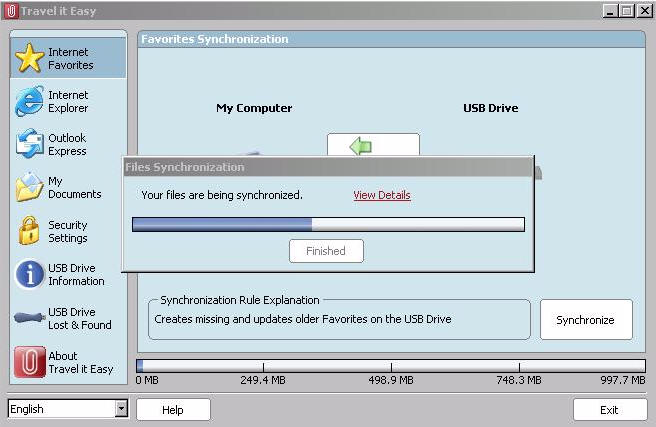 On future synchronizations, the option is available to delete the existing
favorites from the drive first.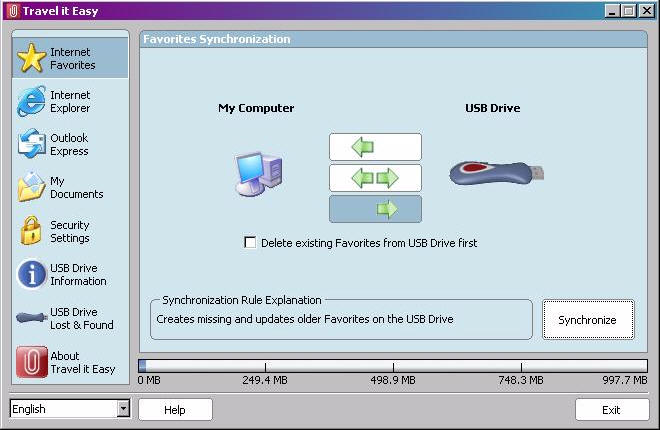 It is also possible to browse through Internet Explorer without leaving any
tell-tale signs on the computer being used. I can think of a couple reasons why
this is a great feature, and no – neither one of them have to do with internet
porn or online dating sites being frequented by married people! I am thinking
about people that work in offices that are run by "big brother" types. This
feature should allow users to do a little bit of surfing without anyone being
able to check up on what sites were visited.
When this feature is activated it will close all open IE folders and reopen
in a mode where no traces from the surfing session will be left on the host
computer.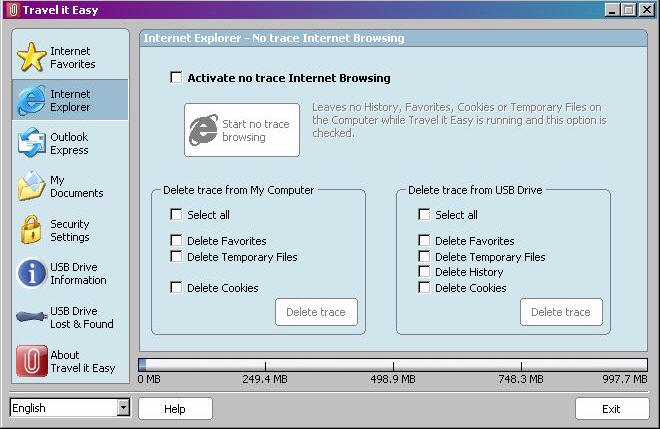 Unfortunately, I was not able to test the Outlook Express features. I would
really like it if this were to be upgraded to included Outlook – I would love
having all my settings, accounts and some of my folders in a portable format.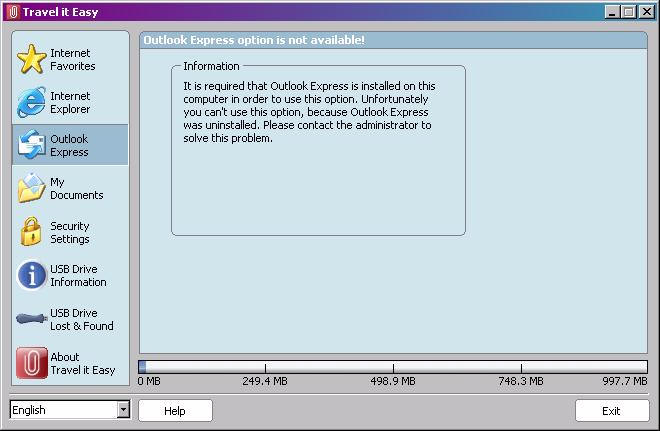 This feature allows the user to select which files from the My Documents
folder they would like to make portable.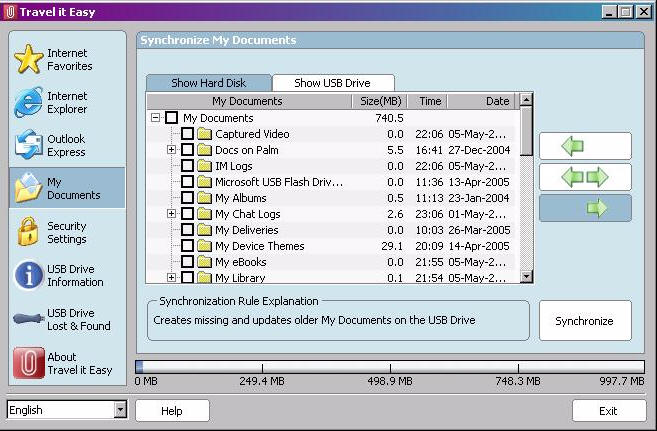 Here is where the password is set…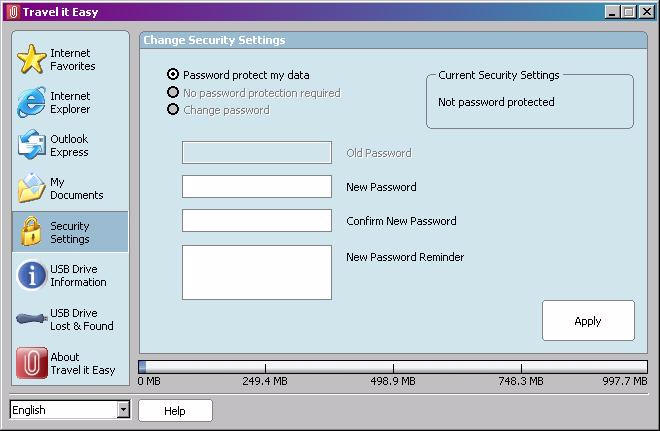 …and this is where the owner information can be entered.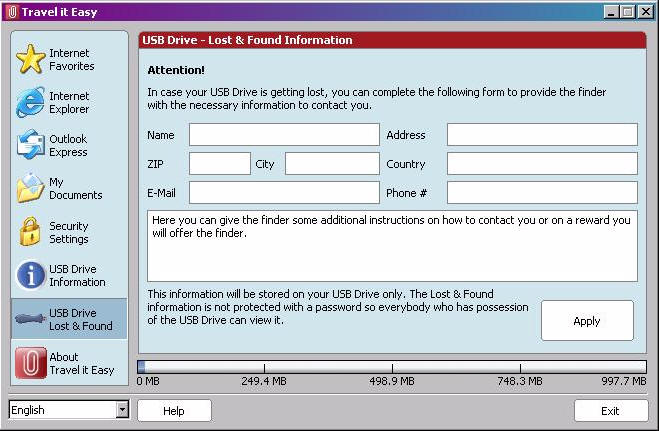 A message can also be left for the future finder, including whether a reward
for the devices return is offered.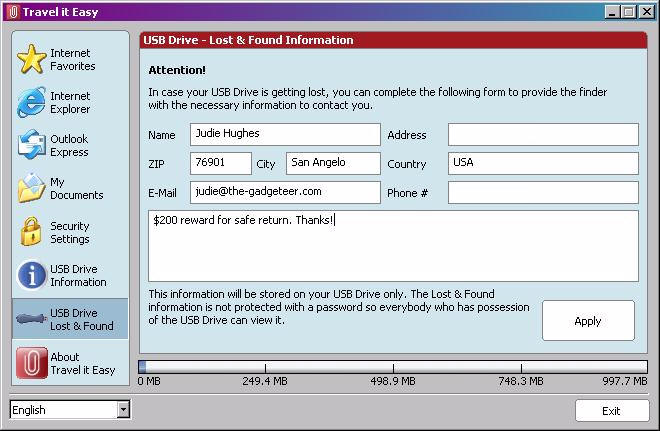 When the finder clicks on the Lost & Found HTML document in the folder, they
will see this info…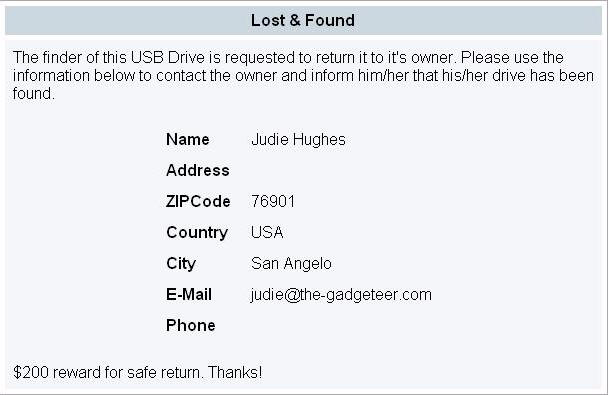 …which is also shown in a text document format.

The latest incarnation of the Swiss Memory USB
Victorinox Knife took an already great product and improved it further. If it
could sync with Outlook, I would not be able to think of a single feature I
would want to add. This is a great product for people who are routinely
shuffling their data between a home and work computer, or for students using a
common desktop in a computer lab. This is also a great product for people that
are traveling – now they can borrow a friends computer to surf and have all of
their settings handy, or they can use an internet cafe's box without worrying
about leaving personal information behind.
The only way that I can imagine making the Swissbit / Victorinox
collaboration any better hardware-wise, would be if the SwissBit memory module
could be added to the Victorinox Cyber
Tool. Now that would be a match made in heaven!
The SwissBit Swiss Memory is available directly from

Swissbit's webshop and from other retailers.
Price: $232.00
Pros:
Excellent combination of quality pocket knife and protected USB 2.0 Flash Drive
Up to 1GB available SwissBit Memory
Can enable protection for all, none or a portion of drive
Bright white LED light
Cons:
None
Product Information
Price:
232.0
Manufacturer:
Swissbit
Pros:

Excellent combination of quality pocket knife and protected USB 2.0 Flash Drive
Up to 1GB available SwissBit Memory
Can enable protection for all, none or a portion of drive
Bright white LED light

Cons: