If you are a child of the 60's & 70's like I am, you probably remember the
Lava Lamp. Heck, maybe some of you even still have one on a shelf somewhere! The
original motion lamp was designed by engineer Edward Craven Walker in 1963 and
was named the Astro Lamp. Then in 1965, it was discovered by two American's at a
German tradeshow and was brought back to the US and sold as the now famous Lava
Lamp.

The lamp itself consists of a fully enclosed glass cone that is filled with
water and 'lava'. The actual recipe for the 'lava' is of course a trade secret.
When plugged in, a light bulb in the base heats up the lava which begins to
float to the top of the cone. The effect looks like… you guessed it: lava :o)
Although Lava Lamps were popular back in the days of hippies and daisies,
they are still cool and mesmerizing. Enter the 
Laserpod, a 21st Century version
designed by Light Artist Chris Levine
and world-renowned photographer Mario
Testino.
Package Contents
Aluminum Laserpod projection light unit
Electroplated tall dome diffuser
Electroplated short dome diffuser
Ridged glass refractor lens
AC adapter
Instruction booklet
Safety Leaflet
 
Unlike the Lava Lamp, the Laserpod doesn't employ liquids to create its
unique moving light display. Instead it uses a laser light that is refracted
through a spinning Swarovski crystal in the base unit.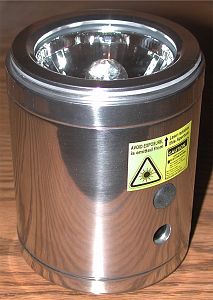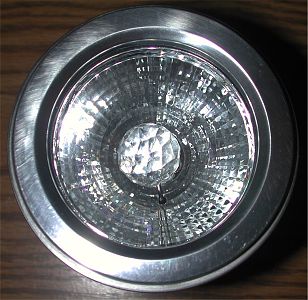 The polished aluminum base is sturdy and heavy enough that it will not easy
tip over. The words Laserpod are etched on the front of the base, and a
rubber covered push button is located on the back. The button is both a power
toggle and color toggle for the lamp. By default, the lamp glows purple / blue
with red flecks. If you press the button a 2nd time, the lamp color will switch
to red with lighter red highlights.
The Laserpod can display light in several different ways:
In a dark room
If you just plug it in and turn it on without a diffuser dome or the refractor
disk, it will create a light show on the ceiling and walls that gives a definite
space / alien type of vibe. Points of red light dance slowly across the ceiling
while swirls of either red or blue make up the background.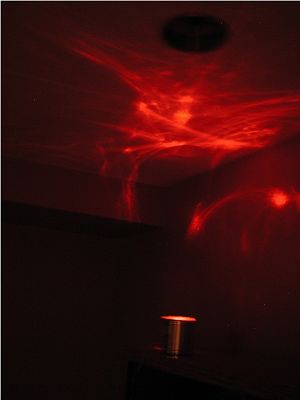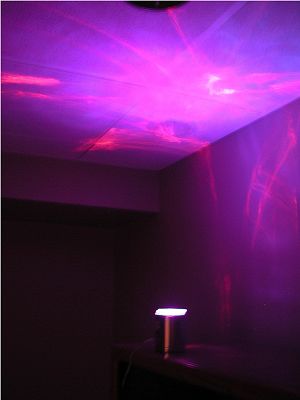 Add the refractor disk, and the light changes to more of an Aurora Borealis
type of show. Using the Laserpod in these two configurations is probably my
favorite way to use it. I have found that leaving it on in a dark bedroom is a
great way to unwind before going to sleep.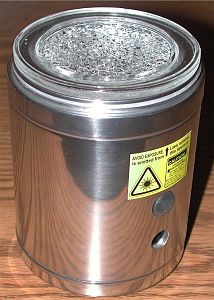 On a desktop in a lighted room
Using either the short or tall diffuser dome, the Laserpod turns into the modern
day equivalent of the Lava Lamp. Points of light swirl around inside the dome
and sides to create a feeling of movement that is hypnotic to watch. You can
also use the refractor disk with the dome to change the light slightly. Either
way, it makes a cool kaleidoscope of blues and reds. It's too bad that blue and
red are the only colors though. I'd love to see greens, oranges, and more.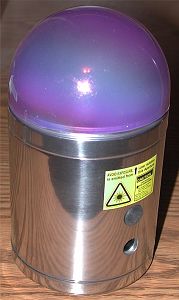 With the short dome, the Laserpod is 6 inches tall, and with the tall dome it
is 11 inches tall.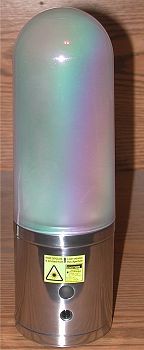 Red light, Blue & Red, Off
The Laserpod base and dome do not get hot even when left on for hours a time.
Virtually silent (there is a slight buzzing/hum) while powered on), this product
makes both an unusual conversation piece and art piece.
With a price tag of $100, this isn't exactly a product that everyone will
rush right out and buy, but it would make a great gift for a techie friend that
you never know what to buy for. It will definitely find a spot in my remodeled
office when the renovations are complete.
 
Price: $99.00
Pros:
Hypnotic
Makes an interesting conversation piece
Cons:
Expensive
Need more colors
Support The Gadgeteer
:
We may earn a small affiliate commission from purchases made from buying through links on our site. As an Amazon Associate I earn from qualifying purchases. Learn more.
Product Information
Price:
99.0
Manufacturer:
Laserpod
Pros:

Hypnotic
Makes an interesting conversation piece

Cons:

Expensive
Need more colors