We use affiliate links. If you buy something through the links on this page, we may earn a commission at no cost to you. Learn more.
Mike over at RoadWired
sent Julie their latest gear bag – The
Roadster Convertible. When Julie asked me if I
would like to review the bag, I said simply, "Yes." I like to keep
my answers simple — besides I really like all of the RoadWired gear I already own. Julie
forwarded the description of the new bag (it wasn't even listed on
the RoadWired site yet) and
I really started to get excited.
One case does it all
Laptop/Multimedia
Photo/Video
Overnight Luggage
I couldn't wait to put all my stuff in one bag and stop lugging
around separate camera and laptop bags. The
Roadster Convertible looks like a typical roller suitcase with
the telescoping handle, etc. I weighed my existing bags; 11 pounds
in my RoadWired
Photo/Video Convertible camera bag and 18 pounds in my
RoadWired MegaMedia
laptop bag. The new bag would stow 29 pounds of electronic gear in
a single bag and throw in a change of clothing! All on rollers!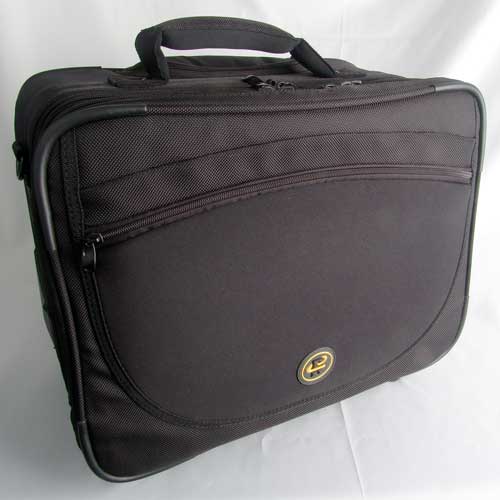 I should have read the material a bit more carefully. The people
at RoadWired certainly know
how to design a first class gadget bag, but they have not yet
figured out a way to compress and uncompress matter – i.e. they
can't get 50 pounds into a 10 pound sack. I am sure they are
working on it, though. The bag is designed to work as a camera bag,
a laptop bag, or as overnight luggage — it really only serves one
(or two) of these functions at any given time.
I was unwilling to let go of my
all-in-one-at-the-same-time-carry-everything-bag dream. I
configured the main cargo area to act as a camera bag. I
transferred the contents of my camera bag into the compartment and
zipped it all up. My eleven pounds of camera gear easily fit into
the main compartment with room left over for laptop accessories.
RoadWired's customizable compartment system allowed me to set up
spaces for my camera and main accessories so that they do not float
around or bang into each other.
The bag has two large zippered compartments on the front that
are very similar to those on the MegaMedia
laptop bag. Each contains elasticized pockets of various sizes for
your small to medium sized gadgets. I used the innermost
compartment for my laptop
and moved the remaining contents of my laptop bag into the various
nylon pockets and zippered mesh pockets of the other zippered
compartment.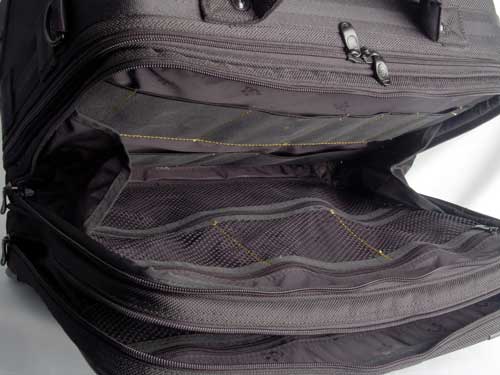 The folks at RoadWired probably did not expect anyone to jam a
laptop into one of these pockets, but I was just trying to live my
dream. Everything fit, although it did get a bit crowded. Now I
could transport my laptop and camera and accessories totaling 30
pounds in one bag with rollers!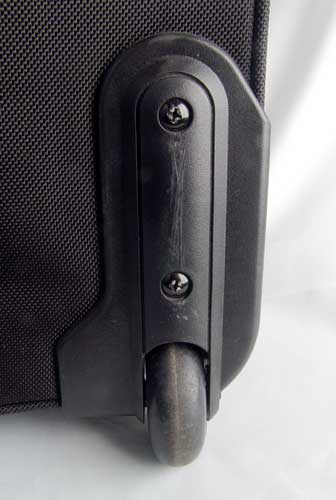 These wheels are rugged – the bag handles smoothly even when
fully loaded.
I threw the camera bag and laptop bag in the trunk and decided
to try living out of my all-in-one-does-it-all Roadster bag. This
arrangement certainly gave my shoulders a break. I just pulled the
bag out of the car, raised the telescopic handle and strolled into
work. Below Julie demonstrates the Roadster's telescopic handle
(see how it makes her smile).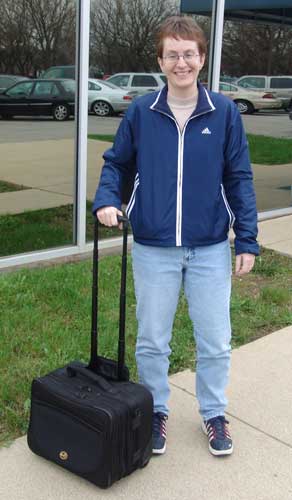 The handle stows away neatly inside the bag with a zippered
cover to secure it. This will help you avoid a nasty snag on the
baggage handling conveyor belts at the airport.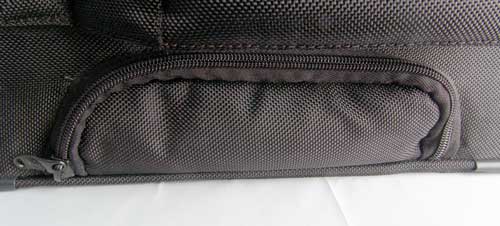 The bag comes complete with a rugged handle on top. The handle
has a hard rubber insert which gives it a nice feel. A removable
shoulder strap is also included.
A front pocket contains RoadWired's removable travel document
pouch with separate compartments for plane tickets, passport, etc.
A detachable key holder inside the front zippered compartment was a
nice touch.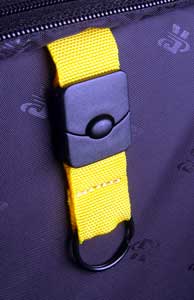 The bag is made primarily from Ballistic nylon. The overall
dimensions are 13″H x 17″L x 9″D and it weighs in at 9.5
pounds.
The overall look of the bag is professional and stylish.
The
Roadster Convertible is not really suitable for use as a camera
bag and laptop bag at the same time. I found it really clunky
trying to access my camera in the main compartment with the laptop
jammed into one of the accessory areas. I eventually had to let go
of my dream and go back to strapping my 30 pounds of equipment
across my powerful shoulders.
For travel, this case could allow you to carry on the majority
of your electronic equipment with you on your flight and you might
even squeeze in a change of cloths.
Price: $199.95 Available in Black/Black
Pros:
Multi-purpose
Heavy duty construction
Stylish
Cons:
None
Product Information
Price:
199.95
Manufacturer:
RoadWired
Pros:

Multi-purpose
Heavy duty construction
Stylish

Cons: