We use affiliate links. If you buy something through the links on this page, we may earn a commission at no cost to you. Learn more.
Product Requirements:
Devices listed
here
Covertec
makes some of the nicest mid-range cases I have ever reviewed, and I am pleased
to see them entering the screen protector arena. This week, I have been testing
out their new Ultra Clear Screen Protector for the iPAQ hx4700. I am happy to
announce that they are making these of the same next-generation materials as
some other screen protector manufacturers, and like the ones I most happily
endorse, these are brilliantly clear.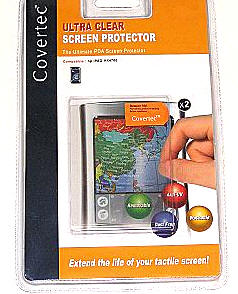 A pleasant surprise inside the package is that there are actually two
protectors included. This makes the Covertec a bit better value than its
competition straight out of the wrapper.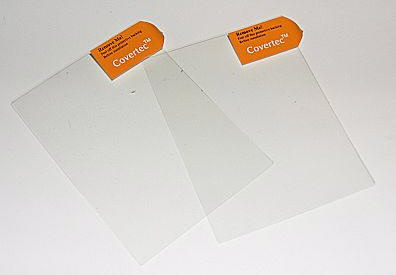 However, there is one issue that keeps me from being thrilled with this
protector. Note in these pictures how it does not cover the entire surface of
the PDA's huge screen? The HP iPAQ hx4700's screen measures 3.242" (8.236cm)
tall by 2.458" (6.244cm) wide, and 4.047" (10.279cm) diagonally. The Covertec
protector easily leaves a full millimeter or two around the entire screen that
is not covered, as you can see in this picture.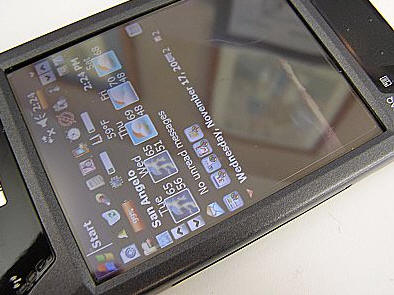 This "gap" seems to operate very well as a dust and lint magnet as the PDA is
used, as you can see here.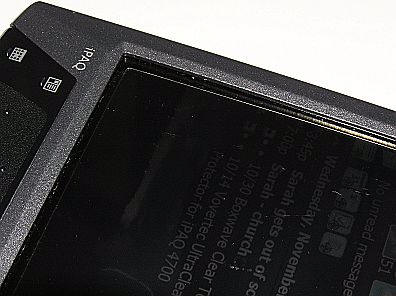 If the protector could be remade in the correct size, I would be able to
recommend it without reservation, because it has all of the properties I want in
a protector: It uses a low-tack adhesive, it is crystal clear, it can be removed
and reused, and it will last for ages without needing replacement.
Price: $14.95 for two
Pros:
Excellent, long lasting protection for your screen
Crystal Clear
Easy to remove – non "tacky" adhesive
Reusable
Smooth writing surface
Excellent value, with two to the pack
Cons:
Protector did not properly fit my PDA's screen
Product Information
Price:
14.95
Manufacturer:
Covertec
Pros:

Excellent, long lasting protection for your screen
Crystal Clear
Easy to remove - non "tacky" adhesive
Reusable
Smooth writing surface
Excellent value, with two to the pack

Cons:

Protector did not properly fit my PDA's screen