We use affiliate links. If you buy something through the links on this page, we may earn a commission at no cost to you. Learn more.
Product Requirements:
Device:
Bluetooth enabled mobile phones. See compatibility
list.
 
Cellular phones are a great boon to communication. There is no longer a need
to search for a pay phone or to wait until you get home to find out how to get
somewhere or notify AAA that you need a tow or tire change. However, there are
some aspects of the cellular revolution that are not entirely positive.
One of my biggest problems with cell phones is how to handle them while driving
my car. I love the ability to get in touch with someone (or vice versa) anytime
anywhere but I hate to have to hold the phone constantly with one hand while
attempting to drive with the other. In order to resolve this situation I have
tried a number of hands-free devices. The most useful of these were the wired
headset and speakerphone.
The headset is by far the better of the two for both sending and receiving clear
voice, however the cord seems to always catch somewhere and end up pulling the
headset from my head suddenly and in many cases painfully. On the other hand the
speaker phone is both hands-free and cord-free giving it the usability features
that I want. However, it has the problem of picking up road noise and distorting
both incoming and outgoing voice.
If there were only a way of combining the clarity of the headset with the
cord-free aspect of the speakerphone we would have the perfect hands free
device. Enter the Bluetooth headset.
I recently purchased a Sony Ericsson Bluetooth capable cell phone and was very
pleased when Julie approached me with an offer to try the BT400 G3 Bluetooth
Headset by Bluetake Technology. At first
glance I liked the look and feel of the product.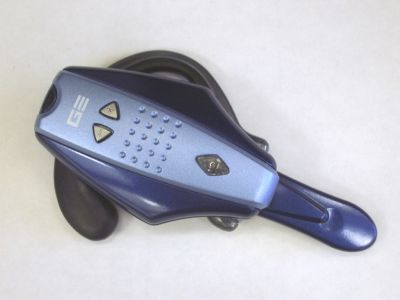 Battery Life
I was also impressed with the ability to charge the device for 2 hours and have
up to 10 hours of talk time. I tested this throughout my use of the product and
I must say that the manufacturer did not fudge on this as it often out performed
my expectations.
Look & Feel
The headset is light weight and has a very comfortable ear piece that fit over
either of my ears with no problem. I wore it for extended periods of time (4-5
hours) with no discomfort.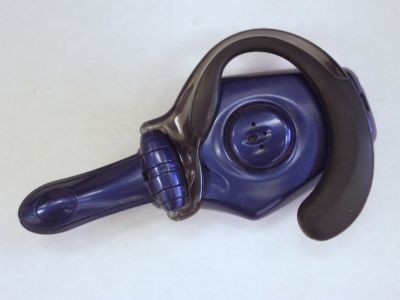 I also liked the simplicity of the interface having only three buttons. (An
on/off/configure button , and both "+" and "–" volume buttons.) However, with
this simplicity comes some confusion. The single multi-purpose button requires
me to remember that holding down on it for 5 seconds from the off position will
turn it on, while holding down on the same button from the off position for 7
seconds will prepare it to connect to a new device. Also holding down on the
same button for 2 seconds when it is on will turn it off, and just pressing the
button and immediately letting off will either activate your voice recognition
or answer the phone. This is not as easy to understand as having a labeled
button for each of the functions but at least it is not necessary to wonder
which button to press. You just have to remember how long you should press it.
After trying the device for several weeks I have experienced many positives
and few negatives. However, one of the big negatives is its inability to retain
volume settings through a charge. If you charge up the device it looses its
volume setting memory. This would not be such a problem but the volume by
default is set so low that I could not hear anything until I turned it up. So
about every 3-4 days I have to reset the volume to my preferences. (Every time I
charge the headset) This is unaffected even if the device still has charge at
the time of re-charging and appears to be an effect of the charging itself.
Sound Quality
If you'll recall from my introduction I was looking for the sound quality of a
headset and the freedom of a speakerphone. This headset in my opinion has
balanced these qualities quite well. The sound quality on both sides of the
conversation appears to be quite understandable and clear. Though I have had
some negative feedback in most cases this was due to environment more than any
other factor. So if you are working with jack hammers this is not your headset,
more noise cancellation will be necessary, but for everyday walking around it
seemed fine.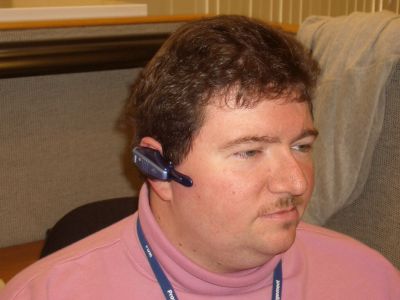 Range
The headset had very little problem with range, however there were issues with
placement. If I kept the phone on the same side of my body as the ear piece I
had no problems, however if I had the phone in my left pocket while the headset
was on my right ear I had a lot of difficulty using the device. Other wise the
device worked well up to 5-6 ft away with no problem.
Price
With an average price of around $60 the BT400 is a lower priced Bluetooth
headset. Many of the others I priced were somewhere between $90 and $200. That
being said the BT400 seems to be a very good value.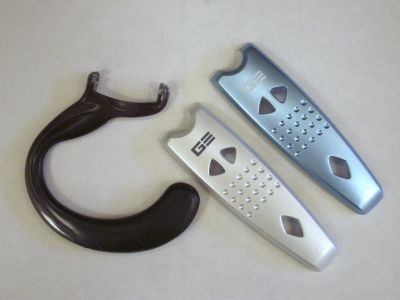 Included with the BT400 are 2 additional color plates and 1
extra ear piece
Conclusion
Overall, I liked this device very well and find it very useful and a good value.
Its minor problems are more than out weighed by its affordable price and good
performance. So if you are looking for an affordable Bluetooth headset with
solid performance I recommend the BT400 G3 Bluetooth Headset by Bluetake
Technology.
Price: $60
Pros: 

Good Battery Life
Comfortable
Good Sound Quality
Simple User Interface
Low Price
Cons: 
Loses volume setting when charged
Phone needs to be on the same side of your body as the ear piece
Product Information
Price:
60.0
Manufacturer:
Bluetake
Pros:

Good Battery Life
Comfortable
Good Sound Quality
Simple User Interface
Low Price

Cons:

Loses volume setting when charged
Phone needs to be on the same side of your body as the ear piece