We use affiliate links. If you buy something through the links on this page, we may earn a commission at no cost to you. Learn more.
Product Requirements:
Device:
Windows PC 98, 2000, ME, XP or later
Julie's comments are in Black, Judie's are in
Blue and italicized
It's amazing how 4 specific letters strung together to form a word can invoke
such a feeling of excitement. Of course, the word I am referring to is iPAQ.
Remember back in the day when the very first iPAQ
3600 was available?
That was the day when Pocket PCs were lifted to almost status symbol heights.
Can you believe that it has been over 4yrs since the first iPAQ blasted onto the
scene?
Right, and remember how in the beginning they
weren't made by Hewlett Packard, they were made by Compaq?
In that time, we've seen the
3800
series, 5400
series, 5500 series, 5100 series,
1900 series,
2200 series,
4300 series, and
6300 series devices. Whew! I know I probably forgot a series in there somewhere!
Only a couple – the 3100, 3700, 3900, 4100, and more
recently the rz1700 and rx3000 series. Somewhere in there I lost count and all
of the models started running together.
A few months ago HP announced a whole gaggle
(is the correct term for a group of PDAs?) of new PDA models, with the
hx4700/4705 as the top dog. Both Judie and I placed pre-orders with an online
store as soon as it was humanly possible. This was back at the end of July. As
we waited and waited and waited some more, we kept hearing rumors about ship
dates. We ended up canceling orders with 3 different stores before finally
finding a merchant that had actual inventory in stock (thanks
PC Connection!).
It was a really long wait, but we finally received them and have both been using them
for 2 weeks now.
Other than the iPAQ, I can't think of any other
Pocket PC brand that has ever gotten Julie and me into such foul moods when its
ship date kept getting pushed back. Waiting for the hx4700  completely
evoked the excitement that was generated back in 2001 when the
iPAQ 3800 was released. What made
that iPAQ so special? Nothing more than the inclusion of a built-in SD slot
(finally – no need for a sleeve to use memory cards) and the option of
being able to get Bluetooth for an additional $50. My my, how times have
changed…but I digress…
At one time or another, I've had at least 4 iPAQs sitting on my desk and have
enjoyed using various models as my main PDA. As a matter of fact, currently my
main PDA happens to be the 2215. Well, I guess I should say that the 2215
was my main PDA…
…and I was using the Tapwave Zodiac2.
But we're getting ahead of ourselves. Let's get to the specs…
Hardware Specs
Processor: Intel® PXA270 Processor 624 MHz
Operating System: Microsoft® Windows Mobile™ 2003 Second Edition software for
Pocket PC (Premium Edition)
Memory: 192 MB total memory; (128 MB Strata Flash ROM and 64 MB SDRAM) Up to 135
MB user available memory (includes 80 MB iPAQ File Store)
Display: 4" Transflective VGA TFT color display, Landscape and Portrait display
modes 
Interface: USB 2.0, Infrared (SIR and FIR), Bluetooth, WiFi (WLAN 802.11b)
Dimensions and Weight: 5.17 x 3.03 x .59 in (131 x 77 x 14.9mm), 7.4oz (210g)
with cover, SD and CF cards
Power: 100 to 240 V Switching, 50 to 60 Hz
Battery: 1800 mAh Lithium-Ion rechargeable battery (user replaceable)
Expansion: SD card slot (Secure Digital), supports MMC and SDIO cards, CF Type
II card slot
Package Contents
HP iPAQ hx4700 Pocket PC
AC adapter
USB Desktop Synchronization Cradle
Plastic Flip Cover
Stylus
Getting Started Guide
HP iPAQ Pocket PC Companion CD
When I first set eyes on the 4700, I was surprised at how small it looked in the
box. The dark charcoal case with black accents really camouflage the true size
of this PDA.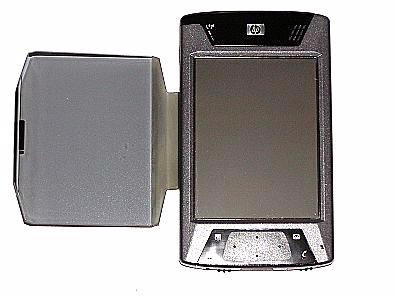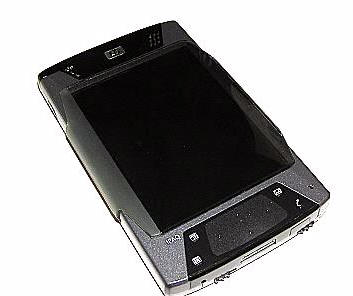 Considering how jam-packed with features this iPAQ
is, I was totally prepared for the 4700 to be the size of a small brick. It was
a very pleasant surprise to find that it was actually a little bit
smaller than my Tapwave Zodiac2! Of course, it made my iPAQ 1945 appear even
more petite…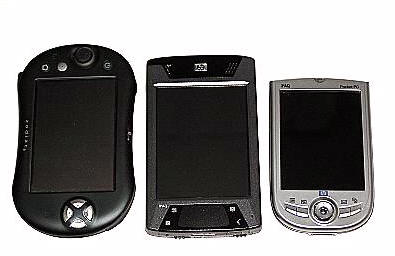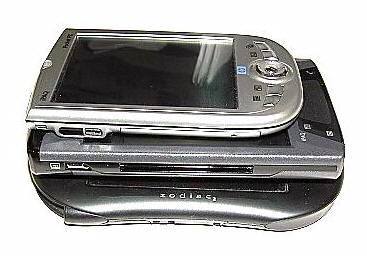 In hand this PDA is rock solid. No creaking, flexing or rattles were apparent
during the requisite Gadgeteer squeeze / shake tests. I
think a lot of this solidness can be attributed to the 4700's metal body. Unlike
other iPAQ's that were just painted plastic made to look like metal, this one is
the real McCoy! Metal bodies are something I have come to expect from higher-end
PDAs, and this one does not disappoint.
Due to the Magnesium-alloy body, the 4700 is quite hefty at almost half a
pound! While this is something that both Judie and I like, some people will
probably complain about it. The size will also be an issue. This isn't a breast
shirt pocket PDA. But it is definitely still a pocketable PDA.

I wouldn't carry it around in any of my pockets! ;o)
I've stuck it in my jeans butt-pocket and in the
side pocket of my Lucky Cargos. Of course, this was for limited amounts of time.
It is usually on my desk or in the pocket of my
Taylor Tote.
In regards to the metal casing, I really like it. It's smooth, cool to the
touch and gives the impression that this PDA is built like a tank. I don't care
as much for the black plastic accents though. They tend to show fingerprints and
smears which as we all know, drive me nuts ;o)
It is a bit aggravating. This black plastic is
reminiscent of the plastic used on the "hump" of the 3800 series. It does smudge
very easily, as does the removable screen cover.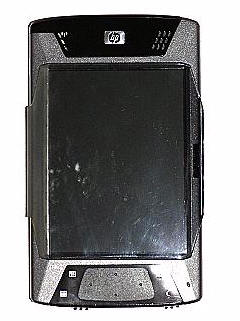 The top of the 4700 houses the headphone jack,
stylus silo, silver on/off button bar and the SD and CF slots, which include
plastic slugs for times when they are not being used.
Sound quality and volume levels through earphones is very good. Listening to
music is enjoyable and devoid of hissing, pops or clicks.
The stylus is your normal black plastic stick… It's not so bad though. I
think it has a metal center because it has a nice weight and balance to it.
You know me, though – I'll be checking to see what after
market styli are offered.
Concerning the power button, I don't like it. I may be nit picking, but I
wish it was either bigger or on the face of the PDA. I seem to need to press it
more than once for it to activate. It is 
inconvenient, I totally agree with you.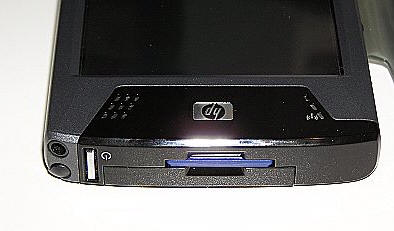 The left side holds the re-mappable voice recorder
button (mine goes to eReader) and the plastic screen cover's silo. The screen cover is easily removed
by sliding the bar upwards in the silo and pulling the bottom end outwards.
Reinsertion is achieved by sliding the bar into the upper corner of the silo,
and replacing the bottom bar with a downward tug.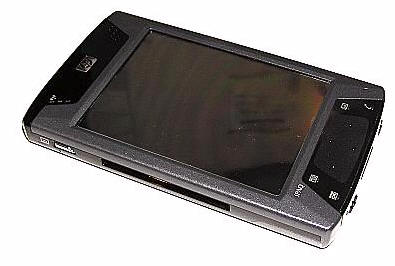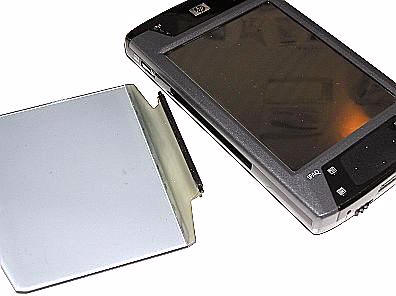 Not sure you noticed, but the included plastic screen cover has a magnet to
hold it closed. The right edge of the PDA is actually magnetized.
I noticed the magnet on the cover after you pointed it
out during the first few hours we had them. There must be a small piece of steel
under the corner of the magnesium alloy body. The plastic screen cover is
okay for now, but I am waiting to see what after market cases will begin to
appear…hmmm, are you noticing a pattern here? Just call me after market
accessory-girl. ;0)
I hear you! Where's my Vaja iVolution case?! The
same place mine it, I am sure…in the designer's sketch book.
On the bottom is located the reset button, the
battery slide lock, the sync/charge port (including removable rubber slug),
the battery release slider and Infrared (IR) port. This is  as good a place
as any for me to mention that HP has not changed the connector for the
Sync/Charge port. If you already own an iPAQ, then your accessories that use
this port should also work with the 4700.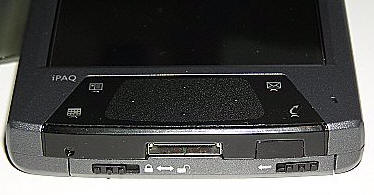 I'm not sure I like the location of the IR port. It makes it difficult to use
the PDA for a TV remote or for beaming info to another PDA user.
I am not excusing the IR port's location, because I
agree with you that it is inconveniently placed. But just as a general
observation, I have noticed that I use the IR port much less on any
Pocket PC versus how often I will with a Palm PDA – probably because you can't
beam PPC programs like you can Palm's. So the location of the IR port on this
particular PDA does not matter much to me at all. However, I will say that since
this PDA can also easily be used in Landscape orientation, maybe HP's engineers
justified the awkward location by saying that for a certain percentage of time,
the IR port might actually be located on the PDA's "left side." Of
course, for me, that percentage time is virtually never…
I don't use the IR port either, but I know there are people that do. Actually
the only thing I do use the IR port for is with the Thinkoutside Wireless
keyboard (IR version). Unfortunately, the location of the IR port requires that
you rotate the screen in order to use it with that accessory.
Regarding the USB cradle that ships with the 4700, it certainly won't win any
style awards, but it isn't overly large and it does serve its function. My only
complaint is that it isn't heavy enough to allow for one handed extraction of
the PDA. I've already quit using the included cradle,
and am instead using the
Power Station Steve bought me.
The right side is plain, with no activating buttons
or sliders.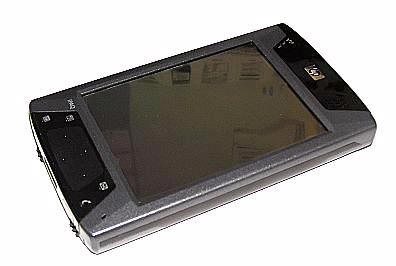 The back of the 4700 is also plain, except for the
removable battery cover. Worth noting is the little "hp" logo covering the screw
in the upper left. I would imagine that this is here to tattle on
warranty-voiding case-crackers.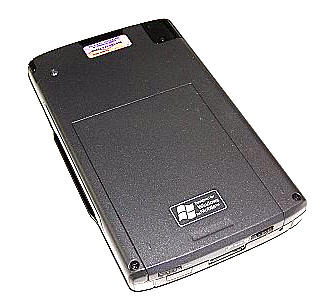 Let's move to the PDA's face…
The top front of the PDA has a set of 2 status LEDs, a light sensor and a
speaker grill. The LEDs are assigned from top to bottom to WiFi status and
charging / alarm notifications. The light sensor allows you to set the screen
brightness levels based on ambient light. I never use the light sensor because
it seems to always want to set the brightness lower than what I prefer. Right. I never use this feature, either.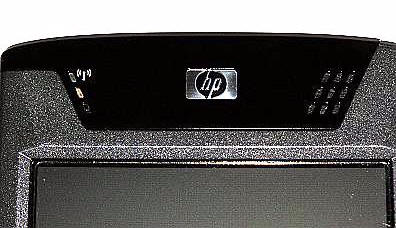 As for the speaker volume, at the maximum volume setting, I think this iPAQ could be used as an alarm
clock for all but the deepest sleepers. I agree! Oh, it
is worth noting that this PDA does not seem to have the bug that some other
iPAQ's had, where alarms would not go off until the iPAQ was turned back on. I
have not missed an alarm, yet!
The bottom front has the application buttons, new touchpad and microphone.
The application buttons don't actually look like buttons, but they are. Very
small raised dashes help you find the buttons in the dark. Pressing them gives
definite tactile feedback.
This is  something that takes a bit of getting
used to – especially for those of us that are used to "real" buttons.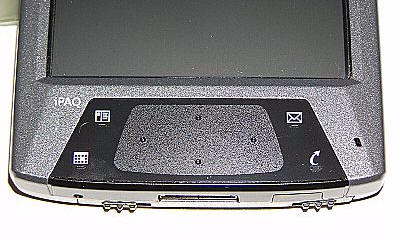 The touchpad is flat with small raised dots to designate up, down, left and
right directions. The pad is not spongy and does not have any type of tactile
feedback. It can be used in two ways, Navigation mode or Mouse Cursor mode. In
Navigation mode, you are using the pad to scroll. touching in the area of the raised dots will
scroll one line in that direction. Holding down on a dot will cause the list to
continuously scroll in that direction. Touching the center of the pad will
select an item. Sounds fine right? Well, in practice (at least for me), it is an
exercise in frustration. The touchpad itself is so small that it is easy to
accidentally press the center when you really wanted to scroll up or down a
line.
The touchpad is…well, to put it bluntly, weird
to have on a PDA. It is a neat idea in theory, especially for those who like to
think of their PDA as a laptop replacement. However, actually using the thing is
frustrating. The simple direct commands that you can make with a d-pad are not
quite as easily executed when using such a sensitive surface.
You can toggle to Mouse Cursor mode by running the included Nav Point Mode
app. By merely tapping on the application icon, you toggle back and forth from Nav mode to Mouse mode. In Mouse Cursor mode, a small arrow cursor will appear
on the screen. Now the touchpad will function just like the touchpad on a
notebook computer. Using your finger on the pad, you move the mouse to the
desired location (over an icon for example). Then by double tapping on the
touchpad, you perform a select. While I find the Nav mode to be somewhat
annoying, Mouse Cursor mode seems even worse to me. The Touchpad is so small
that you are constantly strafing across it to move the cursor from the top of
the display to the bottom.
I think that's the problem right there – the
touchpad is too small to be used effectively. But it could not be made any
larger without negatively affecting the size of the iPAQ.
I also found that some software does not recognize a double tap as a select.
In those cases, I have to pull out the stylus to tap the screen. After working
with the pad for a couple weeks, I've become more proficient with it, but I
still don't like it. Playing action games with the 4700 isn't very
enjoyable at all. I really really miss the nav button on the 2215. It was
perfect <sniff>.
I am sure that somewhere at HP, there is an engineer
that is very proud to have put the first touchpad on a PDA. But I would be
willing to bet that behind his back there are other engineers snickering
at his folly.
All this brings us to the 4700's glorious four inch
VGA screen.
And what a wonderful display it is! It is easily the clearest, sharpest, most
vivid PDA screen that I've had the pleasure to use so far.
Most definitely! There is really nothing else to compare
it to.
This is probably
due in part to the 0.126 mm x 0.126 mm dot pitch. I really can't see the
individual pixels on the display. Like Judie said, the 4700 has a VGA screen.
This means 480 x 640 resolution. Until now, Pocket PCs have had QVGA (quarter
VGA) displays at 320 x 240 resolution. Some people might think that with a
actual VGA display that we should be able to view 4 times as much info on the
screen. Well unfortunately, that's not the case. There is a freeware hack called
SE_VGA (Google for it) that can turn on real VGA mode, though. That said, you had
better have really good eyes if you decide to use it.
I think this program is best suited for web
browsing…and that's about it, unfortunately. As you can see by the first
picture, it renders the Today screen virtually unreadable…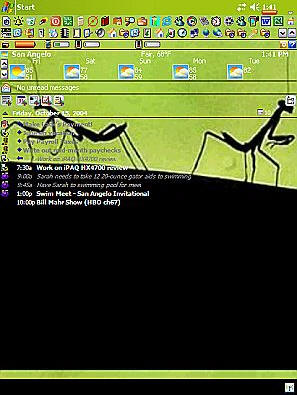 Browsing is better, however…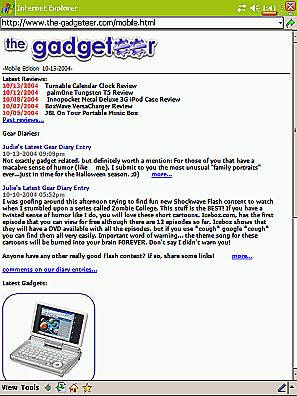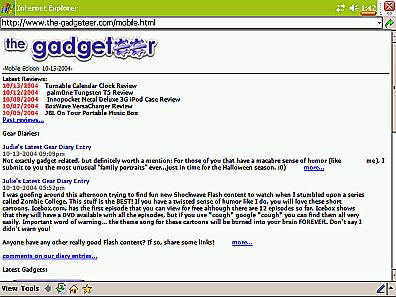 A new feature built into this version of WM2003 is the ability to rotate the
display to landscape mode. Now you can do it without any 3rd party apps or soft
resets. Out of the box, the Calendar button is mapped to rotate the screen. All
you have to do is just hold it down for a few seconds and it flips. There is a
little lag while it switches. It's not nearly as instantaneous as the
Tungsten T5 I just reviewed. I
don't find myself really using the feature though… do you?
Pretty much never! I did try it a couple of
times to see if it really made that big of a difference in what I could see when
viewing web content, but as you can see by these pictures, when in regular VGA
mode (not using the hack) there really isn't a compelling reason to rotate the
screen.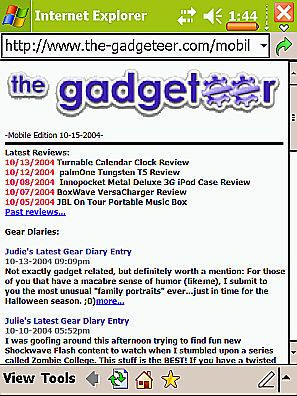 versus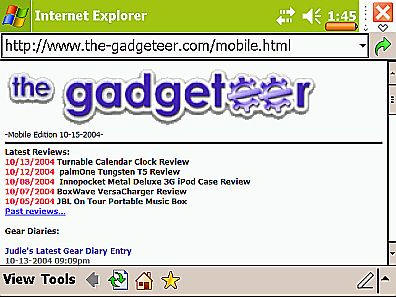 Viewing spreadsheets and web pages do benefit slightly from the landscape
orientation. Well, at least if you need information
further to the right on the spreadsheet you benefit. If you need information
located further down, it won't necessarily help.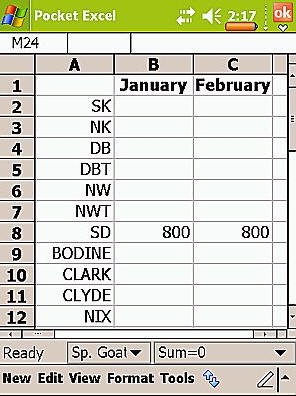 versus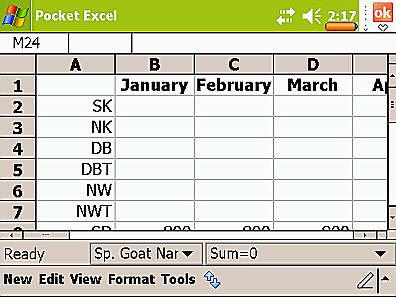 Should you need to write anything while in landscape
mode, the screen really becomes cramped – unless you are using the VGA hack.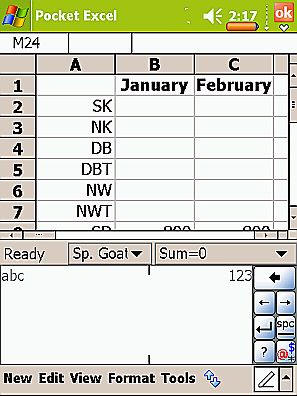 versus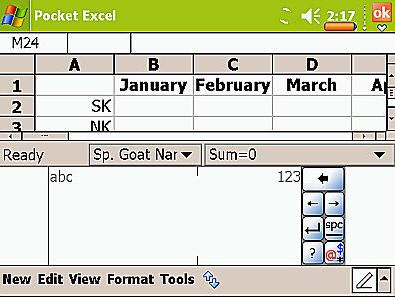 I would have actually preferred the writing area
being over on the right or left side – instead of on the bottom of the screen,
more like how the landscape oriented Tapwave I have
been using for the last year handled it.
I have used the 4700 outside quite a bit since I
received it, and while I have noticed that the colors basically wash away, the
screen is still quite readable from regular angles.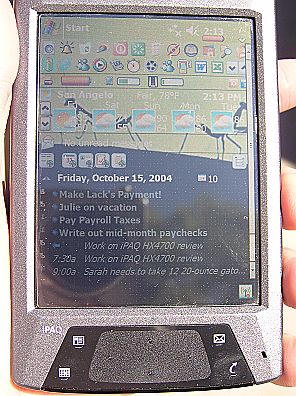 Un-retouched outside photo in bright
sunlight
One of the cool benefits of having such a brilliant
screen and having a large CF card is that you can actually use the 4700 as a
portable movie viewer. I am using a program called
Pocket DVD Wizard that allows
you to rip your personal DVDs to watch on your Windows XP based PC's or Pocket
PC's running Windows Mobile™ 2003. Here you can see two of my favorites –
Scarface and
Penn & Teller: Bullsh!t, both
in the regular screen mode and in full screen. The picture is just glorious!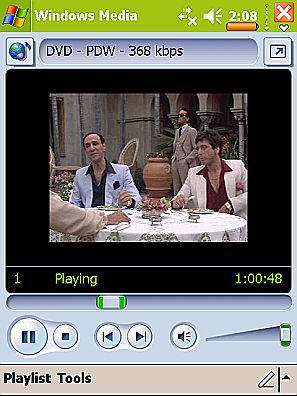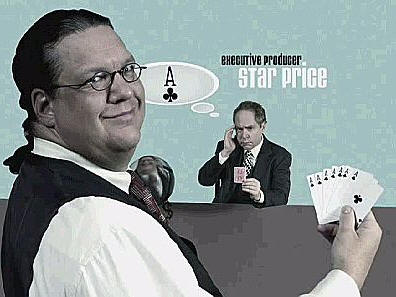 I'd much rather use this Pocket PC as a media player than one of the new
products on the market. With a PDA, you get so many more features.
Exactly right, and with one less device to carry!
Having such a large display and built in WiFi makes this PDA pretty
comfortable for web surfing. I remember when it was a real pain in the booty to
configure WiFi on a Pocket PC… Not so with the 4700. All I did was tap the
little WiFi icon at the bottom of the Today screen, click the settings button,
let it find my access point and I was on! It was really that easy!
Yes, this is something so easy to do that a newbie
will feel comfortable with it, seriously.
I do wish there were a little more WiFi info available to me on the 4700
though. Especially a way to view signal strength.
To do this, you will need an after market program.

The 4700 also has Bluetooth built in. Neither Judie or I use a phone that has
Bluetooth, so we did not test this feature.
Even though they won't exactly communicate properly,
I was able to easily "find" my Zodiac with the  iPAQ. Fat lot of
good it did me…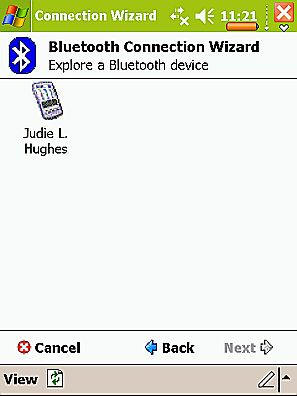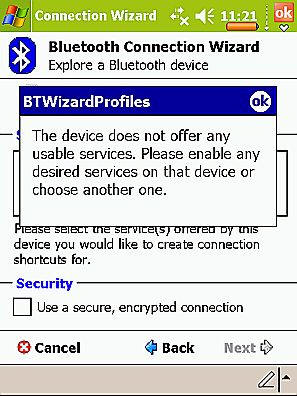 With the Intel® PXA270 624 MHz processor this new Pocket PC has the fastest
processor of any PDA to date. All that horse power helps make the 4700 pretty
snappy.
With that said, I have been disappointed that there
are still times when I have to look at the spinning primary color icon while
certain programs are accessed. Boot times after a soft reset can seem to take an
extra long time, and there have been occasions where my soft reset appeared to
'hang" that were remedied by an additional soft reset. None of these items are
necessarily cause for complaint, but I do feel they should be pointed out.
I haven't had any problems with soft resets hanging, but like you, I've seen
the spinning color wheel here and there.
As mentioned in the Hardware specifications section,
the 4700 has 192 MB total memory. Don't start getting excited about all of the
RPG games you are going to rush to load, though!  Of this memory, 128 MB is
Strata Flash ROM and 64 MB is  SDRAM. Basically what this means that there
is 80MB available in the iPAQ File Store and approximately 32MB available in
RAM. Think of the iPAQ File Store as an internal storage card, a safe place to
load programs so that they can be accessed by the PDA. If there is a loss of
power, the files will still be intact once power is restored. Julie – if there
is a hard rest will the files still be there???
Anything in your iPAQ File Store will still be there regardless if you lost
power, removed the battery, or performed a manual hard reset. I also found that
if you password protect your PDA using the built in HP ProtectTools, that setup
will survive a hard reset because the info is saved into the file store. This is
pretty nice because if you would happen to lose your PDA, someone with half a
brain might try to break into it by doing a hard reset. Now they can't do it.
Cool. I'm sure there might be a way around this, but I've not found it yet.
Be aware that no matter where a program is stored,
it will be moved to RAM when it is time for it to actually run. That is where
the SDRAM comes into play. The 64MB SDRAM is basically split in half. While
one-half is available for loading programs, the other half is necessary for
running the programs. Therefore, the fewer programs you can actually load in
main memory, the faster the PDA will run and the more program-running memory
will be available. Since there is only 64MB to begin with, it seems as if
without even trying the memory will just dwindle. This makes me think that 128MB
SDRAM would have been a wiser use of extra memory, rather than such a large File
Store…thank goodness for Pocket PC
Techs and their
RAM upgrade
service. But once again, I digress.
I'm not all that thrilled with the 64MB partition either. I only install
programs that absolutely must be installed on the device in that area. Right now
I think I only have two things installed there.
tdLaunch and
Calendar+. Everything else I install on my
1gb SD card. I then use the internal file store as my backup partition. I have
the built-in backup program set to backup everything every morning at 5am.
Interestingly enough, I have noticed that there
seems to be some kind of phantom SDRAM memory drain that I can't trace when
using this iPAQ. For instance, I can open a couple of programs, exit from them –
where they are truly closed, not still running in the background – and I will
notice over the course of the day that there is a memory loss of a couple of MB.
After a soft reset, the memory comes back. I have no idea what is going on since
it occurs even when there are no programs supposedly running, it's just
something I've noticed.
My guess is even when you go into the Memory manager app and manually stop a
program, that all of the memory isn't truly flushed all of the time.
I am sure you are right – it just seems that I am noticing it more with this
Pocket PC than I did with my iPAQ 1945…weird.
Since you mentioned phantom memory, I need to mention that I'm having an
issue with phantom program starts. Specifically ActiveSync. I have been noticing
that my 4700 will spontaneously power on every 15mins when it is not in the
cradle. I figured out that ActiveSync was still running on the PDA. So, I will
manually stop it in the memory manager app. But it will launch itself again on
its own after a little while. This is driving me nuts as it is causing my
battery to drain faster than normal. I have my automatic power off set to 3mins,
so every 15mins, the PDA is turning on and staying on for 3mins before it turns
back off. Soft resetting appears to have no effect. ActiveSync keeps starting on
its own. Has anyone else noticed this phenomenon?
You would think with such a big display, fast processor, WiFi, Bluetooth etc,
that the 4700 would be a real battery hog. Well, I haven't had much to complain
about with its 1800 mAh battery.
I conducted a test with

BatteryBench .NET where I ran the 4700 on half bright (my usual brightness
setting) to 5% battery life. The iPAQ lasted for 280 minutes, or a total of 4 hours,
40 minutes. This isn't bad, but if I had been running wireless, it would have
been significantly lower. That's why I have an order in at Buy.com for the extended removable/rechargeable
3600 mAh Lithium-lon battery.
As of this writing, it is on back-order everywhere, so I am not able to
accurately comment on how long it will actually last or how much bulk it will
actually add to the 4700.
I am ok with the 1800 mAh battery because I don't use mine for hours at a
time like you do when you are reading books. My usage patterns tend to be for
only a minute or two many times throughout the day. My routine has been to pop
the iPAQ into the cradle for an overnight charge every other day or so.
Right! For that type of use the battery should be
more than sufficient. If any of our readers keep their iPAQs on for hours
though, as I do when engrossed in a good book, they may want to consider the
extended battery.
Now let's move on to software…
Software
Included in ROM:
Calendar
Contacts
Tasks
Voice Recorder
Notes
Pocket Word (with Spellchecker)
Pocket Excel
Pocket Internet Explorer
Windows Media Player 9 (MP3, audio and video streaming)
Calculator
Solitaire
Jawbreaker
Inbox (with Spell Checker for email)
File Explorer
Pictures
Terminal Services Client
VPN Client
Infrared Beaming
Clock
Align Screen
Memory
Volume control
ClearType Tuner (except for Asian languages) 
ClearVue PDF
ClearVue Presentation
Synaptics NavPoint
Pocket Informant
Dockware
Pocket MSN
MSN Messenger
Bluetooth Manager
HP Mobile Printing: print to network and Bluetooth printers without any
additional software.
HP ProtectTools secured by Credant Technologies
iTask Task Switcher
iPAQ Wireless: utility to manage wireless connections
iPAQ File Store: non-volatile storage in flash ROM
iPAQ Backup: utility for Backup/Restore to Main Memory, Memory Card or iPAQ File
Store
HP Image Zone for Pocket PC: application to view and print pictures and create
slide shows
Utilities: Self Test, iPAQ Audio, Power Status
Included on Companion CD:
Full Versions-
ActiveSync
Adobe PDF Viewer for Pocket PC
Adobe Reader for PC
Afaria Management
Altiris Express
Flash Player for Pocket PC
Outlook 2002 Desktop
Trial Versions-
Audible Player
Cadenza (Lotus Notes client)
File Explorer 2003
ListPro
Presenter-to-go
Vindigo 2.0
Links to Software-
AvantGo
Call Manager
ClearVUE Suite (Word and Excel)
Handango
iPAQ backup upgrade
Media Player Desktop
Microsoft Games
SoftPhone
VTGo
As you can see, you get quite a nice software bundle with this PDA. Average
users could be very happy with the iPAQ right out of the box and not install any
other applications. Of course most people reading this review are probably
not average ;o)
While we're not going to talk about every application, we will touch on some
of the additions to Windows Mobile 2003 SE. First of all, there's the new WiFi
setup screens. Now there is a very simple interface to turn the built in WiFi
and Bluetooth on or off. Clicking the round buttons toggles the power status and
clicking the settings buttons allow you to change the various properties.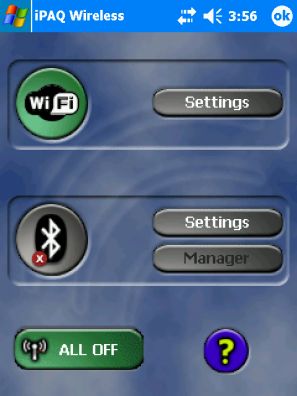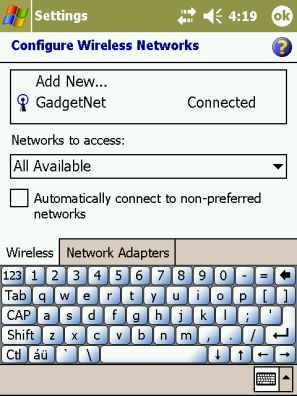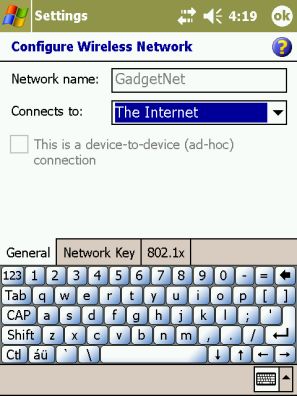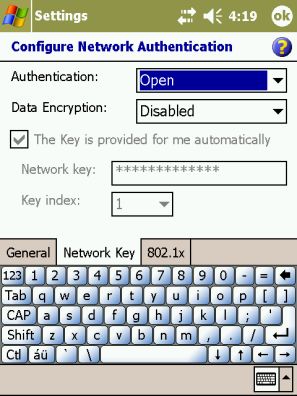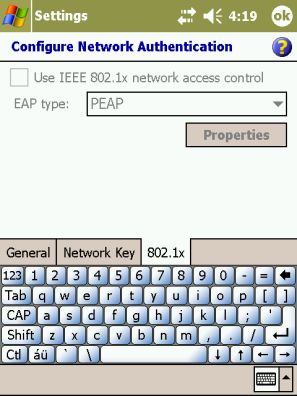 Another addition is the HP ProtectTools. With this application, you can set a
Password or PIN number to lock your PDA. and encrypt data in the main
applications. These settings survive even if your do a hard reset on your PDA.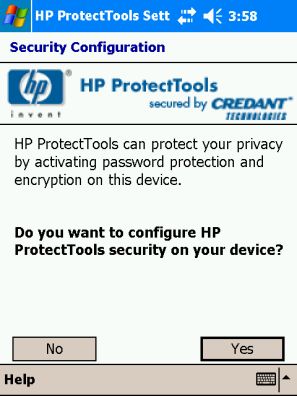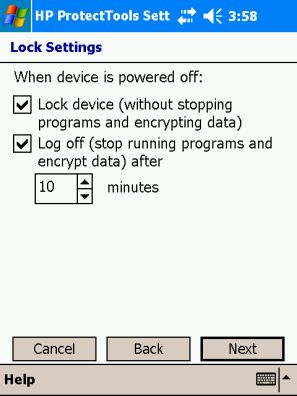 It's very important to have some kind of security
set on your PDA so that if it ever falls into the wrong person's hands, they
can't access your data. Though I would be willing to bet that most people (self
included) still won't use this feature. ;0)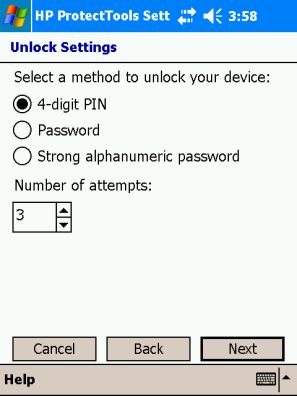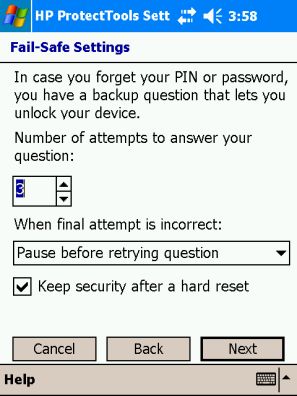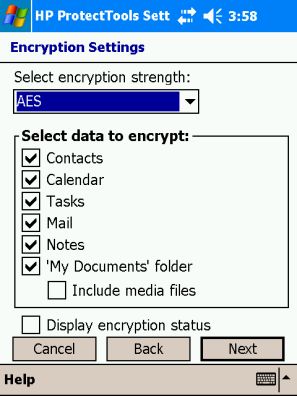 The HP Image Zone is a nice little image viewing application. It will allow
you to do slideshows with voice annotations, add and view text comments, email /
beam / print images and rotate images.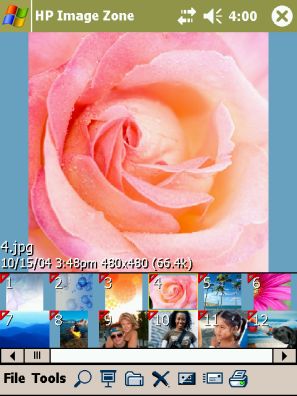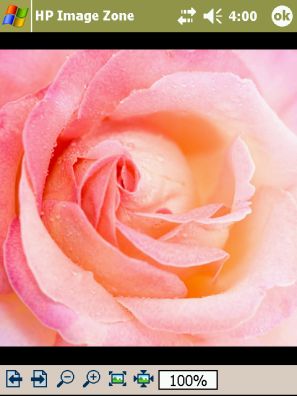 I think one of the best additions to the suite of iPAQ apps is Pocket
Informant. PI totally replaces the Tasks, Calendar and Contacts applications.
You don't have to use it if you don't want to, you can use the old standbys. But
once you get used to PI, you'll find that it's much more powerful.
As great as it is to have a version of PI installed out
of the box, you may still want to upgrade and get the full version.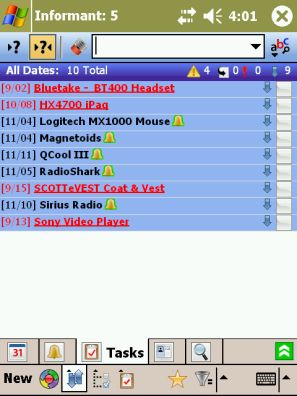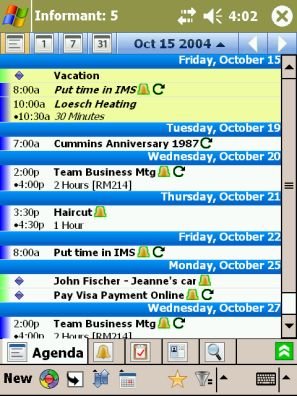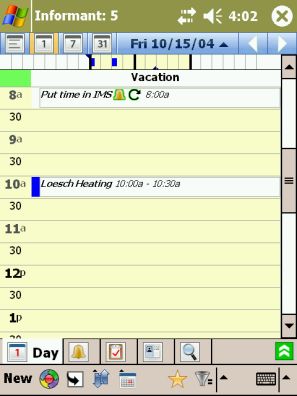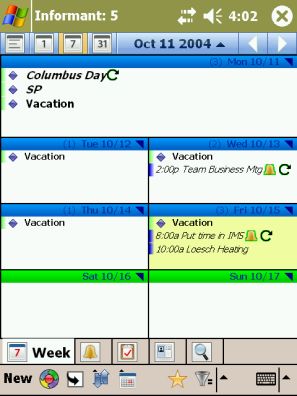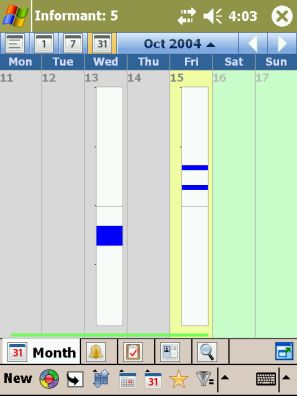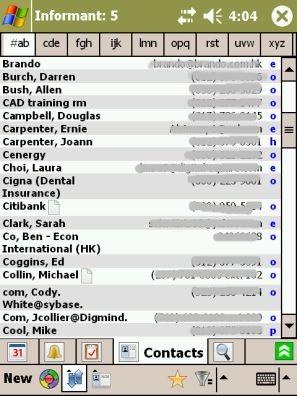 ClearVue PDF and Presentation viewer. The PDF viewer is rudimentary at best
and is much too slow to really be useful in my opinion.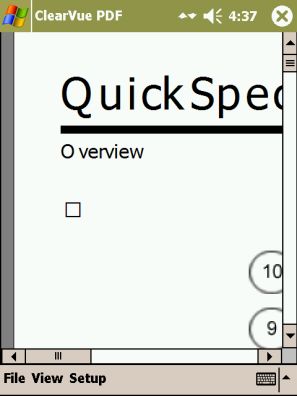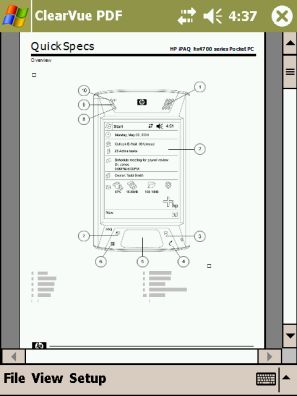 TodayPanel and Dockware are fun little additions. The TodayPanel gives you
easy access to some of the most used utilities from the Today screen. There are
5 icons. From left to right they let you access the options/today settings,
Power settings, Memory settings, Storage info, and screen brightness. The screen
brightness icon has a small active slider under it that you can use to adjust
the brightness in real time.
Dockware is a simple clock / calendar screen saver that pops up when you have
your iPAQ docked in the cradle. I used this for a bout
a day, then removed it. I found that I musch prefer seeing my PDA's screen
instead of a screen saver/calendar.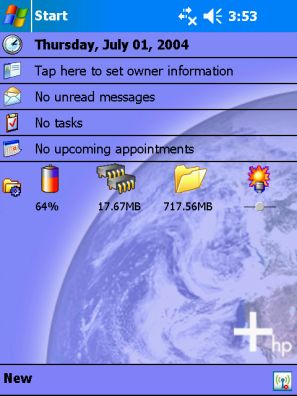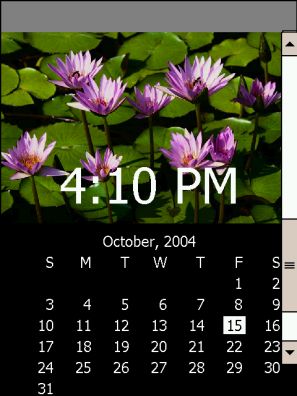 I guess it always comes down to the buy it or not question doesn't it? So
here is my personal view on the hx4700. I like the form factor and build quality
quite a bit. LOVE LOVE LOVE the display. I am happy with the built in WiFi.
Satisfied with the amount of available memory. Also satisfied with battery life
and system performance. I have no complaints about the software bundle either.
But I have to say that this iPAQ is way too expensive. $649?! Come on! But I
really can't complain about it too much because I bought it with my own moolah. I
could have purchased the new Dell to review instead. It's not like I'm rich or
anything… But I didn't. I had to have an iPAQ. It's a sickness…
Well, there were a couple of reasons I chose to buy
the iPAQ over any of the other VGA PDAs coming out this fall, among them being
the large gorgeous 4" screen, the metal body, the built in screen cover, the
processor speed, the built-in WiFi, the built-in memory, and the overall look of
the device. I like how the 4700 feels in my hand as I am using it. Much as I
don't personally care for the touchpad, I have come to terms with it and have
grown used to not having buttons or a directional pad protruding from the face
of my PDA.
I don't personally think that the iPAQ 4700 is too
expensive or priced out of line. Remember though, that I also bought the Sony
CLIÉ NZ90 for $799 when it first came out several years ago. This iPAQ
has many more built-in features than the Sony did, with the exception of the
built-in 2MP camera of course. When you consider that the iPAQ 3800 was $599
and the iPAQ 5400 was $699, the $649 price for the 4700 – considering
all of its built-in features – is fair and in my opinion, money well spent if
you want to stay with the iPAQ series.
You can buy the new Dell for $499. It has all the same feature except without
the metal body and .3in smaller display. While it isn't as sexy as the 4700, it
sure leads me to believe there is a big markup on these devices…
Really, my main and pretty much only complaint (except for the phantom
ActiveSync problem) at this point is with the touchpad. I just hate it. I mean I
really hate it. A lot. That said, I don't hate it enough at this point to ditch
it in favor of my 2215. I'm sticking with the 4700. How about you?
The touchpad is also the only negative
feature on what I consider to be the best Pocket PC device I have ever
owned. I spent almost a year using my Tapwave Zodiac2 because there wasn't
another PDA, Pocket PC or Palm,  that "spoke" to me. Well, this iPAQ hx4700
is calling my name, and I think it will be for some time.
Price: $649
Pros:
Brilliant 4" VGA Screen
Built in easily configured WiFi and BT
Built in screen protection
Metal Body
624 MHz Processor
Cons:
Price tag
Touchpad
Product Information
Price:
649.0
Manufacturer:
Hewlett Packard
Pros:

Brilliant 4" VGA Screen
Built in easily configured WiFi and BT
Built in screen protection
Metal Body
624 MHz Processor

Cons: