We use affiliate links. If you buy something through the links on this page, we may earn a commission at no cost to you. Learn more.
Product Requirements:
OS: Microsoft® Windows
98SE/Me/2000/XP, CPU: Pentium 233MHz or higher, Memory: 64MB minimum, Hard
Drive: 160MB, USB Port
A little over a year ago Julie posted her review on the
Neuros MP3 Digital Audio Computer from
Digital Innovations. Needless to say,
quite a few things have changed since then. While the original design of the
Neuros has basically stayed the same, the device capabilities have been
much expanded and improved. As with the original, the Neuros II is actually
composed of two pieces – the backpack and the player. These two pieces interlock
to form one very solid unit. Backpacks are available in the following
sizes:

20GB,

30GB,

40GB,

60GB, and

80GB, making the Neuros one of the largest capacity portable digital music
players available. I was sent the 20GB model. Other than the size of the
hard-drive, there should be no difference between this model and its larger
siblings.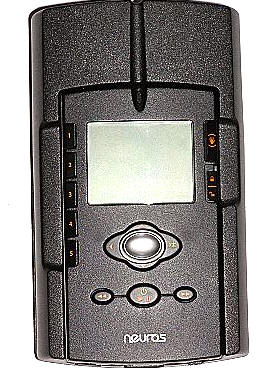 I have to admit that looking at it as simply a 20GB digital music player, I
was at first put off by the Neuros' size. It is definitely larger than many
other available players. However, it also has more built-in bells and whistles
than the typical portable. We'll touch on those in just a bit. First, let's take
a look at the device itself…
Hardware:
Included in the box are the Neuros digital audio computer, Neuros earphones,
wall power adapter, USB cable, car power adapter, Synchronization Manager
Application installation CD, and the Neuros User's Guide. I was quite pleased to
see car power adapter included, instead of it being an optional purchase.
Comprised of slightly textured black plastic, the Neuros actually looks like
a small brick. It measures 5.3" tall x 3.1" wide x 1.3" thick and weighs 9.7
ounces. Since the player must be attached to a backpack in order to work, this
is the total size of the unit. Applying The Gadgeteer creak test, I found that
the two molded halves that comprise the front and rear of the backpack will
move slightly when squeezed, causing a popping sound. Otherwise, the device
feels very solid, substantial and tough.
The front of the player has a microphone, ten buttons and a four-direction navigation pad.
The microphone is located near the top of the player, worked into the hollow of
the design accent.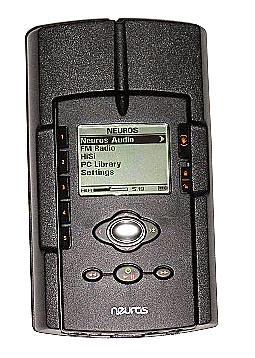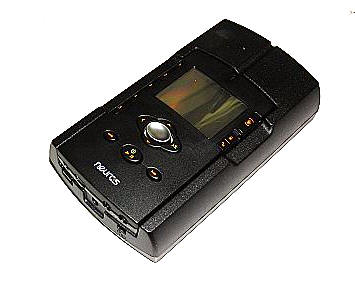 The five buttons on the left side are for programming immediate access to
favorite songs, albums, play-lists, radio stations or to set bookmarks.
Bookmarks are set by pressing and holding the desired button for a couple of
seconds. If a song or selection is preset during the first 15 seconds it will be
added from the beginning as the chosen preset. Up to five Bookmarks can be
created by pressing and holding a preset button at the location in a track you
would like to notate. Just to be clear, there can only be a combined total of
five presets or bookmarks, not five of each. In other words, one setting per
button.
The buttons on the right are (from top to bottom) the HISI / Record button
and the Keypad Lock / Unlock button. HISI, or "Hear It! Save It!" technology,
allows you to record a thirty second song clip from the radio (either the
Neuros' or your cars' through a line in) which is in turn tagged with the date,
time and radio station and then stored in the "To Be Identified" file. When
synchronized with an internet connected desktop computer, the song will be
identified. If you press the HISI button two times, then it will record until
you press the button a third time, switch stations, or press the left direction
on the joy pad.
The Keypad Lock/Unlock slider allows you to lock the buttons, keeping them
from being susceptible to unintentional pressing. There are times when this
might come in very handy.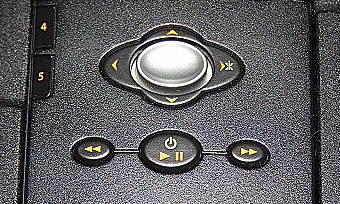 The four-direction navigation pad works in the following manner: Up is scroll
up or volume up, Down is scroll down or volume down, left is back / stop and
right is select. Those functions are quite intuitive, and without reading the
manual easily figured out. The remaining three buttons near the bottom of the
player are Rewind, Play / Pause (Power On / Off) and Forward.
There are no buttons or jacks on the top and two sides of the Neuros, so the
bottom is a hub of sorts. This is where you will find the Backpack Release
Button, the RF jack (for external antenna), the USB Connector Port, the Power
Connector, the Headphone Jack and the Line-Level Input Connector.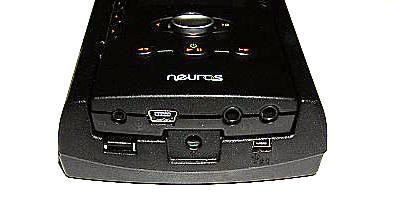 Here is a quick lineup of the Neuros' specifications…
Capacity: 20GB hard drive holds up to 5,000 songs (encoded at 128kbps)
Display: 2-inch (diagonal) liquid crystal display with orange LED
backlight, 128 by 128 pixel resolution, .21/.28 dot pitch 4 level gray scale
Size (with backpack):  5.3" tall x 3.1" wide x 1.3" thick, Weight: 9.7oz.

Audio: Maximum output power: 60mW rms (30 mW per channel)
Frequency response: 20 Hz to 20,000 Hz
MP3 format: (up to 320 kbps), MP3 VBR, OGG, WAV & WMA
Recording: 64-160 kbps MP3 format, 8, 44.1 & 48KHz WAV
Battery: Built-in rechargeable 800mAh lithium ion battery, 8 hours full charge
time, the LCD battery icon will blink when battery is fully charged
Playtime: 10 hours when fully charged (I got almost 9)
MyFi FM Broadcasting: 87 channel selection (87.5MHz-104.9MHz), Mono and
stereo modes, Maximum range of 20 feet
Frequency range: 20Hz-15kHz
Transmission Strength: 250 microV/M-2 at 3m
Input & Output: 3.5mm stereo headphone jack, 3.5mm stereo line-in jack,
2.5mm stereo RF jack (for external antenna), USB 2.0 (backwards compatible with
USB1.1)
Earphones: Earbud type earphones using Neodymium transducer magnets,
Frequency response: 20 to 20,000Hz, Impedance: 32 ohms
AC Power Adapter: input: 100V to 125V at 0.4, frequency: 50 to 60Hz, DC
output: 9V at .8 amp
Car Power Adapter: DC output: 9V at 1.0 amp
Presets: 5 programmable buttons
Operating temperature: -4 to 125 degrees F
Maximum operating altitude: 10,000 feet (unless in a pressure controlled
environment such as an airplane)
One of the key features of the Neuros is that its different memory
denominational backpacks are intended to be swappable. You can use the removable
player with any other Neuros backpack and swap them out to access different
content. Whatever size backpack your initial order comes with can be
supplemented with future orders of larger or similar sized backpacks minus the
player portion.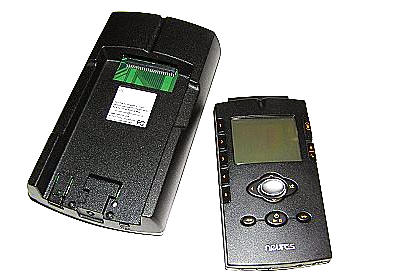 Getting the backpack off the first time is quite tricky. You have to press in
the release button on the bottom, and then scoot the player towards its bottom
and up. I am not ashamed to admit that I was about ready to throw the Neuros
through the window until I figured the system out. In fact, I waited until today
to finally remove it, since it wasn't a priority and it wasn't like I had
another backpack to swap with anyway. With that said, once the backpack was off,
I was a little bit concerned to see the exposed pins on the player and
exposed circuitry board of the backpack. I don't feel comfortable with the idea
of removing and reinstalling the player. That was probably the only fault I can
find with the design of the player, and it is probably not something the average
user will ever do – especially one that is lucky enough to order the 80GB
backpack to begin with.
The earphones that come with the Neuros are typical ear buds, which means I
can't comfortably wear them. However, I was surprised that for the few minutes I
tried them out they actually sounded pretty good. I did switch them out for my
Bang & Olufsen Earphones,
which sounded very good and were much more comfortable.
The only complaint I have about charging the Neuros is the same as the one
Julie raised –  There is no LED to indicate charging status. However, if
the screen is turned on, the LCD battery icon will blink when the battery is
fully charged. Interestingly enough, there is a little LED light inside the
backpack that will glow as the pack is charged. Too bad Neuros didn't swing that
light around to a part of the backpack that would show when the player is
installed.
Operating the Neuros is a cinch. The Power / Play button is pressed until the
amber lights come on, backlighting all of the front buttons and the screen. I
found navigation through the various menus to be intuitive. Selections and
directions were logical and didn't require the manual as a road map.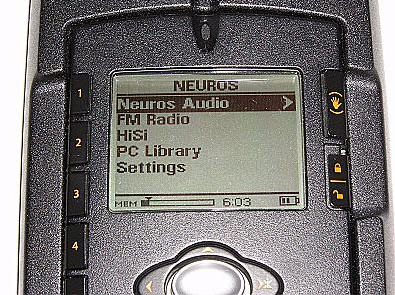 The Main Menu consists of  the selections Neuros Audio, FM Radio, HISI,
PC Library and Settings. These selections open into their own sub-menus as
follows: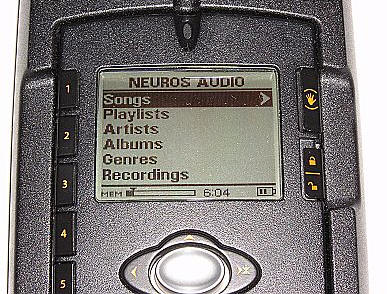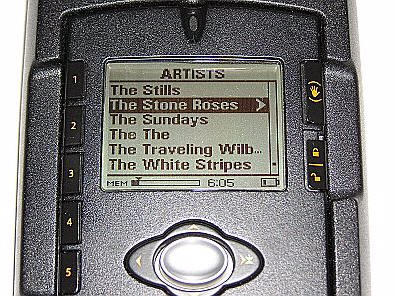 Neuros Audio – Songs, Play lists, Artists, Albums, Genres and Recordings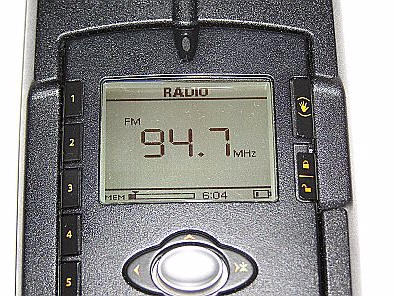 FM Radio – goes directly to the FM radio. Your earphones will act as an
antenna to improve radio reception.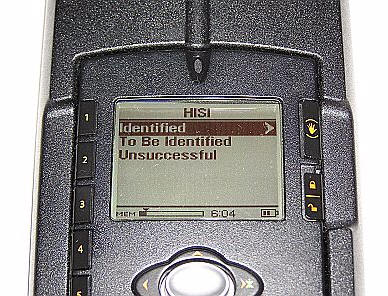 HISI – Identified, To Be Identified and Unsuccessful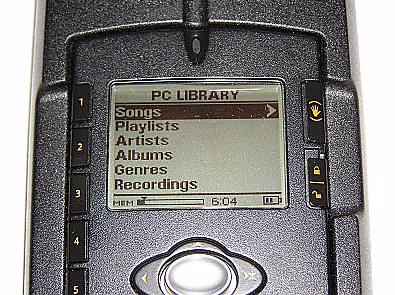 PC Library – Songs, Play lists, Artists, Albums, Genres and Recordings.
As Julie explained, "The PC Library feature which is available from the main
menu is pretty cool and really sets this player apart from all others. Say you
have a bazillion MP3s on your PC and don't necessarily want to copy all of them
to the Neuros. Now, imagine that you're away from your PC and are listening to
your Neuros and think of a song that is on your PC, but not the Neuros. You go
to the PC Library feature on the player and boom, you can now search through
your entire music catalog that resides on your PC. When you see the song that
you want, you can select it and have it added to the My Mix play list, or to the
song list. The next time you sync with your PC, it will copy that file to the
Neuros automatically!"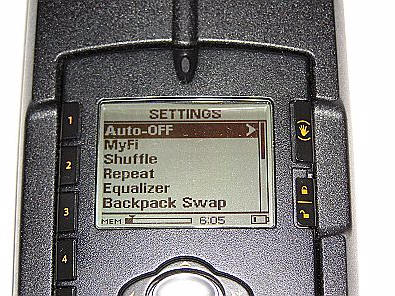 Settings – Auto-Off, MyFi, Shuffle, Repeat, Equalizer, Backpack Swap,
Presets, Backlight, Contrast, Sync Log, Record Quality, Date & Time, Restore
Default and Properties
Play lists can be created on the fly by hitting the select (right nav-pad)
button. Selecting "Add To My Mix" will cause the track to be written in, a
process which takes a second or two to complete.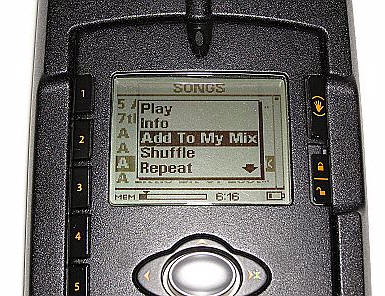 With up to 80GB memory available, it would be very tempting to use the Neuros
as a portable hard drive. Conveniently enough, you can. Without installing any
additional software, the Neuros is recognized as an extra drive by the host
computer when the USB cable is connected. Files can be moved to the drive and
stored there. What about songs? Well, you can copy and drag songs in MP3
VBR, OGG, WAV & WMA format from the host computer to the Neuros, but they will
not be playable until an Orphan Search is done through the Neuros
Synchronization Manager software.
The Neuros has a built-in FM transmitter, which is a feature I wish all
portable music players would implement. What this means is that when you are
within 20 feet of any FM Radio, the Neuros will transmit a signal to that radio
in order to be played through it's speaker system. This is by far one of the
most useful features any digital player can include for people who enjoy
listening to their music in their car. The inclusion of the car charging cable
makes the Neuros perfect for automobile use right out of the box.
It was on one of my many trips to Eldorado that I came to fully appreciate
the Neuros' toughness and features. Driving down ranch roads with the Neuros
stowed in one of the truck's cubby holes, I wasn't worried about the unit's
safety. Getting its signal to come in over the truck's radio was easy to arrange
using MyFi, the Neuros' built-in FM transmitter. This is accomplished by going
to Settings / MyFi / Auto Scan.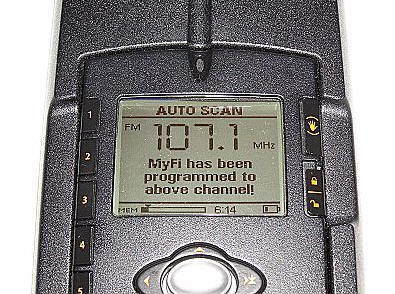 The Neuros can either automatically select a frequency for you, or you can
manually choose one. It is also possible to adjust the Gain, or transmitting
volume, from the MyFi menu.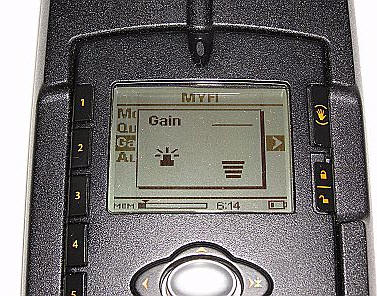 Switching back to using the headphones instead of MyFi is accomplished by
right-clicking on the nav-pad and selecting Stop. If you go to Settings / MyFi /
Mode / Auto Detect, then the Neuros will automatically broadcast when headphones
are not inserted. When they are inserted, the Neuros will know not to broadcast.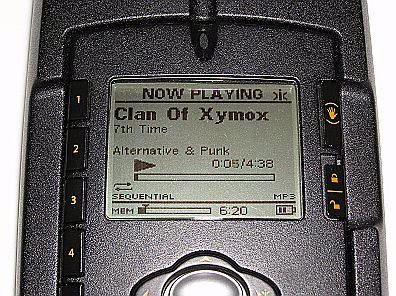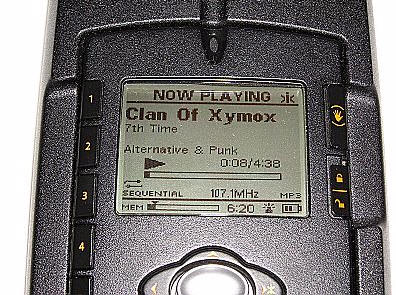 Right screen is transmitting, note the broadcast icon on the
lower right of the screen
The solidness of the Neuros so impressed me that  I didn't hesitate when
my 14 year old daughter commandeered the player soon after it arrived. I helped
her rip some of her own CDs, load the player, then turned her loose. She has
carried the unit in her backpack, hoody pocket and placed it in several
precarious perches. Obviously I am not advocating
abusing this player! But I am definitely saying that if you aren't positive you
can use a digital music player because you are fearful that you might "hurt" it
through typical "banging around",
then this is one that you should consider.
If you are interested in recording directly to the Neuros, you can do it
through the use of the onboard microphone or you can line-in straight to MP3 or
WAV. This is very handy for those who want to record music as it happens. Not
that I am advocating sneaking the Neuros into a Keane concert or
anything…although that is definitely a time when the Lock / Unlock feature
might be very handy.
The Neuros can also be used as a voice recorder. "There is a built in
microphone above the display, or you can plug in a microphone or a device with
an audio output into the Line-in jack at the bottom of the player. You have the
ability to define the quality of the MP3 recordings by choosing from sample
rates of 64, 96, 128 or 160 Kbps. The higher the sample rate, the more storage a
recording will consume. To give you an idea, 64 Kbps uses 500KB per 1 minute and
160 Kbps uses 1.25 MB for the same duration."
Music played back sounds very good, and with the choice of 64, 96, 128 and
160 kbps, as well as 8, 44.1 and 48 KHz,  you can decide the quality of your recordings,
whether in MP3 or WAV format.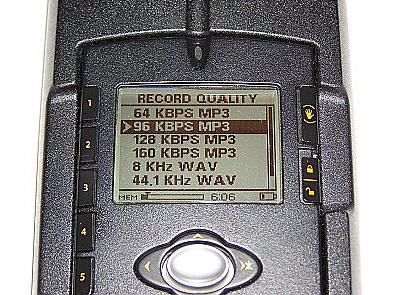 For those that like to tinker, there are six programmable equalizer settings.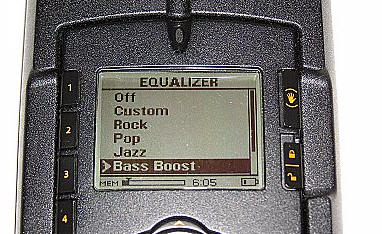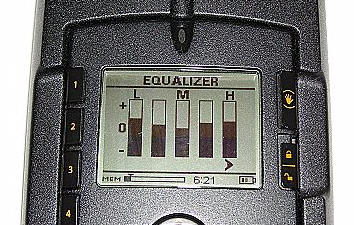 Software:
I will borrow Julie's statements from her previous review for this section,
as the software is essentially the same. Items in quotes and italics are her
words…
"On the PC side of things, there is the Neuros Synchronization Manager. This
is a pretty basic application that allows you to sync / copy MP3 files to and
from the Neuros, setup play lists and resolve HISI requests. Using [USB
2.0], you connect the Neuros to a free port. As soon as it is connected, the
Neuros will power on and initiate a sync. It will copy any HISI requests up to
the PC and grab any new music from the PC Library that you may have requested
from the Neuros. It will also check to see if there are new firmware or updates
to the desktop application that need installed. The only thing missing from the
PC software is CD ripping features."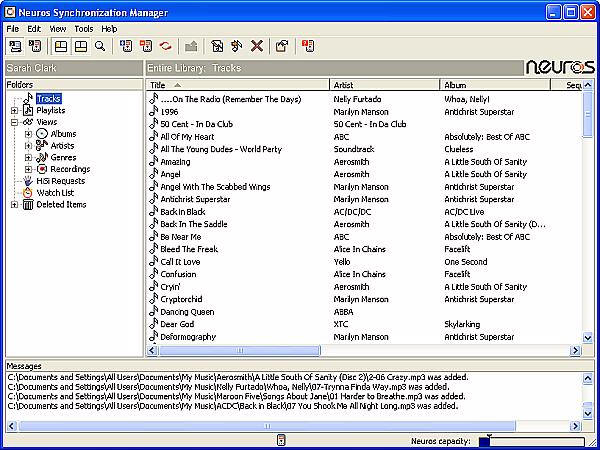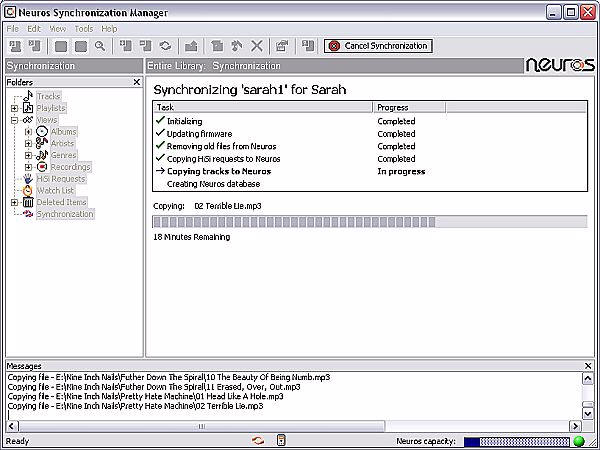 Perhaps one of the most attractive features of the Neuros is the fact that it
is Open Source. Yes, you heard that
right. On August 24th of this year, the following letter was posted in the
Neuros Open Source site:
"At long last, we have released the source code for the Neuros firmware.
It's largely the product of a devoted group of volunteers who have helped with
many aspects of the project. Thanks to all of you that contributed effort,
research or just moral support.
For those of you new to the Neuros, we feel that the Neuros has a number of
important advantages that makes it attractive to the OSS and developer
communities generally:
A powerful hardware platform including a very capable TI DSP, FM Broadcasting
and receiving, both flash and HD configurations (up to 80GB in capacity), a
built in mic and line in, and of course, very high quality hw analog/digital
converters for great sound. This hardware means that the potential of the device
includes a host of possibilities: broadcasting features including wireless data
transfer, a variety of new possible playback codecs, as well as all kinds of
audio signal manipulation and other "digital audio computer" functionality (just
use your imagination). In addition to our already robust recording features,
lossless codecs are possible as well. Not to mention that there are already four
versions of open source synchronization software available for the PC on a
variety of platforms.
As a company, we're willing to support the community in a way that not many HW
companies are, including releasing documentation and even schematics in addition
to source code. In addition, we've previously donated HW to sponsor worthwhile
projects which have yielded some of the features and improvements currently on
the device. And, as those of you familiar with Neuros already know, we have
always fostered an open and uncensored discussion environment.
Now it's your turn. We need your help to fully realize the vision of the digital
audio computer. Open source software isn't much good without a community of
developers. Most immediately, we need the tools to make the source code really
useful. We need to get the GCC compiler working, and we need a program loader.
Neuros will continue to contribute our enhancements on making the Neuros the
most advanced and flexible device out there, and your help can accelerate that
effort.
Thanks again to all those that contributed and welcome aboard to those of you
new to the Neuros.
Joe Born
President
Neuros Audio, LLC "
This is a company that is not restricting its users to a particular digital
music format. They are willing to release what other companies consider state
secrets in order to further the development of their device. In my opinion, that
makes an already superior digital music player an even better value for the
money.
If you are someone that mainly needs a portable music player to use while
jogging or pursuing other such activities, then for you the size of the Neuros
will most likely be a deal-breaker. However, if you want a portable music
library that can contain a massive amount of music – up to 80GB – and
that can both transmit and record digital music from a self contained unit, then
the size of the Neuros is and will be a non-issue.
Price: $249.99 as tested, up to 449.99 for the 80GB
model
Pros:
Playback of MP3, WMA, OGG and Wav formats
Play lists on the fly
Solid, substantial design that can take daily abuse
Big display
Built in radio, voice recorder and FM transmitter
Song ID feature
Cons:
CD ripping software not included
Exposed pins and circuitry board when backpack is removed from the player may
cause problems
Lack of visible battery charging status LED
Product Information
Price:
249.99
Manufacturer:
Neuros Audio
Pros:

Playback of MP3, WMA, OGG and Wav formats
Play lists on the fly
Solid, substantial design that can take daily abuse
Big display
Built in radio, voice recorder and FM transmitter
Song ID feature

Cons:

CD ripping software not included
Exposed pins and circuitry board when backpack is removed from the player may
cause problems
Lack of visible battery charging status LED