We use affiliate links. If you buy something through the links on this page, we may earn a commission at no cost to you. Learn more.
Product Requirements:
Works with Windows 98/SE/2000/ME/XP,
MAC OS 9.x or above, Linux 2.4 or above, USB 1.1/2.0 interface
Now that pocket-sized memory is becoming so commonplace, it was only a matter
of time before a company got the brilliant idea of adding it to an item of
theirs that many people already carry. I think I would be safe in saying that
quite a few of our Gadgeteer readers have a Swiss Army style knife in their
pocket or purse. Well, perhaps now might be the time to upgrade to the
Victorinox Swiss
Memory Knife, available from Think Geek.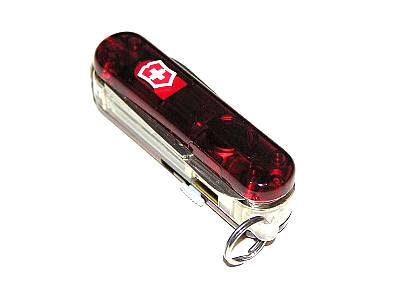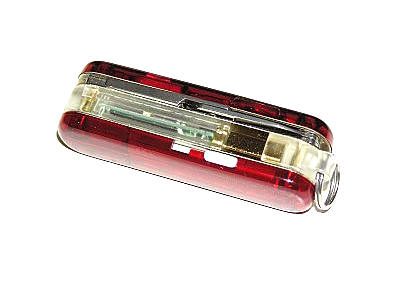 Measuring just 2.25" long x 0.25" wide x 0.75" thick and weighing only 1.1
ounces, this knife is only a bit thicker than the classic pocket version. This
model really packs a punch though, as it not only has the typical blade, nail
file with flat screwdriver end, ballpoint pen and scissors, it also has a
detachable 64MB USB flash drive as well as a red LED light. Can't you just feel
the Geek love? ♥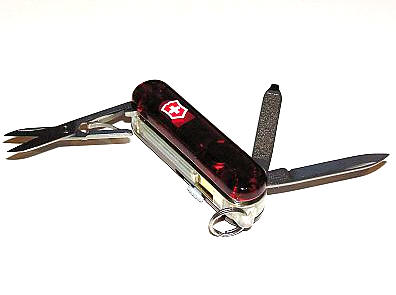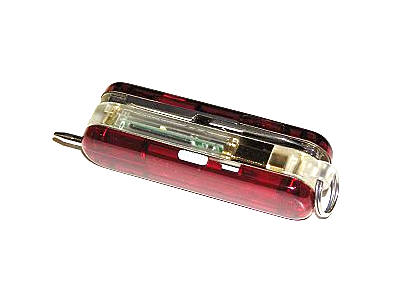 The pen, instead of completely sliding out as it does on other models, is
pushed out when you slide the gray retractor on the side of the knife. While the
pen can be completely removed, it is actually much easier to write with if you
use the body of the knife as the barrel of the pen. Of course, you are not going
to want to write your Magnum Opus in this manner, but it will do when you need
to scribble your autograph. Extending the nail file while you are writing makes
the "pen" a truly manageable length.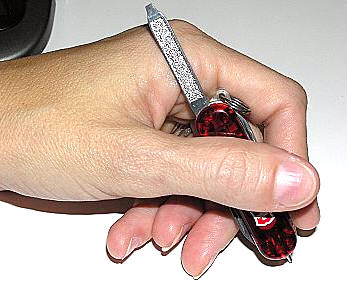 I do have to admit that I kind of miss the tweezers and tooth pick, though…
More than making up for their absence is the addition of the 64MB USB flash
drive. While you can leave the drive in the knife at all times, it is also
easily detachable for those hard to reach USB ports.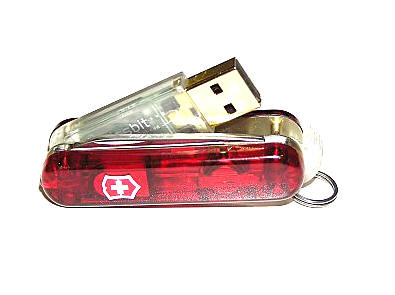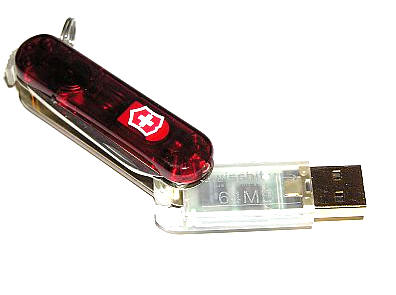 There is a small blinking LED on the card which indicates when read/write
activity is occurring. A 39.5" male/female USB cable is also included for those
who might want to leave the cable in place and not have to remove the drive from
the knife. This is a thoughtful included convenience.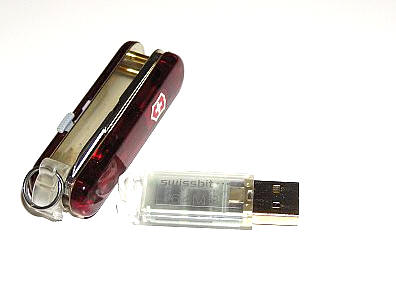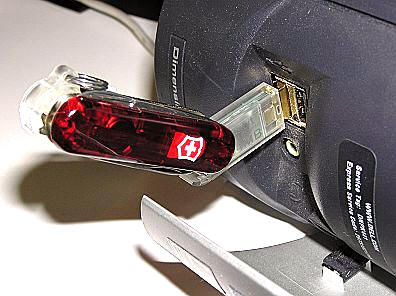 Lest you think that this is some cheesy unprotected flash drive, I can
relieve you of that fear right now. This is a
SwissBit drive, which
uses SecureLOCK
technology. In layman's terms, this means you have the option of protecting
none, all, or just a portion of your data from prying eyes.
Plugging the knife into a USB drive creates a separate drive and allows a new
drive window to appear…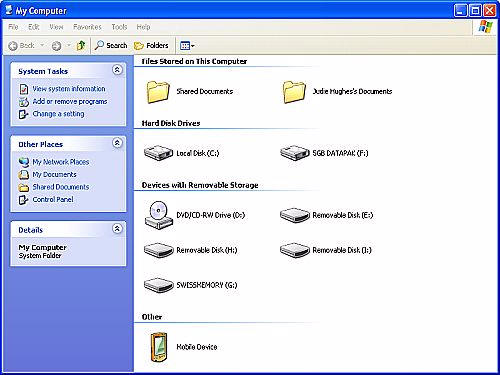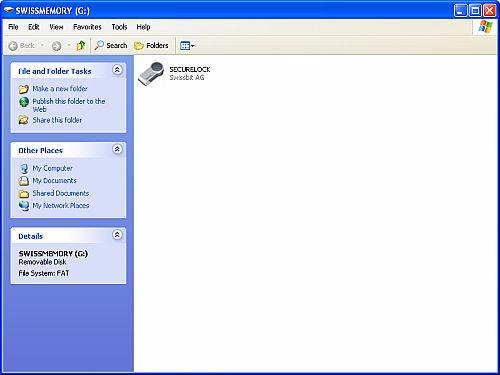 If you do not want to bother with security, you can transfer items directly
to this drive, without entering the Secure Lock portion.  I
transferred a 32MB Money file to the disk to this unsecured area, and it took 37
seconds.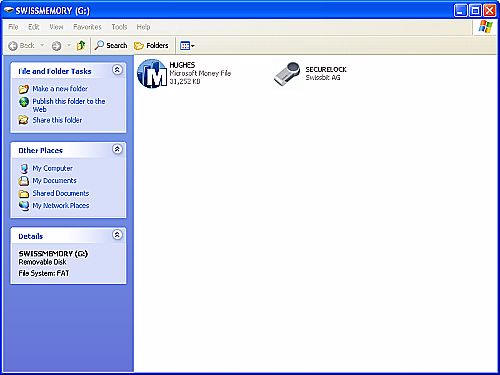 A better place to keep such a private file would of course be under password
protection, so I decided to set that up. Clicking on the Secure Lock 
icon revealed the set up screens…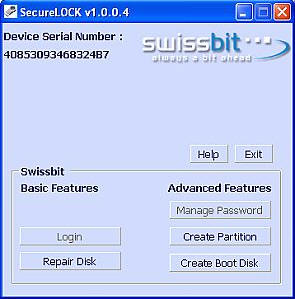 The first step is to hit the Create Partition button.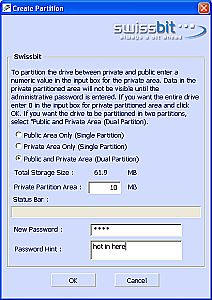 Here you can determine how much of the disk will be private, and then you
need to set a password and reminder. It is best to do to do this on a blank
card, as any stored data is about to be erased.

Once the partition is formed, you will see this…

…meaning it is time to remove the card and then reinsert it.
This time, when the Secure Lock icon is clicked and the correct password is
entered, you are taken to a blank drive window, just ready to be loaded with
secret files…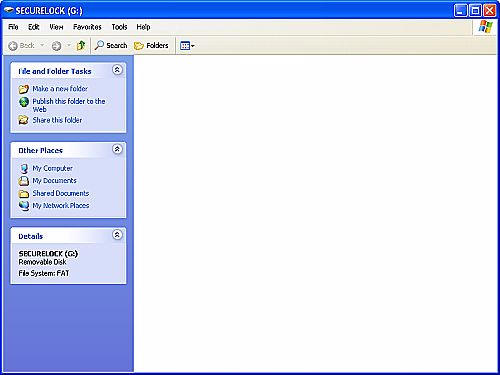 Pretty cool, huh?
This way should you ever lose your knife you won't have to worry about the
new owner discovering your recipe for
cold fission.
☺
We are still not done, though – there is one
more feature that we must discuss – the built in red LED spotlight, which is
accessed by pressing the Victorinox shield on the top of the knife.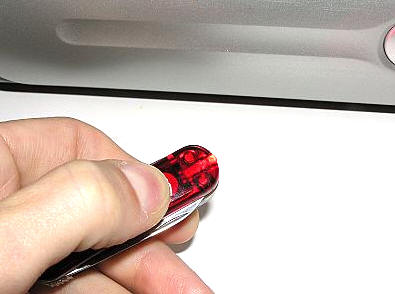 The resulting red LED light is perfect for sneaking through dark offices
without ruining your night vision…cue the James Bond music now!
The Victorinox Swiss Memory Knife is a must have for those of you that carry
a pocket knife and want a portable, password protected way to transfer files
between computers. Christmas is still quite a ways away, but it is never too
early for making plans. This knife and memory combo would make a fab
stocking stuffer for your favorite Geek. If you are your favorite Geek,
then there is no better time than the present.
The Victorinox Swiss Memory Knife is
available at Think
Geek and other retailers.
Price: $69.99
An Airport friendly version is also available for $64.99
Pros:
Excellent combination of quality pocket knife and protected USB 2.0 Flash Drive
Can enable protection for all, none or a portion of drive
LED light is a nice touch
Cons:
None

Product Information
Price:
69.99
Manufacturer:
Victorinox
Pros:

Excellent combination of quality pocket knife and protected USB 2.0 Flash Drive
Can enable protection for all, none or a portion of drive
LED light is a nice touch

Cons: