We use affiliate links. If you buy something through the links on this page, we may earn a commission at no cost to you. Learn more.
Product Requirements:
Device:
HP iPAQ 1900 series Pocket PC
 
Ever since I got my ipaq 1945 for Christmas, I've dreamed of the perfect case for it. Is this case it? Read on to find out…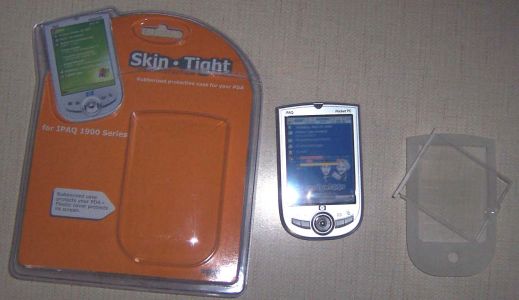 When I got received the SpeckProducts iPAQ 1900 series case, I did a little dance. I absolutely fell in love with this style case after I read Julie's iPod Skin review (I'm one of those viewers who reads every single review-reguardless if I am interested in the product or not!). I have previously owned Speck PDA Screen protectors that I bought off of eBay, and I have come to love the comapany. They stand for quality and support in my book.
The iPaq skin is available in 3 colors: lime, blue, and clear. Speck sent me the clear. If you like more than one, you can get a 3-pack.
This case is very similar to the iPod Skin, reviewed by Julie. In fact, it is made of the exact same material. This rubbery material (called KRATON) acts as a shock absorber to help prevent damage to the PDA. It weighs only 1 oz and is about .1 inches thick. The PDA is entirely enclosed in skin—except the sync port, record button/IR window, stylus silo, SD card slot, headphone jack, and select button. The case's back is "ribbed for comfort" and ease of grip. The entire case is textured, so I'm not sure how well the grips help, but whatever. Under the ribs is the speck logo.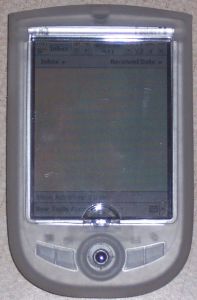 The case also has a clear plastic window. This allows you to look up a quick phone number or appointment without ever opening the case. It does have a place to grab hold of it to open it, and it opens to about 130 degrees. I love the built in screen protection, and the convenience of the window!

The power button and app buttons are covered in skin. The skin actually makes the power button a lot easier to press, it now takes almost zero force to turn on and off the PDA. The same for the left, right, up, and down D-Pad buttons. The app buttons are covered, and this makes them a little stiffer to press, compared to naked buttons. They're not impossible to press by any means, but not as easy. One of my major complaints about the case is the select button. It is left uncovered, but it is very difficult to press. Nearly every time, I find myself pressing either the left or right buttons on the D-pad. This is, even on a naked PDA, small and difficult to press, and is exacerbated by the thickness of the case.
Insertion of the PDA is very simple. You simply insert the PDA into the window opening and stretch the case over the PDA, then replace the window cover.
Another complaint I have is the reset button is covered. This isn't that big of a deal, as you can simply poke a hole out of the case with a pocket knife or X-Acto knife. It's fairly simple. I made a small "X" with my knife, and resetting is a breeze!
My final complaint is the packaging. It is that darned plastic bubble packaging that I completely loathe. I think they should make it the type that can come apart by "buttons" at the top. Instead, it is the typical fused plastic that can only be opened via atom bomb! No, seriously, I just used a knife, but it is very thick, and I had to do more "sawing" that I felt necessary.
Once you "customize" this case by cutting a reset hole, there is no need to ever take the PDA out, as you can sync the PDA using the cable you got with the PDA. I don't have the cradle, so I can't comment on that. I love this case, it is officially replacing my Belkin leather case! Thanks, Speck!
Price: $24.95 for one, $34.95 for a 3-pack
Pros: 

Shock-Absorbing Material
Great Screen Protection
Better Grip on PDA
Doesn't add much noticable weight or thickness
Cons: 

No Reset Hole
Select and App buttons harder to press
Product Information
Price:
24.95
Manufacturer:
Speck Products
Pros:

Shock-Absorbing Material
Great Screen Protection
Better Grip on PDA
Doesn't add much noticable weight or thickness

Cons:

No Reset Hole
Select and App buttons harder to press