We use affiliate links. If you buy something through the links on this page, we may earn a commission at no cost to you. Learn more.
Product Requirements:
Tapwave Zodiac
Updated on March 8, 2004 – all new comments
are in red.
Not long after I received my Tapwave
Zodiac2, I started looking for custom accessories to use with it. While I
still haven't found a single case in which I would want to keep the Zod's curvy
shape hidden, I have found a quality replacement for the stock stylus.
You may recall my previous review for the iPAQ 3800
Antenna Stylus, and how impressed I was
with that product. I am pleased to tell you that Mark Hammill, the creator and
driving force behind Metal Styli Ltd.
has expanded his line to include my Daily Driver, the Zodiac.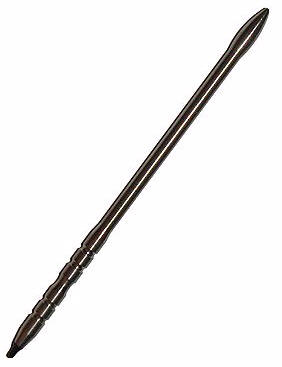 Photo courtesy of Mark Hammill and Metal Styli Ltd.
Called the
Bolt,
because its design "reflects a combination of a dart and an arrow," this
stylus is a work of art composed of stainless steel. Measuring 4.4" (10.8cm)
long and weighing 0.3 ounces (9g), the Bolt is a sleek little flash of silver
that you can keep in the rubber grips on the back of your Zodiac, in place of
the stock stylus. It adds a bit of flair to an otherwise staid device.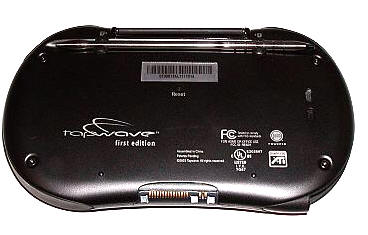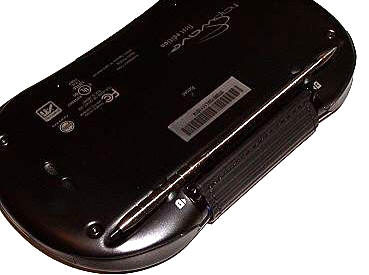 The Bolt features a black nylon tip that glides on the surface of the PDA's
screen, either with or without protection.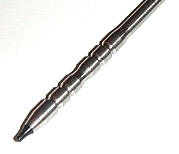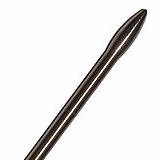 Photo courtesy of Mark Hammill and Metal Styli Ltd.
As you probably noticed, the metal end also has a bit of a point on it. Due
to nature of the original Zodiac stylus design,  it seemed like I was often
trying to write on the screen with the "wrong end" of the original stylus.
Perhaps because the Bolt has a more defined shape, I have no longer noticed
making that mistake. For fun, I gave writing with the metal tip a try (on a
protected screen, of course) and was pleased that it was actually feasible. For
those of you that have been wanting a double-tipped stylus, this is as close as
it gets right now. Just be sure to err on the side of caution and always use
screen protection.
I was a little bit concerned when I first received my Bolt, because I was not
able to perform a soft reset with the stylus tip any longer. In theory, this is
probably an advantageous thing, since resets can't be good for any
stylus's tip, but it sure isn't convenient. I figured that I might need to start
carrying a paperclip around, like I used to in my early Palm days. However, I
found that the Bolt's metal tip was just pointy enough to fit in the reset hole
– perfect!
As is always the case when dealing with a stock silo, due to size constraints
the replacement stylus can't be much thicker than the original. The replacement
stylus can however, look better and feel much more substantial than the
original, which is definitely true in this instance. The original Zod stylus
weighs in at 0.1ounces, merely a third of what the Bolt weighs. There is also no
doubt as to which stylus looks better.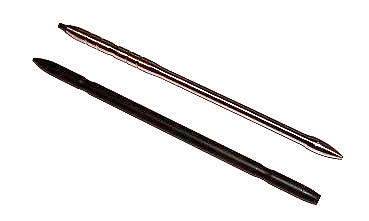 Original stylus on left
For those of you that aren't satisfied with a run of the mill stainless steel
replacement stylus, Metal Styli Ltd. also offers custom styli in precious
metals. I have purchased a

Sterling Silver Bolt and will update this review with photos and impressions
once it's received.
I have been using the Bolt since December, and there is no way that I would
go back to the original. Mark has designed a beautiful and functional
alternative to the stock stylus that will be especially pleasing to those who
appreciate bright shiny objects – such as myself. For those that won't admit
wanting it merely because of its visual appeal, the purchase can be justified by
calling this stylus an object for personal defense.
☺
Mark Hammill's metal styli can only be purchased from one of
these sources.
Those of you that want something a bit more ritzy
than stainless steel might be interested in the

precious metal custom styli that Mark offers. Since the gold and platinum
versions are not in my price range, I ordered a sterling silver high-luster bolt
stylus-  which at $145 isn't cheap, but in the grand scheme of things is
relatively inexpensive.
Compared to the stainless version, the high luster
sterling appears to be a slightly lighter shade of silver. It has a slightly
chunkier appearance and weighs a bit more more – which is a good thing. The
sterling version is the exact same length as the stainless, but weighs 0.4
ounces (12g) versus the stainless version's 0.3 ounces (9g). The proper British
precious metal hallmarks appear on the side, which adds to the luxurious overall
feel of the stylus.
I don't know how to properly explain the feeling that
using a precious metal stylus imparts, but it is almost like indulging in a
guilty pleasure. It's an extravagant thing that you can do for yourself that no
one else will likely ever notice.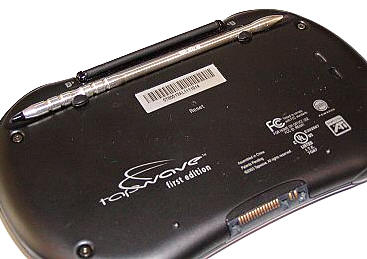 Sterling Silver Bolt stylus (front) and the
stainless version (rear); note the three separate hallmarks on the Sterling
version
The sterling version is not going to suddenly make you
a successful businessman or woman, it will not make your smile brighter nor will
it make your hair grow back if you are balding. It will however, give you a
private thrill every time you use it.
I can't speak for the yellow gold version, but using
the sterling silver is one of those subtle things that others "in the know"
might recognize, but its use will not earn the owner dirty looks from other more
frugal acquaintances and co-workers. As a personal extravagance, I just can't
think of another item that might accomplish the same deed…well, except for an
Hermes Birkin Bag, but I digress…
Price: $25.50 for the stylus + $4.95 for the user
replaceable tip
Precious metal styli start at $145 for the silver versions
and travel upwards from there. Complete price list can be found

here.
Pros:
Substantially heavier than original stylus
Much more stylish
PDA can be reset with pointed metal end
Cons:
None
Product Information
Price:
25.5
Manufacturer:
Metal Styli Ltd.
Pros:

Substantially heavier than original stylus
Much more stylish
PDA can be reset with pointed metal end

Cons: