We use affiliate links. If you buy something through the links on this page, we may earn a commission at no cost to you. Learn more.
Product Requirements:
A vehicle with an easily accessible
cigar lighter/power point
With the cold temperatures most of the country is facing at this time of
year, it is hard to believe that there is an end in sight. That the spring thaw
will come, and soon following will be the inevitable road trips, spring break
excursions, summer vacations and visits to see relatives across the state and
across the country. When you make those drives, I can guarantee that there will
be electronic items coming along for which you don't have a car
charger.
How would you like to be able to be able to recharge the camcorder as you
travel down the highway? Or how about running the 13" TV/DVD or VCR combo you
brought from home for the kids to watch in the backseat?
Or maybe, like me, you own a PDA for which there isn't yet an optional car
charger. On my Zodiac, there isn't a
handy little round AC adapter plug on the bottom like some PDAs have. Therefore, 
I can't use a power adapter
such as I reviewed not long ago. What I need is a 12 volt power inverter.
I have looked at power inverters that accept the prongs of a typical US power
cord in the past, but I have been put-off by either their size, expense, or
quality. Most of the power inverters that I have seen are relatively large. They
will generally have an electrical cord with a cigar lighter adapter on one end
with the cord's other end entering what looks like a typical car stereo
amplifier. I have seen a few compact  inverters, but they appeared to be
cheaply made – something that I wouldn't trust to properly power my laptop or
PDA. But now I have found a solution that properly embodies the size I want with
the quality I expect, for a price that doesn't send me into shock.
Xantrex, manufacturers of "advanced
power products" since1983, has introduced a line of
Micro-Inverters.
This line includes models that are extremely well made and that don't feel or
look cheap at all. These inverters come in various configurations to fit
consumers' needs. Today, we will take a look at the
XPower Micro
Inverter 175, which is being marketed as a "mobile office companion."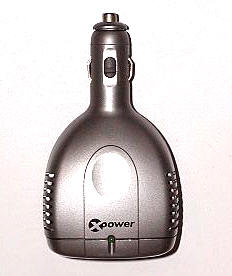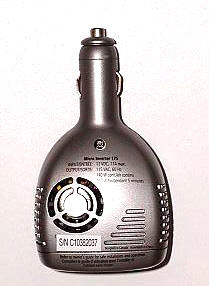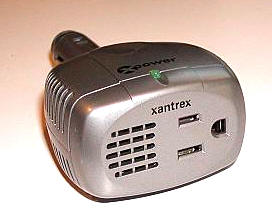 According to the Xantrex website, the 175 is the "smallest 175-watt power
inverter on the market today." By using this inverter, you can power
household electronics that use 115-volt  VAC electricity by converting VDC
power drawn from your vehicle's 12-volt battery. By using a converter such as
this – one that electronics can plug right into – the need for multiple travel
chargers is eliminated, which saves you money. There are even several other
inverter models available which can accept more than one power cord.
To protect from overload the inverter will shut down if it gets too hot, if
your vehicle's battery runs too low or if the internal fuse blows from a power
surge or overload. A green LED glows on the top side of the inverter when it is
plugged in, indicating that there is power available.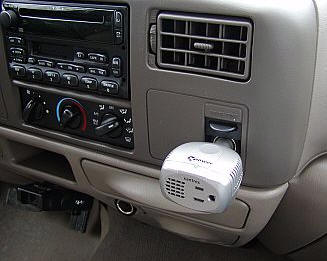 The XPower measures 5" from end to end, is approximately 2.5" wide and 1.5"
thick. It weighs a surprisingly hefty 5.5 ounces. The outer casing is composed
of solid matte silver plastic, interspersed with air openings. The bottom has
openings cut to expose the built-in cooling fan. The unit feels solid and does
not creak when squeezed. When you plug the inverter in, there is a very faint
whirring as the fan spins. The XPower will warm up a bit as it is used, so
nothing should crowd or touch it while running.
It's wild to be able to power electronics you might not normally see in a
vehicle…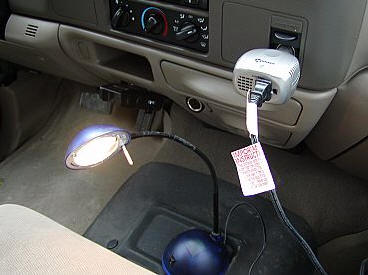 About the only downside I can see to the XPower is that since it is such a
compact all-in-one unit, it needs to be installed in a power point that has
unfettered access. This means that I can use it in my ranch truck, a Ford F-350
but I can't use it in my personal vehicle, a Mini Cooper.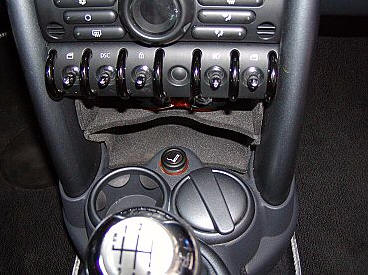 Note that there is no room to plug the Xantrex in due to the
location of  the power point
As long as you have a vehicle with an easy-access power point, the Xantrex
XPower will work its miniaturized magic. Its solid construction and safety
features, backed with a one year warranty make me feel safe about using it. This
inverter is a great accessory when you need power access for your electronics
while on the road. Since it is so compact, it can even be kept in your vehicle's
glove box – which is where mine will be kept.
Price: $44.99
Comes with a one year manufacturer's warranty
Pros:
Compact all-in-one unit that is easily portable
Solid construction
Safety features are in place to prevent overloading, vehicle battery draining or
overheating
Cons:
Does not work in a vehicle with a hard to access cigar lighter/power point
Product Information
Price:
44.99
Manufacturer:
Xantrex
Pros:

Compact all-in-one unit that is easily portable
Solid construction
Safety features are in place to prevent overloading, vehicle battery draining or
overheating

Cons:

Does not work in a vehicle with a hard to access cigar lighter/power point