We use affiliate links. If you buy something through the links on this page, we may earn a commission at no cost to you. Learn more.
Product Requirements:
A laptop computer that measures under
15.5" wide x 11.5" tall x 2" thick
There are certain occupations where any form of individuality is frowned
upon. You know the type that I am talking about – ones where all employees wear
a basic uniform of blacks, dark grays and a shirt in the occasional muted color.
These are the professions in which solid black accessories are expected, and
everything is governed by the "no-flash" rule – all the way down to the laptops
and PDAs that the staff carries. In the end, this policy causes each individual
worker to blend into one homogeneous unit.
Then there are those jobs where employees are allowed to express their
individuality. These are work-places in which it is encouraged, perhaps even
expected that creative juices are flowing and personal expression is a window
into the artistic mind of the worker. While black would be used in many
accessories, these items would have to display more panache than average. 
Of course, there are also work-places where the employer doesn't particularly
care what its employees are wearing, or what accessories they are carrying, as
long as the work gets done and no one is arrested for indecent exposure.
If you happen to work for the first type of employer that I mentioned, then
there are literally tons of acceptable business accessories for you to
chose from. Every accessory manufacturer cranks out black items. Even if the
materials used are luxurious or the style is fashionable, these items are still
in basic black which allows the purchaser to safely blend in and not draw
attention to themselves.
If you are lucky enough to work for the latter two type employers,
accessorizing can be tricky if you don't want to go with basic black. It is not
so common to find manufacturers that are willing to create business accessories
in color, much less "look at me" styles. If you are a fashionista, then
this can present a problem…
Enter She-Tech, a company founded by
Patricia Joseph (a former fashion and web designer), which offers "stylish
laptop cases for the fashion-conscious, tech-savvy woman." Speaking for
myself, a woman that has grown tired of searching for a non-conformist laptop
bag, I find it refreshing that a company is willing to step up to the plate and
cater to a non-mainstream market.
At this writing, She-Tech offers one basic style
Laptop Case, which is
available in five eye-catching color variations. I was sent the
Platinum, but there are
also the following from which to choose: Brass, Bronze, Gun Metal and Black
Microdot…yes, there is still something for those that need not-so-basic black.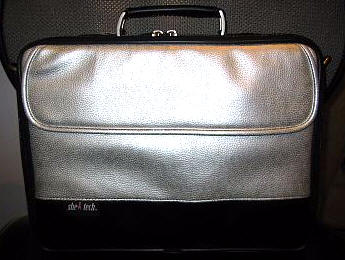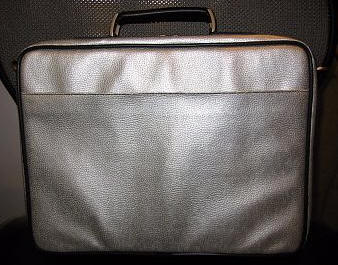 Obviously, this laptop case is not for the faint-hearted! Composed of a
padded platinum material with a leather-like grain and trimmed with black
accents and nickel-finished hardware, the She-Tech bag is certainly
eye-catching. Does the flashy exterior hide a functional work-horse? Let's take
a look…
Styled in the lines of a traditional briefcase, the She-Tech bag has a
rectangular shape with a padded top handle.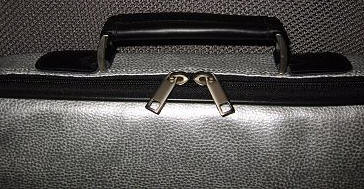 The exterior of the bag measures 16" wide x 12" tall x 2.5" deep, and the bag
weighs 2.6 pounds. For hands-free carrying, there is also an adjustable, nicely
padded removable shoulder strap. This strap can be worn either on the shoulder
or across the chest, bandolier style. The only problem I had with the strap was
that it seemed to want to slide off my shoulders. Although a "grippy" material
is on the pad, it looks like an even "grippy-er" material might be in order.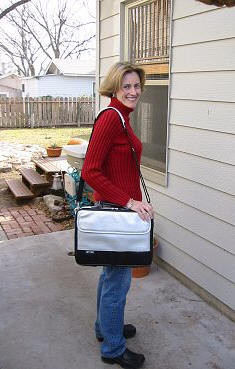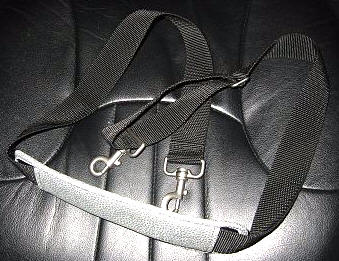 The front of the bag sports a deep slash pocket which is kept closed with a
Velcro tabbed flap. The interior of the pocket is lined in a diamond rip-stop
fabric.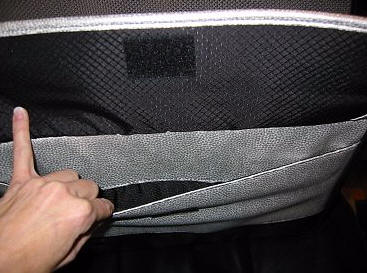 There is a thin She-Tech logo ribbon on the lower left front of the bag. If
the bag's owner prefers no labels, then it should be extremely simple to snip
this one away.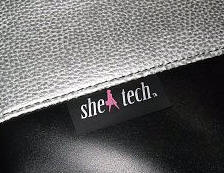 The bottom of the case has a set of 1.5" x 2" rubber feet that should
sufficiently protect the bag when it is set on anything. Depending on how the
bag is loaded and how everything balances out, you may or may not be able to
safely stand the bag on these feet without support.

The back of the bag has a second deep slash pocket. Instead of utilizing a
flap cover, the pocket can either be secured with it's discreet inside patch of
Velcro or it can be left unfastened while carrying taller items, such as
folders. This pocket is also lined in the diamond rip-stop fabric.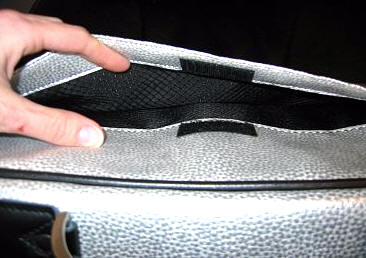 Two oversize nickel-finished zipper pulls open to reveal a functional and
protective diamond rip-stop fabric lined interior…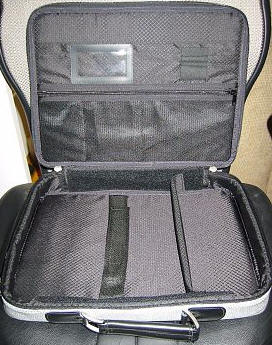 The thickly padded "lid" of the bag is set up to operate as a wallet of
sorts. There is a plastic window that holds your ID or a business card, and an
open deep slash pocket that would be perfect for file folders or other papers.
Two regular sized elastic pen loops and an oversize loop ensure that you can
carry your writing pen, mechanical pencil and a large dry erase marker or other
similar sized writing instrument. There is a see-through mesh area that is
divided into three sections running along the bottom half of the lid. This area
is perfect for carrying a cellular phone, PDA and other small items that will be
held securely by the zipper that runs the entire length of this section.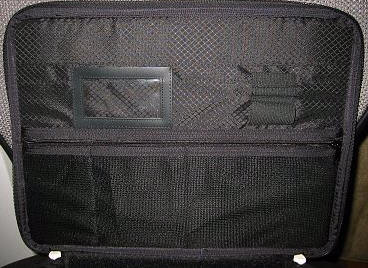 The thickly padded body of the She-Tech case is sized to hold a laptop
computer that measures up to 15.5" wide x 11.5" tall x 2" thick. A thick webbed
strap securely holds your laptop in place with a generous strip of Velcro. I
should probably interject right here that the three aforementioned places Velcro
is used in this bag are proper and unobtrusive. While there is no getting away
from the "rrrrip" sound as the Velcro is opened, small enough pieces were
used that the effect is not overly obnoxious.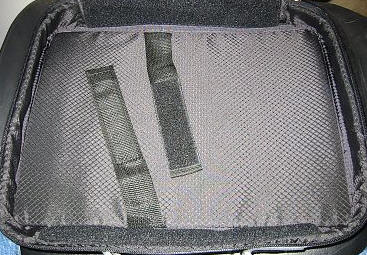 If your laptop is of a smaller nature, then you can use the removable padded
divider strip which attached with Velcro to create a sub-section for storing
cables or other small peripherals.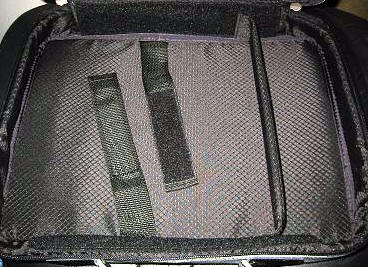 The She-Tech bag is exceptionally well made and will hold its own with the
best basic black laptop bags of this style. With its flamboyant materials, it
offers a stylish alternative for anyone who would like a flashy, laptop case
with character. The removal of the She-Tech brand ribbon on the case's front
would allow a woman or man to carry this attention grabbing bag.
If you want a laptop case with personality – one that allows you to express
your individuality without sacrificing on form, function or protection – then
you should check out the She-Tech Laptop Case. There's even one available in
black microdot for those that need a more subdued look.
Price: $75, available in Brass, Bronze, Platinum,
Gun Metal or Black Microdot

Pros:
Flashy materials in a traditional style
Excellent padding and protection for laptop
Extremely well made and well laid out
Can use with either adjustable shoulder strap or top handle

Cons:
Shoulder strap doesn't seem to want to stay put
Product Information
Price:
75.0
Manufacturer:
She-Tech
Pros:

Flashy materials in a traditional style
Excellent padding and protection for laptop
Extremely well made and well laid out
Can use with either adjustable shoulder strap or top handle

Cons:

Shoulder strap doesn't seem to want to stay put